Yesterday afternoon @doc started a poll in our slack "Are you profitable for the last 30 days (if using Luc's method) ?" "Yes" "No"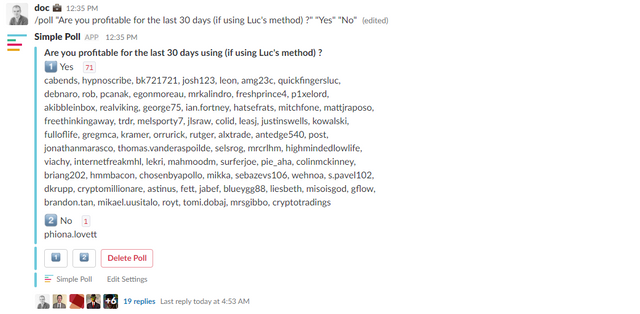 Thanks @doc for doing this, because these numbers clearly show that people/traders are benefiting from my blog and our slack community. As you may have noticed, I have been making less videos and articles on my blog lately. This is because I allow the upvotes to dictate how much demand there is for my content. There may be thousands of followers on my blog, and over 2,500 members in our slack, but I only get (on average) around 200 upvotes for my blog posts. That's 6% of my followers, that upvote my posts. That type of feedback tells me, I can slow down on releasing more videos.
But our slack is very active and thriving, and my video library will always be here to help new ones learn. This poll clearly shows that our community is profitable, and its very encouraging to see everyone making safe and profitable trades. Thank you all for your hard work.
Luc