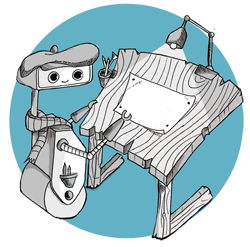 Meet Arty the drawing robot that teaches how to draw. I imagined Arty almost a year ago. Always wanted to share with you the journey of character design process of him. I originally made this drawing to be used as a cover of a children drawing book but it never happened.
Arty ile tanışın, o bir çizim robotu. Arty'yi hayal edeli neredeyse bir yıl oluyor. Her zaman sizlerle tasarım sürecini paylaşmak istemişimdir. Esasen bu çizimi bir çocuk çizim dergisine kapak olarak yapmıştım ama dergi hiç bir zaman basılmadı.
---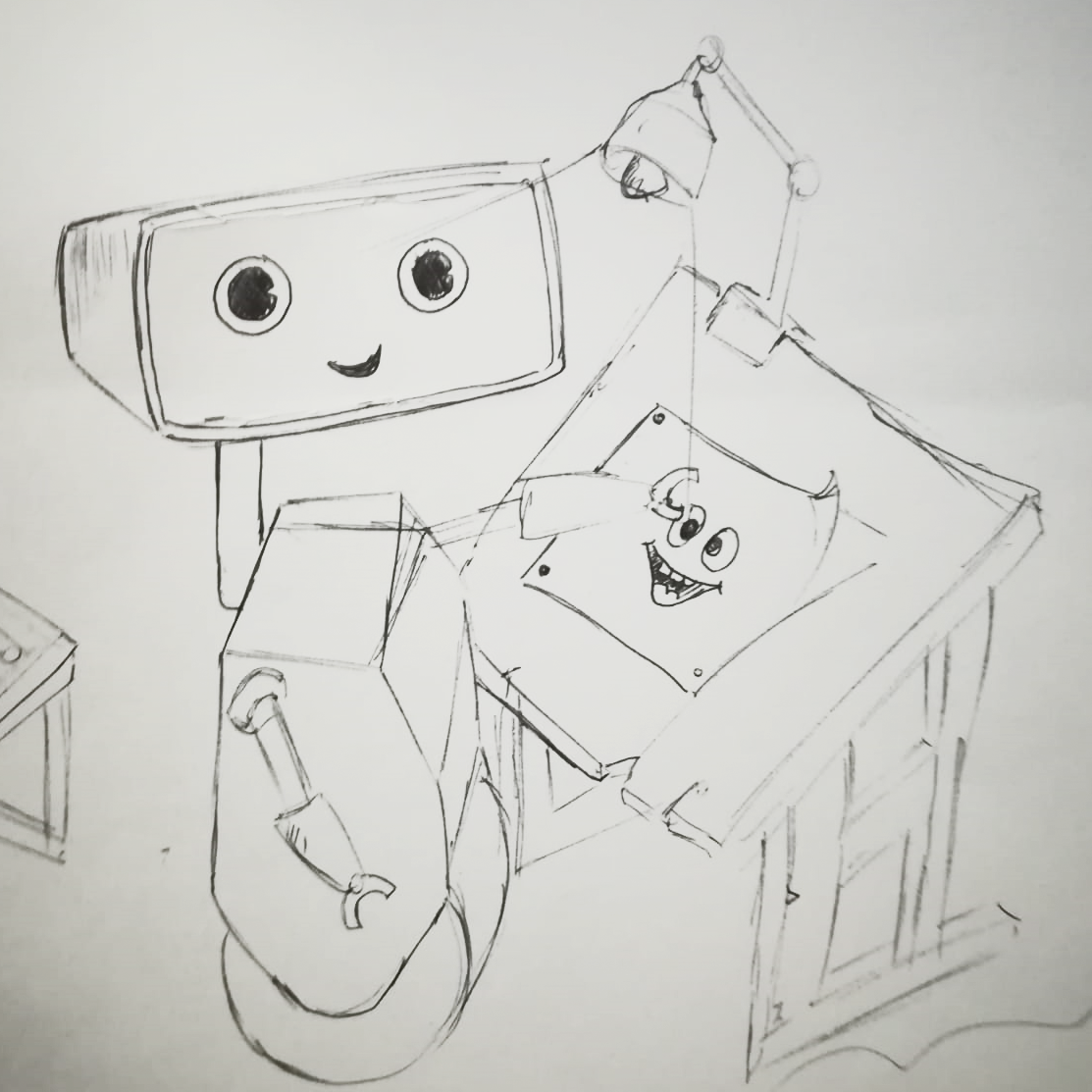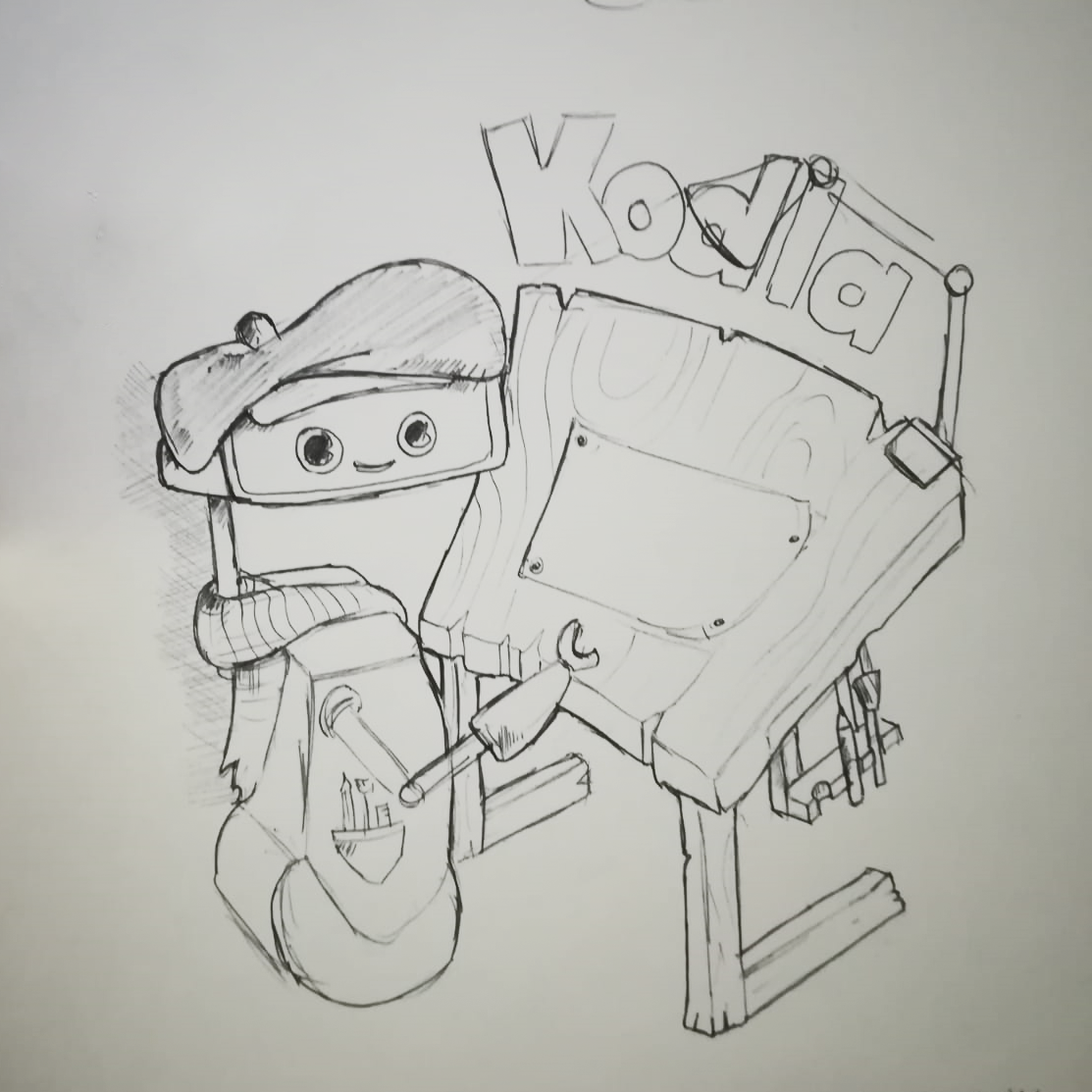 ---
Like in real life everything begins with an idea. The idea of a robot that teaches how to draw to the children. But not every idea begins with perfect drawings. The first sketch i did was a ugly one but it shows the overall idea of a robot in front of a drawing board that looks cute. It has a small table lamp and a piece of paper. Although he is in front of a drawing table he isn't look like an artist, yet.
Gerçek hayatta olduğu gibi herşey bir fikirle başlar. Nasıl çizim yapılacağını çocuklara öğreten bir robot fikriyle. Fakat, her fikir mükemmel çizimlerle de başlamaz. İlk yaptığım bu çizim biraz çirkin oldu fakat fikri genel hatlarıyla ortaya koyuyor. Şirin görünen ve bir çizim masasının karşısında duran bir robot çizimi. Küçük bir masa lambası ve bir parça kağıdı da var. Bir çizim masasının karşısında olmasına karşın bir sanatçıya henüz benzemiyor.
Later you turn this idea something more precise, something more detailed. You can add or remove some details based on your idea in your head and begin to shape the character. As you go , you'll know the character better. You will treat him as a friend of yours , like you know each other for a long time. I added small tool holders on the side of the table because why not? Every artist need some brushes and pencils to draw. And a pocket , too. How about a hat and a scarf? Looks pretty good i think. This begins to look more like an artist now.
Daha sonra bu fikrinizi daha net ve detaylı bir hale getirirsiniz. Aklınızdaki karakter fikrine göre yeni şeyler ekleyebilir ya da var olanlardan çıkartma yapabilirsiniz. İlerledikçe göreceksiniz ki karakteri daha iyi tanımaya başlayacaksınız. Ona bir arkadaşınız gibi davranacaksınız. Uzun süredir tanıdığınız bir arkadaş gibi. Masanın kenar kısmına malzemeleri koymak için bir parça ekledim. Çünkü neden olmasın? Her sanatçının çizmek için biraz fırçaya ve kaleme ihtiyacı olur. Bir de cep tabiki. Bir şapkaya ve atkıya ne dersiniz? tabiki. Bence çok güzel görünüyor bu haliyle. Şimdi daha çok bir sanatçıya benzemeye başladı.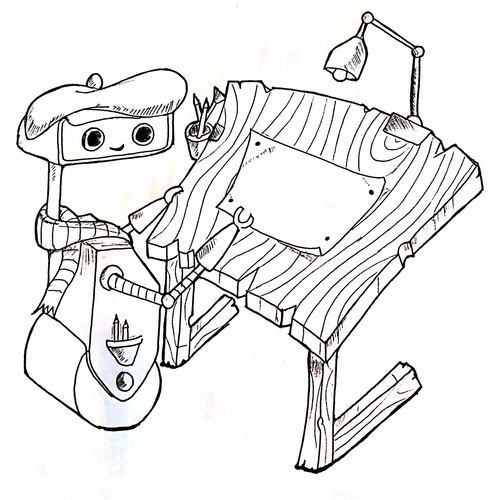 Changing your mind is okey. You will change your mind multiple times in the process of designing the character. With this step i draw more careful and precise. Because next step we are going to color the character. Drawing good lines helps. As you can see i change the position of the lamp three times. I think this one is the final living place of the small table lamp of Arty. And I changed the position of the tool holder to the left side of the table. I don't know, maybe Arty is left-handed. Who knows, as i said earlier , you will know your character better each time you talk with him.
Fikrinizi değiştirmeniz normal. Karakter tasarım süreci boyunca birçok kez fikrinizi değiştireceksiniz. Bu adımla birlikte çok daha özenerek , dikkatli ve net çizmeye çalıştım. Çünkü bir sonraki adımla karakteri renklendireceğiz. Güzel çizmek bu adımda işimizi kolaylaştırır. Gördüğünüz gibi lambanın yeriniz üç kere değiştirdim. Sanırım Arty'nin küçük masa lambasının yaşayacağı son yeri orası artık. Malzemeleri koyduğumuz yeri de sol tarafa aldım. Bilmiyorum, belki de Arty solaktır? Kim bilir, daha önce söylediğim gibi, karakterinizi zaman geçtikçe ve onunla konuştukça daha iyi tanıyacaksınız.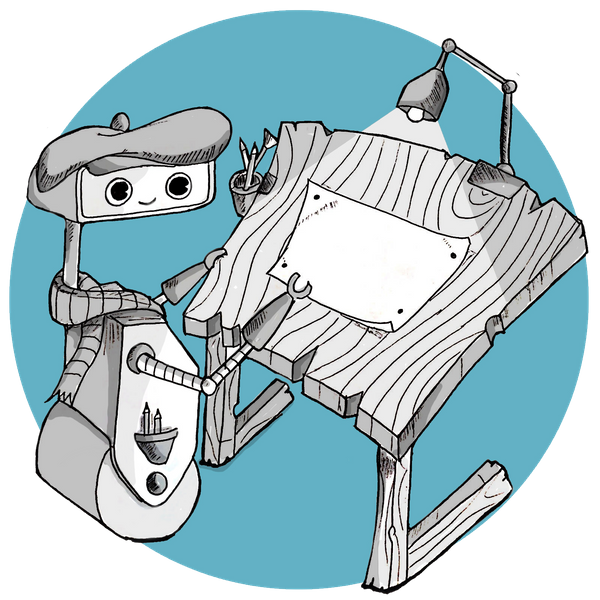 All the graphics and visuals are my creation.
Tüm grafikler , resimler ve çizimler bana aittir.
Character Design Process - Karakter Tasarım Süreci
Character Design Process #2 - Karakter Tasarım Süreci #2
How to design a character - Jumbot