Neosteem.com - The Forum for all of Steem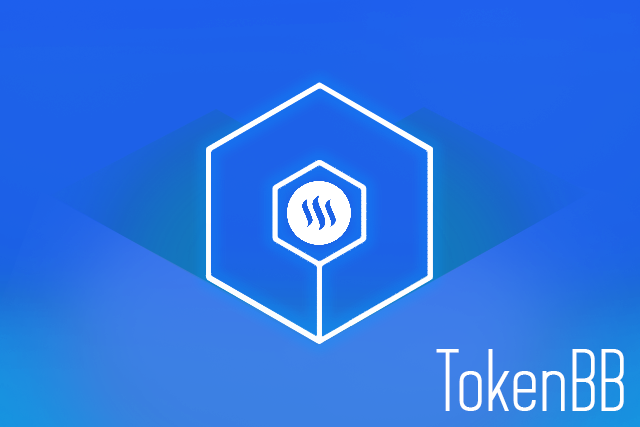 The Steem blockchain is social, nobody can deny that. Communities of various interests are everywhere, and they keep expanding. While they're all unique in their own ways, the one common denominator is the blockchain itself - it connects us!
When joining Steem, a new user faces an incredibly steep learning curve, especially if they haven't got any experience with blockchain technology. There have been many attempts to combat this, user guides are everywhere. But how do you find them?
Most new users land on Steemit.com first, and are overwhelmed by a gigantic FAQ and no support team. This leaves steem.chat as the only way to ask questions, and not every newbie finds their way there.
Furthermore, communities are spread out through various Discord servers, Telegram Groups, and Slack channels, and it's almost impossible to find a specific community without already knowing about this. Comprehensive conversations about the future of Steem are nearly impossible on-chain.
Introducing: Neosteem
We've already introduced TokenBB to you, as a way to create a forum directly on the Steem blockchain, with all advantages that come with it and several features that aren't available through other interfaces.
It didn't take long for us to realize that TokenBB could fill a role desperately needed on Steem: A place where the whole Steem community can come together!
And after putting in a lot of work and thought, discussing what's needed, and inviting community leaders to start filling the forum with life, Neosteem was born.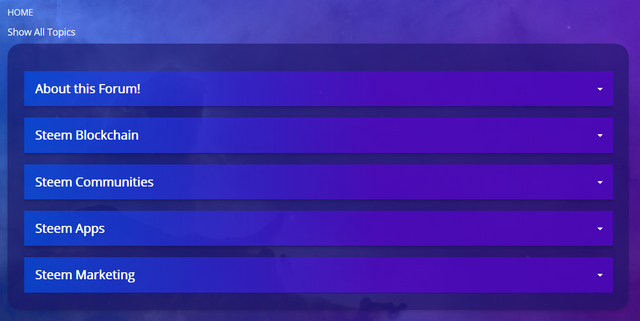 There exist a lot of excellent guides for new users to find their way around the blockchain. In theory, that's great, but how do you find all these guides?
Googling Steem related problems doesn't always yield results, and often brings up guides that are several Hardforks old. The people who wrote the posts might not reply to comments on their old posts anymore, and newbies are often left with more questions than answers.
On Neosteem, active topics are at the top.
If a topic receives a lot of interaction, it is more prominent and thus easier to find. And what's active tends to be up-to-date!
Let's enable new users to get in touch with those who really want to help.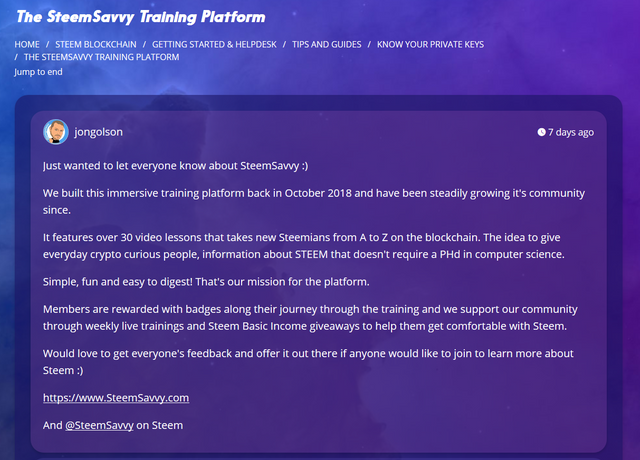 One of the main categories of the Neosteem forum is Communities. So far, not every community is listed - but we're trying to get there!
Did you ever wonder what kind of communities there are? Are you into homesteading, photography, science, or music and just can't find the right people to interact with people of similar interests?
The community category provides you with information about the communities and a space to ask questions about them. And as a Community Leader, you can bring more attention to your community!

A new hardfork is upon us, and posts discussing it are everywhere, on Steem blogs, in Slack, various Discord servers etc, but it's usually small groups discussing among themselves, and not with each other!
With fragmented conversations and even sometimes misinformation everywhere, spreading FUD and resentment is easy, which harms the whole ecosystem. Wouldn't it be better to be able to focus all the discussion in a place that's on the blockchain and easy to navigate?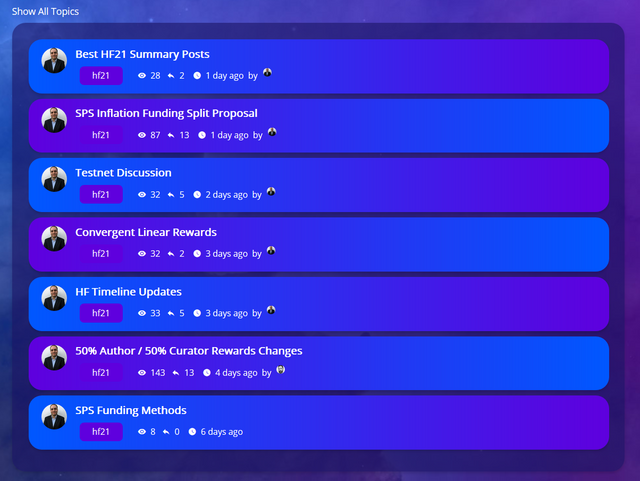 In the picture above, you see how easy it can be. What feature of the coming HF21 is most important to you? Do you struggle to understand a certain aspect? Do you want to discuss in a place where the witnesses you vote for see your opinion?
Keeping the important discussions out of third-party apps like Discord and on the blockchain increases transparency for everyone, which is one thing Steem stands for after all.

To many users, Steem is still equivalent to Steemit. But there is so much more!
Frontends, games, integrations for non-blockchain applications, those are just some of the things the talented developers of the Steem community are coming up with and improving on a daily basis.
People need to know there's not just Steemit.com!
Even if someone isn't particularly interested in a blogging platform, there might be other reasons for them to join Steem. But it isn't sufficient for these options to just exist, they have to be out in the open and known to everyone.
Collecting descriptions of various Steem Apps and examples for how to use them can help open the eyes of those that aren't yet interested in Steem due to the perceived blogging only aspect.
And in addition to making available applications more well known, we as a community should spend more time marketing Steem outside of our community. Why leave everything in the hands of Steemit Inc.?
We're a decentralized community. It's all of our responsibility to spread the word!
What's in it for You?
A thriving Steem community that keeps drawing in new users and investors will, in the long run, ensure that STEEM stays valuable and doesn't devolve into a pump-and-dump coin.
Community is what sets Steem apart from most other blockchains, so the community is what we should support.
As an incentive to keep topics in the forum up-to-date and relevant, the creator of a topic will receive 5% beneficiaries from all replies to that topic. This way, users who care about the Steem community and try to support it the best they can are continuously rewarded for their efforts and truly is a new way to make Steem interaction rewards evergreen!
The Neosteem Forum is still a work in progress, and we require feedback from all of you to make it perfect.
Is anything missing that you think is crucial to a platform like this?
Do you struggle using key features of the forum?
Let us know, here, on our Discord, or on the forum itself!
We're looking forward to seeing you there.
---
| Visit our website for more! | Subsribe to our YouTube Channel |
| --- | --- |
| | |
Set it up today and contribute to building a better tomorrow!


( Want an easier way? Use our SteemConnect proxy link! )
Get support and connect with us and other BuildTeam fans!



---
This is a @steemvoter subscription payment post. Thank you to Steemvoter customers for allowing us to use your Steem accounts to upvote this post by virtue of your free subscription to the Steemvoter.com bot service. @steemvoter is proudly a @buildteam subsidiary and sister project to @dlease, @tokenbb, @ginabot, @steemsports and @minnowbooster.