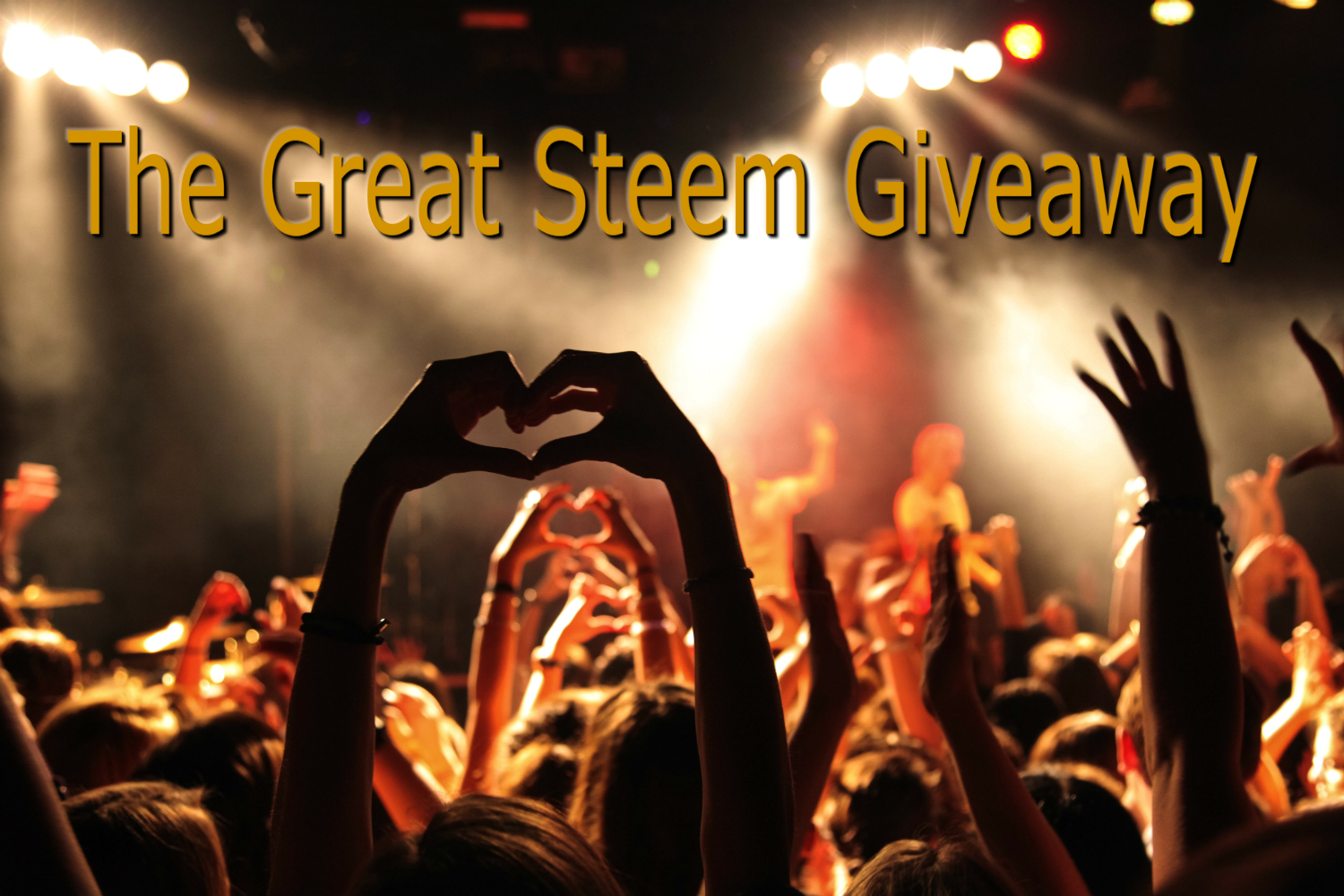 The Great Steem Giveaway is back!! I'm excited about this one, seeing as the last one was a huge success, I feel like the latest instalment could really blow things up!
OK, so if you didn't catch it last time, I decided to throw a competition that would reward great comments. I meant to give away about 55 Steem but ended up extending it to 100 and actually finally giving out 114 (amended from 110) Steem!
The way I see it, a good reply to a post can really enhance and elevate that article. So why shouldn't that be celebrated and rewarded?
I was also inspired by some of the great comments that I regularly get on my posts, especially my Cryptogee Musings. So I wanted to reward these people in some way, whilst encouraging others to make great comments as well.
The Flaw
However at the time, there was a niggling thought in the back of my mind, and that was; if I truly want to reward intelligent commentators, and encourage others to do the same thing. Then I shouldn't just reward comments on my posts.
The Twist
So this time around I am going to be giving away Steem to the best comments on other people's posts, but not just anyone. I am choosing Steemians who I feel have contributed greatly to my articles with their own additions.
Sometimes it has been a simple gif, and at other times a long thought out opinion. Some Steemians have agreed with me on my musings, others have not. This matters not, as I value intelligent discourse over sycophantic agreement, that said, it is nice to hook up with people who are allied in thought.
This Week's Player
OK, he doesn't know this yet, but the person I want you to focus on is @quillfire.
I have chosen this Steemian for a couple of reasons.
Firstly, he is a bright, intelligent, and interesting person, he always makes great comments on my posts, and often makes me think and laugh.
Secondly, his comments have inspired a couple of my musings and have taken me along different tangents of thought.
Lastly, and probably mostly, his posts are excellent, yet hardly anybody has noticed yet! Yes, I know that this describes a lot of people, but hey I'm only one man, and most of those people haven't put themselves in front of me by commenting on my posts.
A Shouty Reminder Of The Rules
OKEY DOKEY FOLKS, I'M WRITING THIS IN BIG BOLD CAPS BECAUSE EVERY SINGLE TIME I DO A COMPETITION, THERE ARE PEOPLE NOT FOLLOWING ALL THE RULES. AS I HAVE SAID BEFORE, IF YOU DON'T ADHERE TO EVERY SINGLE RULE, YOUR ENTRY WILL BE INVALID. THERE ARE NOT TOO MANY RULES AND THEY ARE NOT HARD TO FOLLOW, SO THIS IS NOT AN UNREASONABLE REQUEST.
The Rules
Competition is open to all Steemians with a greater than 23 reputation score.

To enter, put a decent comment on @quillfire's most recent post, "For The People" (poem) >>> The Law, For It Whom?

All entrants must vote for, and resteem the relevant @quillfire post they have commented on.

All entrants must vote for and resteem this post.

There is no set length for comments, and sometimes a pic or (non-flashing) gif is welcome. However comments such as; wow great post, nice post, you are so amazing, etc will not count as valid entries, and may even be muted.

At the moment only the "For The People" (poem) >>> The Law, For It Whom? is relevant for competition entries, however updates may be added.

The initial time limit for this competition is 7 days, rights reserved to extend.
Prize Pool
The total prize pool is 150 Steem

There are individual prizes of:

.50 STM
1.00 STM
1.50 STM
2.00 STM

There are no limits to how many times an entrant can win. They may win zero, one, or many times.

Most prizes will fall into the 1 Steem category, however there will be 10 special prizes of 5 Steem each for Star Comments that go above and beyond your standard replies.

Payouts will be made arbitrarily, winners may or may not be notified, however all winners will be paid, so please give me time, I'm only one man!
TL:DR Summary
So all you have to do to enter this competition and put yourself in line to win some free Steem is:
Hey Why Is @quillfire So Special, What About Me!?!
I have my eye on a few of you out there, I may even contact you on chat/discord. @quillfire is the first, but he won't be the last!
THAT'S ALL FOLKS, REMEMBER, THE BETTER THE COMMENT, THE MORE LIKELY IT IS YOU WILL WIN SOME STEEM!
OK, LAST TIME I'LL SAY THIS, FOLLOW ALL THE RULES, ESPECIALLY THE RESTEEM RULES, THIS COMP IS ABOUT GETTING UNDERVALUED CONTENT MORE EXPOSURE. NOW GO FORTH AND COMMENT!