My August Highlights!
This is my first post in 3 weeks on Steemit this month on the last day of the month. What has kept me busy? See my August highlights in this post.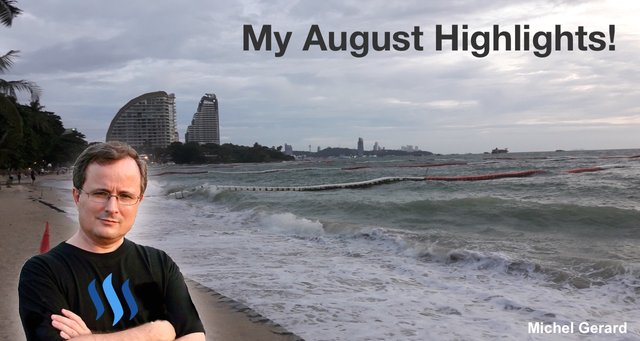 Since I became a dolphin last month, I have never written so little on Steemit with my last post being 3 weeks ago. It is not because I quit writing on Steemit, but because I prioritized work for clients, which was quite a lot this month.
I have an upcoming trip to France in October and I had to finish some work so I can go on this vacation with just a minimum to do, and have more time to write Steemit posts then.
I also needed more money to pay the huge bills for this trip and I am grateful for all the extra work that just was given to me in the last couple of months by the universe to help with this.
Let's see what were my highlights for August!
All photos are mine and taken with my Samsung phone.
My August Highlights!
I had a website to build for a client who is also a friend and I started mid July and set my goal to finish it this August, which I did last week. This was something I worked on a couple of hours here and there in addition of all the other work I had to do.
I usually do not build websites anymore, but as I said, this was for a friend and I built their original website more than twelve years ago. It was time to make a newer and modern version of it, in two languages, English and French.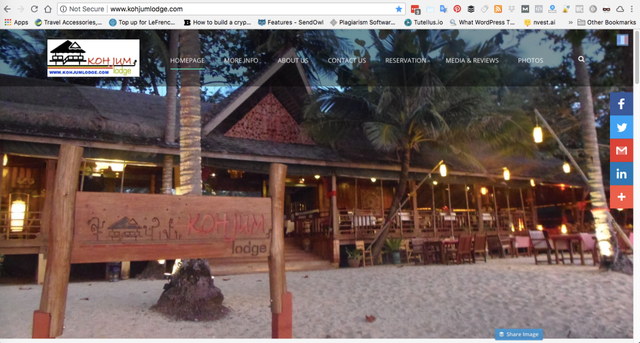 If you want to have a look at it, here it is: http://www.kohjumlodge.com
I continued to work editing blog posts and books for Jerry Banfield, and also did some social media management for another client. I also wrote about 20 plus articles on crypto for another Steemit account that I manage for a client, and that I'm not going to tell, which account it is.
So, you can see why I haven't had the time to write my own posts on Steemit this month. This was pretty intense. I wanted to write this post on the last day of August, and then attempt to restart writing as frequently as I can for September, now that the web development job is out of the way.
Two weeks ago we went to Pattaya for a couple of nights at the Pullman Pattaya Hotel G where we used to stay. This was a nice break in the middle of the month, I will certainly write a detailed post about it as I have a lot of photos, but, in the meantime, here are a few photos.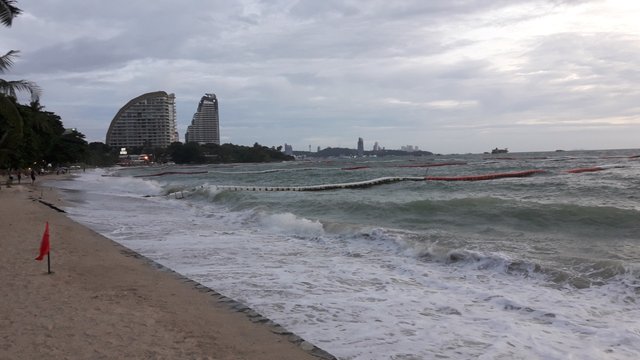 It was not recommended to swim.
We had a special dinner for Mother's Day at the Hotel's restaurant and that was awesome.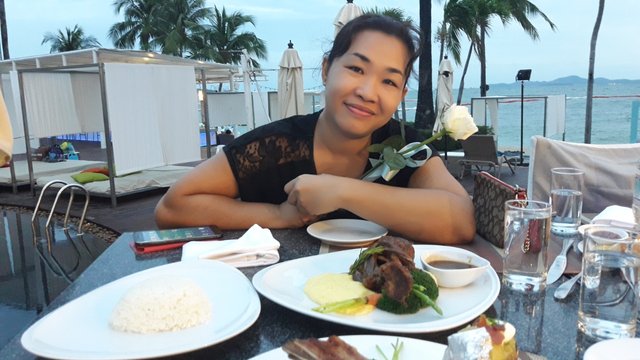 They had a sea-food buffet that evening, but we preferred to order, "à la carte."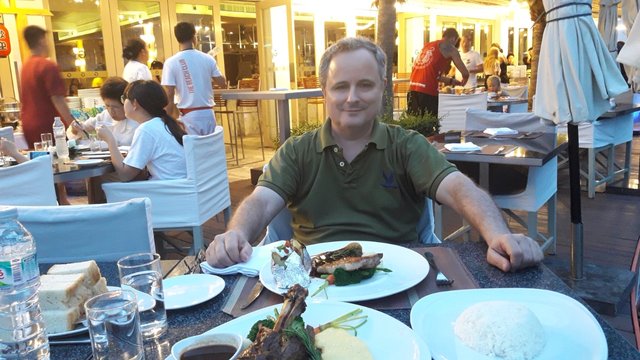 During the month, even if it was August and most schools are closed around the world, it's open in Thailand and my daughter had school during the day as usual and special classes in the evening.
This was a gentle play with the cat at the music school waiting for the piano lesson.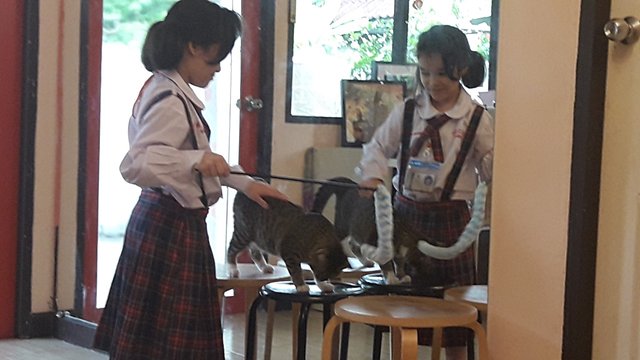 What's special with this is that my daughter's nickname is Kitty and she was scared of cats and never touched one prior to this day.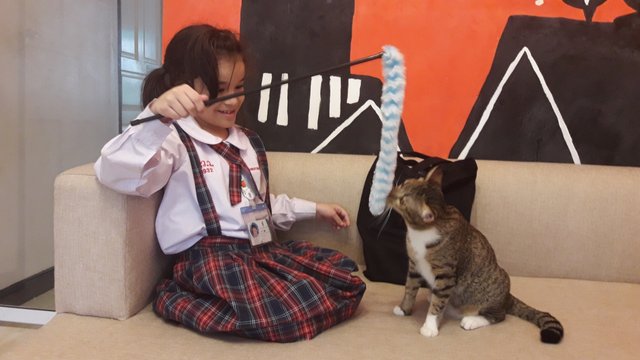 And today she just got a Gold medal for Sports Day!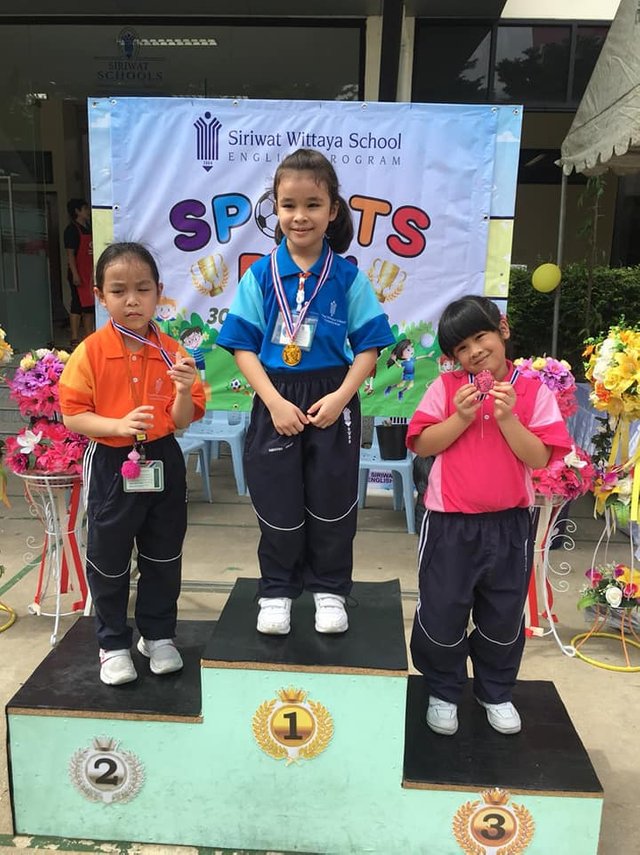 We can be proud!
Okey, I think that's all I have for today.
Tomorrow, I will be posting my "Fitness Challenge - August Report" like I did last month with this post: Fitness Challenge - July Report
I hope you enjoyed reading this short post.
Would you upvote this post and follow me for more because this will encourage me to write more posts like this one?
I have categorized my posts on Steemit for easy access:
Steemit tools | Steemit strategies | Steem economics | Steem on WordPress | Blogging on Steemit | Steemit posts I curated | Cryptocurrency | Cryptocurrency trading | Mac computer tutorials | WordPress & online marketing | Self-development & motivation | Travel in Thailand | Travel in Japan | Travel in France | Life in Thailand | Fitness challenge | Fruit-veggie juices & smoothies | Education | My answers on Quora | Fundition tutorials & projects | Miscellaneous writing
You may prefer to go to my Steemit Posts Directory.
The most important votes you can make on Steem are for Witnesses. The top 20 witnesses can influence the addition or removal of features in future Steem hard forks. Read my post: What is a Steem Witness, How to Vote and Why?
Michel Gerard