Techno Friday | AIROD
HELLO STEEMIANS
As most of the emotions related with NYE finally went down, we are back to heat it up a little bit again ! You didn't think that we are going to let you chill and slow down for the rest of the month, right ? Let the speed of your life synchronize with the speed of his tunes, which are nearly as high-octane as the first league aspirations he have.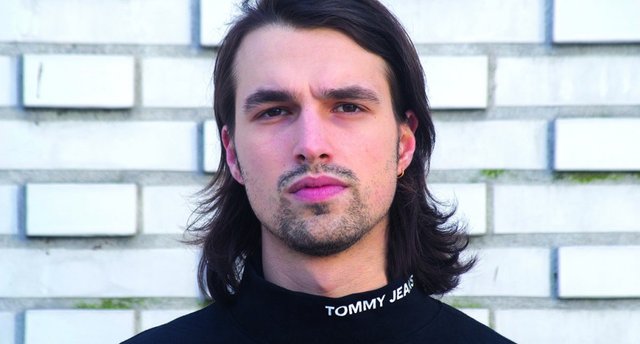 AIROD
Hailing from Paris, France, with Serbo-Croatian origins Dario Brkic aka AIROD is placed between I Hate Models or Anetha, perhaps one of the finest incarnations of what the Diverse Techno Community in Paris can bring to the game when it comes to turning any cold-walled warehouse into a serious coal-fired furnace. Since his solo debut Universe EP [MLKL007] released on Molekül in 2018, where AIROD reveal his vision and potential, huge attention instantly came out from the worldwide techno fans as well as from the first league players including Perc or Amelie Lens.
AIROD - Universe of 90's Techno Parties [MLKL007]
Interested in production from a young age, AIROD has design his unique style. Ode to rave, full of reminiscent sounds of oldschool techno which starts from from flat-footed stompers, nostalgic soundscapes and forceful heavy impacts through industrial acid brain-twisters and evil hell-raising, synth-laded bangers. Tunes for huge warehouses soaked in mdma and cocaine, big rooms tunes. High speed dancefloor wreckers from the golden age of rave.
AIROD - Strange Mind [MONNOM017]
Clear vision, interesting approach, unique sounds, global attention and increasing demand are nothing else than a magnetic field for techno art explosion. Since 2018 he has released with a speed of light 1 LP and 8 EPs in labels like Molekül, Rave Alert Records, Perfusion Records, Monnom Black from Dax J, LENSKE from Amelie Lens and recently his own Elixyr Records, where at the moment he is promoting friends and artists from EXHALE - a supergroup created together with Amelie Lens. According to his words Elixyr Records makes important role of outlet that allows him to make music "with no limits", and is "above all a place of experimentation and freedom"
AIROD - Flash Back [ELXR001]
AIROD is a part of LENSKE & EXHALE, both teams strongly supported and curated by Amelie Lens. They've crossed their path more than a year ago at legendary Parisian REX Club and quickly after a connection between Belgium and French artists get closer and more interesting, flourishing into series of highly respected parties all around across the Globe, as well as series of EPs, featuring tracks, tens of unreleased tracks and few upcoming vinyls. Earlier this week Amelie Lens has announced the 10th release on LENSKE label, a VA EP called The Future including jungle influenced track Divine Power from AIROD.
AIROD - Fury [Lenske008]
It is not the first attempt with drum and bass sounds from this Parisian. In 2018 he has released via Perfusion Records a limited edition of 300 beautiful pearl white 12" vinyls with an atmospheric jungle precious gem. Interesting fact is that it was first and only one release of this label. You can obviously find link to this tune below.
AIROD - Drowning under the Lake [PRF01]

Feel Free To Support The Artist On The Official Channels
FACEBOOK / SOUNDCLOUD / BANDCAMP / WEBPAGE


---
DAILY MUSIC TAGS
Monday Trance by @andyjaypowell
Disco Tuesday by @musicgeek
Wednesday House by @andyjaypowell
Rap Thursday by @flipstar
Techno Friday by @neutronenkind
Dance Weekends by @uwelang

enjoy
PEACE LOVE UNITY RESPECT