How To Help Team Mates?
There are many ways to help your teammates but on this post I will cover how we can help each other using @centerlink's curation trail.
This method is another option when you don't have much time to go over all the team's posts and curate. It is also a best option for people like me who are lazy or just don't have time to get on line.
Curation trails used to be in streemian but that is now shutdown. @centerlink's curation trail is now in steemauto.com. This is also why I made this little tutorial so everyone of us #teamaustralia will follow @centerlink's curation trail.
---
What Is @centerlink's Curation Trail?
@centerlink is a parody of the Australian payment welfare Centrelink. It is set up or managed by our witness @ausbitbank (if you haven't voted for him as a witness, please vote him HERE) to support all members of #teamaustralia.
---
Benefit Of Following @centerlink's Curation Trail
Don't it feel good when you know that you are helping your team mates? So yeah that will be the first benefit you get, the satisfaction or feeling great because you know you are helping others.

If you don't go online all the time, your voting power will not go to waste because you are actually voting with the help of the curation trail.

This allows you to be receiving curation reward even if you are not online voting manually.
---
How To Join @centerlink's Curation Trail?
Register and log in to steemauto.com

On your dashboard click on "curation trail"

On the "Search For A Trail" type in "centerlink"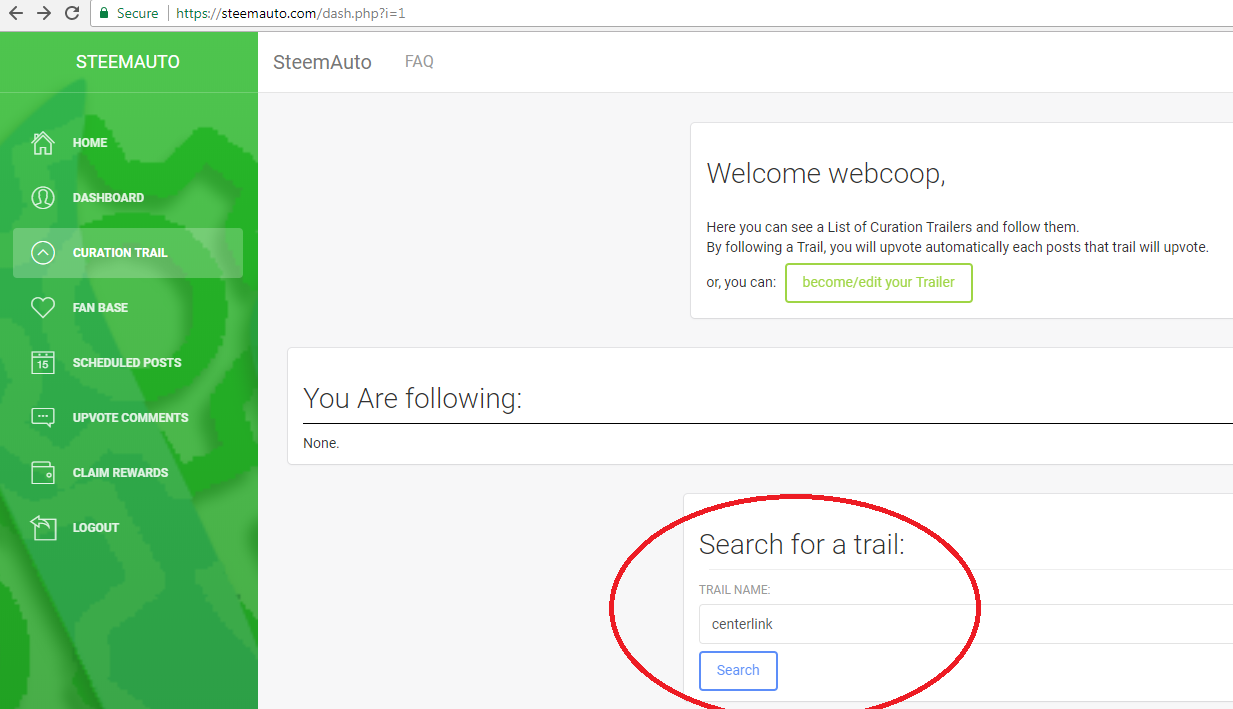 Centerlink trail name will come up. Just click on "Follow"

Then click on "Settings".

Fill in the "Settings". If you follow the example below should be OK. If your voting power is getting drained you can always adjust the "voting weight percentage". You can also put in a bigger percentage if you plan of being away for a while and not able to be online on steemit because bigger voting percentage you give means bigger curation reward you get.
The "Scale voting weight" and "fixed voting weight" –
What is difference between 'Scale' and 'Fixed' in following trails?

Fixed voting weight means you will upvote with exact percentage you entered.

Scale voting weight means your voting weight will changed by trail voted weight. Let's say you followed a trail by this method with 10% then if trail upvotes any post by 50%, your upvote weight will be 5% (10% of 50%)
The "Time to wait before voting" is better set to 0 because @centerlink votes at 25 minutes after the post which means if you put say 25 minutes on the "time to wait before voting" you are actually voting 50 minutes after the article is posted.
That's it if you are happy with everything just click on "Save Settings" and you are good.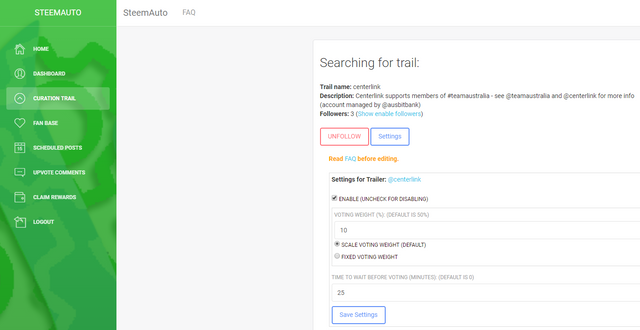 For the full guide on how to use steemauto.com please go HERE
---
Please resteem this so all #teamaustralia members will see it.