STEEMAUTO - Full guide and how to REGISTER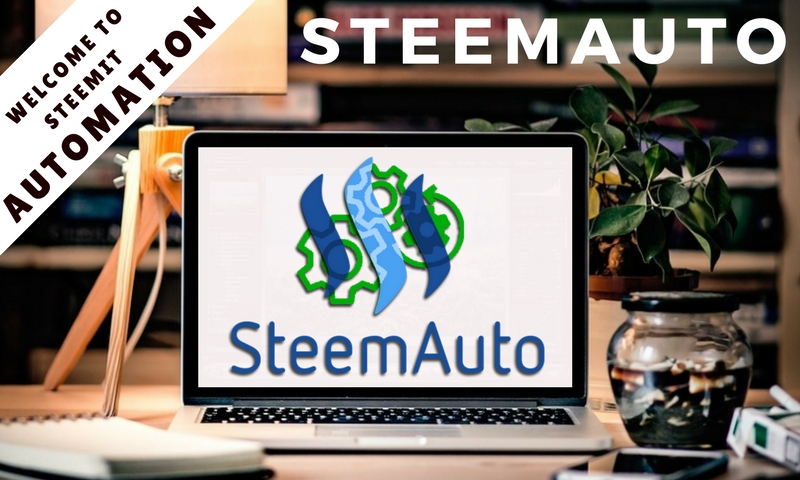 Steemit is a living ecosystem that changes almost daily, as more talented minds discover the awesome Steemit blockchain, more tools are being developed and upgraded. Let's have a look at one of the newer and most useful tools you need to be using if you are serious about your Steemit game - STEEMAUTO.
---

Steemauto is a service that offers several Steemit automation tools that can help almost every Steemian. There are similar services but somehow Steemitauto features an all in one package and really has some useful features. In this post we will go over some of the basics as well as the steps you need to take to get yourself set up on steemauto:
Curation Trail
Fan Base
Upvote Comments
Scheduled Posts
Claim Rewards
How to REGISTER
---

Curation trails let you copy the voting behavior of another Steemit user. If they upvote something then your account will trial their account and upvote on exactly the same post. This is useful if you are not really a manual curator and would rather trust someone else to do the upvoting for you. Many projects also rely on curation trails to support their members.
On the Steemitauto page, you can select the curators you would like to follow, you can search or browse for someone that you have seen around and know will be put your voting power to good use.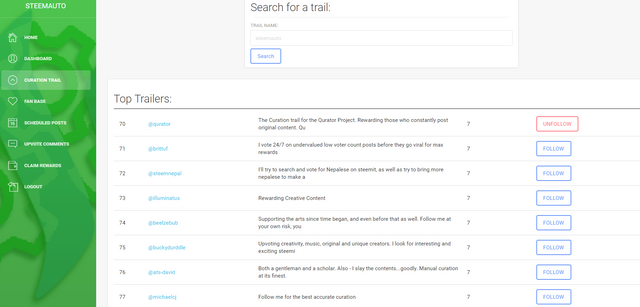 Ther are two ways that you can trail a Scale of Fixed voting: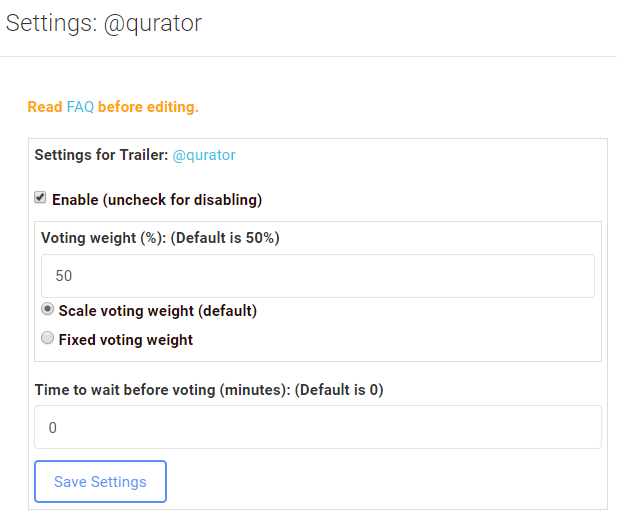 | Scaled | Fixed |
| --- | --- |
| Scaled voting will let your votes scale with the weight you set it. If you set it to vote at 50% then if the curator votes at 100% your vote will be 50% of his, 50%. If the curator votes at 30% then yours will be 15%. (This is like the old Streemian) | This will let your account vote at a fixed rate regardless of the curator's upvote weight. If you set your weight at 50% then it does not matter what % your curator upvotes, your votes will always be 50%. (not recommended for trails that upvote a lot) |
---

The fanbase is exactly what it sounds like. If you are a fan of another Steemit user and would like to support them but also do not want to visit Steemit every day. You can let Steemauto take care of it for you. Visit the Fanbase tab and search for your favorite authors. (Many of you might know Steemvoter and use it for exactly the same feature.)
---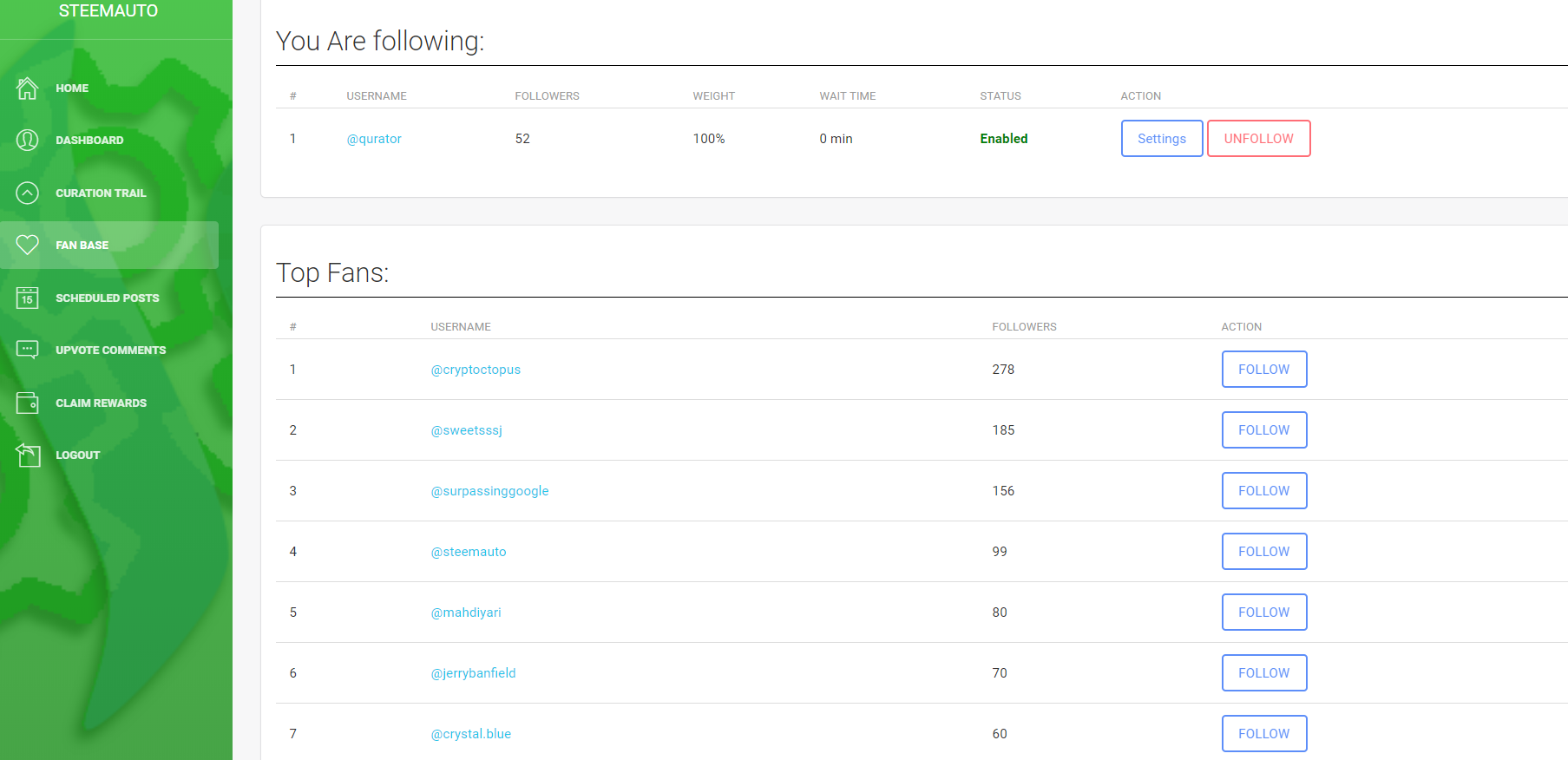 | Settings | |
| --- | --- |
| | Set the upvote % and time to wait before voting. |
If you are looking for some curation rewards remember to not leave the time before upvote at 0. (Curation is pretty competitive, I suggest experimenting with 15-30 minutes)
---

Steemit does not have a built-in feature to let you decide when to post your blog. Just like so many social media services, there is a golden hour when your post might have the best chance to get a decent upvote. With Steemauto's Scheduled Post feature you can now edit your post in Steemit and simply copy and paste the contents of your hard work over to the scheduled post section. Set the hours you would like to wait for the post to go live and go about your day.

---

This is a pretty new feature that I have not seen before. Steemauto will automate upvotes to users that comment on your blog. Quite interesting and might motivate users to comment and interact more. This is not a feature I will personally use since I really like upvoting a good comment. Then again there are users out there that might love this feature. Just like the Fanbase feature you can also set the user you would like to receive the upvotes, the percentage of the upvote and of course the time to wait before upvoting.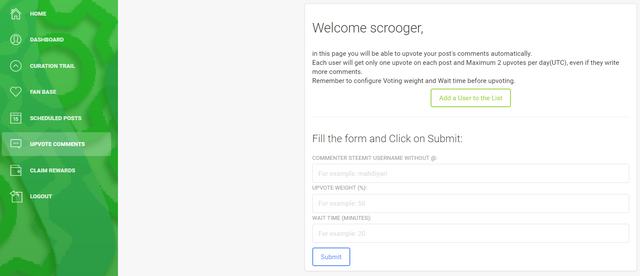 ---

This is one of my favorites by far, but not perfect yet, auto claiming rewards. If you are a very active user and you receive loads of upvotes on your posts/comments then you will know the claim reward button really well! This little bugger:

Although I do like visiting my wallet and seeing those rewards roll in, I do sometimes wish it would just be automatically added to my balance. Steemauto has made that possible, they can claim your rewards for you once every 30 minutes.

*Personally 30 minutes is a bit too frequently. Wish they could set a timer on this as well. The problem with 30 minutes is that your wallet will get filled with claim rewards messages pretty fast and you might miss/overlook other important wallet messages. Once a day would make this feature perfect. Any chance you could look into this @mahdiyari? ;)
---
Now that we looked at all the great features, let me show you how you can register and set up your account in 5 minutes or less!

1. Visit Steemauto.com and click on LOGIN / REGISTER

2. Fill in your details:
Steemit name (no @ sign)
Email
Password
Hit Register!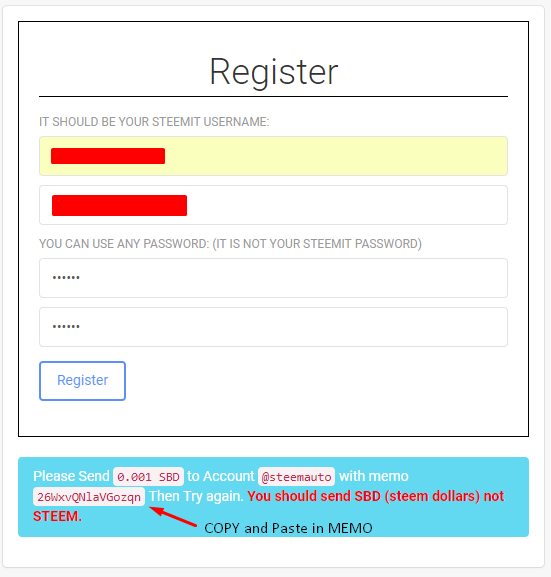 You will now be asked to send 0.001 SBD (NOT STEEM) to @steemauto. Your memo will be the generated code they provided. Once that is done wait a few seconds and hit Register again. You should then be greeted by this little message box:

Go ahead and log in with your steemit username (without the @sign).
3. Give Steemauto authority to use your account (this is needed to gain access to the features)
I normally use and trust steemconnect so I will be showing you how to do it with steemconnect.
Click on Steemconnect.

You will be asked to enter your steemit username and your owner, active or master key. USE YOUR PRIVATE ACTIVE KEY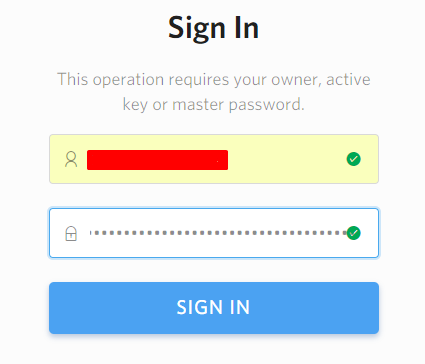 After you successfully gave authority to Steemauto to use your account you are good to go and can start using all the services mentioned above. =)
---
---
I am really grateful for this awesome tool that @mahdiyari created. After Streemian shut down I was happy to sign up for a service that I feel might be better than Streemian. Thank you @mahdiyari for this great tool!
There are some features that I would love to see though:
Adding a timer option for the auto claim rewards.
Restrict the number of upvotes a fan can get in a 24 hour period. (similar to the comment upvote feature).
A way to let the trail upvotes pause if your voting power is below a certain level.
Set exact time and date for Scheduled Posts
---
Thanks for reading my guide and let me know how your experience with Steemauto is going so far.



Thank you for reading! Steem on Steemians!