Hello!
Today, I will post Report of Tasteem! !
Among the Japanese steemian, Tasteem is popular!
This time, I tried to summarize what I think about Tasteem in a report format! !
Below, if you can see it, I am fortunate!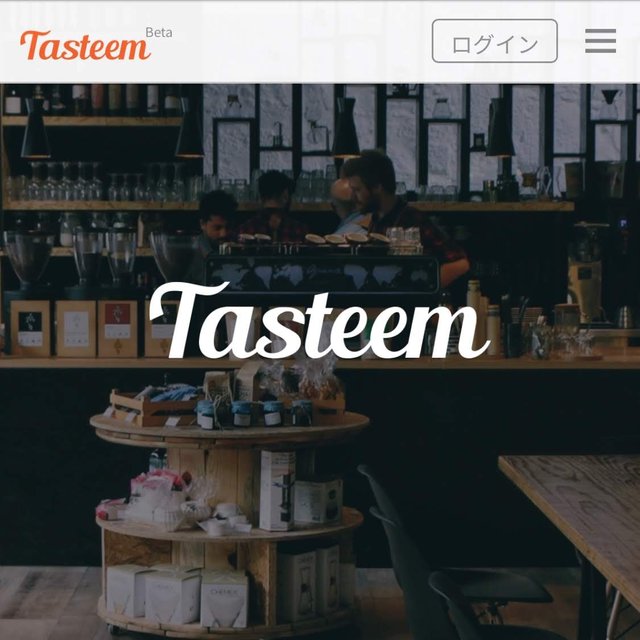 1.Present Situation of Tasteem
Tasteem is a gourmet submission service established in spring of 2018, by the steemian volunteers of Korea!
Posting a restaurant review from the Tasteem page and getting posting rewards is a basic flow! !
Also, Tasteem is operated in contest format!
And contests are held with themes decided each time! !
Well, there are two types of rewards from Tasteem!
One is a reward as a participation award.
The other is the reward paid to the top contest winners.
At first, we could only post in Korean!
However, currently it supports English, Japanese, Vietnamese, Thai, etc.! !
I am also actively posting in Japanese!
Also, many Japanese steemian also posted to Tasteem! !
As a reason why Tasteem is popular,
· To get a lot of reward
· Gourmet articles are easy to write
There are things mentioned!
Also, as a current task,
· Posting in a childish language using a translation site
· Suspicion of plagiarism by Copipe article
· Posts not in line with the theme
There are things mentioned! !
These are done by Tasteemian's ambassador, site patrolling is done, and it is trying to solve it!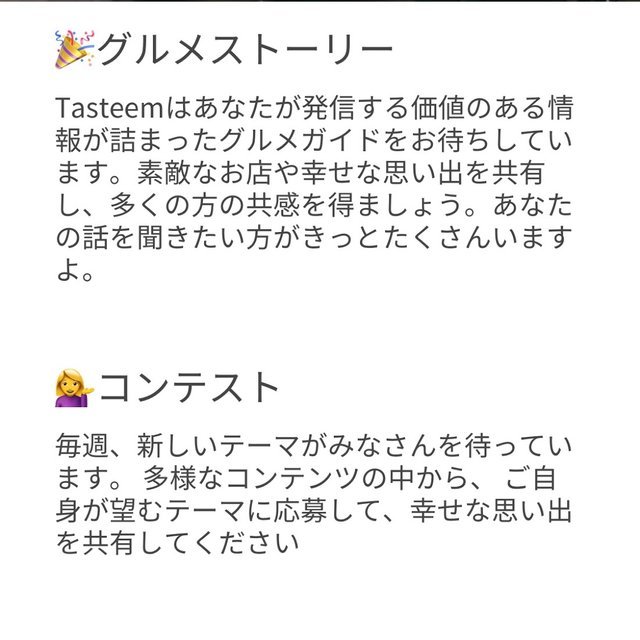 Proposal for the Future
As mentioned above, Tasteem shows excitement in each country!
It will be expected if you show further excitement by increasing participants to steemit in the future! !
However, I think that the objective of Tasteem, "building a reliable gourmet evaluation platform", is difficult at present.
As a reason,
· The level of gourmet of contributors is various, inevitably there are high-quality posts, low-quality posts have come out
· Just because reviews are inscribed on the block chain simply does not lead to reliable gourmet reviews
· Essentially, gourmet evaluation is subjective, objective evaluation is extremely difficult
It is cited.
Therefore, we propose that "Tasteem Premium (tentative)" which is a higher version is necessary in addition to the existing Tasteem for "building a reliable gourmet evaluation platform"!
I propose the draft of the characteristic of "Tasteem Premium" as follows!
· Target the full-fledged gourmet layer such as "People who like eating anyway, people eating out like everyday, people going for gourmet overseas"
· "Tasteem Premium" operates as a closed community.
· Posting to "Tasteem Premium" requires a certain level or higher to ensure the quality of the community
· Especially in the early days, if the judges can not get approval, it will not be possible to post
· Enable meetup to be held by members
· For holding meetup, people with wide network of connections with restaurant owners etc. will participate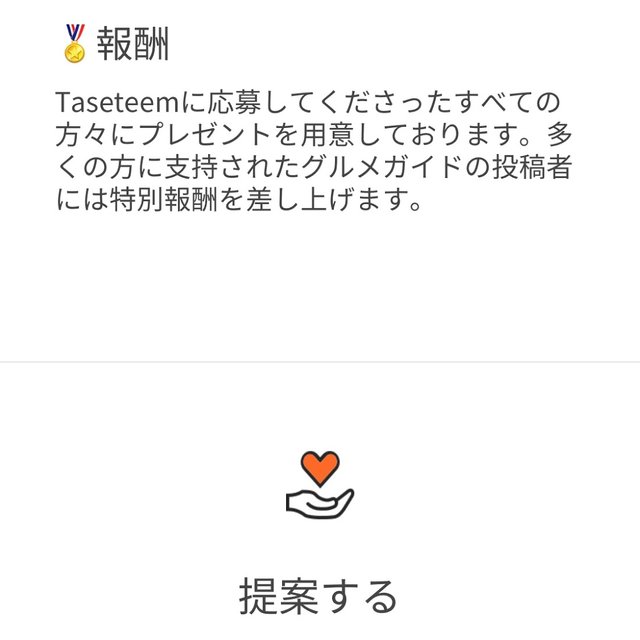 In this way, Tasteem also thinks that it is better to proceed to the next higher level when the time comes!
Of course, the existing Tasteem also plays an important role as an entrance!
However, in order to attain the original purpose of Tasteem, I think it is also a plan to launch something like "Tasteem Premium"! !
---
こんにちは!
今日は、Tasteemのレポートを、配信します!!
日本のsteemianの中でも、Tasteemは、人気がありますね!
今回は、Tasteemについて思うところを、レポート形式で、まとめてみました!!
以下、ご覧いただけますと、幸いです!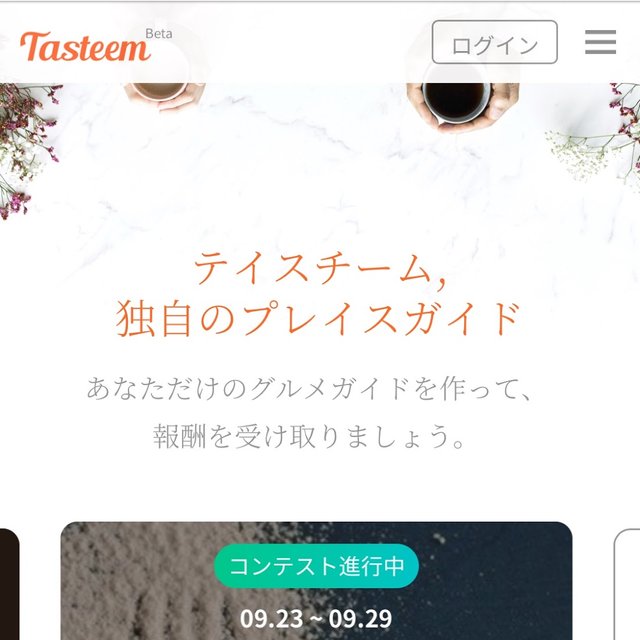 1.Tasteemの現状
Tasteemは、2018年の春に、韓国のsteemianの有志によって設立された、グルメ投稿サービスです!
飲食店のレビューを、Tasteemのページから投稿し、投稿報酬をもらうのが、基本的な流れです!!
また、Tasteemは、コンテスト形式で運用されています!
そして、毎回決められたテーマで、コンテストが行われています!!
さて、Tasteemからの報酬は、2種類あります!
1つは、参加賞としての報酬。
もう1つは、コンテストの上位入賞者に支払われる報酬です。
最初は、韓国語のみしか、投稿が、できませんでした!
しかし、現在では、英語、日本語、ベトナム語、タイ語などにも対応しています!!
自分も、日本語での投稿を積極的に行っています!
また、多くの日本のsteemianも、Tasteemに投稿しています!!
Tasteemが人気の理由として、
・報酬が多くもらえること
・グルメ記事は書きやすい
といったことが挙げられます!
また、現状の課題としては、
・翻訳サイトを使った稚拙な言語による投稿
・コピペ記事による盗作疑惑
・テーマに沿っていない投稿
といったことが挙げられます!!
これらは、Tasteemianのアンバサダーによって、サイトの見回りが行われて、解決を図っています!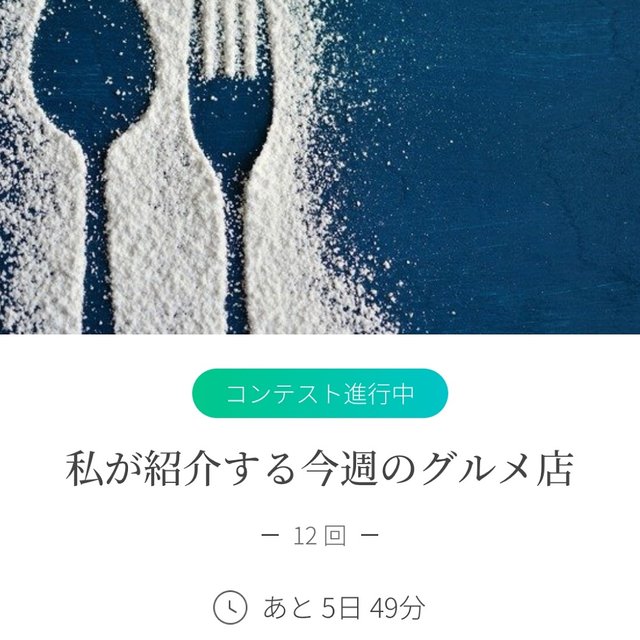 2.今後に向けた提案
上記の通り、Tasteemは、各国で盛り上がりをみせています!
今後、steemitへの参加者が増えることで、更なる盛り上がりを見せると、予想されます!!
しかし、Tasteemの目的である「信頼できるグルメ評価プラットフォームの構築」は、現状では難しいのではないかと考えています。
理由としては、
・投稿者のグルメのレベルは、様々であり、どうしても、質が高い投稿もあれば、質の低い投稿も出てきてしまっている
・レビューが、ブロックチェーン上に刻まれるからといって、単純に、信頼できるグルメ評価には繋がらない
・本質的に、グルメ評価は、主観的であり、客観的評価は、極めて難しい
といったことが挙げられます。
そこで、「信頼できるグルメ評価プラットフォームの構築」のためには、既存のTasteemの他に、上位版である「Tasteem Premium (仮称)」が必要であると提言します!
「Tasteem Premium」の特徴の素案を、下記の通り提案します!
・対象者は「とにかく食べることが好きな人、毎日のように外食してる人、海外にグルメ旅行に行く人」など、本格的なグルメ層をターゲットにする
・「Tasteem Premium」は、クローズドコミュニティとして運営する。
・「Tasteem Premium」への投稿は、コミュニティの質の確保のため、一定以上のレベルが求められる
・特に初期のうちは、審査人による、承認が得られなければ、投稿ができないようにする
・メンバー同士による、meetupも開催できるようにする
・meetup開催の為にも、レストランのオーナー等との、人脈が広い人物が参加してもらう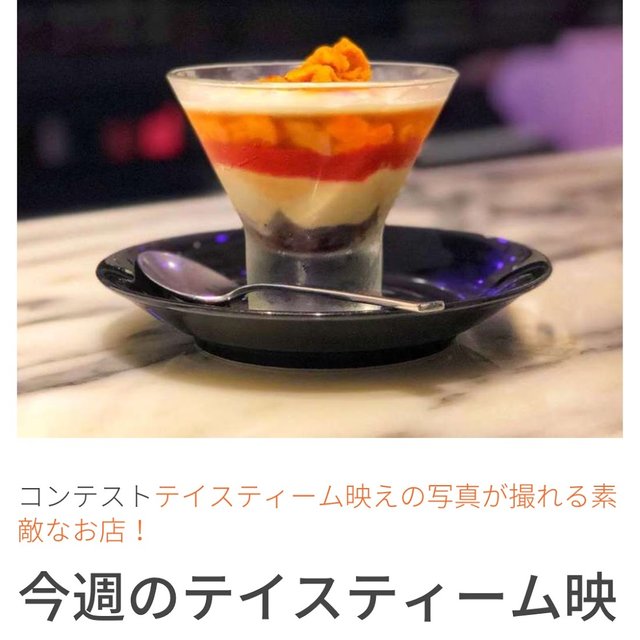 このように、Tasteemも、時期が来たら、1つ上の段階に進んだ方が、良いのではないかと考えます!
勿論、既存のTasteemも、入り口としては、重要な役割を担っています!
しかし、Tasteem本来の、目的達成の為には、「Tasteem Premium」のようなものを立ち上げるのも一つの案だと思います!!