I grew up in northern Sweden and the bright nights of the midnight sun are in many ways normal for me. But the more time I spend away from this the more I can understand how special it is.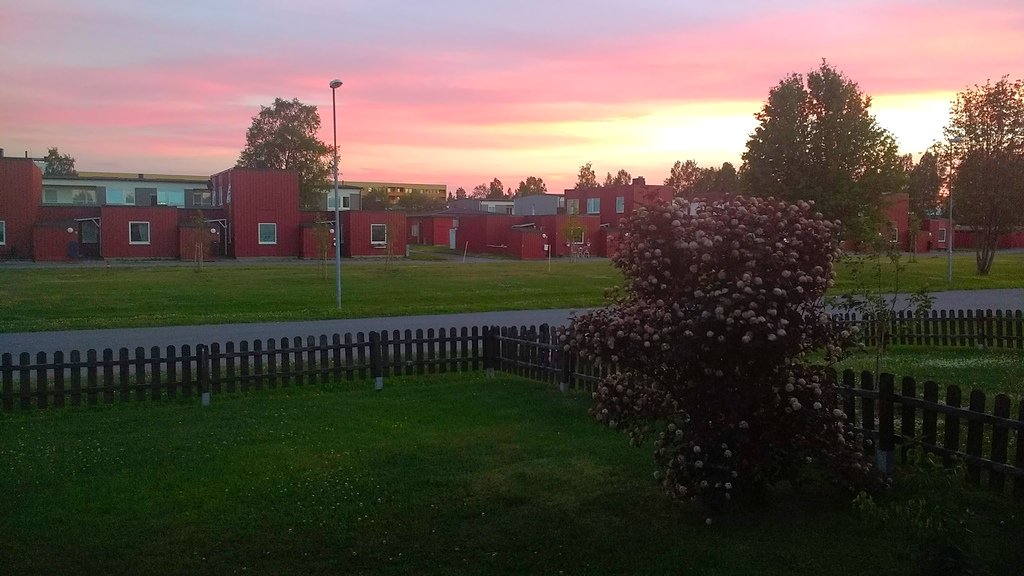 Taken 12 minutes before actual midnight at 12.48am last night.
This is my favorite time of the year to spend time in Sweden. The weather is perfect with highs in the 70s and lows in the 50s. It's warm or even hot in the sun but easy to find somewhere to cool down and it never stays hot overnight. This is when it's nice. Sometimes, even in the middle of the summer, there are days with highs in the 50s and lows in the 30s! We've had whole summers when it rained most days and never really felt like summer. There is a saying that goes:
Summer is the best day of the year.
That can be true in more than one sense. Some summers there are only one (well, maybe a few) nice days. It also never really looks like night so even if the weather is nice for three months in the summer in a way it's still just one very long day.
I often get the question how I can sleep when it never gets dark. My answer is that growing up here I learned to just close my eyes and sleep even if it was bright "daylight" outside. We did not even have blinds or heavy curtains in our bedroom windows in the house I grew up in. Now when I have traveled back and forth for about 20 years I've learned that it is a lot easier if you have time to get used to it. If you're in Sweden as the sunset gets later and later by a few minutes every day you slowly get accustomed to it. Flying in from a place where it always gets dark at night it is a bit of a chock. Especially for the kids. They struggle to go to sleep and tend to stay up later than normal and sleep less than normal when we are here in the summer. We manage and in the end, we all get the sleep we need.
If you ever get a chance to visit Sweden, midsummer is a great time to be here. And if you can, try to make it at least a few hundred miles north of Stockholm. Right now we are 500 miles north of Stockholm in my home-town Skellefteå. This is still south of the Arctic circle but it's close enough to experience the midnight sun.


Thanks for following the journey of me and my family as we travel and roadschool our kids around the USA.

If you like this post please consider upvoting, following and resteeming!