Qualified Players' Name Announcement For Quarter-Final Qualifying Matches - Weekly Tournament # 1 - Super 8 Ball Club - The Multiplayer Pool Game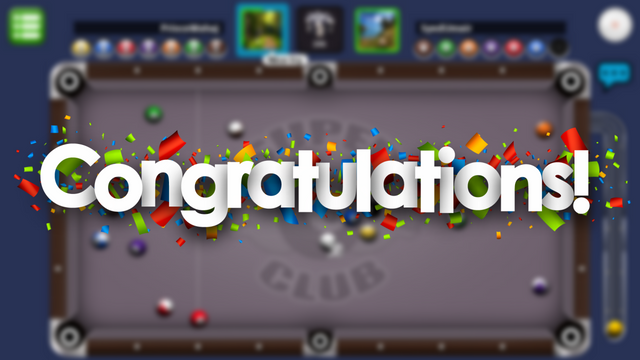 Congratulations! We've just finished the manual selection of qualified players based on their statistics and their ranking in the weekly leaderboard.
Since we want to make it as simple as possible, there's no need to include the fair points details. In short, we give more importance to the number of matches played vs XP points. Generally, we take into account the Top 20 players and compare the matches played by them vs the earned XP.
Higher XP doesn't always mean that you are qualified for the tournament if it is earned only through a few matches. Players who play as many matches as possible and also become Top 20 are the potentials. While ranking in the weekly leaderboard is only possible through XP points, but if you are ranked 19th but you've played more matches than other toppers, you may get the opportunity as well.
Qualified Players For This Week:
The following players qualified for the Weekly tournament and will be able to participate in quarter-final qualifying matches:
Potential Players:
In case if any user from the above list fails to participate or play with his assigned opponent OR if we find any kind of abuse, the following users will be considered:
Quarter-final Qualifying Matches:
The following matches are decided for today in Moscow table. These matches are expected to end in the next 22 hours from now. Whoever wins will qualify for the quarter-final and whoever loses will be out of the tournament. We'll announce the names of winners tomorrow and their next opponents:
@ononnaislam VS @abcde1607
@asadpannu VS @mafaldation
@mursal-bireuen VS @zarmanizawlinn
@nizam8089 VS @onolhassan
@sadmim.siam VS @imransoory
@faiyazmahmud VS @islahuddin
@tfq86 VS @wordsmith777
@btcpmking VS @minhaz007
How to play the tournament matches?
We've assigned the opponents to you. Please open the game and click on "Cup" icon. There you will see "Challenge" button. Click on "Challenge" and select "Moscow" table because these matches must happen in Moscow to be counted as the tournament's match. You don't need to randomly search for your assigned opponent, you can simply invite him by challenging from the tournament's section.
If he doesn't respond to your invite and you accidentally meet the same opponent in Moscow through random search within the next 22 hours, it will also be considered a tournament's match and whoever wins will qualify for the next round.
Rules & General Details:
Whoever ranks in the Top 16 must join our Discord server.
The Discord username/nickname must be as same as Steemit's username or game name.
The quarter-finals qualifying matches will take place in Moscow. The semi-finals qualifying matches will take place in Tokyo. The semi-final will take place in Las Vegas. The final match will take place in Jakarta.
You will be assigned your opponent in the Tournament tab of game. Open the game and click on Cup icon from main menu to see your assigned opponent (after announcement).
Additional coins will be given to make you able to play those matches.
The XP points of winner must not be in minus.
After the names announcement of qualified players, you'll be given 22 hours to play with your assigned player.
In case you don't find your opponent in the next 22 hours, you will be assigned a random player the next day. You must be online on Discord to cooperate with the team. The 22 hours will end at 4:00 PM (GMT +5), 23rd October 2018.
Any attempt of gamification and abuse will get you banned for 14 days.
If you find any attempt of abuse on table, please take the screenshot and prove it
Join our Discord:
It is possible that you may not get the response on invite from your opponent. That's why, it is recommended that you join our Discord server and keep us updated about it.
Want to see your fellow steemians in action? Come join the club today. Download Super8BallClub from Play Store. Win the matches to earn STEEM/SBD and lose nothing when otherwise. Powered by STEEM Blockchain. For more information, please read our announcement.