Something interesting happened today. I invented an adventure for Mommy, Daddy, and me. I like it very much when there are exciting things for all three of us. However, sometimes it is difficult to tell whether something exciting for me is as exciting for them. Now and then they look more scared than enthusiastic.
However, I heard the other day someone saying that a person should always leave their comfort zone if they want to grow and develop. I am growing and developing all the time, and sometimes I worry that Mommy and Daddy are not growing that much.
On the other hand, I read in a magazine that adventures always get you out of your comfort zone. So, I try to invent adventures for Mommy and Daddy to keep them out of their comfort zone as much as I can. Just to make sure that they continue to develop and grow.
Like today, for example. We went out for a walk with Little Martin and his parents. We reached the beach and sat on the sand. Mommy was feeling so comfortable that she even had an ice-cream. The minute I saw this, I started to worry that she is spending too much time in her comfort zone. So I had to get precautions immediately. The only thing I could think of was jumping into the sea. So I that's what I did.
I wouldn't say that I planned it well, but this is how adventures are – you don't have to plan them all the time. So, while Daddy was taking pictures of me near the water, I all of a sudden I dived into it. If you wonder what I mean when I say "dived", I mean that I put my head and body underwater and didn't have a clue how to stand back on my feet. So, for a second or two I was just floating on the surface. Then Daddy grabbed me. He laughed but he looked scared.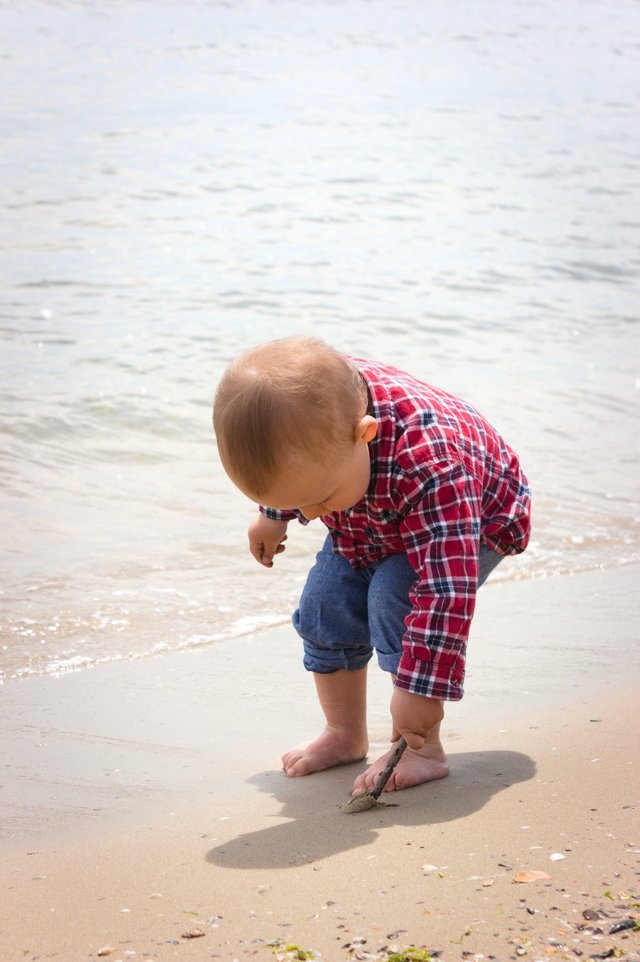 At first I was planning on playing with this amazing stick I found. But that's what adventures are - sometimes they catch you by surprise.
I wasn't very sure what exactly the sea was. I don't remember much from last summer so everything was new to me. It turned out that the water was freezing cold and way too salty for my taste. And my clothes were soaking wet.
But this is how adventures are – they are not always pleasant. In fact, people dream about adventures, but when adventures come, they complain all the time. Because no one thinks about the dangers and the scary things that happen during an adventure.
An adventure becomes funny only when it's over.
But they don't tell you that on TV.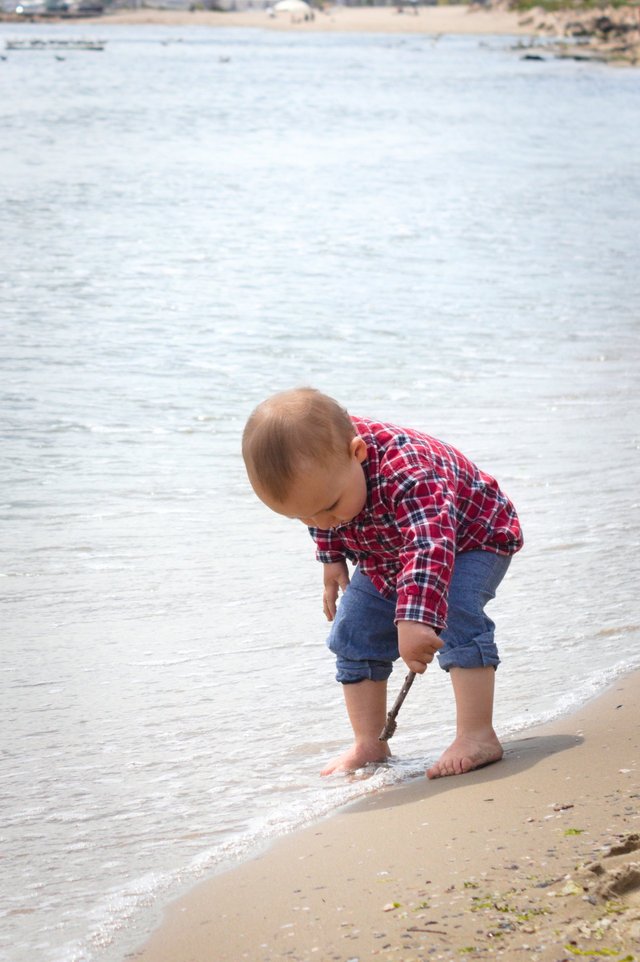 I was trying to remember what the sea was like. I tried to poke it to see if it is going to say something.
Back to my adventure. The water was cold, but it wasn't very deep. At least it wasn't deep for my Daddy, it was around his ankle. But if you can't walk properly yet, every water could become deep. See, that's what I find confusing about the world. Everything is relative. Just read the following carefully.
What is deep water for me, could not be deep water for you.
And here it becomes even more complicated.
What is deep water for me now, could not be deep water for me tomorrow.
Or, even more confusing.
What is shallow water for me when I am standing, could be deep water when I fall.(That was my case today.)
See what I mean?
So, I wanted to prepare Mommy and Daddy for future great adventures and to assure myself that they are out of their comfort zone. I wanted also to show my friend Little Martin and his Mommy and Daddy that it is a good thing to be prepared (at least with warm clothes). It turned out that little Martin was well prepared because he had spare clothes and I didn't. But then another important lesson came to my mind that I could teach Little Martin:
If you have spare clothes, give them to a friend in need.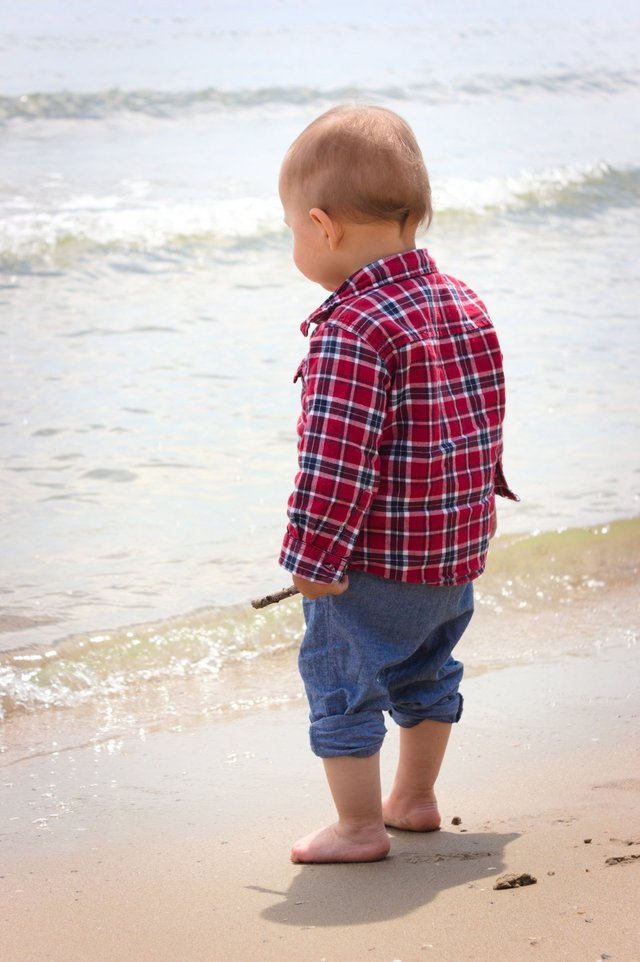 Daddy took this picture only a second before I dived into the water. He threw the camera and rescued me. He didn't take any pictures of the wet version of me. I should train him better.
The world is a complicated place as we've just agreed. For example, if I am having an adventure right now, it doesn't mean that Little Martin is also having an adventure. He may be resting. And this means that he doesn't have the feelings that I have right now. He may not be scared, or cold like I was after jumping into the cold water. Then, if he is a true friend or a good person as a whole, he would imagine what it would be like to be in my shoes. And then he would offer his spare clothes.
Imagining what others feel is not an easy thing. Some people are not very good at it and they could become rude and hurtful to others.
So, it was an important lesson to Little Martin how to imagine what others feel or what I feel in particular. And it was an important lesson for me to know that it is always good to have a friend. That's why I shared my banana with little Martin afterward.
While we were eating the banana like two good friends, I told Little Martin what I just told you. However, he wasn't that positive about my views. He criticized me that I act as if I know it all. He pointed out that what happened was not a lesson to him, but to me. He said, that I should learn how to think first before doing stupid things.
And he was right.
It is always easier to teach a lesson, then to receive one. There are too many teachers in the world. Everybody wants to be a teacher and hates being a student. But being a student could be so exciting. You get to learn new things and you will never ever become bored or bore the others.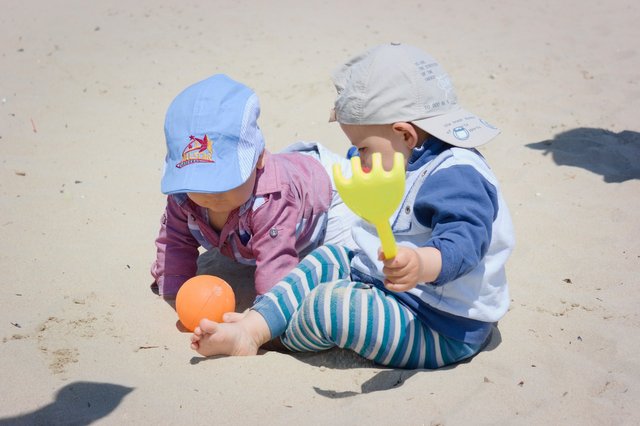 This is Little Martin and me while having a serious talk. I am wearing his spare clothes.
So, in the end, the day went well. Everything was accomplished. Mommy and Daddy got out of their comfort zone, threw the ice-cream and started to develop and grow while they were putting Martin's spare clothes on me. Little Martin learned how to imagine what others feel. I learned what is it like to have a good friend who is honest with you. And, last but not least, I became even better in organizing adventures for Mommy and Daddy. Because I am a good student and I will never ever bore them.
Created by @insight-out, Valeria Sim
All rights reserved.
Images:
My archive. Use only with permission.