Twelve Questions - Dragon Rider Style
Twelve Questions - Crazy Kiwi Style
One of my friends on Steemit, @katrina-ariel, tagged me in this fabulous introduce-yourself-style challenge that @hobotang created.
Now I have to admit before joining Steemit I used to avoid challenges like this, but since I have done a few others and have found it fun reading posts of others that have done this I decided I would join in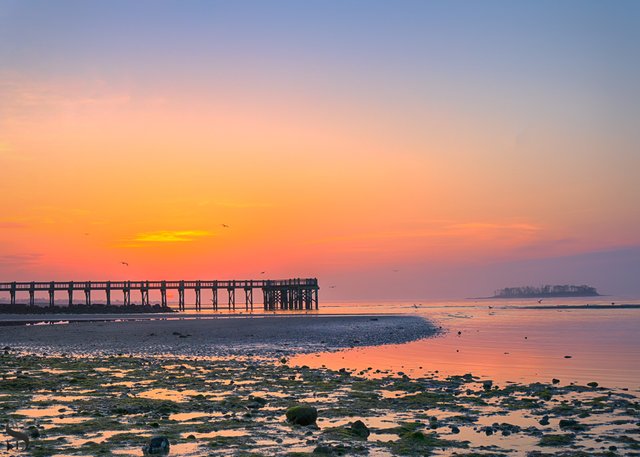 Click here to view larger
Before I get to my Answers of course since photography is what I share on here, I started with what to me is a nice calming morning shot from Walnut beach one morning as the sun was rising.
#3 now to the Twelve Questions - Dragon Rider Style
What 3 meals would you have before heading to the International Space Station?
A good and hearty Irish breakfast would have to be first on my list, well the main parts of it for me would be Irish Sausages, Eggs and Baked Beans.
Having typed that I don't think whoever would be in the shuttle going to the space station with me would be to happy with the after effects of that meal, so being a good team member perhaps I need to rethink that.
OK then I will start with a good Roast dinner with New Zealand Lamb, I know I am biased but it is the best Lamb these is without a doubt in my mind.
Second meal would be a Steak and Kidney Pie again from New Zealand dang just typing it out my mouth is watering I miss those pies.
And the third meal would be strictly speaking a desert and one I haven't had for many years Queen Pudding like my Mum used to make, I am not even sure of the recipe or how she made it, but it was a Bead base, with a layer of Jam and a Meringue topping, sinfully bad for us but so damn nice.

What section of the newspaper/library would you be?
After thinking of the food in the last question I would have to be in a section for computers looking how to clean a keyboard when you have drooled all over it.
But if a Newspaper the first section I read is normally the cartoons, then I move onto other sections, in a library I would either head to the photography section

If you were immortal, what age would you choose to stop aging at and why?
Hmmm thats a tough one, my initial thought would be 32 as thats one of my favorite numbers at an age that's not to young.

What sport would you compete in, if you were in the Olympics?
Rugby, Although I enjoyed playing other sports when I was younger and enjoy watching most sports, Rugby is still the one I love the most.

If you had to go back in time to live the rest of your life where/when would you go?
When I was younger and all Gungho I would have said back to the days of the Vikings, being a bit older and more calm and laid back I would probably have to go for the 60's

If time and money were no barrier what would you create?
World peace

Have you ever completed anything on your bucket list?
Yes I have been truly fortunate to have had opportunity to cross many off my list including one of the first things on my original bucket list, which I thought was never likely to happen, travel to at least 4 Countries, having been to over 60 I think that's well and truly crossed off.

What would be the most surprising scientific discovery imaginable?
Hmmmm another one that made me think, I guess great advances in Environmental protections and food provision ensuring plenty of natural food and water for everyone.

Are you a good witch or bad witch?
I guess that would all depend on who you ask I am sure some would say good and some would say bad, what would you say of me.
If you had to teach a class on one thing, what would you teach?
I have been asked a few times to do classes and photo walks to help people learn a bit more about photogra[phy, but with my day job I just don't have the time, but maybe when I retire I will be able to do that.
Which band / artist – dead or alive would play at your funeral?
Well I have always thought of the Queen Song Another one bites the dust But perhaps that song may not be in good taste or appropriate to any of my family members who may be there, so I will not say specifically that song, but will say Queen and U2 as the bands I would like.
What book or movie have you read/seen recently you would recommend and why?
That would all depend on my mood, but the one that comes to mind was recently I watched Paddington 1 and 2 such a cute and sweet movie which also made one chuckle from time to time so thats the one I will go with.
Your turn!
This is a great way to get to know more about each other, so be sure to check the #twelvequestions tag to read others. Please join in even if you're not tagged, and let me know you wrote one—I'd love to read your post!
OK I am not big on tagging people so let me just say if you read this far and haven't been tagged well guess what
#3 Your Tagged now
---
Unless stated otherwise all photos used in my posts are taken and owned by myself, if you wish to use any of my images please contact me.
steemusa is a growing Community for and supporting those from of in the United States,check out the latest post or join us on Discord
If your interested in thealliance Check out the latest posts




!steemitworldmap 41.195079 lat -73.078612 long Walnut Beach Milford CT d3scr