Vitamin-D : A Worldwide Deficiency
In the current world, we might have become economically wealthy but health wise deficient.
Today almost 50% of world population is suffering from Vitamin D deficiency and the number has been growing since the last Decade.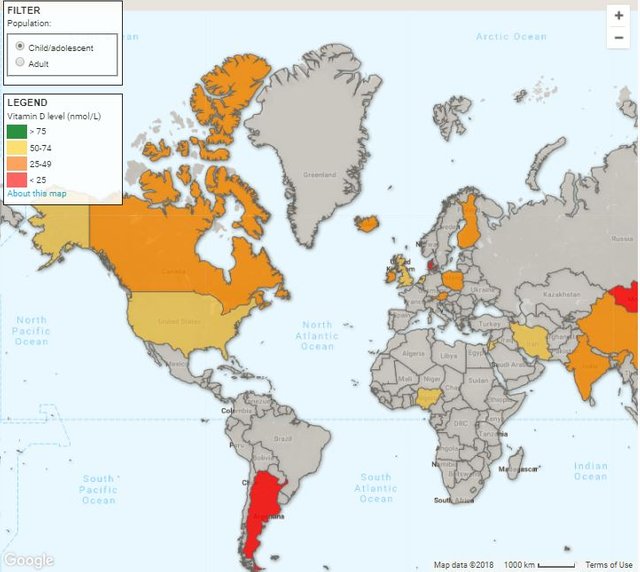 From the data above it can be inferred that Its only the non equatorial countries that are suffering from deficiency but also the equatorial ones like India,China and Mongolia which receives ample amount of sunlight throughout the year.
Further Details can be found from Interactive Graph Here
Vitamin D-`eficiency Consequences
Vitamin D Deficiency results in abnormalities in calcium, phosphorus, and bone metabolism. VDD causes a decrease in the absorption of dietary calcium and phosphorus, resulting in an increase in PTH levels.The PTH-mediated increase in osteoclastic activity creates local foci of bone weakness and causes a generalized decrease in bone mineral density (BMD), resulting in osteopenia and osteoporosis. An inadequate calcium–phosphorus product causes a mineralization defect in the skeleton.In young children who have little mineral in their skeleton, this defect results in a variety of skeletal deformities classically known as rickets.It also causes muscle weakness; affected children have difficulty in standing and walking, whereas the elderly have increasing sway and more frequent falls, thereby increasing their risk of fracture.
The significance of Vitamin D and Functions Beyond
Usually, Vitamin D is often seen linked to promoting bone and muscular health but recent studies have shown implications much beyond.
Cancer
Many studies have suggested a link between low vitamin D levels and an increased risk of cancer, with the strongest evidence for colorectal cancer. In the Health Professionals Follow-up Study (HPFS), subjects with high vitamin D concentrations were half as likely to be diagnosed with colon cancer as those with low concentrations.A definitive conclusion cannot yet be made about the association between vitamin D concentration and cancer risk, but results from many studies are promising.
Cancer: Vitamin D decreases cell proliferation and increases cell differentiation, stops the growth of new blood vessels, and has significant anti-inflammatory effects Research Link.
Reverse Damage to Heart ? D3 Can do it.
In a paper published in the International Journal of Nanomedicine, they describe how they used nanosensors and a cell model to identify the molecular mechanisms that vitamin D-3 can trigger in the endothelium, which is the thin layer of tissue that lines blood vessels.
The new study suggests that vitamin D-3 — a version of vitamin D that our bodies produce naturally when we expose our skin to the sun — plays a key role in preserving and restoring the damage to the endothelium that occurs in these diseases.
Its significance goes beyond to the areas such as Type 2 Diabetes, Heart Diseases, Hypertension, Obesity, Tuberculosis. All these, in turn, contributes to other lifestyle diseases
Cause and Prevention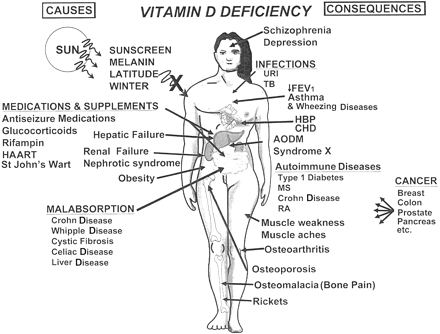 Lack of Sunlight: The major factor contributing to Vitamin D deficiency is not only low exposure to Sunlight but also the frequency, timing, and the activity levels.
Standing more time in Sunlight does better?: No
Shorter yet more frequent time staying in Sun helps along with clothing to ensure sunlight is received by the body
The process is not as simple as the sun hitting your skin and vitamin D appear in your blood. What actually happens is that vitamin D3 is first transformed by a process known as hydroxylation in the liver to 25-hydroxyvitamin D3, often written as (25(OH)D3), and then again in the kidney to its active form, 1,25-dihydroxy vitamin D3, written as (1,25(OH)2D3). The level that is checked in your blood is 25-hydroxyvitamin D, often written as 25(OH)D, which includes vitamin D2 and D3. By staying in the sun, you limit this process and can actually get less vitamin D. You also have a lower risk of burning and damaging your skin with short exposures
Obesity and High Body Fat: It is believed that the fat under the skin holds onto the fat-soluble vitamin instead of releasing it. Hence there is an overall deficiency of Vitamin D. However there are more studies being conducted in this direction further.
Fat Malabsorption: People with one of the fat malabsorption syndromes (e.g Crohn's disease or Celiac disease).Vitamin D is fat soluble, therefore it requires some dietary fat in the gut for absorption. Individuals with reduced ability to absorb dietary fat might require vitamin D Supplement
Dietary Cause: Not eating an adequate amount of Vitamin D can also cause a deficiency.
Vitamin D Daily Limits
Intake reference values for vitamin D and other nutrients are provided in the Dietary Reference Intakes (DRIs) developed by the Food and Nutrition Board (FNB) at the Institute of Medicine of The National Academies (formerly National Academy of Sciences)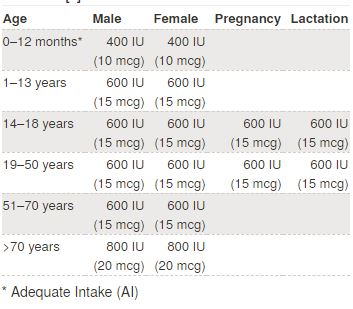 Only a few foods are a good source of vitamin D. The best way to get additional vitamin D is through supplementation. Traditional multivitamins contain about 400 IU of vitamin D, but many multivitamins now contain 800 to 1000 IU.Cod liver oil is a good source of vitamin D, but in large doses, there is a risk of vitamin A toxicity.
Food Sources

IUs = International Units.
** DV = Daily Value. DVs were developed by the U.S.
Food and Drug Administration to help consumers compare the nutrient contents among products within the context of a total daily diet. The DV for vitamin D is currently set at 400 IU for adults and children age 4 and older. Food labels, however, are not required to list vitamin D content unless a food has been fortified with this nutrient. Foods providing 20% or more of the DV are considered to be high sources of a nutrient, but foods providing lower percentages of the DV also contribute to a healthful diet.
Conclusion
As evident from the above, the humble Vitamin D plays an overall greater role in overall well being of an individual but unfortunately due to our lifestyle choices we have this state where 50% population is affected. Since its deficiency itself is a direct cause of multiple diseases it becomes utmost important pay attention towards this issue.
I hope that the above article perhaps would have drawn your attention towards the importance of Vitamin D. If you have anything on it that may be useful, please add in the comments sections. Thanks for taking out time to read and if you like the same you may extend the support by upvoting and resteem.