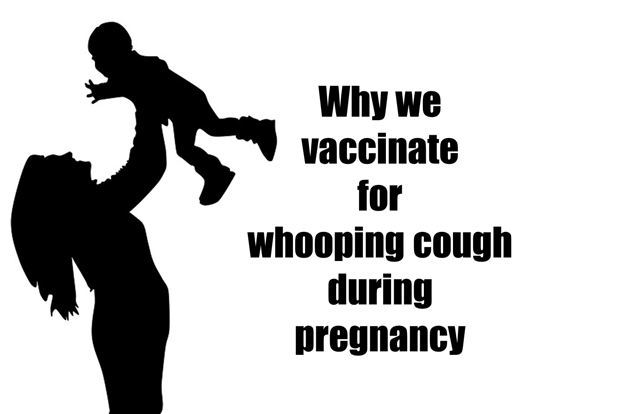 The majority of my academic work looks at the acceptance of the Tdap (tetanus – diphtheria – acellular pertussis) vaccination that aims to prevent deaths due to the spread of pertussis (whooping cough) to babies under 3 months of age.
Often, I try to keep my vaccination posts 'light' on the vaccinology and more focused on the psychology of vaccination, as this is my area of expertise. However, seeing as there are many misconceptions about this particular vaccine online (written by people that seem to have little concern when it comes to straying outside of their area of expertise) and it's the vaccine that much of my work is pinned on, I thought I'd make an exception here. Title image credit: Max pixel
Why did the UK decided to vaccinate pregnant women with the Tdap vaccine
All pregnant women in the UK are recommended to take at least one vaccination during pregnancy. Since 2009, if it is flu season (Late September – Early April) women are offered the seasonal influenza vaccine, since 2012, all year round women are offered the Tdap vaccine. The reasoning is similar in both cases:
The vaccines protects the mother during a period where their immunity system is in constant flux1

If the mother gets ill during pregnancy this can cause a teratogenic effect (a teratogen is an agent or factor which can cause birth defects) to the developing foetus. 2,3

Vaccinating during pregnancy passes on immunity, through the placenta, to the newborn child. Protecting them for the critical first few months of life, until they can receive their own vaccinations.4
The spread of pertussis in the UK during early 2012 ultimately led to the introduction of the pertussis immunisation during pregnancy program. As can be seen below there was a sudden 10x increase in cases compared to the ten year before that took the health system a little by surprise.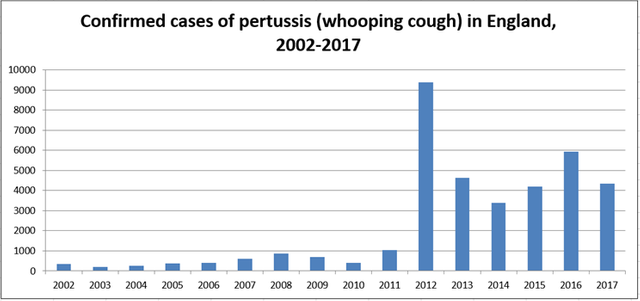 Source of data: Public Health England Archive
Worryingly, many of these cases were babies under three months of age.
Pertussis is a horrifying disease for a health adult to get, but to see a baby go through it is particularly heart wrenching. The bacterial infection starts off with symptoms similar to a cold, however, it later develops to cause intense bouts of coughing (known as paroxysms). Sharp intake of breath after coughing creates the characteristic 'whoop' noise (hence the name whooping cough). This coughing is often hard enough to induce vomiting, gagging and gasping for air, in severe cases these symptoms can prove fatal 5.
This was sadly the case for 14 babies in early 2012. Later that year the joint committee on vaccination and immunisation (JCVI) made the decision to implement the pertussis immunization program for pregnant women as an attempt to prevent further deaths 6. Initially this program was a temporary measure (due to cost-effective reasoning) however since rates of pertussis have remained high and a further 18 babies have died between 2013 and 2016 7 the program has remained in place.
Preventing the transmission of pertussis
Preventing the transmission of pertussis is no easy task. It is recommended that babies receive their vaccine containing the pertussis immunisation (6-in-1 Diphteria, Tetanus, Pertussis, Polio and Hib 8) at 2, 3 and 4 months of age. This slight delay is due to two main reasons,
Newborn babies' immune systems do not respond well before 2 months so the vaccine is less effective if it is deliver directly after birth.

The vaccination does not offer immediate protection; it takes several days (and several doses) for a high level of protection to be developed.
Unlike with measles, neither pertussis infection or immunisation provides lifelong immunity to the disease9. Luckily, while still deeply unpleasant for child older than one or two years old, pertussis is rarely life threatening when contracted. This does, however, mean that people rarely top up there pertussis immunity, and as such it is often freely circulating within the population, preventing general community immunity form offering a high level of protection.
For a while some countries (e.g. Australia and Germany) attempted to interrupt pertussis transmission through a process known as cocooning. This strategy involves all adults and children that that are likely to be around a newborn being vaccinated in an attempt to surround the child with a ring of immunity10. While effective, ultimately vaccination during pregnancy has proven the optimal stratagem due to its higher effectiveness at a lower cost.
Safety and efficacy of vaccinating for pertussis during pregnancy
Pregnant women often shown high levels of caution towards medical interventions recommended during pregnancy. And rightfully so! Events such as the thalidomide tragedy cemented the risk of teratogenic effects related to medications in the minds of many parents.
The nature of our psychology, however, is to take events like this and make rules of thumb or "truisms". In this case, the truism for pregnancy is that it is risky to take medication during pregnancy. Therefore, with the vaccination during pregnancy the bar for safety has had to be higher than many other medical interventions otherwise mothers might not see it, accurately, as significantly less dangerous than the disease (see my previous post on vaccines being a victim of their own success for more on this topic).
The first step of safety has been the prolonged use of the Tdap vaccine to provide immunity for millions of children for decades now with minimum side-effect above the common symptoms such as a painful upper arm and mild flu like symptoms11.
Next due to previous use of the vaccine in control strategies such as cocooning, accidental immunisation of pregnant women (i.e. women receiving a vaccination while not yet knowing they were pregnant) has been a common occurrence. While concern exists for live vaccines such as the MMR being accidentally given during pregnancy12, similar concerns are unfounded with the Tdap due to the fact the components are acellular13.
Finally, a 2017 systematic review of 15 random control trials studied the safety and effectiveness of the vaccine on over 200 thousand women14. Though this the authors found that there is no evidence of increased risk of serious complications such as stillbirth, or preterm birth related to the administration of the vaccine during pregnancy. A further systematic review is currently being undertaken by Cochran15.
As for effectiveness, in July 2014 The Lancet indicated that babies born to vaccinated mother had high levels of protection against pertussis and a 91% reduction in risk of pertussis disease in the first week of life16. Studies in 2016 and 2017 also showed similar effectiveness7
Has the program been worth it?
In the UK infant deaths from disease happen so rarely that when they do they are often front page news. When dealing with such small numbers it can sometimes be hard to see whether a policy is making a difference. With an infection, it can be even harder. A while back, when cases of pertussis were low, we moved from the TDP vaccine to the Tdap, this new acellular version of the vaccine was less prone to causing side effects however, the trade-off was a shorter period of immunity. This is potentially why we are now seeing pertussis circulating in the adolescent population far more than we used to. These adolescents are subsequently passing it on to their younger siblings. Ideally, we would cocoon and vaccinate during pregnancy however, with a limited pot of money we can only do so much.
Basing my research around this vaccine has made me realise how complicated vaccine policy can be, and from talking to women making their decision about this vaccine I have to say I understand the conflict that they face. There is so much conflicting information out there and this program really hasn't been running that long.
The only advice I can offer when asked about this vaccine is to trust in the NHS and Public Health England's recommendation. From working around the people in these organisation that make these vaccine decisions over the last three years I can attest that they really do care about the same thing you do.

We all want children to grow up healthy, happy and free from disease.
--------------------------------------------
About me:
My name is Richard, I blog under the name of @nonzerosum. I'm a PhD student at the London School of Hygiene and Tropical Medicine. I write mostly on Global Health, Effective Altruism and The Psychology of Vaccine Hesitancy. If you'd like to read more on these topics in the future follow me here on steemit or on twitter @RichClarkePsy.
--------------------------------------------
References:
[1] The BMJ: Safety of pertussis vaccination in pregnant women in UK: observational study
[2] Short, S. J., Lubach, G. R., Karasin, A. I., Olsen, C. W., Styner, M., Knickmeyer, R. C., ... & Coe, C. L. (2010). Maternal influenza infection during pregnancy impacts postnatal brain development in the rhesus monkey. Biological psychiatry, 67(10), 965-973.
[3] Brown, A. S., & Derkits, E. J. (2009). Prenatal infection and schizophrenia: a review of epidemiologic and translational studies. American Journal of Psychiatry, 167(3), 261-280.
[4] Esposito, S., Bosis, S., Morlacchi, L., Baggi, E., Sabatini, C., & Principi, N. (2012). Can infants be protected by means of maternal vaccination?. Clinical Microbiology and Infection, 18, 85-92.
[5] UK Gov: Pertussis: guidance, data and analysis
[6] JCVI Minutes June 2012
[7] The Oxford Vaccine Knowledge Project: Pertussis vaccine in pregnancy
[8] The Oxford Vaccine Knowledge Project: 6-in-1 vaccine
[9] Cherry, J. D. (2012). Epidemic pertussis in 2012—the resurgence of a vaccine-preventable disease. New England Journal of Medicine, 367(9), 785-787.
[10] Munoz, F., & Englund, J. (2011). Infant pertussis: is cocooning the answer?
[11] Hansen, J., Timbol, J., Lewis, N., Pool, V., Decker, M. D., Greenberg, D. P., & Klein, N. P. (2016). Safety of DTaP-IPV/Hib vaccine administered routinely to infants and toddlers. Vaccine, 34(35), 4172-4179.
[12] Public Health England: MMR (measles, mumps, rubella) vaccine: advice for pregnant women
[13] The NHS: Can I have vaccinations when I'm pregnant?
[14] Furuta, M., Sin, J., Ng, E. S., & Wang, K. (2017). Efficacy and safety of pertussis vaccination for pregnant women–a systematic review of randomised controlled trials and observational studies. BMC pregnancy and childbirth, 17(1), 390.
[15] Murthy, S., Godinho, M. A., Lakiang, T., Lewis, M. G. G., Lewis, L., & Nair, N. S. (2018). Efficacy and safety of pertussis vaccination in pregnancy to prevent whooping cough in early infancy. status and date: New, published in, (4).
[16] Amirthalingam, G., Andrews, N., Campbell, H., Ribeiro, S., Kara, E., Donegan, K., ... & Ramsay, M. (2014). Effectiveness of maternal pertussis vaccination in England: an observational study. The Lancet, 384(9953), 1521-1528.