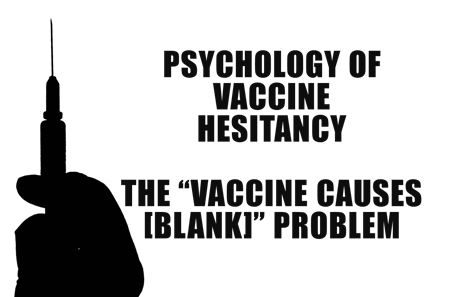 Image credit: Pixabay
In a previous post I talked about perception of risk and its influence on the vaccine decision-making process. This was an example of a psychological model, a way of explaining a belief by looking at its constituent parts.
In this simple model, I suggested that if we make an active decision about a vaccination we take a risk judgement associated with the disease the vaccine aims to prevent and combine it with a risk judgement associated with the side effects from the vaccine. If our perception of the risk in regards to the vaccine starts to outweigh that of the disease then we are more inclined to refuse to vaccinate.
With this framing in mind, public health programs have often seen a lack of information and education as one of the overriding causes of vaccine refusal.
The key to a high-uptake vaccine campaign therefore is assumed to be good health communication, specifically discovering the misconceptions held by a non-vaccinating population and debunking them by effectively communicating the correct information.
The 20-year long myth that still plagues UK vaccine communication
If there is one specific misconception and outright wrong vaccine belief that warrants debunking, it is that of a theory put forward by a British researcher and medical practitioner named Andrew Wakefield.
In his 1998 paper 1 published in The Lancet (a very well respected medical journal), Wakefield and his co-authors reported the medical findings of 12 children under the care of the hospital that Wakefield worked at. The paper reported a correlation between a range of fairly common developmental disorders exhibited by the 12 children to the measles, mumps and rubella (MMR) vaccine, a vaccine received by the vast majority of British children at the time.
Often in science, a study on this scale and quality will either not be publishable or will be published, read by a few academics with a specific interest in the subject area and then maybe form part of the basis for later more rigorous work.
However, instead of the common muted response for this study, a televised news conference instigated by Wakefield propelled the lacklustre findings to the front pages of The Guardian and The Independent newspapers. The news story lasted for a couple of weeks, however it quickly burnt itself out with relatively little effect on the overall uptake of the vaccine.
This was the case until around 2000/1 when Wakefield published two further papers related to his theory. Little in the way of additional findings were reported within these papers; they were in essence restating his previous results and his strong concerns related to the vaccine 2. At this point, journalists in the UK felt the story had new legs to it. It was seen as one of those lone voices, fighting the good fight against an out of touch and negligent system stories, so they pushed it much further this time. They found emotional narratives from parents who thought that their child had been damaged by the vaccine and reported them as fact. They found other health care professionals who were sympathetic to Wakefield's cause and sought comments from them, further legitimising his claim.
The story hit its peak in late 2001 when the then prime minister Tony Blair was asked whether their son Leo had been vaccinated with the MMR vaccine. The prime minister's immediate response was that they refused to comment on private family issues. Although they were to later clarify that he had been vaccinated 3, the damage had already been done.
Doubt had set in.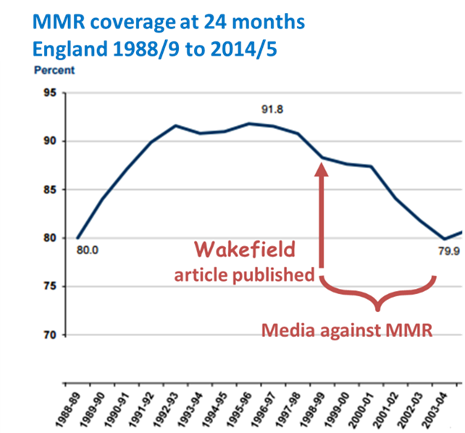 This is what a collapse in public confidence looks like. Note: the triple vaccine was introduced in 1988 hence previous low uptake. Image created for post, data from here 4
Side note: Measles causes death in around one out of every 1000 cases and has a basic reproduction number (Ro) of 14-18. If you know the story of rice doubling on the chess board each square (see a post by @flyyingkiwi for the full explanation of the concept of exponential growth) then you understand how quickly an Ro of 2 can get out of hand, the Ro of measles is therefore disease-based wildfire. Very scary stuff even if protection drops just a little.
None of the reporting of the crisis at the time was wrong, per se. It was often misguided and highly ignorant to the scientific process, however all reporters reporting on the story and those being interviewed were doing so in apparent good faith.
All, however, apart from Wakefield himself.
Wakefield committed fraud
There is a cruel irony for those of us who work in vaccine confidence. In that, we are often accused of being shills by people defending a man who knowingly conducted fraudulent work, putting children at risk for his own financial gain.
In 1997 Wakefield filed a patent 5,6 for a vaccination procedure that was to be used in the place of the triple MMR vaccine, a patent that if the country were to turn against the MMR vaccine would benefit the owner financially to the sum of millions of pounds 7. This behaviour on its own would be classified as a conflict of interest that, if disclosed, would not necessarily entail a rejection of Wakefield's theory (but would look suspicious to say the least). What, however, did constitute fraud in this case was the falsification of data and questionable research practices conducted to form the findings that Wakefield would later use to discredit the existing vaccine program.
Yes, even though the original study was a poor example of rigorous scientific research (that somehow made it past the peer-review process), the results of the paper itself were highly questionable. Participants in Wakefield's study were specifically selected and standard results were reported with such systematic incompetence that even the earliest of career researchers would have spotted the mistakes 5.
To make his behaviour even more reprehensible, Wakefield's data collection processes often involved a blatant disregard for ethical practice in scientific research. At a 1999 press conference Wakefield even admitted taking blood samples from children at his son's 10th birthday party 8.
Vaccine rarely cause blank
Needless to say, this whole mess was damaging to the MMR vaccine program. Since the above came to light, Wakefield's co-authors have removed their names from the original study as they became aware of their lead author's conduct, the Lancet has fully retracted the paper 9, and the media have reported extensively on Wakefield being stripped of his medical licence and the subsequent epidemiological research that refutes his theory.
It has taken nearly 20 years but in England we are now at the point where uptake of the vaccine has reached, and as of this year possibly surpassed10, previous levels.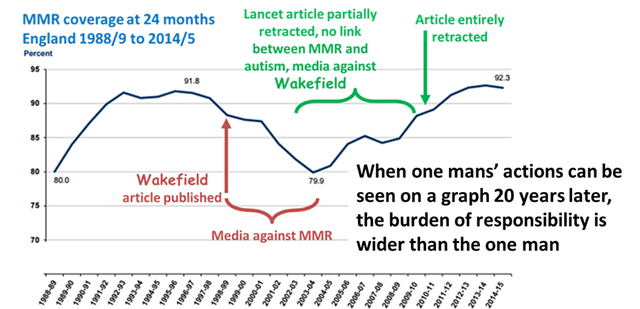 I have two rules when talking about the Wakefield story. 1. Never show a picture of him (the man has had enough fame now in my opinion). 2. Wherever possible his name should appear in Comic Sans (the greatest of text-based punishments). Image created for post, data from here 4
The story I've told here is an example of what happen when a vaccine causes blank claim enters public discourse before the appropriate scientific process has determined validity. France has their own vaccine causes blank story 11 and so does Japan 12. Each rumour different and each rumour locked within their language of origin, spreading through networks like the viruses that their subject matter attempts to prevent.
Sadly, vaccine causes blank is often a far more intuitive explanation for a developmental disorder than the complexities of epigenetics that is often at the root of occurrence.
I believe that some part of our the MMR vaccine causes blank thinking still remains dormant within the UK. The seeds of doubt have a habit of burying themselves deep in our brains. I've had many hour-long conversations with parents on this topic and it always comes down to one thing; feelings. Some people just feel that the theory that Wakefield put forward was right and no amount of evidence will convince them otherwise. Especially from a shill like me (joke, obviously. If you'd like to read about my funding I mention it, along with my personal views on vaccination, here).
So, I've decided that one of the best things I can do when communicating about vaccination is to not repeat the previous myth, even when my effort is to debunk it. I answer the question on the topic when asked but repeating the myth without prompting grows seed of doubt, it makes it more familiar, and familiarity has a habit of making a statement feel more true to us 13</sup).
But it's still there though, isn't it?
I've not mentioned [blank] anywhere in this post but for some of you it's there, fighting its way to the front of your mind, demanding to be paid attention to.
About me
My name is Richard, I blog under the name of @nonzerosum. I'm a PhD student at the London School of Hygiene and Tropical Medicine. I write mostly on Global Health, Effective Altruism and The Psychology of Vaccine Hesitancy. If you'd like to read more on these topics in the future follow me here on steemit or on twitter @RichClarkePsy.
Also I'm in the process of building up my Steem basic income shares so I've decide to sponsor a share a week to someone that engages in the comments below. I've no real system for this but get stuck in and I'll likely sponsor you in at some point.
References:
[1] Wakefield AJ, Murch SH, Anthony A, Linnell J, Casson DM, Malik M, Berelowitz M, Dhillon AP, Thomson MA, Harvey P, Valentine A. RETRACTED: Ileal-lymphoid-nodular hyperplasia, non-specific colitis, and pervasive developmental disorder in children
[2] Ben Goldacre: Bad science blog, The medias MMR hoax
[3] The Guardian: Blair baby 'has had' MMR jab
[4] UK Parliament: Measles and MMR statistics
[5] Deer B. How the case against the MMR vaccine was fixed. Bmj. 2011 Jan 6;342:c5347.
[6] Brian Deer: Andrew Wakefield vaccine patent
[7] Deer B. How the vaccine crisis was meant to make money. Bmj. 2011 Jan 11;342:c5258.
[8] Dyer O. Wakefield admits fabricating events when he took children's blood samples. BMJ: British Medical Journal. 2008 Apr 17;336(7649):850.
[9] Dyer C. Lancet retracts Wakefield's MMR paper. BMJ: British Medical Journal (Online). 2010 Feb 2;340.
[10] BBC News: MMR vaccine first-dose target met in England
[11] World Health organisation: The Global Advisory Committee on Vaccine Safety rejects association between Hepatitis B vaccination and multiple sclerosis (MS)
[12]Vox: Why Japan's HPV vaccine rates dropped from 70% to near zero
[13] Lewandowsky S, Ecker UK, Seifert CM, Schwarz N, Cook J. Misinformation and its correction: Continued influence and successful debiasing. Psychological Science in the Public Interest. 2012 Dec;13(3):106-31.