Anathema of "Vitamin B17"! Banning once and for all!
A ninth circle of hell by Dante Alighieri right here gentleman! Devine comedy by me, officially @nature.alchemist
As you already know there are a lot of bandits and thieves in the world. However, when they show up in the health system of a country it is especially concerning. Not only they get money, but they are deceivers and liars to the point of disgust.
This deception man... Why is it so powerful? Because they promise you peace, they promise you no pain and they give you hope for your silent consent and money!!! And as in every therapy, a psychological impact is crucial-THIS FAITH IN MEDICINE. This is a very important aspect... A strong faith. This is where it starts. Apart from the foundations of trust, the story they tell you is always touching and has some kind of logic which can only half(non)-educated person think of.
I am writing this story because although this affair is finished in the USA almost 50 years ago, a wave of deceit somehow rises in Europe. In Serbia, this is just part of "herbal fever" that has really spread.
This is the myth-busting of vitamin B17 (amygdalin) which is closely related to Laetril a fake drug used to "cure" cancer in the USA about HALF CENTURY ago.
So vitamins... "Vita" means life and "amin" is there because they contain nitrogen (not all of them). Even from the name, you can tell they are vital! Vitamins are micronutrients ("nutrients needed in small quantities") that are not synthesized in our body and are needed for life.
Do not misunderstand: not everything that is not made in our body is vitamin and not everything that we ingest is a vitamin. For instance, approximately 500 ml of water is the product of our metabolism but H2O is not a vitamin, because it is both ingested and synthesized in large amounts. Water is nevertheless necessary for life.
There are a lot of numbers in vitamin B series names: B1, B2, B3, B5, B6, B7, B9, B12 but some are missing (B8, B10, B11) because those substances are no longer considered vitamins because they are not vital or are synthesized in our body or it was proven that they are not needed for life.
So this story of "Laetril" (trade name of this "drug") was designed by "Dr." Ernst Krebs and his son and was quite popular in the 1970s. "Laetril" was deemed to be a natural prevention and treatment of cancer as it was isolated from bitter almonds seed. Truth be told Laethril was synthesized, not isolated. Amygdalin (found in bitter almond seeds) is often mistaken for Laetril.
Chemically Laetril is β-mandelonitrileglucuronide: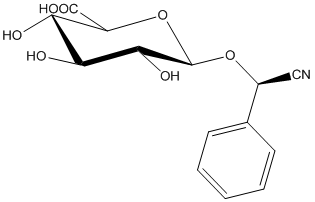 Structure of amygdalin (also known as vitamin B17):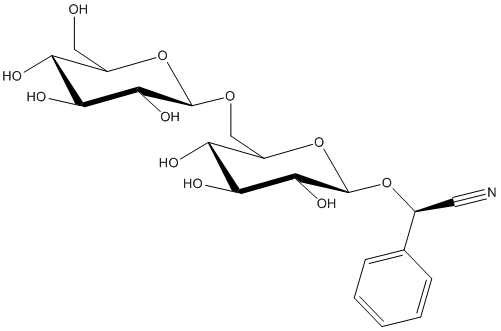 It was told that Laetril releases cyanide selectively in cancer cells because of the special enzyme present in the cancer cell which is not present in the normal cells. There was no evidence for such claim!
To make things worse, glycosides and cyanohydrin moiety quite easily hydrolyzes in acid giving glucuronic acid, benzaldehyde and hydrocyanic acid. Due to this, there is a possibility for cyanide poisoning. But this is of less concern than the absence of effect.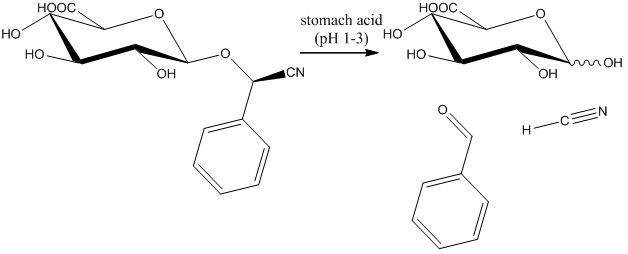 (*formulas are drawn by me using ChemDraw software)
Due to this decomposition hardly any "active substance" reaches cancer tissue (hardly even duodenum where it should be absorbed)!
But PLEASE let us assume that it does! There is basically no difference in metabolism of Laetrile in cancer and normal cells. Probably there is no metabolism of this compound at all since it is very hydrophilic. Only lipophilic compounds are metabolized into more water-soluble compounds which are then excreted via kidneys.
It was assumed that cancer tissue was more acidic than normal tissues. Hmmm could that be an explanation for selective release of cyanide in cancer cells? Acidosis could be the case in fast-growing carcinoma tissue because of faster metabolism and CO2 production (in contact with water gives carbonic acid) etc. But not all carcinoma grow fast, they just grow uncontrollably. pH of our blood is ≈7,4. If it goes below 7.2 (which is chemically speaking still slightly basic environment) you die because of the arrest of metabolic processes. Cancer tissue cannot possibly be that more acidic compared to normal cells to make difference in the chemical hydrolysis of Laetril.
EVERYTHING I said for Laetrile goes also for amygdalin. The only difference is that upon hydrolysis amygdalin gives glucose instead of glucuronic acid.
It was quite easy to figure out this even for a mere pharmacist without in-depth knowledge of oncology. But it is hard to actually prove that something is not doing something than that is actually doing...
You prove it on mice-they say: but it IS working on humans!
You prove it on humans-they say: your study was not conducted properly, not enough participants, wrong dosage and so on!
In vitro tests are only a rule of thumb! For instance, if I kill cancer cells with ketchup (AND I ACTUALLY CAN BECAUSE SURFACTANTS FROM KETCHUP DISINTEGRATES CELL MEMBRANE) does it mean that ketchup cures cancer.
Guys don't be so naive.
Hopefully, this raises awareness of Herbal medications and the necessity of proper clinical evidence for all treatments-NO EXCUSES.
Just make sure that exotic product giving you hope and comfort has solid proof for what is claimed to be doing.
Next time I will come with some perspective herbs :)
If you have any ideas what should I cover in the future let me know in the comments...