These posts are not for foraging. They are intended for entertainment and intellectual satisfaction only. These posts are not a field guide nor comprehensive in any way - their accuracy is not assured in any way. Do not eat wild mushrooms unless you are a professional, have substantial professional assistance or have a wealth of personal experience with a specific species. Do not make any foraging decisions based on these posts. To do so could be dangerous or life threatening.
---
---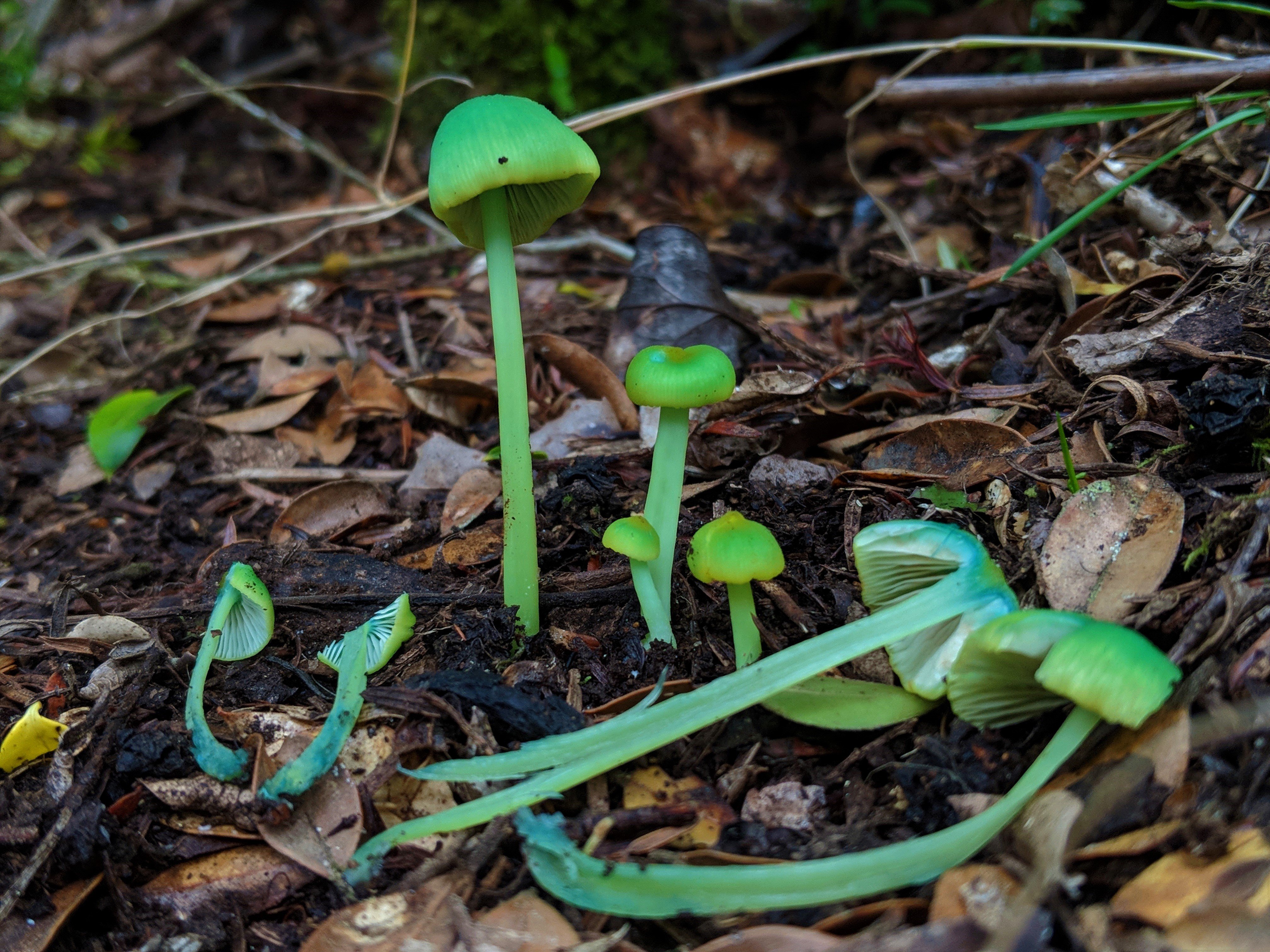 Deep inside of Parque Oncol, we found these very special mushrooms - Entoloma necopinatum.
Or, possibly, Entoloma neonecopinatum. The distinction between the two is presently lost on me, but one of my compatriots who, again, has a great deal more knowledge about these things than I do, labeled the Entoloma's we found in Parque Oncol as "neo" whereas she labeled another sample found further north in Chile without the "neo" addition.
Whether these mushrooms require the addendum "neo" or not is getting pretty deep into the weeds and likely a question to be resolved by DNA testing.
What's more important for the average reader is how mind blowingly beautiful and intensely, fantastically colorful they are. I mean look at that overwhelming, bright green coloration.
Plus, as if that wasn't enough, take a closer look at the areas where the mushrooms have been damaged.
Enhance!
---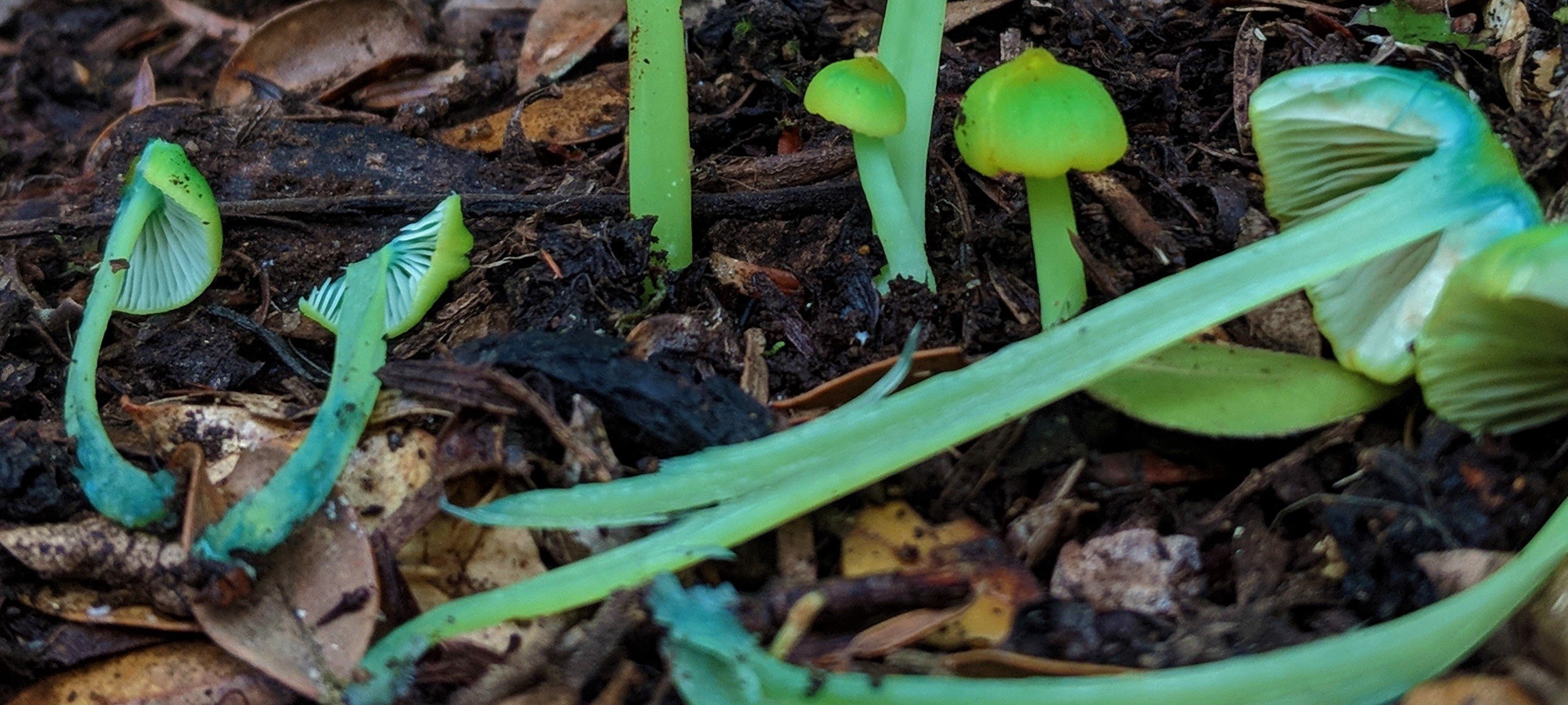 Blue! They stain bright blue.
Yep, these are bright green mushrooms, that stain bright blue when damaged and, as you'll see later, exude pink spores. Does it get more colorful than that? Let's dive in.
---
In general Entoloma's can be a difficult genus to parse.
Many of the species are fairly cryptic and often grow alone or in very small groups. They can be confusing to navigate, especially if you're trying to get down to species.
However, these astounding green Entoloma have basically no lookalike in their ecosystem in Chile. In fact, as of 2015, there were only five recorded collections of E.necopinatum in history. The first was in 1977, by Dr. Egon Horak, whose name is now assigned to the E.necopinatum species. Our guide during this trip, Guiliana Furci, collected a sample in 2007 and the Fundación Fungi led a course which resulted in a sample being taken in 2015.
Although I can't be 100% sure, it is safe to say that our group was the 6th or 7th recorded collection of E.necopinatum ever. (Or, an even more exciting possibility, the first collection of a genetically unique species, perhaps E.neonecopinatum).
The long and short of it is that these mushrooms are extraordinarily rare, much more so than last week's beautiful Mycena cyanocephala.
---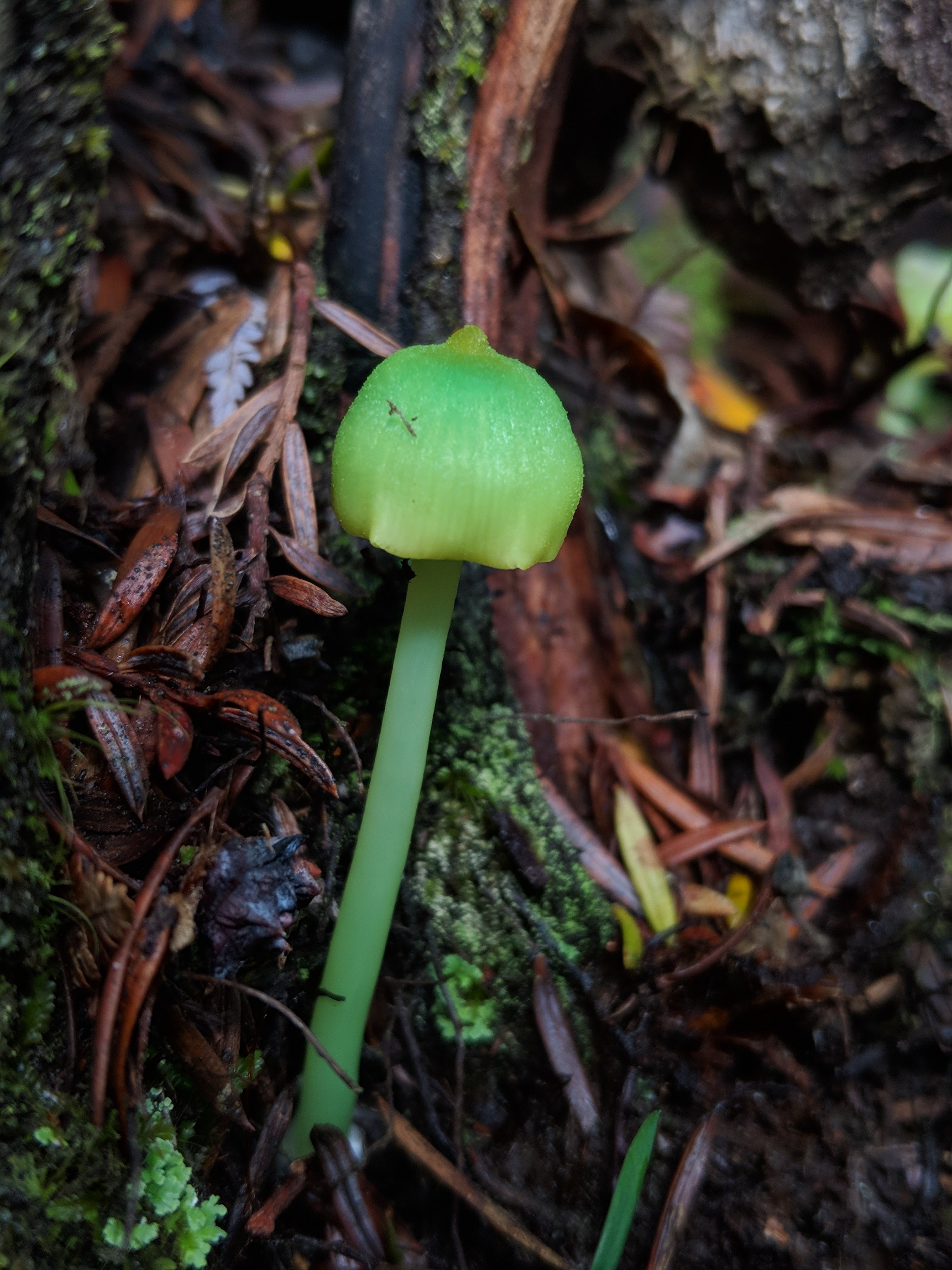 Here's a fruiting body about half way through its development.
If you look at the last photo you can see the bright green color of the very young mushroom, its cap convex, almost a rounded conical shape. The stem is a paler green than the cap, and even that young cap has begun to yellow around the edges and in the very center.
The photo directly above reveals the presence of a defined, fairly sharp umbo - the little pointed yellow bit on the very top of the cap, as well as a the hint of striations or lines coming down vertically along the cap. There also seem to be very fine material on the cap, almost like effervescent sparkles - just the slightest touch of texture.
Let's zoom in a bit on another cap.
---
Here you begin to see the cap widening, becoming more broadly convex as the mushroom matures, the striation more apparent.
"Necopinatum", as with most species names, is Latin - but in this case, it has a direct translation - it means "Unexpected."
It's hard to overstate the degree to which that name suits these mushrooms. They appear popping out of the dark, fertile humus of the forest floor of a sudden, strange to the eye even when you've been told by others that they will be there and where to look for them.
The color, like all things, does not last.
---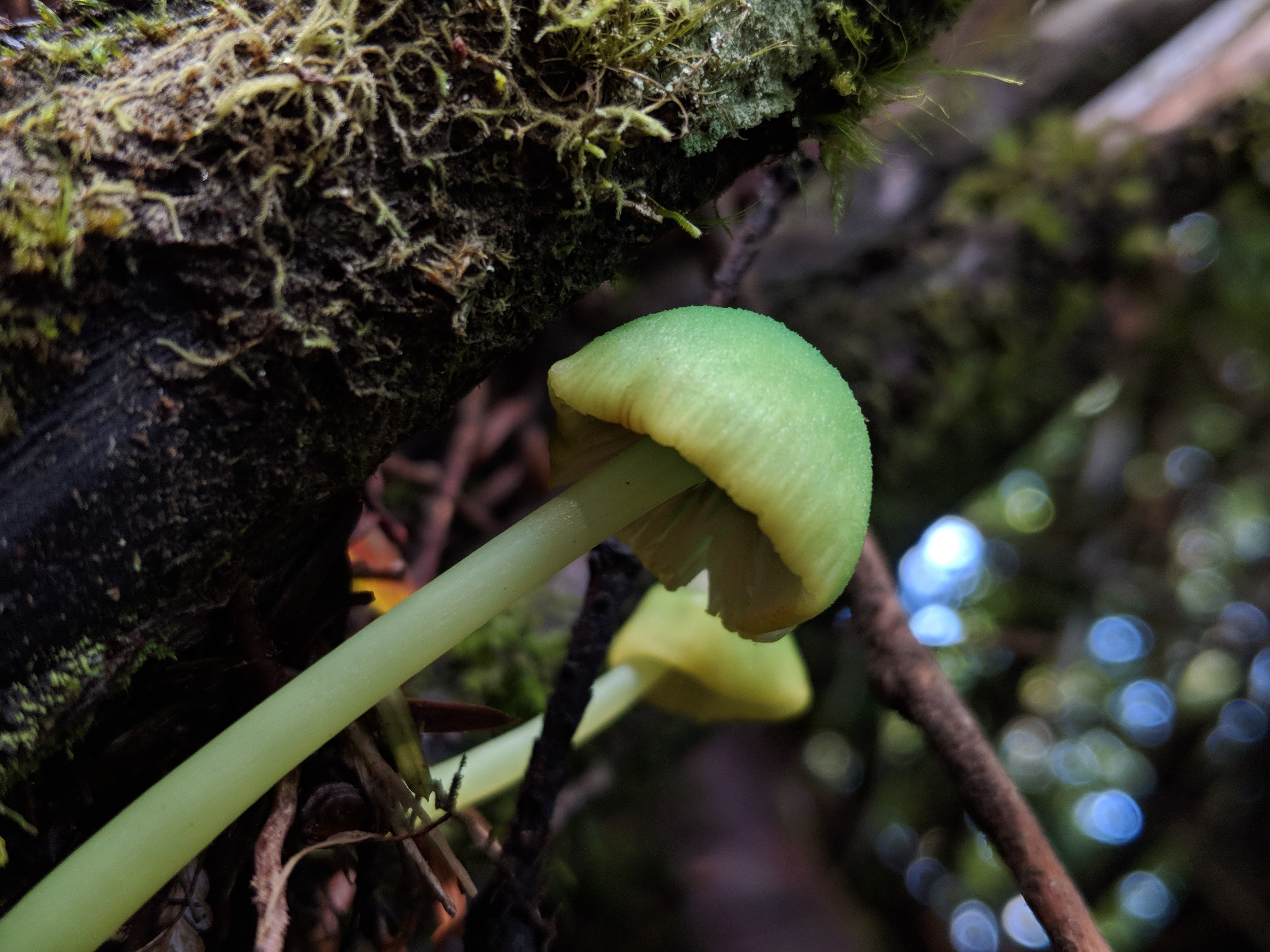 As the mushroom ages it dulls, first around the edges as you see here.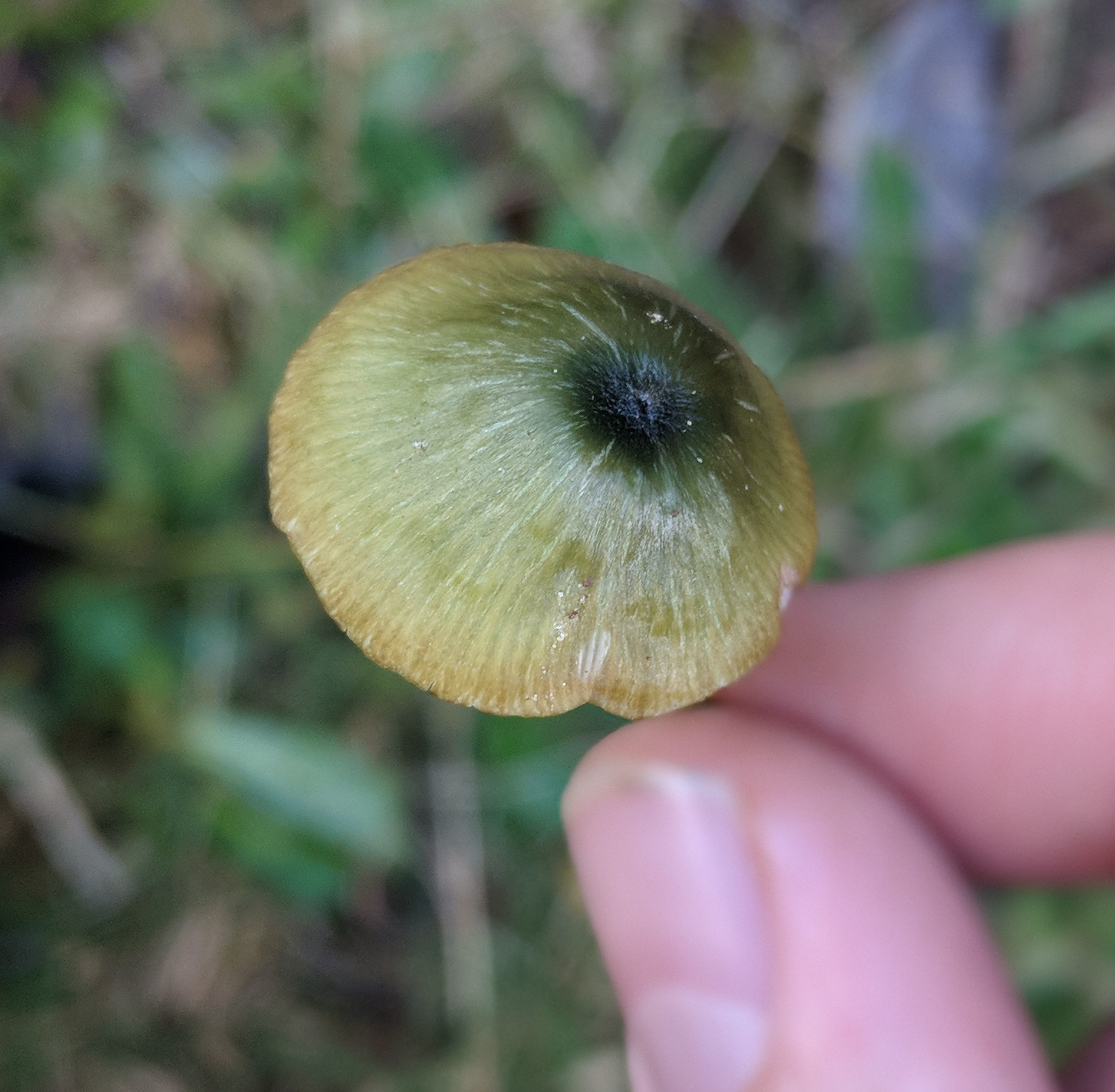 Then all over the eventually definitively convex cap.
You can see here that the bright green fades first to yellow, then to a brown at the edges and darkening shades of dull green, eventually with a darker green spot in the center. The striations along the cap are very prominent by the time the mushroom is fully mature and there even appears to be thin gashes in the cap material from expansion.
Take a look at the gills under this mature cap.
---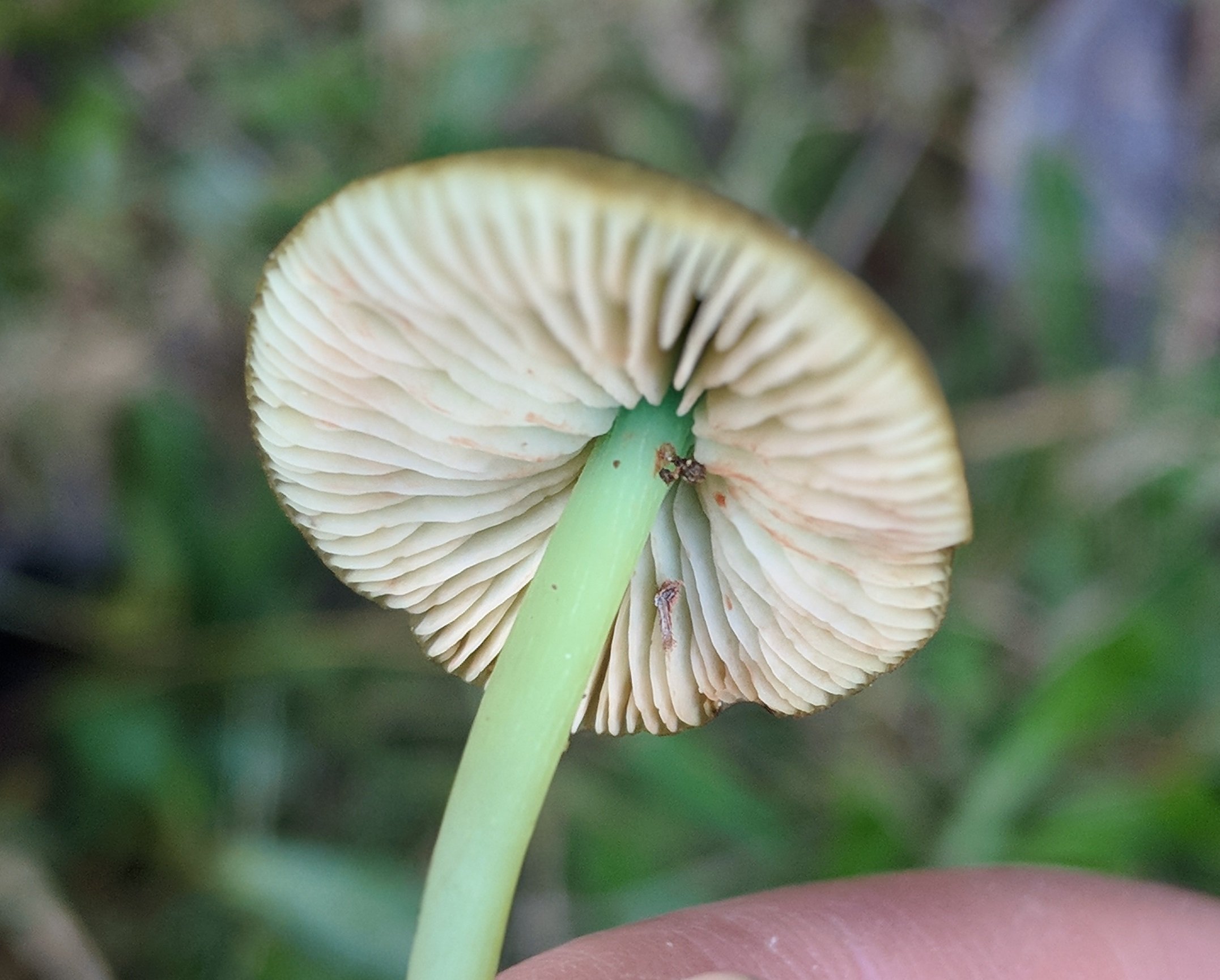 The gills might begin with a hint of green, but do not retain it.
The stem's green color holds up fairly well as the species matures. But, more importantly, if you look closely at the gill edges you can see one of the hallmarks of an Entoloma species, the pink spores, amassing in large numbers in splotches on the gills themselves, once they are mature.
Enhance!
---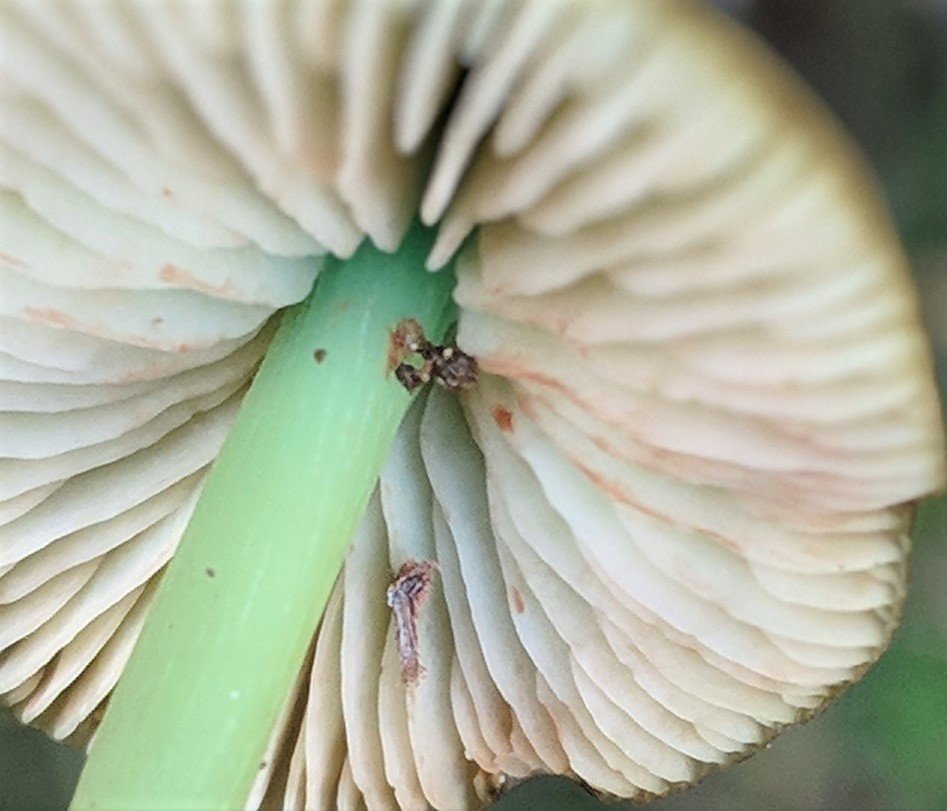 There's a better look of what I'm talking about.
E.necopinatum is such a rare species that it may actually be endangered. There are not a great many resources being put to the task of assessing the health of specific fungal species but, of course, Guiliana is furthering that goal as well. She is working with other international mycologists on The Global Fungal Red List Initiative, an effort to objectively and methodically document the health of specific fungal species and categorize them in much the same way animal species are labeled endangered or threatened.
E.necopinatum is currently only proposed as a possible candidate for the red list, but given the specificity of its habitat and how rarely it is encountered - The Red List Entry for the species estimates it may only exist in ten locations on the planet, all in Chile, with possibly as few as 200 mature fruiting bodies total - it is quite possible it will officially be listed as endangered or threatened in the near future.
---
Of course, just because E.necopinatum is a green Entoloma limited to Chile, doesn't mean nature doesn't have other aces up her sleeve.
---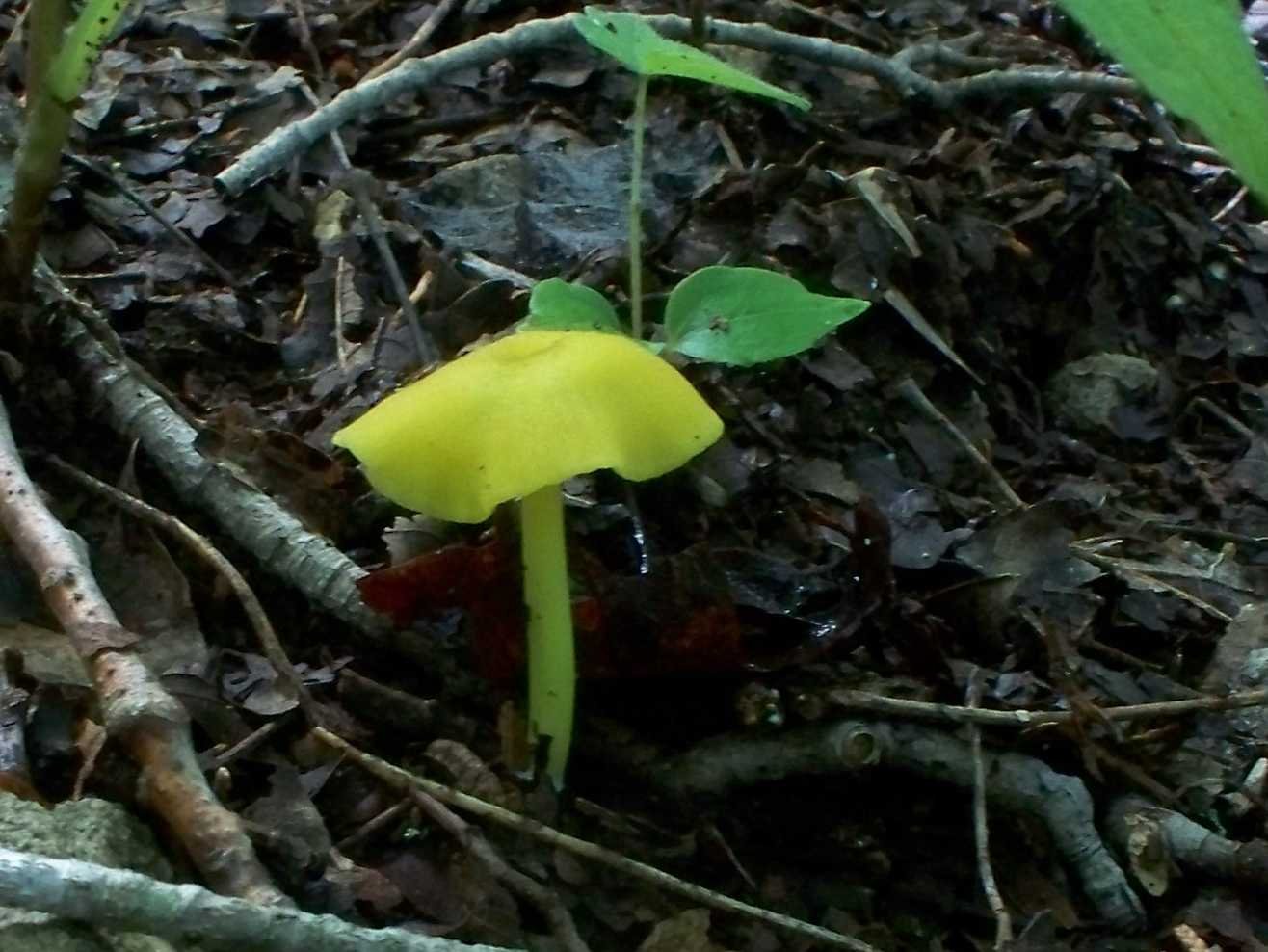 This is Entomloma incanum, and unlike E. necopinatum, it is in North America, east of the Great Plains.
Just in case you thought Chile had the world's only green Entoloma, you should know that there is a chance you will encounter a green Entoloma all your own, without even needing to go all the way to Chile. E.incanum, from the pictures I've seen, is not quite as spectacularly green as E.necopinatum, but it would still make quite the find, and quite the addition to a collection, if I were to ever stumble upon it.
---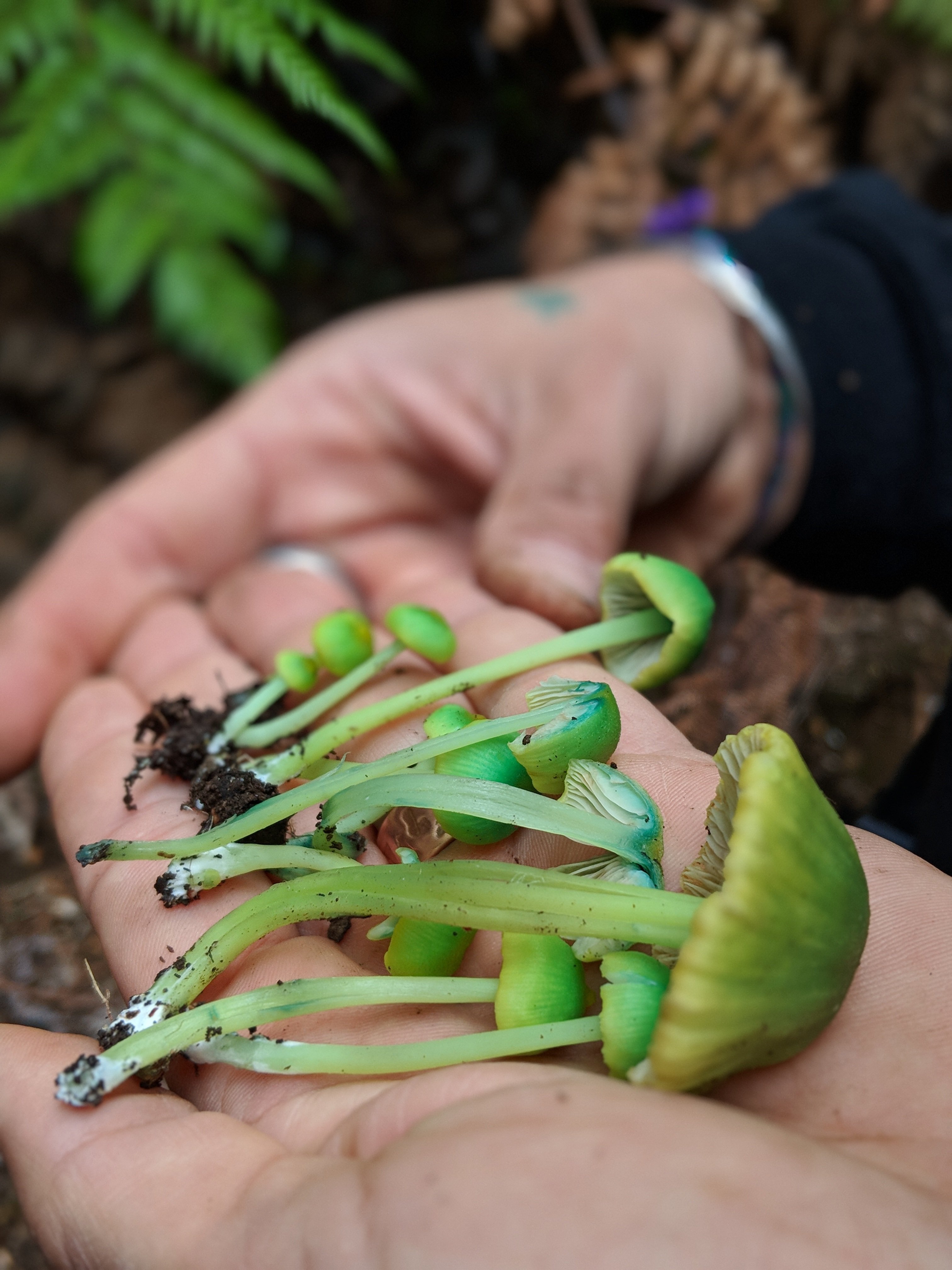 Whether these were E.necopinatum, or, dream of dreams, neonecopinatum, I may never know. But they were among the most incredible of the fungal finds we came across in Chile, and, given their extreme rarity, they might be the rarest living thing I've ever encountered in real life.
---
As an addendum, here are two other very handsome fungi I photographed while in Parque Oncol. Although they were far less interesting overall, under normal foray conditions, where you're not finding elusive, unicorn-esque fungi, they would have been stand out finds themselves.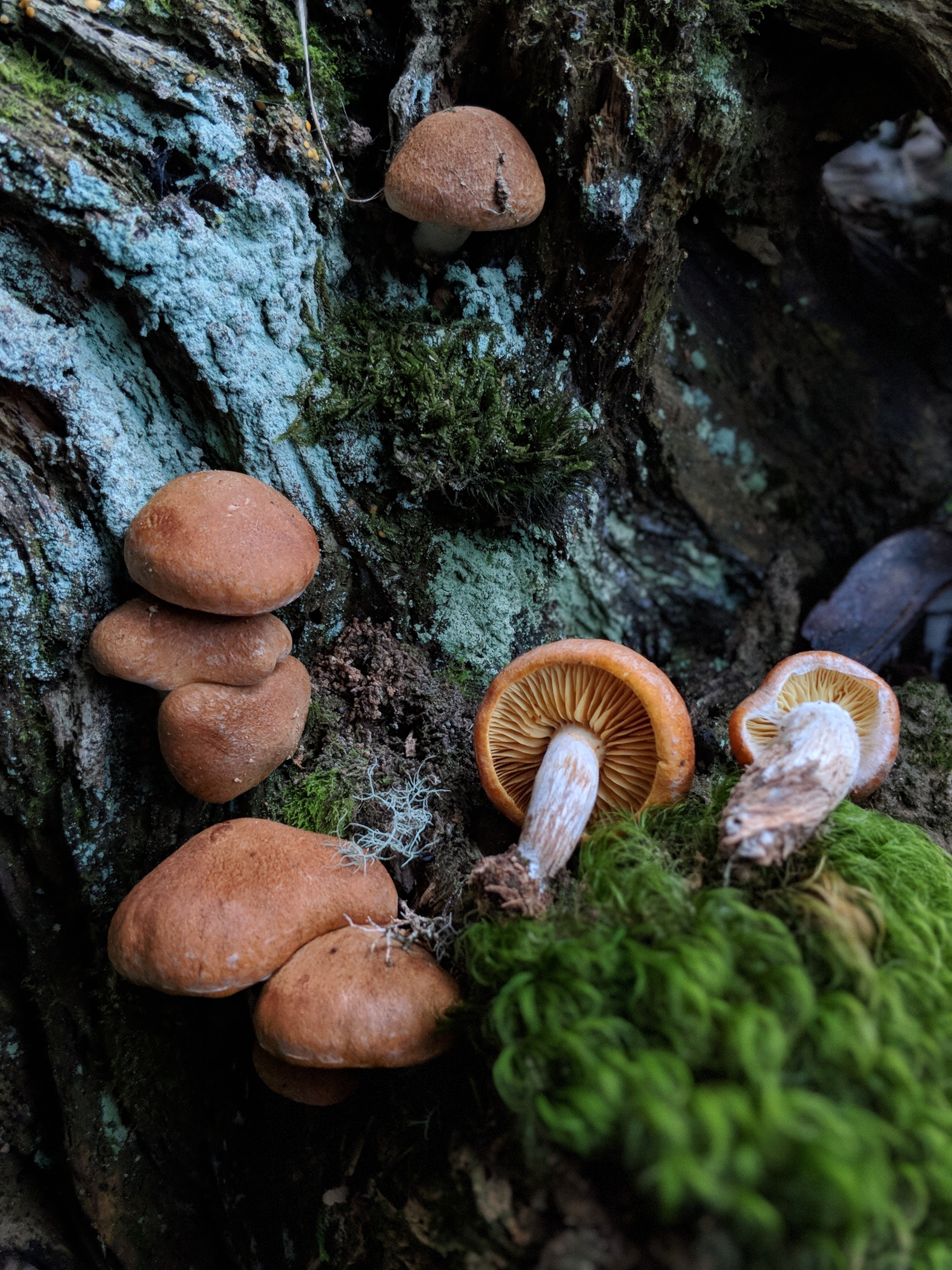 Some kind of Cortinarius. Hard to see here but I think the gills had a greenish tint IRL.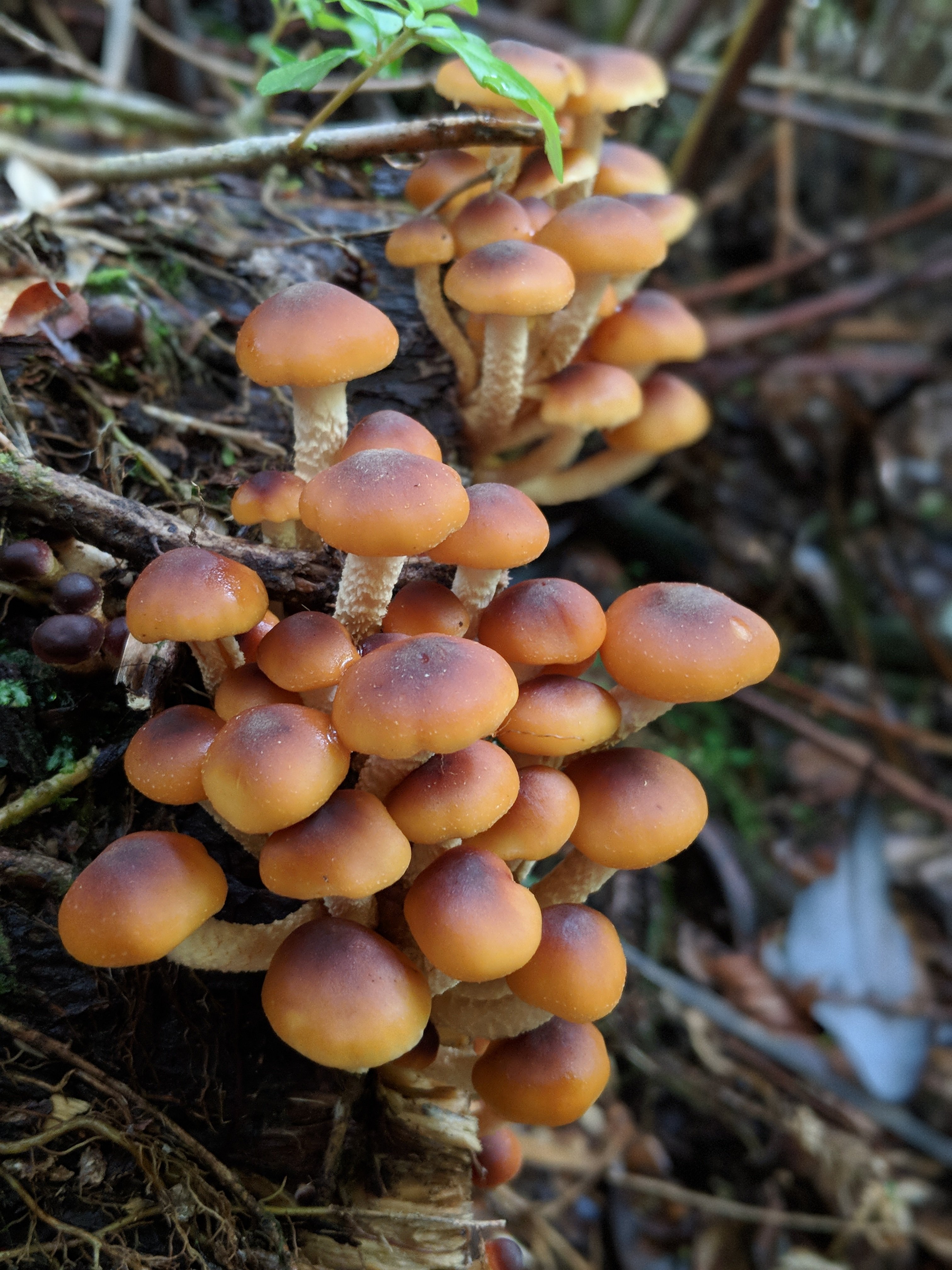 And maybe some kind of Hypholoma species. Who knows?
Next time, we continue our journey through Chile, and go AMANITA CRAZY!
---
All Photos Are My Own Except:
Information Sources:
Primary sources were several of the mycologists I went on the trip with in this case, whose photos and identifications I had access to in preparing this post.
---
Please support @Steemstem and the #Steemstem community, dedicated to bringing and supporting high quality STEM related content on Steemit.
Let me clarify what I mean by "support." There are a number of good options.
Head over to the steemstem discord channel and the #steemstem tag and start talking with the other users involved in the community, commenting and upvoting on their submissions.

If, like me, you can hardly find time to post your own material once a week, then consider joining the steemstem autovote trail, which you can inquire about on said discord channel.

Or, if, like me, time is very difficult to give to the community, then consider making a delegation. Presently, and for the last half year, I have delegated a third of my SP to the @steemstem account.
@steemstem consists of a very devoted and kind group of people working very hard to maitain a thriving community supporting quality content. They represent a positive force on the platform and I hope you'll reach out to help