I Made 2 SteemSTEM Designs for Hoodies! 🎉🎉🎉
Oh yeah!!! Today was purely design day. Made two studies for a hoodie print.
It's an honor to design something for steemSTEM. I almost didn't make something but now I finally did!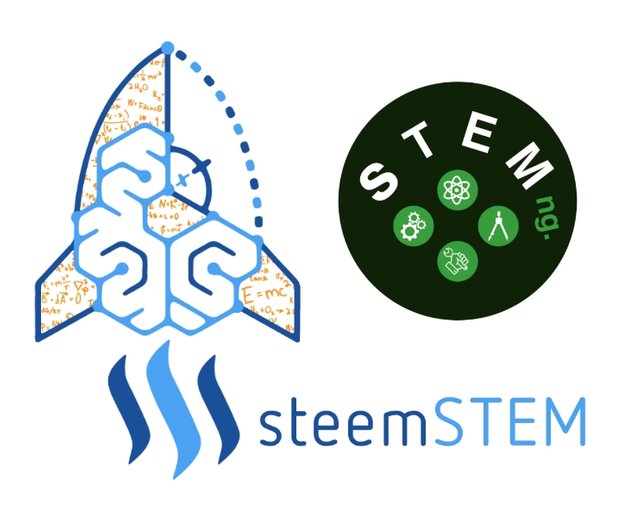 I like the steemSTEM rocket so I used it for my designs. And they provided me with the STEM Ng logo (I rarely do logos, depending on what one needs) so I can use it in there. Hehe. I did two designs. Was thinking of doing two separate posts but... Uhmmm... I'll just do two in one post. 😂
So the design I did is for the SteemSTEM meetup in Nigeria. I actually did a bit of research on that country that I can probably write a blog about it. Haha. It's interesting that there is more to that place than just scam emails these days. Gone are the days of scam emails. At least I don't get as much emails as often as a decade ago... It looks like a fun country actually.
In terms of the printing process for the hoodies, am not sure what they will use but if they can do full color printing then that'd be awesome. :) They're in a bit of a rush so I was in kind of a rush to make them too. I hope they get to print some...
Anyway, without further ado, here's two designs for the hoodies. :)
♦ Tools ♦
• Pixlr (Mobile app)
• Photoshop CS4 (computer)
• Illustrator CS4 (computer)
♦ My Work Process ♦
1st Design
So this is my process for my first design. First I pen sketched some ideas... (No the seedlings aren't for the hoodie design.)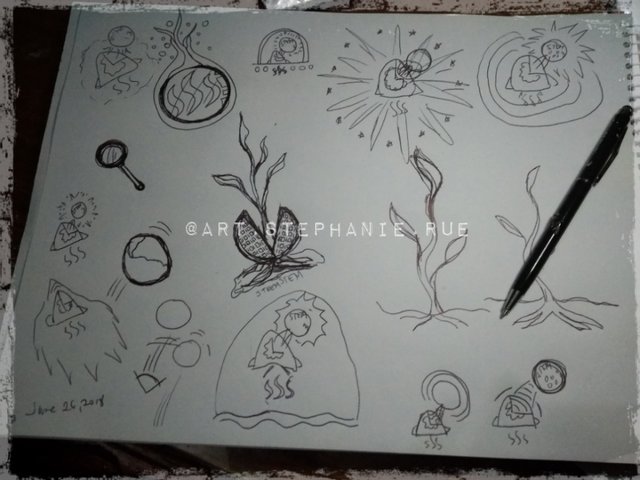 And then I did the first design. This was purely done on Adobe Illustrator. I used Adobe Photoshop for the animation.
My concept for this is: STEM Ng came out of steemSTEM. Since Steemit is like an ocean, I put an ocean and then a mountain and oh a rainbow too.
The rainbow represents the Nigerians' love for parties or celebration. They love having parties over there, I think it's like a fiesta every time they have a party for weddings or anything. Not really sure but that's one of the things they are known for according to the internet. Hehe.
The sun is also peeking somewhere behind the mountain. Then I added the ground plus some buildings. After all, they do have cities there as well and some pretty modern houses too but I just put a few houses.
A vector artwork fits perfectly for the steemSTEM logo imho. Had fun designing this one.
The third option is just without the blue or yellow orange rings around it. I can't choose which of the three variations to submit though so I'll just put the gif here. (I think I should upload a better gif but I'll be able to do it maybe later...)

Here's a slow changing gif of the designs on the hoodies. I used a free template black hoodies illustration (it's not mine).
2nd Design
This second design was actually the first thing I thought of when @mobbs told me about the project. Good thing it pushed through so I can show you all what I did. :D
For this one, I used 2 photos: a galaxy pic from Pixabay and my pic from Laki Beach. Such a lovely photo must not be wasted. Haha.
I combined the two in Photoshop, did a bit of editing and then transferred the combined image to my phone. That's where I did the filter art. Yep it's another filter artwork by yours truly.
Here's some of the process work on my phone.
Actually I have a video screen capture of the process on my mobile too. (Maybe I'll upload it on YouTube or DTube...)
So anyway this is how the final design looks like. (I think I should tag @zest too?)


For the final design on the hoodies, here's my suggested layout. It can be printed in front or on the back but not on both sides pls. Lol.
So what do you think? Which one looks better? Hehe.
XOXO,
@artgirl
---
For my art, writings and other posts, feel free to check my blog page.




WARNING:
Spam comments will be FLAGGED / DOWNVOTED if it is not revised upon warning.

Images are mine.
All rights reserved.
Written by @artgirl for Steemit.
© Art x Stephanie Rue
@artgirl is a freelance artist and also an online seller. For art and writing commissions, feel free to contact me.
You can chat me up on steem.chat or send me a Facebook message. Link in my bio.

---




---
Like it?
Upvote, Follow and Resteem for appreciation.
♥ Thanks! ♥