Hi Friends,
I am angry, i feel victimized, and though i should be in a foul fucking mood, i feel surprisingly calm, clear, and ready to bust out some information that could potentially affect us all.
@grumpycat is an imposter, and a vile hypocrit that needs to be stopped.
Say hello to everybody's least favourite meme of all time: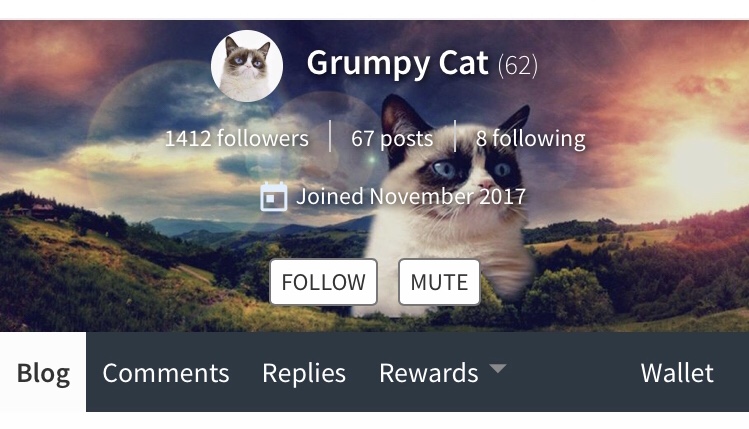 You can see that @grumpycat — or should it be gimpycat? Bah ha ha i slay me! — joined Steemit in November and has already achieved a 62 rep — Wow! I wonder how that happened? With just 67 posts and following only 8 other steemians — what a trooper! — something seems wildly distorted.
If you said "upvoting services" then you are correct, and there is no prize for that here and now. I too use upvote bots to my benefit, and i have also "sicked 'em" on my friend's posts and on my Steemit crush Stax 😍😍😍
As a point of decency i never go back and upvote a post that's just about to pay out. I find that tacky according to my steemit sensibilities. And further, i am usually too busy crafting and loving and laughing over a new post anyway, so that posts from last week have already been read over, edited, and enjoyed.
So yesterday i wrote a post called "Junk Smash" where i cracked a few jokes, showed off some killer old silver i just purchased — old Canadian dollars as well as a roll of US constitutional "junk" — AND, i wrote a silly poem that celebrated all the fun we're all having playing games and pouring silver and holding contests and talking like pirates and all kinds of other shit too.
Here it is:
https://steemit.com/steemsilvergold/@thedamus/junk-smash
Now when you go there you will see this: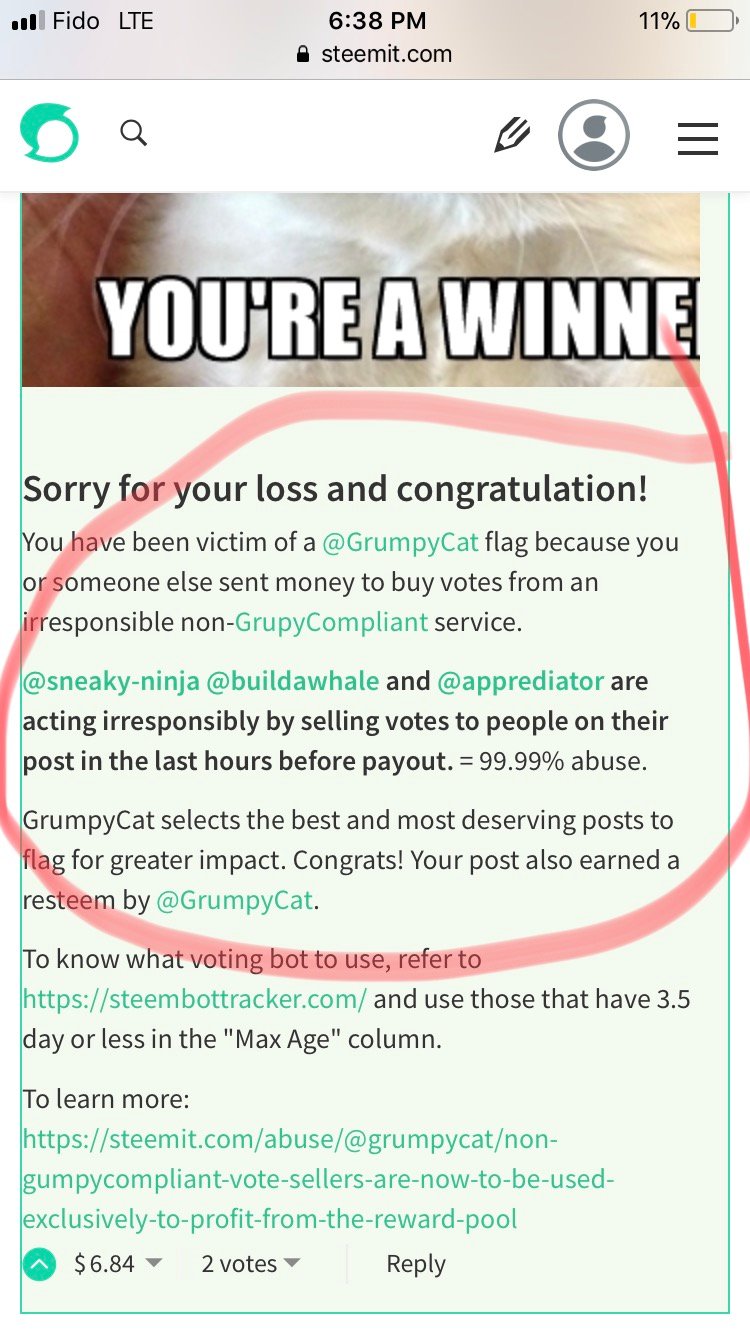 It's @grumpycat admonishing me for using upvote bots — and explicitly: sneaky-ninja, buildawhale and appreciator. The reasons given were that "some" people were using these bots to upvote their posts in the last day/hours of it maturing. Check it out! Somewhat confusingly it says: "you or someone else" — well fuck, if it was someone else then what are you talking to me for!!!?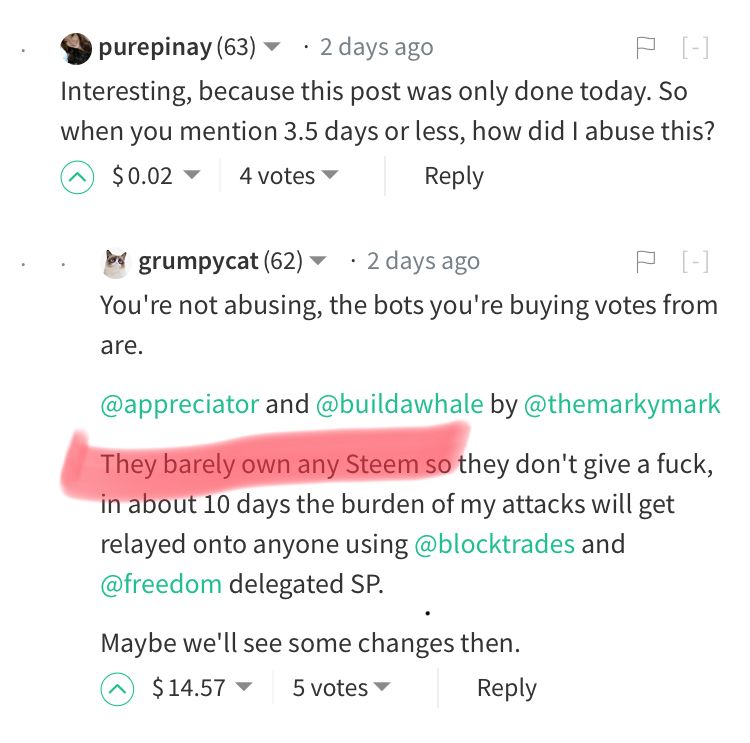 But that is the least of it. Check out who @grumpycat is using to up vote his own posts to up over $1,600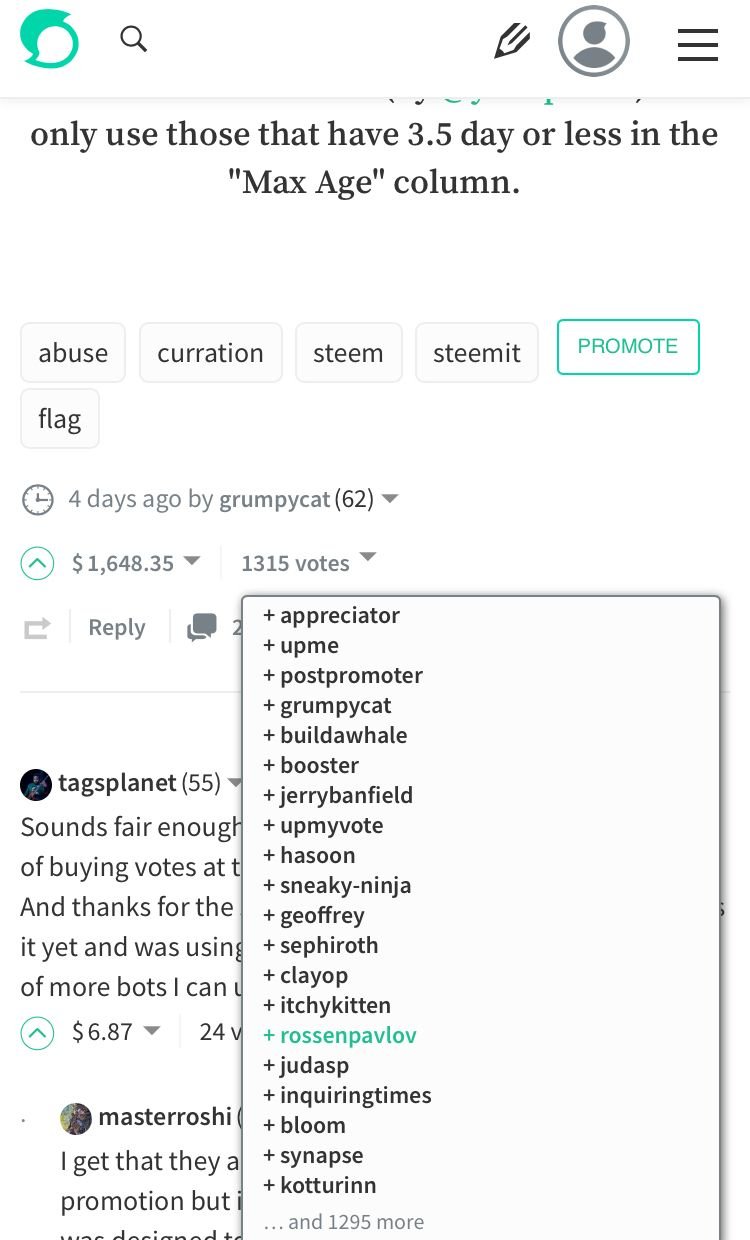 Huh...? Whah...? What kind of bullshit is this? I went off in my own comments, so i'll try to keep this short... But seriously, what the fuck! @grumpycat is a fucking hypocritical menace that just somehow wiped out 2/3 of my payout that i invested real money into. Meanwhile, this 3month noob is cashing in on $1,600 posts, withdrawing beaucoup and being a supreme cocksucker.
I agree that upvoting old posts is gauche, and i don't do it. But i also don't fuck with anyone, and to the contrary, i am generous to the point of wiping out my VP — cause i enjoy being a cool guy.
So congratulation(s) you ignorant fuck that can't even spell! — you are the deserving winner of my first flag — i'd flag you twice if i could you fucking stump!
I am not sure why i was singled out and bitch-slapped by the biggest bitch i have yet come across here on Steemit. But i do know this: you reap what you sow — so i have all the faith in the world that going forward my happy crops will not even know what a grumpycat is, in time...
@grumpycat — you are an embarrassment and a hypocritical putz-muncher. You are a 3 month old grumpybaby with a huge hammer and zero finesse. Why don't you pull that silver spoon out of your ass and tell whomever is your poppa to go and get an honest job.
Thank you for listening. I hope i have provided reasonable evidence and clarity for my position.
I am:

And i'm here for a good time AND a long time!
Be good to one another friends — it truly is the better way.
~ love, @thedamus