Hello Steem Silver Gold!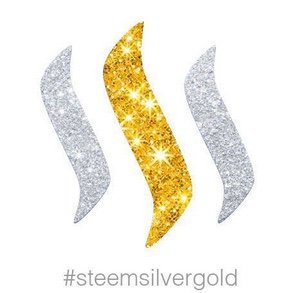 Something in the Water?
Well, did you hear the news from @welshstacker?!!!! NEW STACKER BABY IN PRODUCTION!!!! Welshie and Mrs. Welshie just announced they are expecting a little one! So very exciting. Look at this photo. The baby even has her/his dad's head. :)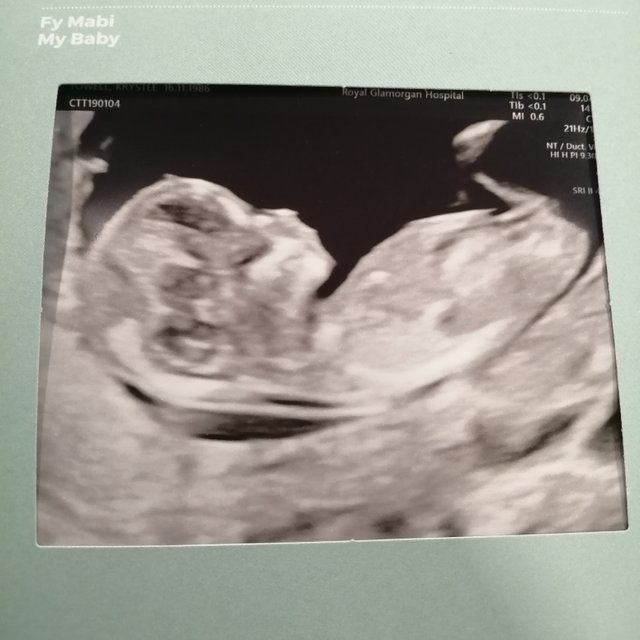 Speaking of babies! Did you know @bearone (designer of the VERY FIRST STEEM ROUND) is also expecting? Her little Aussie girl is just ONE TRIMESTER away from making her appearance.
Steem rounds and babies...
@bearone...
What does this say about @edxserverus's near future? :)
---
Speaking of Steem Rounds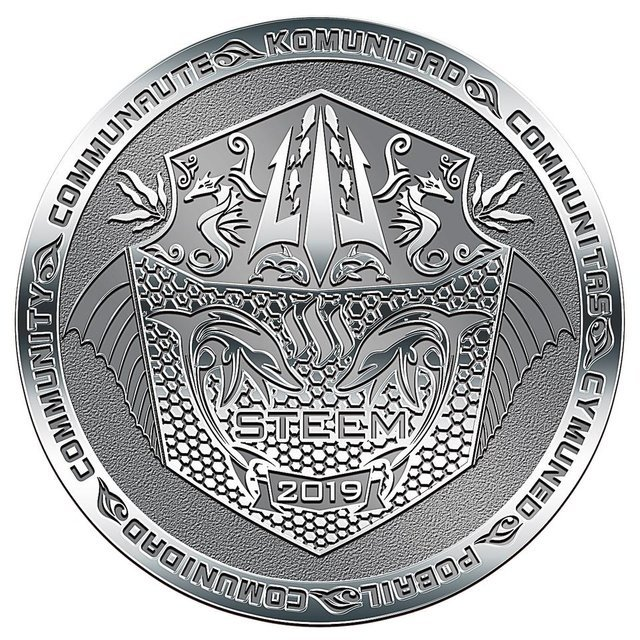 Design by @edxserverus
You still have time to submit your PROOF OF OWNERSHIP to @raybrockman. If you purchased Steem Rounds in years past and have COAs (certificates of authenticity) for rounds numbered 1-100, get in touch with Ray now to claim those same numbers for 2019. Ray will accept proof of ownership for higher numbered rounds later in the process.
---
Hard Fork 21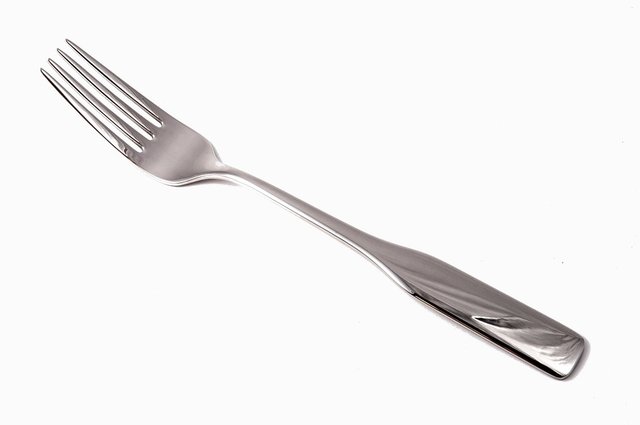 Only two weeks until Hard Fork 21! (HF21 is scheduled for Tue, 27 August 2019 15:00:00 UTC). Remember the cluster that was Hard Fork 20? Hopefully, all will go smoothly but don't be caught off guard if there is a hiccup or two.
---
MEMBERSHIP
This week there were no new members added to Steem Silver Gold. However, there is at least one new nomination under review. Updates to come.
Please reference this road map to membership if you would like to join Steem Silver Gold or if you would like to nominate a new member. Nomination does not guarantee membership. If you nominate someone, please reach out to said individual to discuss this nomination and gauge their interest in joining.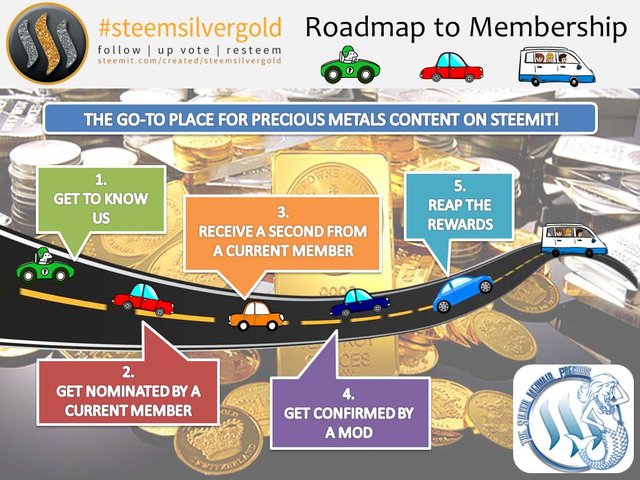 ---
Member
Member
Member
@ajain
@famcore
@owenwat
@anothervoice
@fat-elvis
@pbock
@armshippie
@firecajun9262
@peaceloveliberty
@axeman
@fishyculture
@phelimint
@battleaxe
@flipstar
@pit-bullion
@bauloewe
@floridastacker
@plaid
@bearbear613
@geneeverett
@pocketechange
@bearone
@generation.easy
@raybrockman
@beckieg
@goldenarms
@rolf.bakker
@bengy
@goldkey
@rollingthunder
@bi5h0p
@goldmatters
@ronaldoavelino
@bitcoinman
@goldrooster
@russellbury
@blackrussian
@gomatthew
@saffisara
@bluelightbandit
@grizzman
@sbsparts
@bmj
@guiltyparties
@senstless
@bowentroyer
@handofzara
@sevinwilson
@brian.rrr
@harleymechanix
@shaungerow
@britcoin
@hashcash
@silverbug
@buggedout
@hooiyewlim
@silverd510
@bushkill
@infidel1258
@silverfortune
@buster544
@ironshield
@silver-hammer
@caladan
@janusface
@silveringots
@clumsysilverdad
@jbcoin
@silversaver888
@coindevil
@jimbobbill
@silverstackeruk
@coldsteem
@joshuaslane
@sk43
@coolbowser
@juniusmaltby
@smaulgld
@corndogg42
@jznsamuel
@solominer
@cryptofuwealth
@kanedizzle08
@soyrosa
@cryptokeepr
@katrina-ariel
@stephen-somers
@cyber.explorer
@kerrislravenhill
@stnwllstrtgc
@darkmrmystic
@khamen
@stokjockey
@davedickeyyall
@kiwiscanfly
@summertooth
@daveks
@knowledge-seeker
@tbnfl4sun
@dfinney
@kp138
@teenagecrypto
@digestingreality
@ladybug146
@theb3ar
@dixiesilverminer
@mattclarke
@thedamus
@djohan
@matthewwarn
@thekittygirl
@dkid14
@methus
@themanwithnoname
@drakos
@mikepm74
@thesilverdoll
@dreemsteem
@moderndayhippie
@tyedyefirepower
@dwingsworld
@monsterjamgold
@underground
@eaglespirit
@mrchef111
@urbanist
@edthecanadian
@mr-vulcan
@vgholdingsllc
@eveningart
@naltedtirt
@welshstacker
@elamental
@neoxian
@willsparks88
@em3
@nomadicsoul
@xyzashu
@edxserverus
@o07
@yaboyjon
@enginewitty
@odracir80
@yankee-statman
@georgemales
-
-

Help the community, help yourself!

There are TWO ways to get a community supported votes here at Steem Silver Gold. One is via the @myprecious curation trail, the other is via the @ssg-community subscription bot (which is also confusingly referred to as Precious the Silver Mermaid). Here is a run down of each for our new members and a refresher for the vets.

1. Join the Steem Silver Gold curation trail - HERE

The community curation trail up votes every member of Steem Silver Gold (unless a member requests otherwise). 25 accounts currently follow the trail. You will see the @myprecious vote appear on one of your posts each day after 14 minutes. 25 other votes are tied to that one! Thank you to everyone on the trail!

Members may also choose to delegate to @myprecious. There is no membership requirement to delegate, but it is a selfless way to support the entire community. There are currently 18 delegators to this account. The delegators include: @monsterjamgold, @silversaver888, @bauloewe, @enginewitty, @ronaldoavelino, @tbnfl4sun, @dkid14, @silverstackeruk, @handofzara, @edthecanadian, @fat-elvis, @dfinney, @thesilverdoll, @jznsamuel, @guiltyparties, @kerrislravenhill and @xyzashu. Our most recent addition to Steem Silver Gold (member @gerogemales) is also the NEWEST delegator to @myprecious. Thank you from all of us.

2. Join our members only up voting bot (aka Precious) - HERE

Precious the Silver Mermaid up voting bot (linked to the @ssg-community account) is open to all members of the #steemsilvergold community. She has well over 100k in voting SP and members can receive daily upvotes by either delegating SP are donating STEEM on a monthly basis.

If you have the funds and post regularly, the ROI on our community bot is excellent.




If you have questions about the @ssg-community subscription bot (aka Precious the Silver Mermaid), please reach out to @welshstacker. He can advise you on how to delegate, pay liquid steem or use a combination of the two to reach a subscription tier.

@welshstacker also hosts a monthly delegation giveaway raffle. This raffle is open to all Steem Silver Gold members. The raffle provides a delegation for a tier to TWO Steem Silver Gold members (one sponsored by @welshstacker and one sponsored by @sesntelss. Entrants also earn SBI shares.

ADDITIONALLY, @senstless will sponsor a member level (10SP) delegation to the @ssg-community up vote bot for current members of SSG who feel unable to afford a subscription. Please reach out to @senstless directly for more details.

---

Here's to another week of Steeming and Stacking!


~ Cheers, @dfinney

---