SteemPress 2.5 Update: Guest accounts, design improvements and dashboard for user settings
Today we're happy to bring perhaps our biggest set of updates to be launched in one go. We've worked hard over the past week to bring together some ideas we've had on the drawing board for quite some time, and hope you will be as excited about them as we are.
As always we appreciate your honest feedback and do not hesitate to ask any questions in the comments!
Guest accounts
Perhaps the most significant update is the new ability for visitors on your blog without a Steem account to leave a comment and like on your posts. The goal here is to lower the barriers to entry for visitors to engage with content, thus improving the engagement on the blogs of our users, as well as to smoothen the onboarding process of new users to Steem.
To interact with content as a guest, the user will first need to sign up by providing a display name and an email address similar to most default WordPress comment sections. This will in practice result in them creating a SteemPress account which can be used to log in and engage with other content on any other blog using SteemPress similar to other comment apps such as Disquz.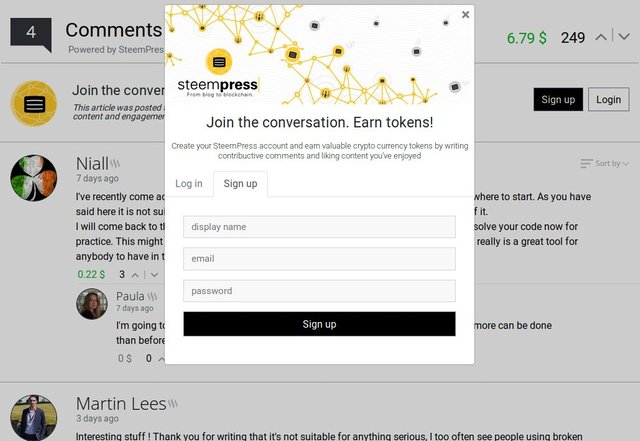 The current sign up page for site visitors looking to join the discussion in the comment section
The new a sign-up and log-in pages are accessed directly in the comment section in a new bar which also serves to inform site visitors that the blog they're on is published to Steem and what benefits that can provide them with as content consumers.
Once new users are logged in, our interface will continuously remind them of the added benefits they could get by also creating and connecting a Steem account to their SteemPress profile. Whether it is by seeing others earn rewards on their comments in the comment section, or through us reminding them by email or in their profile settings page.


The new SteemPress log in and sign up bar now found across our blogs
Guest comments to Steem
Steempress will now also allow guest comments to be cross-posted to the author's Steem articles. This will be done through our own account (@steempress-io) with a reference to the blog where the comment was written and the display name of the guest account who made the comment. This is important in order to ensure seamless integration of the comment sections on both the author's own blog and on their Steem posts across various Steem interfaces.
Visitors on your blog will now be able to join the conversions taking place on other Steem front-ends and have Steemians reading their comments on steemit or steempeak be able to see and reply their comments which can again be engaged with on your website.

When a guest comment is written on your WordPress blog, it will be written as a comment to the same article on the Steem blockchain by a SteemPress account
We plan on using any rewards earned on these comments to onboard new users to Steem. While the feature is not ready yet, we are earmarking all rewards for the specific SteemPress account that wrote comment text which earned them. The current idea is to provide guest users with additional incentives to engage by informing them through the UI that they will be gifted a free Steem account once their guest comments have reached a certain total value (likely to be 5 STEEM). Hopefully, this will add a touch of gamification to both incentivize constructive comments, as well as making it fun to get a Steem account. The user will also be informed that they can claim these rewards instantly once they have connected a Steem account to their profile.
Comment settings and moderation dashboard
You can now also access a new user dashboard with settings and moderation tools for your comment section. The settings can be found at steempress.io where you've previously gone to find the post queue settings. Please note that this is a very early version and will receive frequent updates over the course of the next few days and weeks. However, with the new guest comment system being introduced, we thought it would be beneficial for you to have at least some basic moderation tools.
Settings window
This tab will provide general settings options that will apply to the comment section on your blog. Currently, this only includes 2 options namely how comments on your blog are sorted by default and whether or not you want to require manual approval for guest comments to become visible on your blog and cross-posted to Steem.

The two default settings are currently for comments to be sorted based on value similar to how it is on Steem, and for guest comments to be posted without needing manual approval.
User Blacklist
We know that for many SteemPress users, not all comments made to their post on Steem is also desireable to display on their blogs. That's why we made it so that you could hide a comment from your blog by downvoting it on Steem. The new user blacklist will enhance this feature by providing you a dedicated dashboard to manage the blacklist. Here, you can see a list of the users currently on it, and remove them if desired. You can also add new users to it by entering their Steem account name.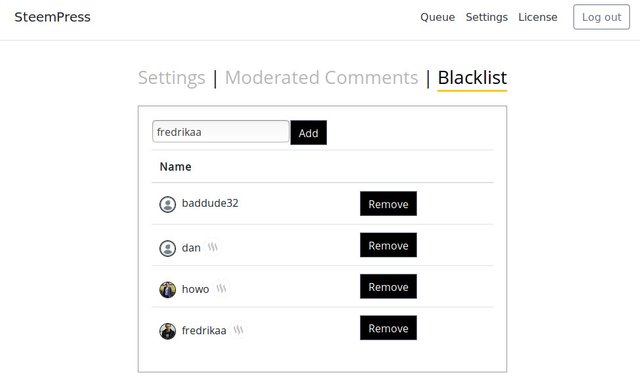 The blacklist dashboard as it current looks in our blog settings page found on steempress.io. Please note that this is work still in progress.
We also plan on including a "favorite" or "trusted" rating, which you can give to users whose comments you'll be wanting to include automatically whilst still requiring manual approval for the rest.
We hope that these tools will prove to be increasingly useful over time, as this list will also provide an overview of those that have interacted with your content in the past! Maybe you would like to re-engage with Steemians who used to comment on your content months ago but no longer visits?
Comment moderation dashboard
The new comment moderation dashboard lists all comments that are currently waiting for moderation or that have already been moderated by you on your blog. Meaning that if you enable the option for guest comments to require manual approval, all of them will appear here before eventually being displayed on your blog once approved. The list also includes any comments you've decided to "hide" using the drop-down menu in the comment section. You can also change any of the moderations that were previously made.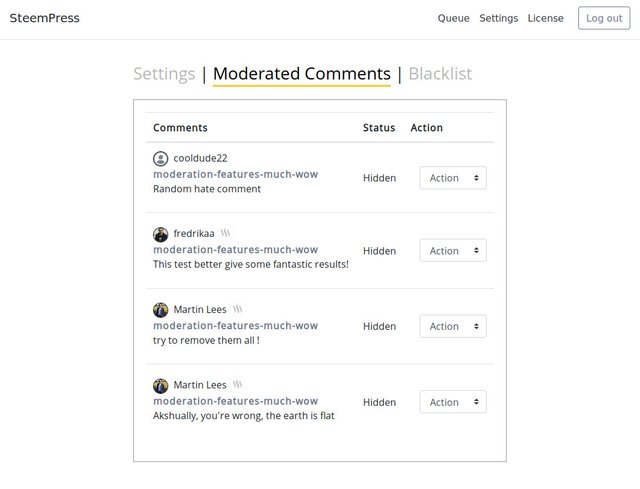 list of moderated comments currently hidden from the comment section. Expect more "actions" to come in the menue
Improved comment section design
We also made a series of improvements to the general design of our comment section following some of the feedback from our last post, as well as following our design plan explained in the post. We really want to deliver a product that can fully replace the default comment section that comes with most WordPress blogs with one that is powered by Steem and one that can compete with other ready-made comment sections out there in terms of both appearance and features.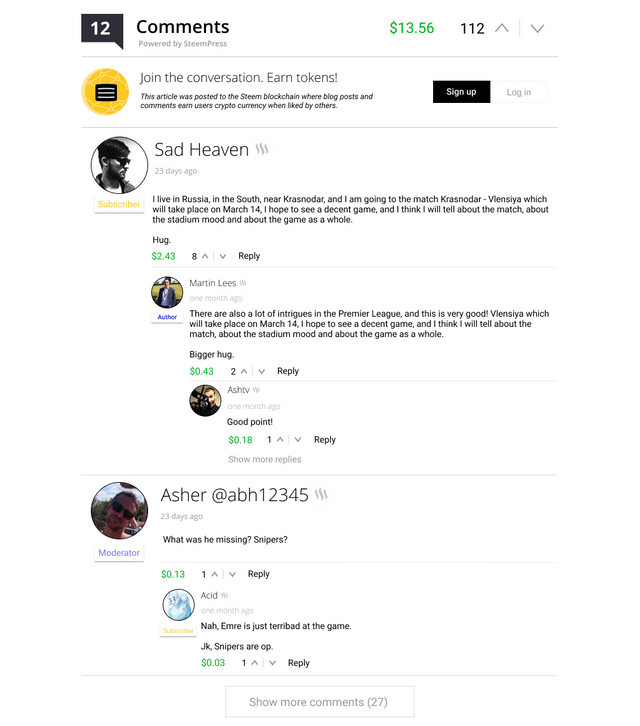 The current appearance of the SteemPress comment section after recent improvements
What's new
We've gone a long way to try and make the comment section feel like it is a natural part of the website on which it is displayed. By removing the surrounding borders, sidebar and also adding a comment counter at the top left, this should hopefully make the comment section look more integrated with the website.
No more slidebar
The previous comment section had a slide-bar on the right-hand side to allow scrolling through the comments. Many users told us that although functional, it didn't look good on their blog since it made the comment section look more like a widget and not a part of the website. We've thus changed how the comment section interacts with the website, where you'll now instead find a button at the bottom of the comments to "show more" which will expand the whole window downwards. Thus it creates the feeling of being on and interacting on the same page, rather than inside a window.
User ranks
The blog owner can now also choose to display a "ranks" of users below their profile picture in the comment section. For now, this will only apply to the author themselves to distinguish them from others. While this is quite basic for now, much more functionality will be added to this feature soon. As blog owners will be able to create their own ranks such as "Member", "Subscriber", "Moderator", "Superuser", or whatever they think is relevant to their website or would be appreciated by their userbase.
Colors
We also added a bit of colours to the design. Most notably is the rewards which we've made green in order for it to stand out more. After all, the rewards are what makes Steem unique and gets the attention and curiosity of new visitors (note that we've also added the option for the blog owner to set at what dollar amount the pending rewards will become visible at all to prevent the opposite effect when there little or no votes on the post or comments).
Including the user ranks will also add a bit of color which the blog owner will be able to select themselves based on what they think will look good on their website(s).
Other added features and updates
Option to add a link to your WordPress blog at the top of your Steem article rather than at the bottom.
Further improvements to the SEO protection of your blog (more on this in a separate post)
Completely reworked steempress.io in preparation for coming updates and more advanced user settings and dashboards.
As always, if you have any questions then please visit us on our discord channel!
To download SteemPress, find our plug-in at https://wordpress.org/plugins/steempress/
To vote for our witness, either use SteemConnect following this link or find us on https://steemit.com/~witnesses.
Thank you for reading this far and for being interested in SteemPress!
@Fredrikaa and @Howo