I believe I have told you personally, I like Korea. When I was a very young at my early 20s, I used to had friends from Korea. Now you wouldn't imagine too much on what happen if you're going to stay in a different country for a long time. So this is what happened on the 6th day in Busan. Food are marvelously Kimchi, so to speak. We decided we really need some hot soup, some rice and some vege to go along wih our dinner, other than that, most of the time we're craving for Malaysian food.
我记得以前我有说过我很喜欢韩国的。以前已经认识了好几个韩国朋友,可惜朋友他们都住在首尔,未能去见他们一面。韩国的食物一直是远近驰名的。都已经第六天在釜山了,食物也是非常的... ... 泡菜。所以中午我们决定一定要吃一顿比较好的。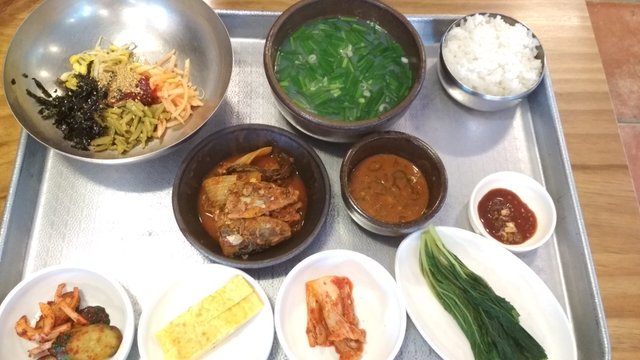 This was taken at the Halmae Jaecheopguk, a very well known and famous local restaurant. The serve clamp shell soup with rice, and ofcourse Kimchi. Clamps are small size, but they are sweet. As I scope myself a spoon of those soup, they're marvelously good with the after taste. It felt like firing a stove and start cooking by the sea with fresh seafood.
这一顿午餐来得迟,找到了广安里地区的一间相当有名的店。店里面招待的正式传说中美味的贝克啦啦汤。这里的啦啦跟马国巴生的啦啦有得相比。啦啦吃起来就像刚刚才捞上来就被煮着吃了。非常新鲜。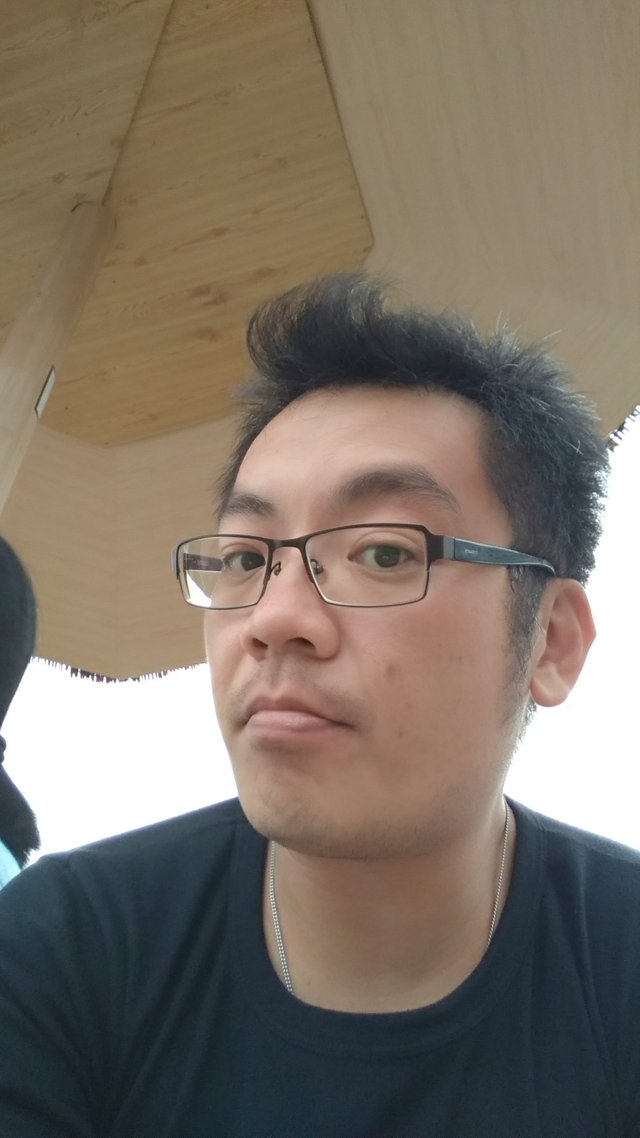 Here's a random shot where I took this photo at the Gwanggalli beach. Wind is strong and drizzling. It's kinda chilling here. But the focus is on my hair, it's being standing this way since my morning shower. I just couldn't help it but keep on snapping photos of my hair, to see how well it "stands"
这张照骗实在广安里海边拍摄的。拍这张图片的目的就是本来要告诉大家我的头发早上洗澡后就一直竖立知道晚上回去酒店才1去之年。。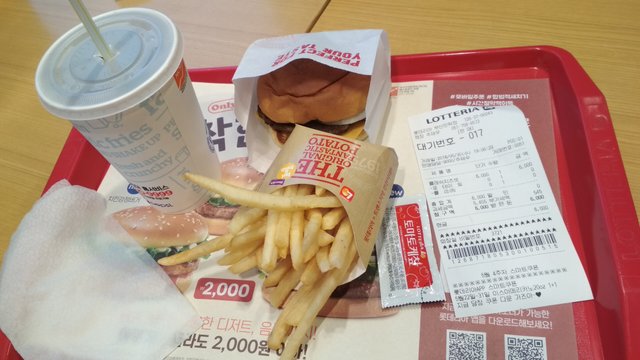 My first fast food in Korea, at Lotteria. According to a friend, Lotteria was originally a Korean who went building his business empire in Japan. Very quickly, this chain store started to spread and finally hit their home country and has taken over many fast food chain store. I wanted to try McDonald's in Busan, as I usually wanted to eat pork burger in different countries(note that we don't have pork in my country's McDonald's). Regardless, look at the price 6000krw was not really cheap if compare to what we ate in Malaysia. But hey, even a bowl of cold noodle would have cost me 4000krw. Taste of the cheese burger is nice. Before we left the Lotteria, we also bought a soft ice cream which costs almost same price as in Malaysia 500krw(less than a dollar)
然后就是大胆的走进Lotteria,点了一个芝士汉堡套餐。据说呀,这间连锁店Lotteria原本是中国人,到了日本以后在当地大放光彩,然不少国际性的大型快餐集团都忙着打退堂鼓。然后Lotteria再从海外带回给韩国。可别说,我每一次到不同国家旅游我非要吃一个猪排汉堡(只因为马国的麦当劳没有卖猪肉),结果麦当劳都已经被搞到这样。这次结果还是没有迟到猪排汉堡。六千韩币在韩国不算贵,比起用四千块换来一套冷面好得多了。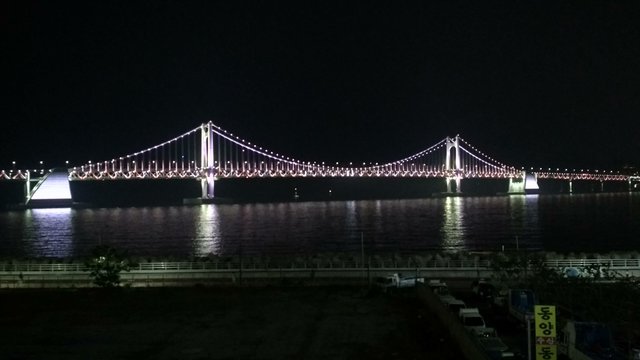 Back in Bexco hotel, time to hit the roof top, bought along my coffee and instant noodle. Poured in hot water and start admiring the Gwanggalli bridge.
回到Bexvo旅馆,我是立刻冲上去了旅馆的天台,也随手带了我的方便面和咖啡上天台去看风景。将热水到进入方便面可咖啡,继续欣赏伟大的广安里大桥。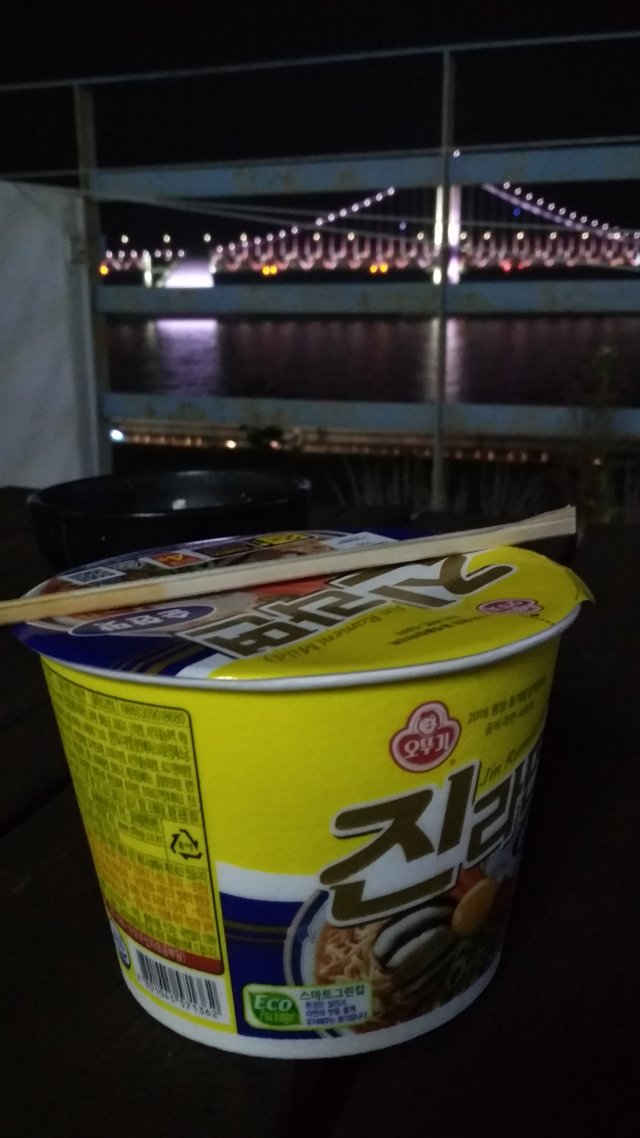 This is what I love to eat in Korea, despite it's Kimchi instant noodle, but I like the saltiness and the spiciness of their noodles are bearable.
这也是我最喜欢的方便面。虽说要方便面,但是咸度和食物的新鲜绝对可以大同捏。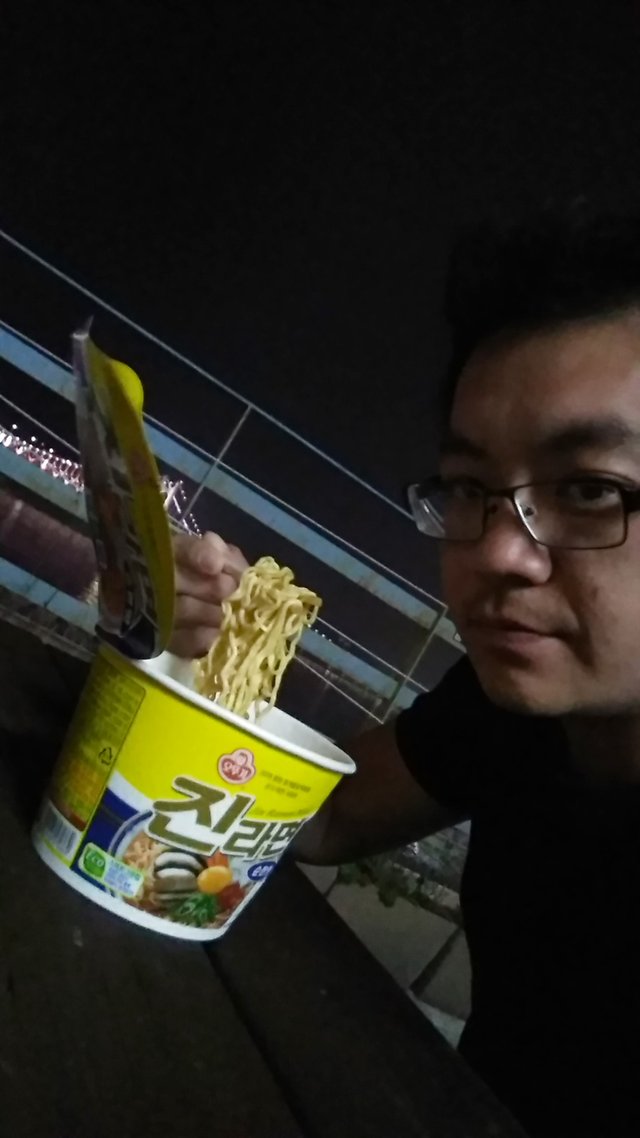 After rain, it was quite chilling at 16'C. I have my bowl of instant noodle with me, I hope you feel jealous about this!
中午那段时间有下雨了,外面天气是非常的凉快。能够在这么冷的天气一边吃着滚烫的方便面,实在是人生一大乐事。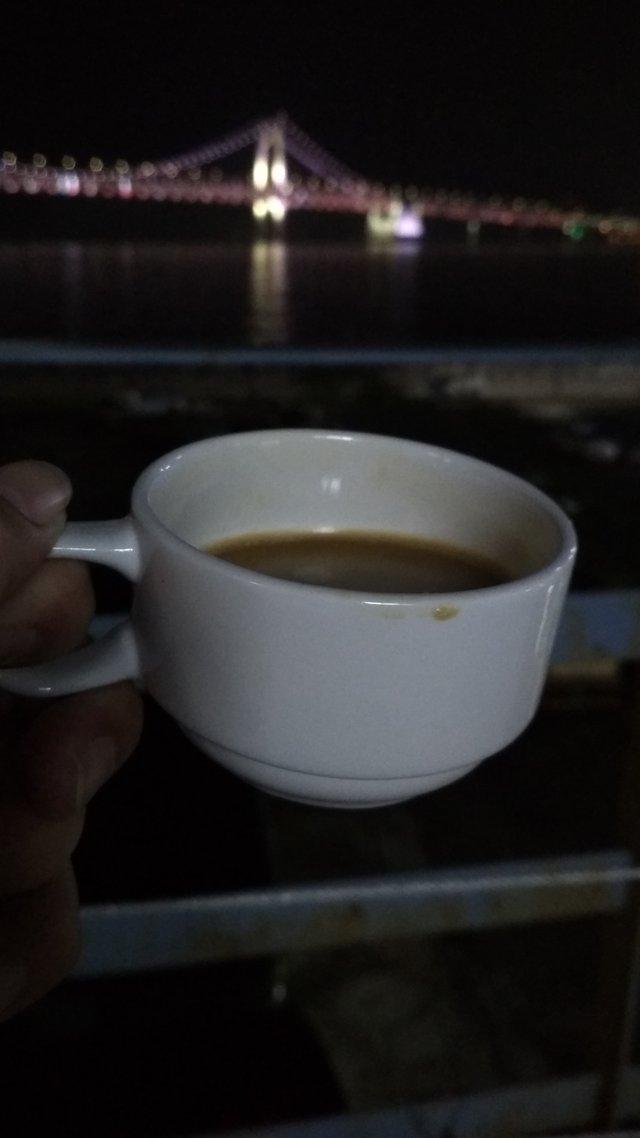 Before I managed to take photo of the noodle, it's already done, safely in my stomach. I have my coffee infront and enjoying the beautiful diamond bridge.
在我还未来得及把面拍下来,已经被我吃光光了,灾难这里才开始,我的一杯咖啡一边大口喝着一边欣赏广安里钻石大桥。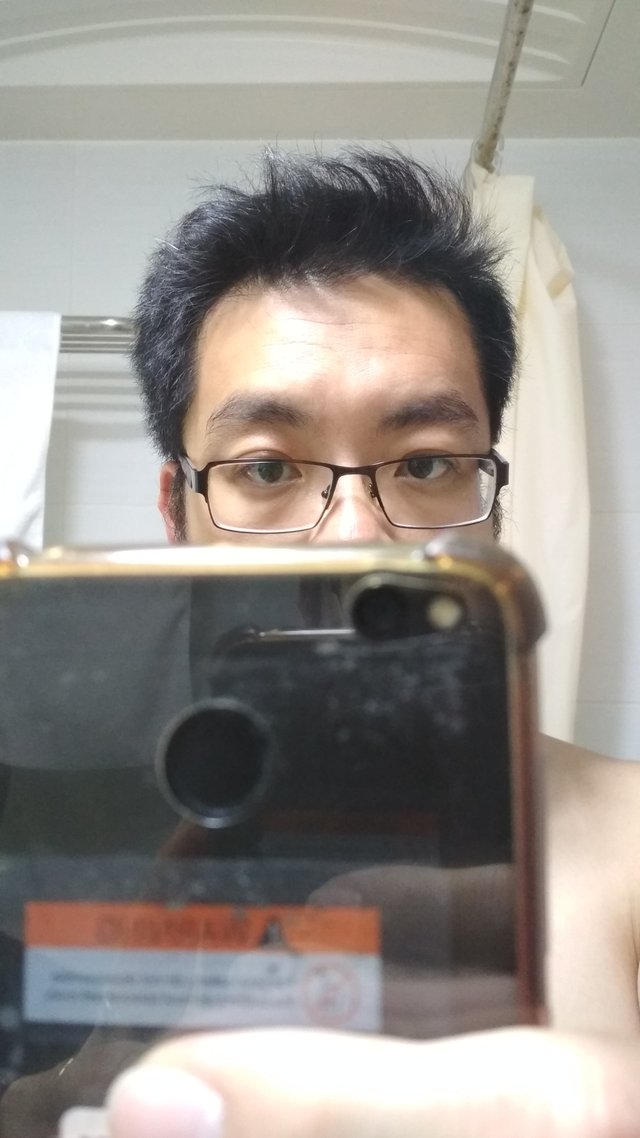 People always said, refrain from taking selfie infront of mirror, moreover toilet's mirror. There's a reason to it, as there may be something not supposed to see and it came up at the reflection? Anyway, I've got nothing for my fellow readers to see. This recorded the last day in Bexco area. My hair still standing like fresh out from the shower. Anyway, this last photo was about the hair style being created by the magically nice shampoo. Those who haven't read about the hotel Shampoo, here's the
link
别人常说,不要在厕所里面玩自拍,原因是怕镜面反射拍到了不应该看到的东西。我细心检查过应该不会出错,反正我也没有什么见不得人的东西给我的读者看。这就是在Bexco最后一个晚上的照骗。我实在记录那个超级洗发露的神奇功效,经过了一整天除外旅游,头发还是自然站立着好像被发行设计师搞了一样。如果还没读过我那篇洗发露介绍的,
欢迎阅读
。
---
I would like to thank all my friends and family who has been supporting me. Feel free to leave me feedback by clicking below yellow banner.
谢谢大家一直以来的支持和对我疼爱有加。如果方便,请你点击下图到我的个人资料网页为我留言请我吃星星哈。


CREATE YOUR OWN @REVIEWME PROFILE TO START EARNING CREDIBILITY STARS FROM THE COMMUNITY!
CREATING YOUR PROFILE IS EASY! JUST FOLLOW THE STEPS HERE ☜(ˆ▿ˆc)
---
Posted from my blog with SteemPress : http://davidke20.vornix.blog/2018/07/17/random-photography-in-korea-busan-%e9%9a%8f%e4%be%bf%e5%8f%91%e9%9f%a9%e5%9b%bd%e9%87%9c%e5%b1%b1%e7%9a%84%e7%85%a7%e9%aa%97/
---