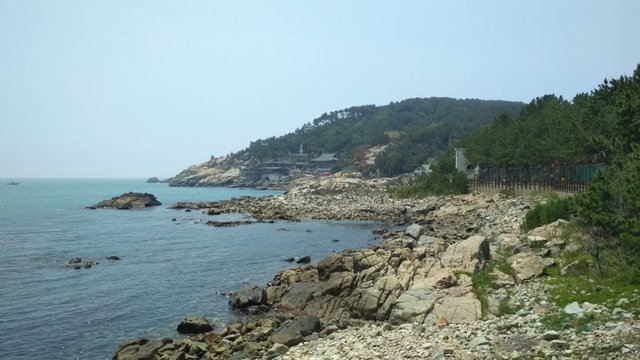 As Busan City Bus Loop tour brought us to this place at, immediately I jumped out of the bus. Sorry I didn't pay too much attention to what happened surrounding but am anticipating a great nice temple visit. The last temple visit was at Beomeosa Temple (범어사) 金井山梵鱼寺 . If you haven't read about it. The other day was full fledge site visiting and it was killing my feet due to walking too much. After a day rests(on the 29 May), here we go again checking out marvelous places like this. The temple were situated at the same stop as Fisheries Science Museum. There's no direct bus heading into the remote temple, one need to get off from the Museum and walk towards the temple. I didn't take much picture on the Museum as we didn't plan for a visit. 从Busan City Bus Loop Tour 부산시티투어 釜山观光巴士
第一站过后,我们来到了水族科学博物馆的这一个地方。到达水族科学博物馆我已经迫不及待的跳下车连蹦带跳的冲了出去,也顾不及把四周的环境记录下来。经过一天的休息之后(五月二十九日)觉得全身干劲准备再继续旅游参观釜山了!到底参观什么吖?就是要参观这个海东龙宫寺。咦?有没有搞错吖?刚刚不是说水族科学馆吗?其实是这样的,因为地形关系,没有直通车到龙宫寺去,所以乘搭公共交通的必须在水族科学馆下车,然后步行进去龙宫寺。到来旅游的朋友,可别错过了。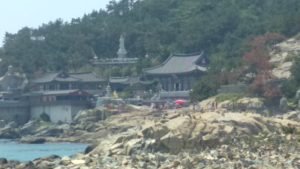 This was taken where we started walking towards the temple from the Fisheries Science Museum. The structure of the temple looks awesome.
这张照片是我们从水族科学博物馆走向龙宫寺时,从远处已经可以看到龙宫寺的外观极度雄伟。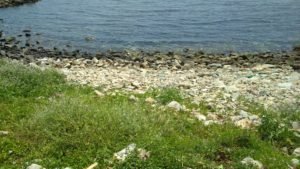 As we walk pass the coast line, pieces of rocks separated the greens and the sea level. Couldn't help it but to snap a photo here.
沿着海岸路线一直走向龙宫寺是,岸边的石头分割了青草和海水,看起来形成了对比。没有多想,提起手机就拍了这么一张照骗(是的,还要骗)。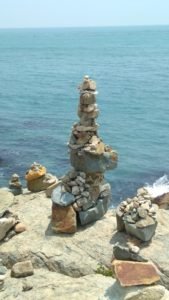 And then we arrived this platform where we can stepped out from the pedestrian path, we seen people stacking rocks, am wondering who has that much of time to spend balancing these rocks and stack it so high up. Most ridiculous thing is, how can these rocks stand through wind and rain storm? Absolutely marvelous!
当我们走过一个平台时,这个平台可以让步行者踏出去海岸线。在这里我们看到友人搭石头。将一块又一块的石头搭上真不简单,还有人有这种闲情去浪费时间来平衡石子?而最让我百思不得解的是,这些石头层叠了这么高,又可以这么稳定,进过风吹雨打也不塌?实在腻害!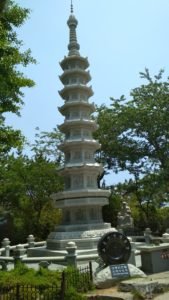 As we got in the temple, we need to hike some stairs to get there. Not really too steep, but enough to make me sweat. As we approach the main temple, we saw this pagoda stands right at the middle. There was a plague and a wheel at the front of the pagoda, it said "Traffic Safety Prayer Pagoda". Hmm... ... > 当我门到达龙宫寺时,还需要爬楼梯。虽说不是很高,但是已经足够让我汗流满面了。来到了庙的中央,这里有一座塔。塔前面有一颗大轮子,轮子前有一个牌,上面刻着"交通安全塔"。无语... ...
The following are statue of Buddha and also the 12 Zodiac characters. I wouldn't dive too deep into that, otherwise I'll be seen as trying to make up long winded post to cheat audience. Help yourself trying to recognize which is which. Those who managed to name them all correctly, you'll get a special prize from me.(send you air to breathe)<= Claim your prize here.
接下来就是十二生肖和佛像雕刻。我也不想介绍了。不想被人说我凑字数骗读者,你自己一边看图片一边猜哪一个是什么生肖吉祥物吧。如果你猜对完,有奖哦!(我送空气给你)<=奖在这里。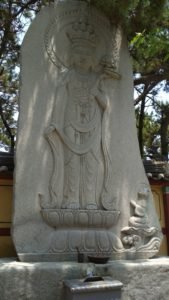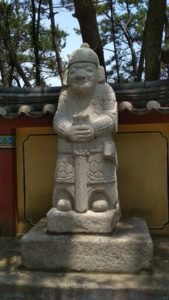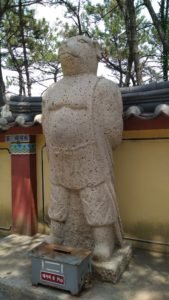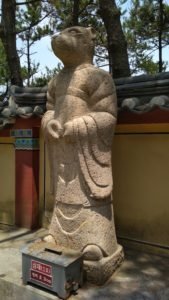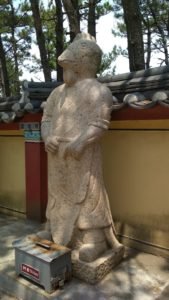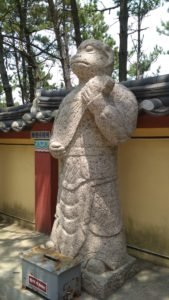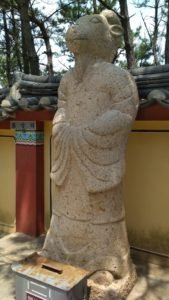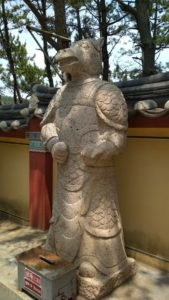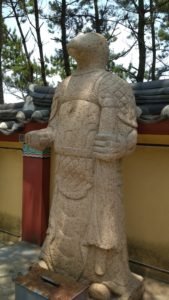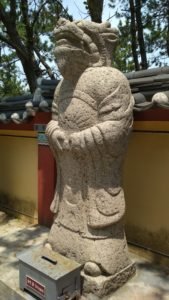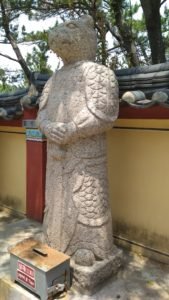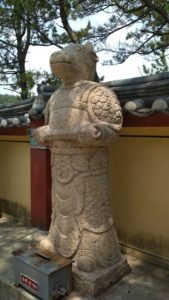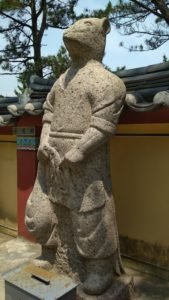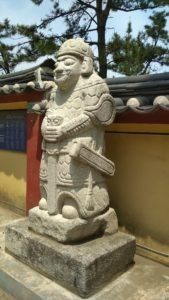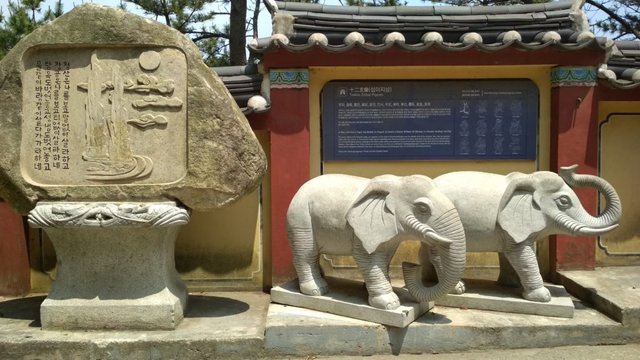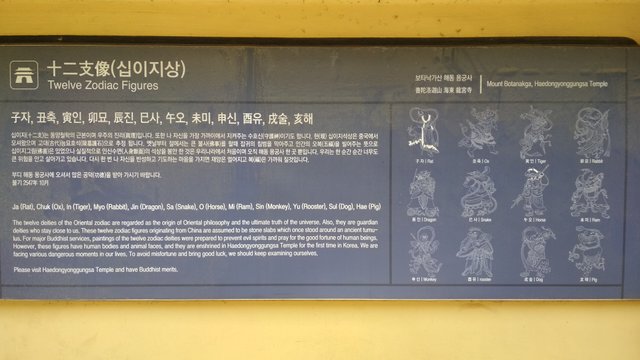 Since I don't read Korean, so here's another picture for you to read.
既然我不会读韩文,只好拍张照片让你们自己慢慢消化英文了。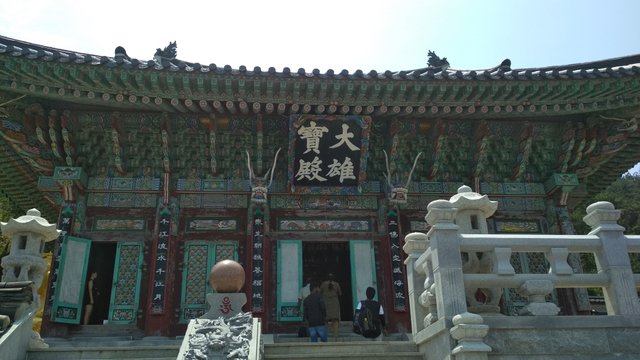 Came to the top of the hill, there's this temple. I don't know how they pronounce it in Korean, but in Chinese it read as DaXiongBaoDian. Direct translate as BigGuyTemple. The word big guy so happened to be the same name as Nobita in Doraemon(Japanese comic). I'm sure there's nothing similar between the 2 different cultural, but I just gotta known this temple was rebuilt in 1930, and it was previously known as Bomun Temple, were destroyed during Japanese invasion between 1592~1598. Those who have an idea, feel free to comment and teach me a little bit more about this temple. I purposely snapped this photo at the staircase as I love the Chinese wordings. I couldn't interpret the full sentence, but roughly understand the meaning of blessing the whole nation.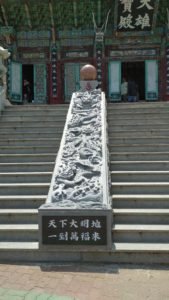 来到了山顶,这里是一座很大的庙。庙堂门口的拍显示这是《大雄宝殿》,正确的韩文读音我不知道。但是咋看,有没有想起小叮当里面的大雄呢?大雄的意思这里其实是大英雄吧。到这里我才知道原来这座庙原本是Bomun庙宇,在1592~1598年代被日本侵入是破坏了。然后在1930年才重建。当中应该经历了不少辛酸史。其他细节我也不是很清楚。如果你知道当中的历史,不妨留言给我,我会乐意学习的。然后拍了左边这张照片,写到"天下大明地,一到万福来"。看了也不明白,不过意思大概是祝福全国就对了。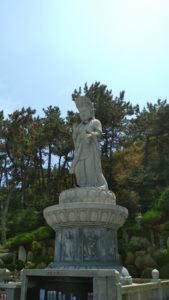 I'm not trying to excuse, but I took this photo due to the sun sit right on top of the Buddha, makes it looks marvelously nice. I didn't think much, point my phone camera to that direction and snapped this photo. I was thinking may be later goes back to Malaysia I would make a long essay about it(obviously I didn't).
这个我也不多做介绍了。没啥特别,就是刚好我走过这一座雕像时,太阳正好在上面,形成一个光圈非常美丽。二话不说先拍下来回来才写作文(结果还是写不出)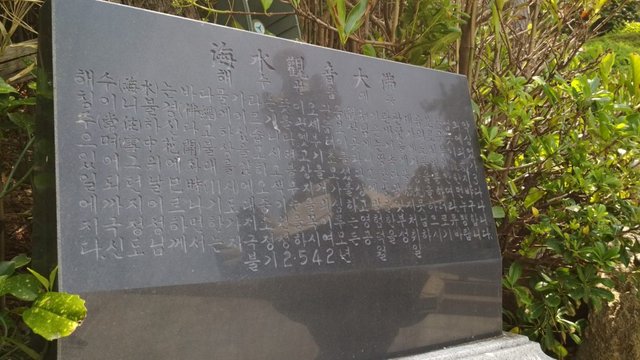 Finally found a plague that talks about the Haidong Yonggongsa Temple, but it's in Korean. That leaves me no choice, again snapped a photo and call it a day. I wonder whether you guys able to see the wordings anyway.
最后,终于找到了关于海东龙宫寺的介绍牌,原来又是一大堆韩文。既然没有办法,只好拍一张照片留念,又或者身边哪一位懂得读韩文的可以为我解释以下。虽说已经拍了照片,可是确实很难读。
---
I would like to thank all my friends and family who has been supporting me. Feel free to leave me feedback by clicking below yellow banner.
谢谢大家一直以来的支持和对我疼爱有加。如果方便,请你点击下图到我的个人资料网页为我留言请我吃星星哈。


CREATE YOUR OWN @REVIEWME PROFILE TO START EARNING CREDIBILITY STARS FROM THE COMMUNITY!
CREATING YOUR PROFILE IS EASY! JUST FOLLOW THE STEPS HERE ☜(ˆ▿ˆc)