That was how long ago? 7 months ago when I started blogging not long, I made a post about how I maintain the back then new shoe.
不知不觉已经过了七个月,那时我才刚刚开始染上写作的瘾。还记得刚开始写作那段时间没有特别的事情想到可以跟大家分享,结果就写了一片如何保养鞋子的贴文。那时只写英文而已,如果大家有兴趣不妨点击以上链接。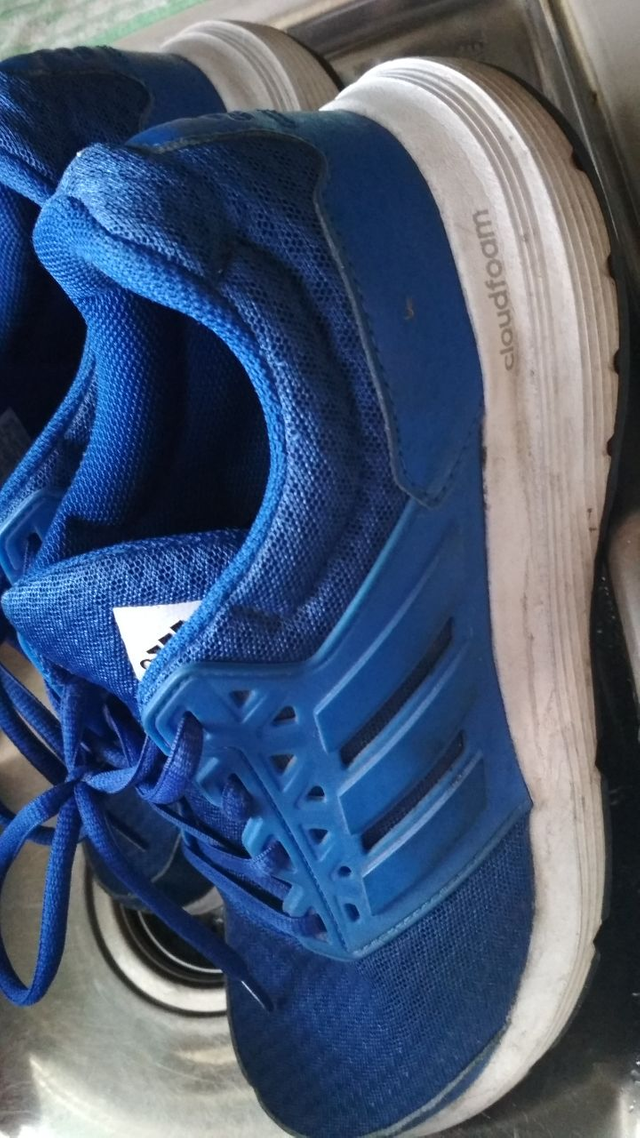 This is the Adidas running shoe I love most. I use this shoe on daily basis whenever I go out for grocery shopping, jogging, running, and I even go travel together with it. The Cloudfoam technology is marvelously suitable for my kind of flat foot person, I can wear this shoe and walk for many hours without feeling too much pain on my feet.
这双就是我新爱的阿迪达斯跑步鞋。这鞋我几乎每天都穿着进出,不管是上菜市场,跑步,散步,甚至去旅行也穿着它。原因是这个鞋底有云泡沫技术,穿起来非常柔软而且有弹性。对于我这种平脚板的人来说,穿着这种鞋可以走路走半天也不疼。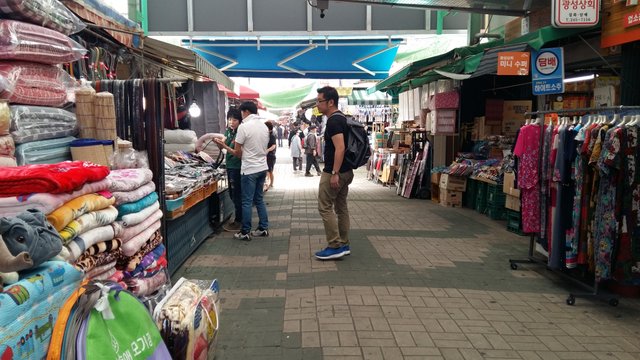 Walking at the market
在逛菜市场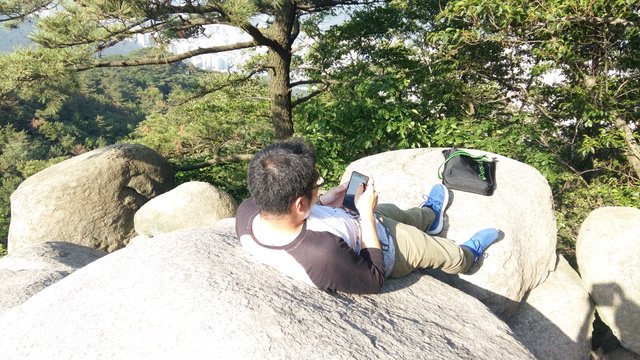 Or climbing on the rocks
在爬石头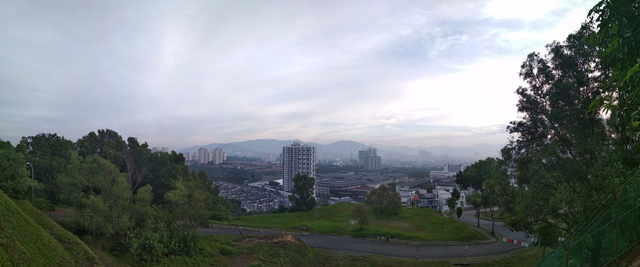 Not forgetting my weekend hill run
或是平时周末跑山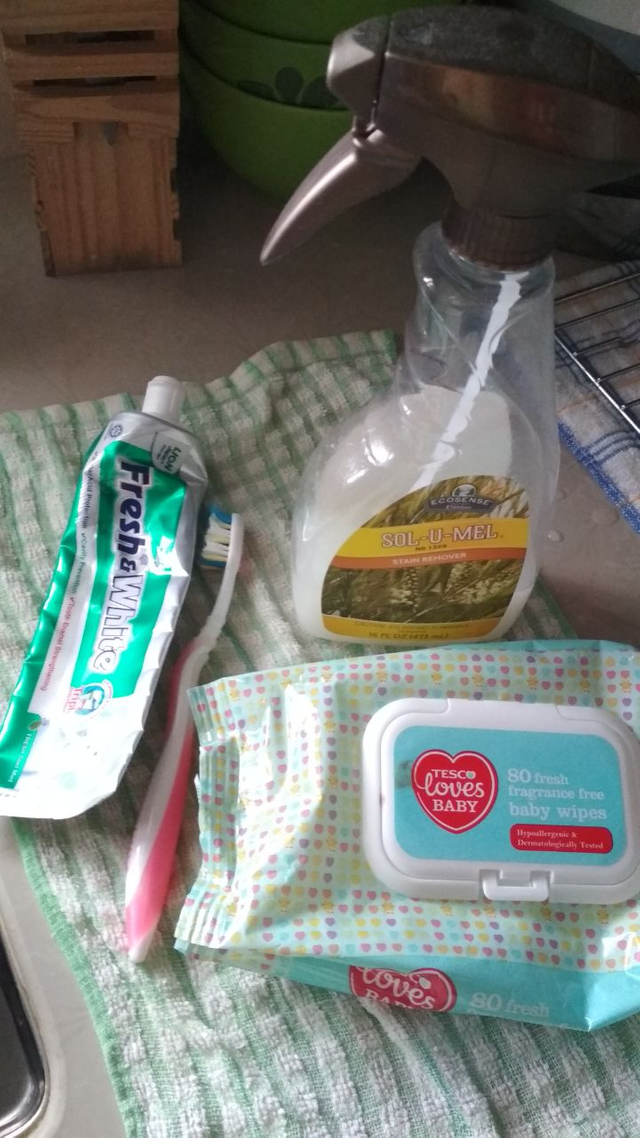 I've been regularly brushing my shoe's white base already, but today we need to clean the surface as well. So I have also prepared with Melaleuca Sol-U-mel mixture. Good thing with this Adidas shoes, came with Odolite in lay which helps reduce odor.
我一直一来都很用工为此鞋底的整洁,应为白色很容易肮脏。今天,我还决定了要一拼连表面也要来清理一下。我准备好了旧牙刷,牙膏,美乐家的除污济和一些湿纸巾。这鞋子的另一大特点是,鞋里面的垫是防臭的。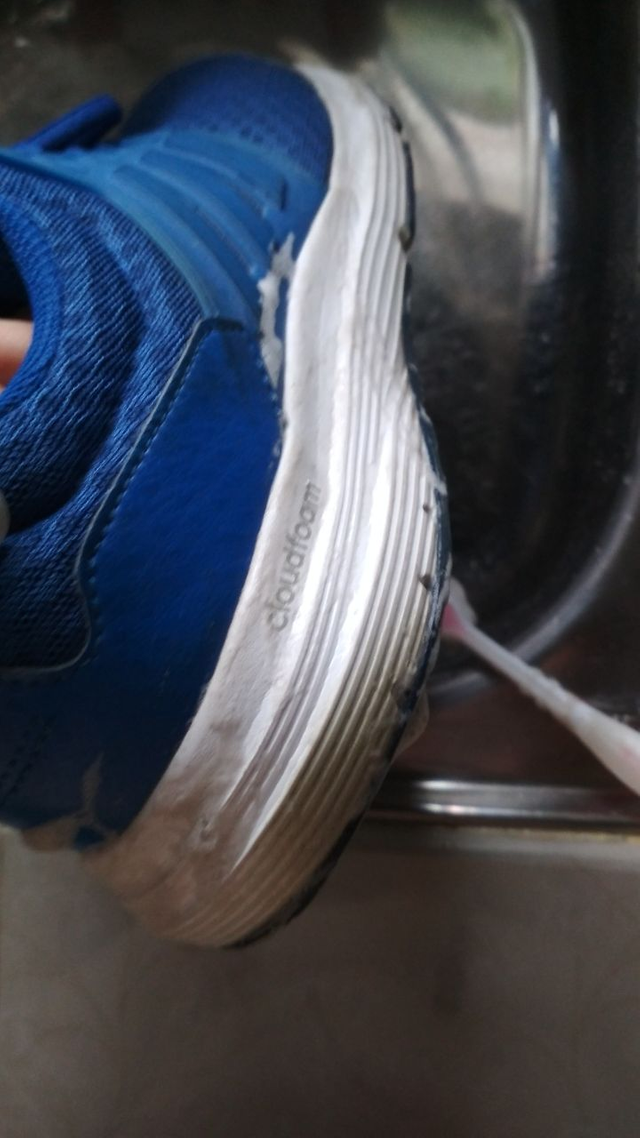 Apply toothpaste on an old toothbrush and start scrubbing the white base. Chloride will help to rush away stains and restore some whiteness of the show base.
先将适量的牙膏挤在旧牙刷上,然后湿一点水就开始刷。牙膏不但去除污迹很有效,而且还有美白牙齿的作用。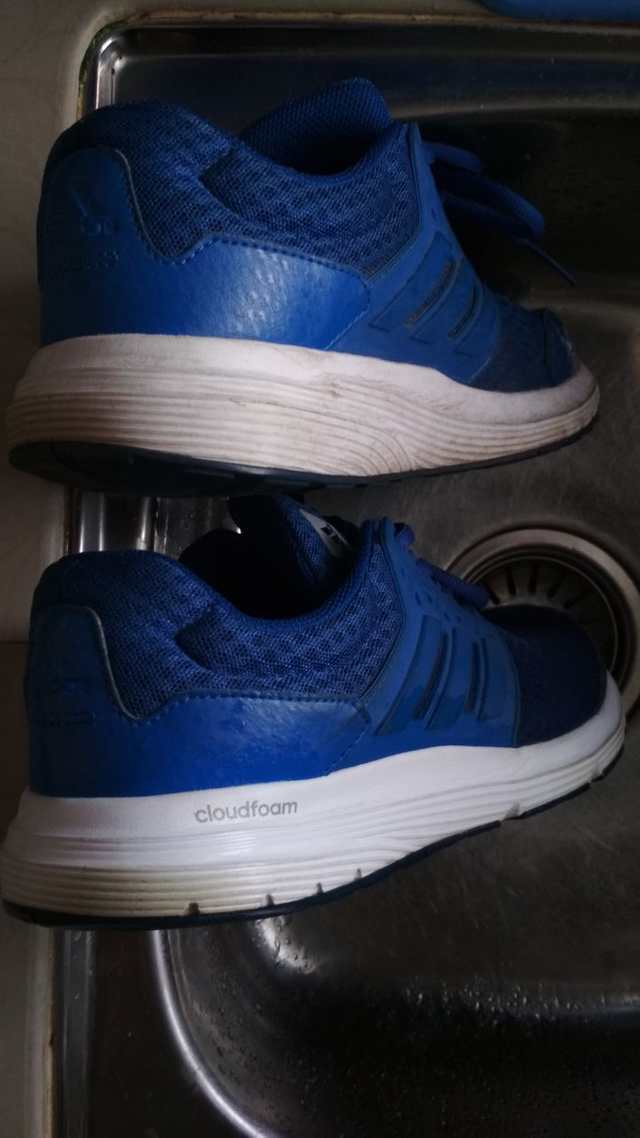 After brush, we already can see the huge difference between two shoes.
刷了以后跟另外一只还没刷的比起来看就觉得分别挺大的。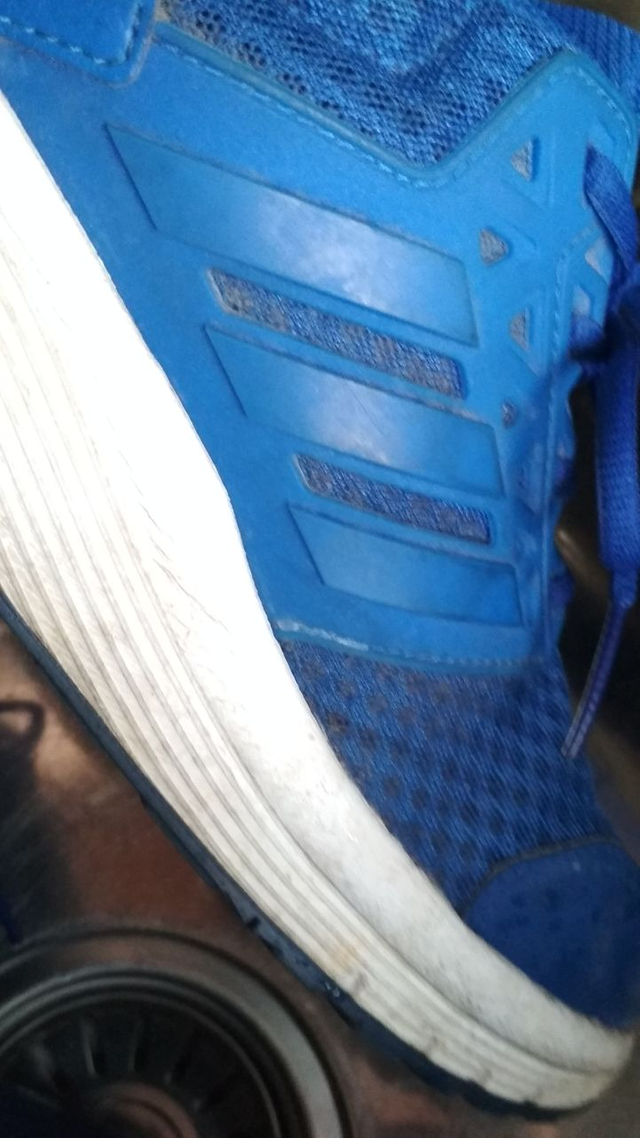 Come the surface, it hasn't been cleaned before since the day I bought this shoes. We can see stains and water marks on the surface. 1 thing I didn't unlearned from my mom, which is to soak shoes into a pail of soap water. According to a very friendly cobbler, most important 2 things in shoes are thread and glue. Soaking shoes in soap water does exactly what a shoe hated, which is to weaken their glue. Hence, cobbler friend advised in future all shoes must be carefully clean from the surface.
然后就要开始清理鞋面了。我小时候妈妈就已经教我周末把鞋子用一个桶,装好了肥皂水这将鞋子往里面淹。淹得越久越像。这里跟大家分享,有位友友是当鞋匠的告诉我,对鞋子来说只有两样事情是最重要的,第一就是缝合线,第二就是胶。把鞋子淹进肥皂水就是一个大禁忌,让鞋里面的胶松脱,裁缝结合点的线也很容易脱落。自从那次学了以后就再没有随便把鞋子淹进肥皂水里面了。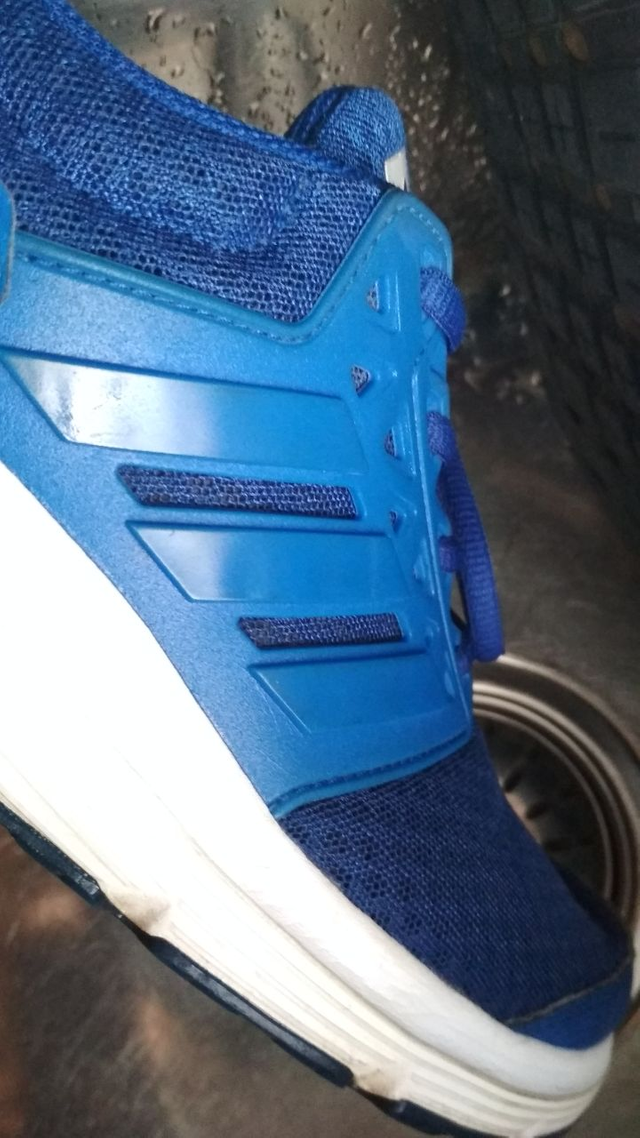 Stain remover(in my case, Sol-U-Mel) and wet wipes does the job.
用除污济一边抹干净鞋面,一边用湿纸巾把周围多余的除污济抹掉。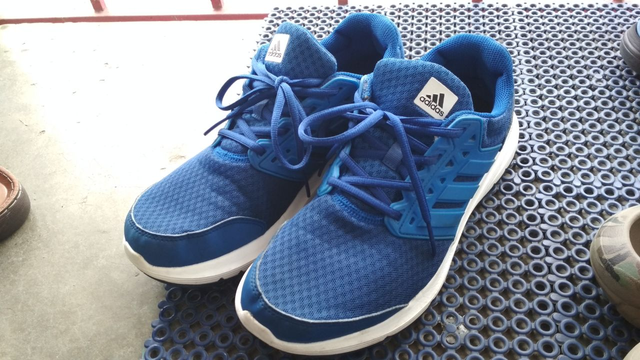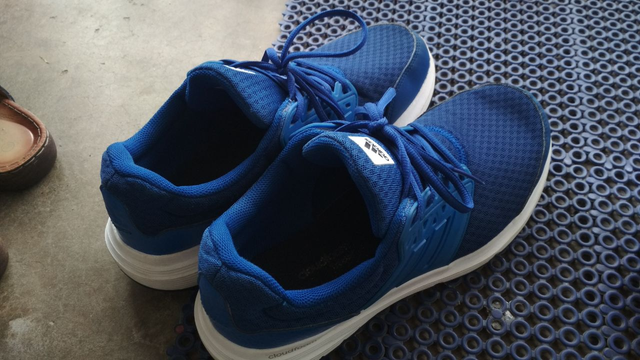 Not bad right? Still looks like new despite so much distance it went with me. I hope this little trick helps you keep your shoe clean and be happy wearing it.
怎么,不错吧。虽然这双鞋已经陪我一起度过了那么多公里,但是看起来还很新。我希望我这个简短的分享可以帮你维持你的爱鞋,让它整洁也穿得舒服。
---
Posted from my blog with SteemPress : http://davidke20.vornix.blog/2018/07/16/631-7km-shoe-maintenance-631-7%e5%85%ac%e9%87%8c%e5%90%8e%e7%9a%84%e9%9e%8b%e5%ad%90%e4%bf%9d%e5%85%bb/
---
----- I would like to thank all my friends and family who has been supporting me. Feel free to leave me feedback by clicking below yellow banner. > 谢谢大家一直以来的支持和对我疼爱有加。如果方便,请你点击下图到我的个人资料网页为我留言请我吃星星哈。


CREATE YOUR OWN @REVIEWME PROFILE TO START EARNING CREDIBILITY STARS FROM THE COMMUNITY!
CREATING YOUR PROFILE IS EASY! JUST FOLLOW THE STEPS HERE ☜(ˆ▿ˆc)