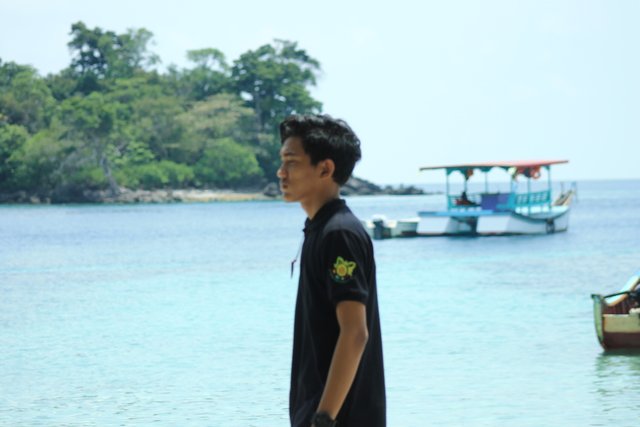 by:
@adilvakhri
---
---
Di ujung barat Negara Kesatuan Republik Indonesia terdapat suatu pulau yang memiliki keindahan alam yang sangat mempesona. Bahkan kota pada pulau tersebut di abadikan dalam sebuah lagu wajib nasional yang berjudul "Dari Sabang Sampai Merauke". Nama pulau tersebut adalah Pulau Weh.
Pulau Weh memang seperti agak asing di telinga anda, tapi jika saya sebutkan nama kota di pulau tersebut pasti tidak asing bagi anda. Ya, Kota Sabang. Pastinya anda yang menyuki destinasi wisata pantai mengetahui nama kota tersebut. Karena Sabang merupakan salah satu tempat yang memiliki pantai sangat indah dan patut dikunjungi.
Sebagian besar pulau Weh jika diliat dari segi geografis adalah bergunung-gunung dan dikelilingi oleh Laut selat malaka di bagian utara dan timur, di bagian selatan dan barat dikelilingi oleh Samudra Hindia. Seluruh pulau Weh dikelilingi oleh laut dan pantai biru yang sangat menggoda.
---
---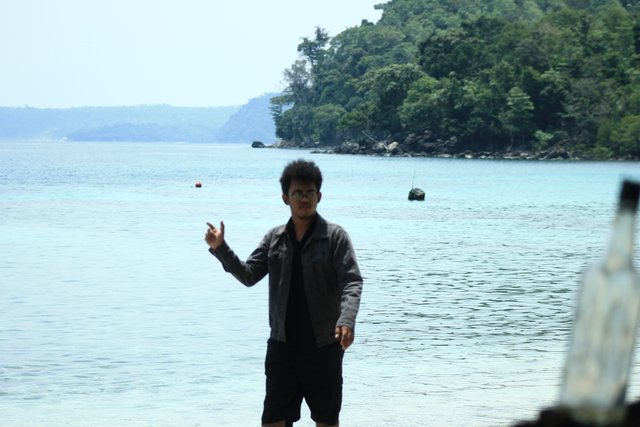 ---
---
Pulau weh memiliki potensi pariwisata yang sangat bagus. Pantainya yang indah menarik wisatawan dari luar negeri dan juga dari dalam negeri. Ini merupakan sangat baik bagi pertumbuhan ekonomi masyara setempat dan juga pendapatan daerah.
Beberapa fasilitas seperti bandara dan pelabuhan juga dimiliki oleh Sabang. Nama pelabuhannya adalah Balohan sedangkan nama bandaranya adalah bandara Maimun Saleh. Jadwal penerbangan yaitu pada hari rabu, jumat, dan minggu. Namun untuk insfrastruktur di pulau weh, kondisi jalan yang sempit dan kurangnnya penerangan di jalan-jalan.
Bagaimana dengan sahabat traveler? Sudahkah merencanakan perjalanan menuju Pulau Weh? Jika sudah, semoga rencana anda tercapai. Nol kilometer Indonesia bagian barat sudah menunggu anda.
---
---
by: @adilvakhri
At the western end of the Unitary State of the Republic of Indonesia there is an island that has a very beautiful natural beauty. Even the city on the island was captured in a national compulsory song entitled "From Sabang to Merauke". The name of the island is Pulau Weh.
Pulau Weh is indeed a bit strange in your ears, but if I mention the name of the city on the island, it must be familiar to you. Yes, Sabang City. Surely those of you who like the beach tourist destination know the name of the city. Because Sabang is one of the places that has a very beautiful beach and is worth a visit.
Most of the island of Weh if viewed from a geographical perspective is mountainous and is surrounded by the Malacca Strait Sea in the north and east, in the south and west surrounded by the Indian Ocean. The whole island of Weh is surrounded by sea and blue beaches which are very tempting.
Weh Island has very good tourism potential. Its beautiful beaches attract tourists from abroad and also from within the country. This is very good for local community economic growth and also regional income.
Some facilities such as airports and ports are also owned by Sabang. The name of the port is Balohan while the name of the airport is Maimun Saleh airport. Flight schedules are on Wednesday, Friday and Sunday. But for infrastructure on Weh Island, the narrow road conditions and the lack of lighting on the roads.
What about traveler's friend? Have you planned a trip to Pulau Weh? If so, hope your plan is reached. Zero kilometers in western Indonesia are waiting for you.
---
Posted from my blog with SteemPress : http://adilvakhri.com/2018/10/31/sabang/
---