Time for some new steempearls! :) The steempearls are a report about the last 5 topics, that I liked the most and I want to sum up for you. Please have a visit on these accounts and enjoy the content like I did. All Thanks goes to these fabulous writers out there. ღ
The first steempearl / ART
goes to
@barbara-orenya
for her
Happy #caturday !! and a belated contribution to #FridayLove =^.^=
.
This lady's artworks are mentioned in my very first steempearls report too. I just love the colours and the style of her artwork, so she made it to another steempearls report. If you don't follow her yet, follow her now. She is painting really awesome colourful artworks! ღ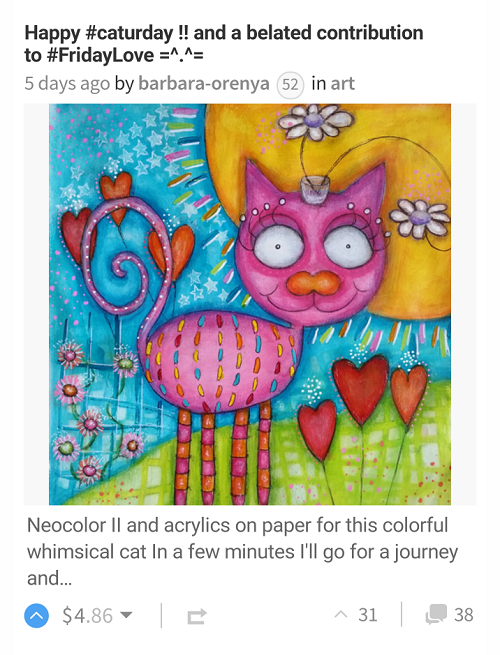 The second steempearl / SCIENCE
goes to
@mystifact
for
Why Do We Dream?
.
@mystifact
has already written some really excellent articles about science. I just love the work he does. This account is only some weeks around and needs a lot more views, followers and upvotes. Pretty good content! Steem on
@mystifact
♠
The third steempearl / MUSIC
goes to
@soundreasoning
for
World Instruments You Should Hear Immediately - Part 1: Kora
.
As musicplayer and musiclover I really really enjoyed this report.
@soundreasoning
has appearantly decided, to show us some not so famous instruments. I have never heard of this Kora and I think she is sounding pretty awesome! ღ Listen to it. I am curious about more introductions of world instruments and of course I have one or two favourites, which maybe are introduced by
@soundreasoning
soon.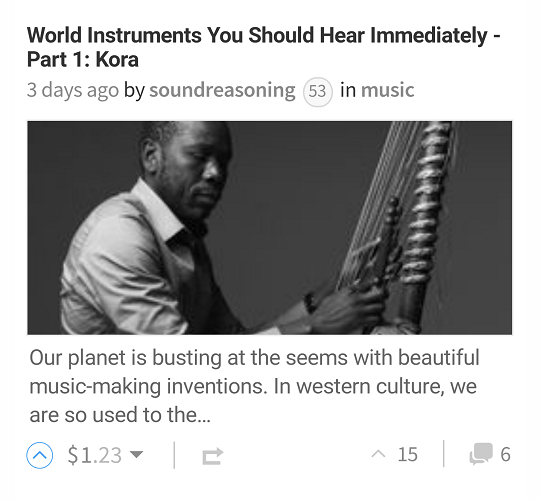 The fourth steempearl / HEALTH
goes to
@himal
for
Sciencepic #3 How your Thyroid Gland looks like in the Microscope??...Microscopic Photography of Human Thyroid!
.
This young men is a medical student and he has written some good articles about health recently. I like content, where we can learn and stay informed - so yes, that is why this is a pick from me and a follow for sure. I hope he is adding a lot more good researched content in future. ✩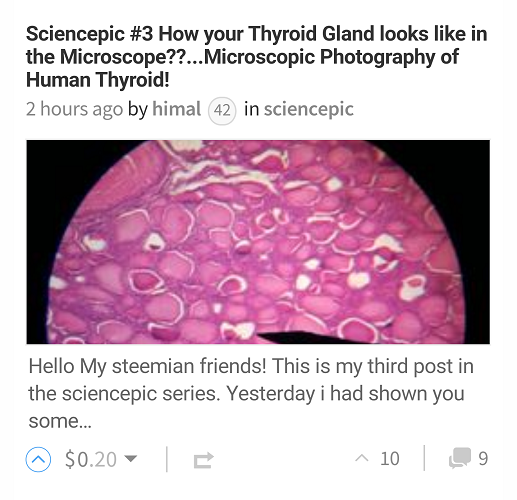 The fifth steempearl / PAINTING
goes to
@andrianna
for
Pink flamingo. Think positive. Step by step
@andrianna
's blog is about painting and photographing. The account caught my attraction because
@andrianna
is showing photos of the progress of the paintings she is making. So we can see the formation of the drawing from the very beginning with pencil, to colors, to watering the colors and so on. Doubtless another very valuable account on steemit. ❄
If you enjoyed the steempearls, feel free to make your own steempearls article and post it under the hasthag #steempearls ;) Have a great day and steem on ♠
If you want to see all the steempearls ever written since May 2017, just follow the account @steempearls .
These amazing dividers are from @scrooger ! There are several more - Check it out at Text Dividers for your posts. Easy to use! Just COPY and PASTE