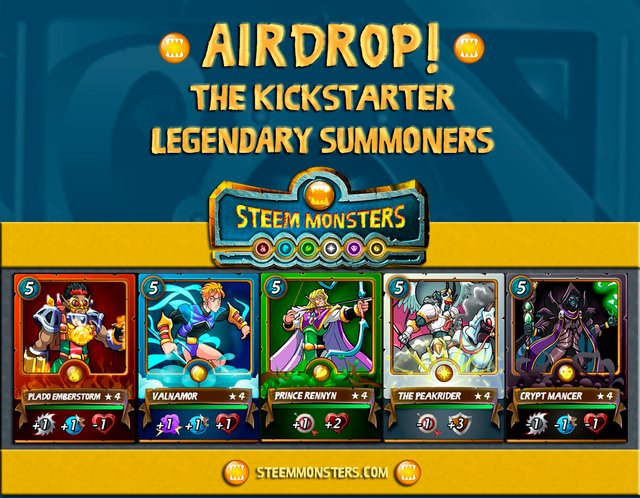 In this post we announced new legendary summoners and also an airdrop for them!
If you have purchased beta booster packs you're eligible for airdrop. Essentially there's a chance on any pack you purchased that you could have picked one of these summoners up or even better their gold foil variant.

There's still time, but it's really only 24 hours left. Are you going to miss out?
If you purchase booster packs from Steem Monsters you'll get a chance to get one of these cards. It's as if some of the packs you had purchased prior to the airdrop have a small percentage chance to have 6 cards in them instead of 5.
Anyway, after the airdrop these cards will be available in the booster packs and on the market. So, you'll be able to get them, but it's certainly cheaper to try to snag them now than 24 hours from now!

Only 500k Packs Left!
Well, interesting to note there are only 500k beta booster packs left after today. Chippin' away at the total supply!

Thank You for your continued support!
Steem Monsters Contact Info:
Steem Monster Tournament Calendar