You Can Play Steemmonsters Too! - The Best Beginner Tutorials Compiled
Are you interested in playing @steemmonsters, but do you think it looks complicated? Are you afraid you won't understand? There's no need for that anymore!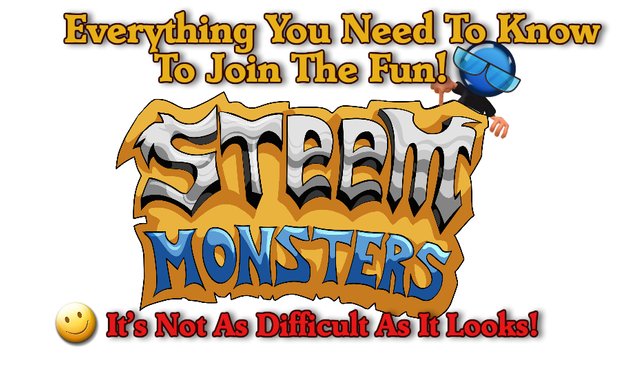 Image taken from Steemmonsters website and spiced up with The Logo Creator 7
Cold Feet
Trust me, I know all about it. Before the games started, I had been panicking for weeks.
Since I have absolutely no background when it comes to these kinds of games, and coming up with strategies is not one of my strong points - to say the least, I was terrified I wouldn't succeed in getting even a basic understanding of the game.
I read a lot about @steemmonsters, but every post got me even more confused. How on earth would I ever be able to remember all the abilities of the different monsters: three sorts of attack, speed, shields, the order of play,..
My brain simply stopped working every time I tried to figure it out.
So I decided I would stay away from the game. I was interested, but also convinced I would never be able to understand how it worked. I was afraid I would fail...

Off To A Bad Start
I did have a starter pack, so I thought I could just as well give it a shot. From the moment I opened my account and started to check out the pack, I was completely lost. I tried to play a few games,, but I didn't have a clue what all those symbols meant, and once I had a (randomly chosen) line up and started the game, everything happened so fast... too fast for me to be able to follow.
It was a complete disaster! I felt like such a failure. I consider myself to be somewhat intelligent, and I couldn't understand why I wasn't able to understand a stupid game. I felt so frustrated at the time...
I reserved some time to go through them one by one, and step-by-step I got a basic understanding of the @steemmonsters game.
And you know what?
Once you get the basics, it's not all that complicated.
I'm not saying I'm an expert yet, but with the basic knowledge, you can start to try out a couple of things and see how they work out. Trial and error... that's how you learn to play.
Although I don't have a maxed deck, and still have a lot of questions, I managed to make it to the Champion 2 League last season.
(I forgot to take a screenshot - I only have one that shows I'm in the Diamond League, but it gives you an idea.)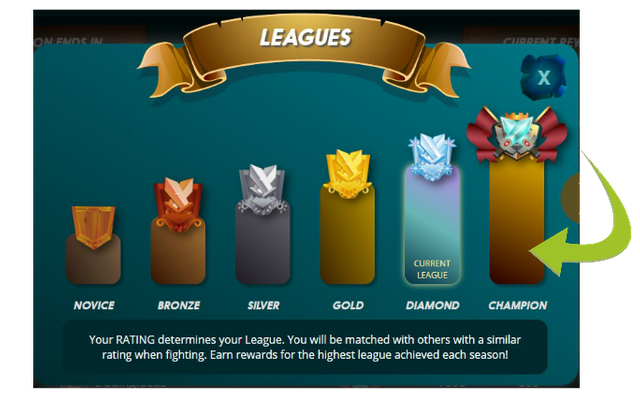 Source
And I can guarantee you, I had loads of fun getting there.
And all I did to achieve this was go through those tutorials, and battled. There were times I lost 15 games in a row and got a little frustrated, but sometimes I won 20 battles, one after each other. I'm unable to describe the feeling of triumph that comes with that.
Every day, I learn something new, but it all started with the basics.

You Can Do It Too!
Which brings me to the reason why I started writing this post.
During my SteemIt adventures, I run into quite a lot of people who are experiencing the same feeling I had in the beginning. They are attracted to the game but don't know where to start, and are afraid they will not understand.
Below, I will share the tutorials that helped me to get started. I recommend you go over them one by one - don't go through them all at once. Read one today, another one tomorrow and so on... Give your brain the time to process the information.
Of course, it helps if you have an account with a starter deck, so you can compare the information in the tutorials with your actual cards and try out a thing or two.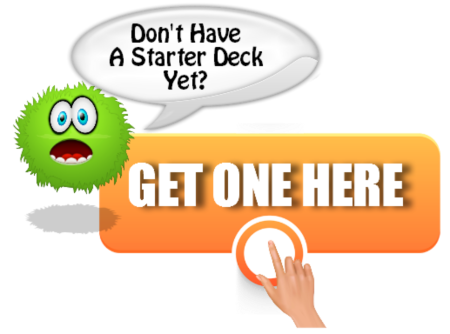 Created with The Logo Creator 7
DISCLAIMER: You'll be signing up through my affiliate link

Recommended Tutorials
The tutorials listed below helped me out a lot. You'll notice I've listed a written tutorial, and a video tutorial. They both cover more or less the same information. It helped me to first read the posts, and then watch the video - but I assume this is different for everyone.
1 - @davemccoy's Breakdown Tutorials
@davemccoy split up the basics in 3 different posts, which makes it all fairly easy to digest. Like I already said, it helps if you have a starter pack to compare with.
---
---
---
These tutorials are really very basic. Still, I had to read them a couple of times while looking at my starter deck to find out what it all meant. So don't give up if it doesn't make any sense the first time you read it, because it will... eventually.

@flauwy created some fun to watch video tutorials that cover the basics of the game. Later on, he also created animated videos in which he explains how the tournaments and the daily quests work.
You can find the entire series on the @cryptodwarf account.
The two videos below introduce you to the @steemmonster basics:
---
---
These tutorials are really made with the beginner in mind. The animation makes all the information a lot easier to digest.

Once you've gone through the previous tutorials, you should be able to start playing. Don't worry if you lose a lot in the beginning, even experienced users often lose more battles than they win.
The game requires you to process a whole lot of information. The best way to do this is by playing. The more you play, the more the rules come 'natural' to you.
I must admit, I often forget what an ability stands for, or how to make sure my monsters attack both the front and the back of my opponent's team.
That's where this cheat sheet comes in.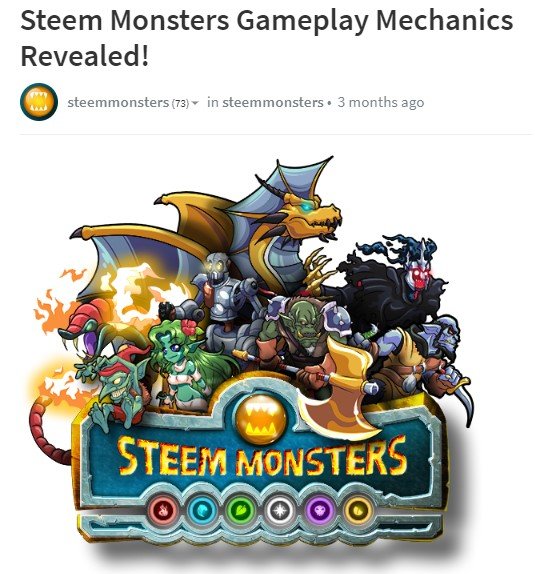 Link To Post
@steemmonsters' Steem Monsters Gameplay Mechanics Revealed! provides you with an overview of all the basic information.
Teams, stats, abilities, summoners, levels, team ordering, attack ordering,... everything you've seen in the previous tutorials has been collected on this one page.
Personally, I think this post is a little complicated if you don't have any knowledge yet, but once you've gone through the other tutorials, it's a great way to look up something you need to know.

More Tutorials
There are plenty of @steemmonsters tutorials on SteemIt. The ones I presented above are the ones I used to get started. Thanks to these tutorials and some help from my friends, I'm having loads of fun playing @steemmonsters - a game of which I never thought I would understand how it worked.
So, if you are interested in the game, don't hold back because it looks like it is so complicated from the outside. Once you are playing, you'll pick up the rules in no time. Got questions? Ask around. Half of the community is playing, I bet your friends are too!
And maybe the most important of all:
You don't have to be a @steemmonsters master to have fun!
---
If you don't have a @steemmonsters account yet, but you want to join the fun, you can create your account by clicking the banner below.

Source
DISCLAIMER: You'll be signing up through my affiliate link

Subscribe Ro RSS Feed | Subscribe To Newsletter


Images have been sourced inside the post. Images that aren't sourced were created with The Logo Creator 7.


Join us @steemitbloggers
Animation By @zord189