CREATING PEAKMONSTERS - A Companion to SteemMonsters + I open 110 packs and give every Steem User FREE CARDS
If you are new to SteemMonsters write "PeakMonsters" in the comments (even if you aren't new) and I'll have @peakmonsters send YOU ALL a free card to your Steem account just for checking out my post... meanwhile hope you enjoy the story about how I helped create this cool SteemMonsters related website with @asgarth >> https://peakmonsters.com
(p.s. If you're new to the game tell me and I'll give you a better card. You can use my site to see what you got.)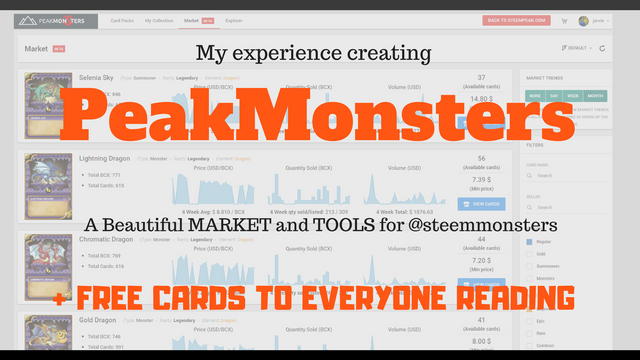 THE HISTORY
I approached @asgarth about this new BlockChain game called @SteemMonsters and told him how the game would be played and mentioned @yabapmatt made a protocol for doing buys and sells and was encouraging third parties to develop using these things. I told @asgarth that the two of us should partner up and make something really cool for this community. He trusted me, saw the long term potential and now we're here with a kick butt beautiful Bulk Market system and awesome Charts and other tools.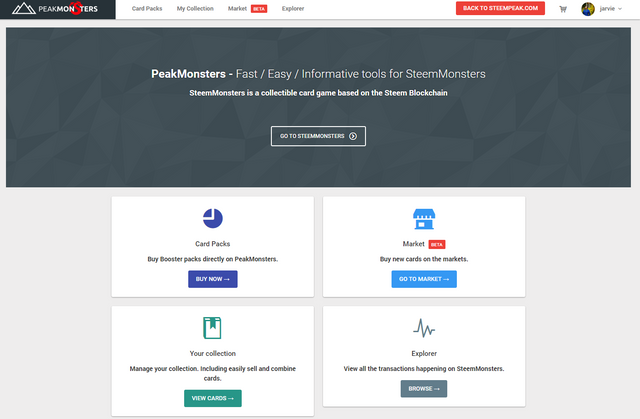 @PEAKMONSTERS HAS
Charts
Bulk Buy
Bulk Sell
Pack Buys
Transaction Explorer
Personal Collection Analysis
@asgarth was the original creator of SteemPeak.com and I jumped in to help the team what feels like forever ago, but truth is SteemPeak is a pretty new interface for STEEM. So we've had months of working together and that's a big deal. Also we already had a style we loved in @SteemPeak and we both loved feedback from the community ...aka go chat in discord
It also helps that I had a pretty open summer to spend almost all day interacting with the community, brainstorming ideas and testing features. Couldn't have happened at a better time.
USING LEARNED MARKET SKILLS
It's been a bear market in ALL of crypto including Steem however all those hundreds of hours studying markets and economics is actually paying off now. I know most of the casual players may never use some of the advanced charts and analytics we have (and will create) but there are going to be plenty of BIG SPENDING traders and investors of the game and they'll love it. Plus we can be a great way for helping normal people on how markets work and prep them for the wild world of Crypto. So I'm greatful for the time and money I spent learning market stuff so I could be in a place to help MAKE A MARKET system.
GAME PLAY
I'm also excited to try my hand at what I think is going to be a really fun game to play. I love that its heavy strategy and not a ton of time consumption to play a game. Meaning I can think about it all day while doing other things and the actual computer action is minutes ... maybe seconds.
Go take a look at the expected game play mechanics and animation
---
WHAT HAVE WE CREATED ... So Far?
See it all live: https://peakmonsters.com
1. MARKET TREND CHARTS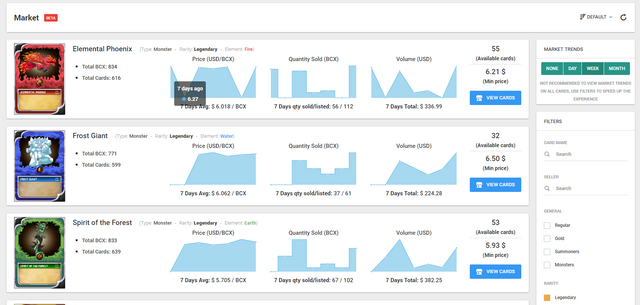 Take a look at Price and Volume
Also take a look at total number of cards ever created and that exist right now
---
2. BULK BUY w/ ADVANTAGE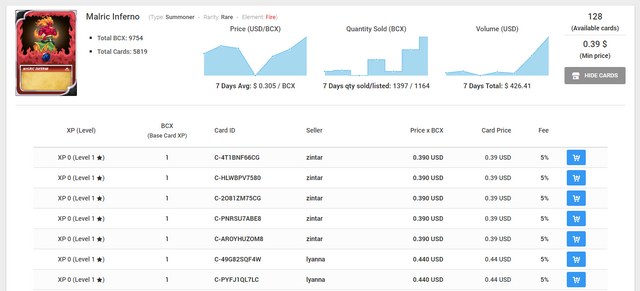 You can add cards to a cart and quickly check out.
But because steemmonsters has this really cool thing that you can level cards by combining them we even help show the price per base unit. (BCX) That way you can find even cooler hidden deals
---
3. BULK LISTING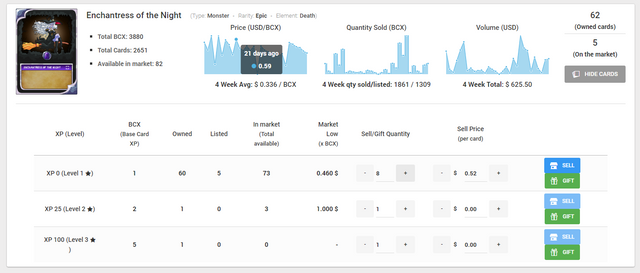 And now we're the first interface to offer bulk listing option. In a couple seconds you can list 20 cards into the market.
---
4. PACK BUYING
This is new to us but certainly a mainstay of SteemMonsters.com ... the truth is when you're buying the cards the money goes directly to SteemMonsters.com we are just facilitating and providing more tools in one place like we did with SteemPeak. And a portion of the sales helps fund development.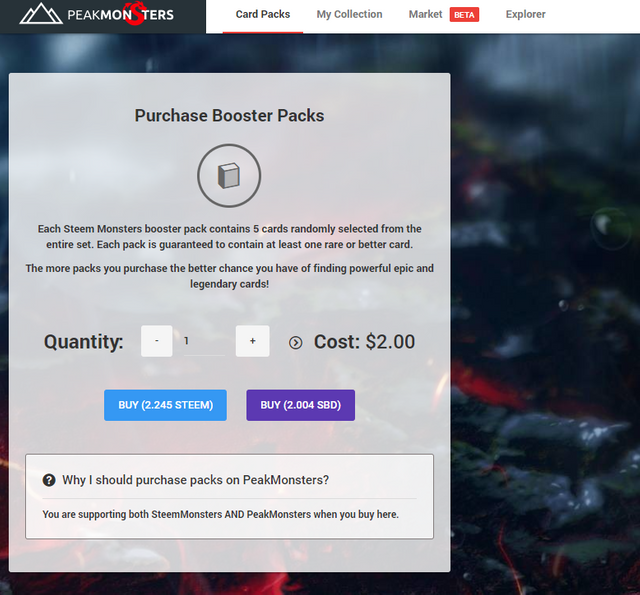 ---
Perhaps the most interesting aspect is it gives me a personal incentive to advertise the game to new users. Even buy ads if I wanted because bringing users to PeakMonsters.com isn't just good for the game it is a good business model.
---
5. TRANSACTION EXPLORER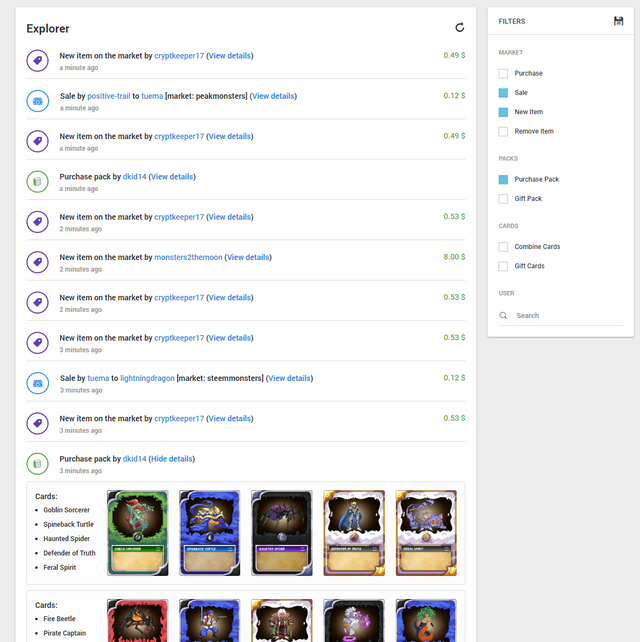 The first feature we created was an explorer so all users could transparently see what's going on and verify their own transactions like buys and sells.
---
6. VIEW ACCOUNT COLLECTIONS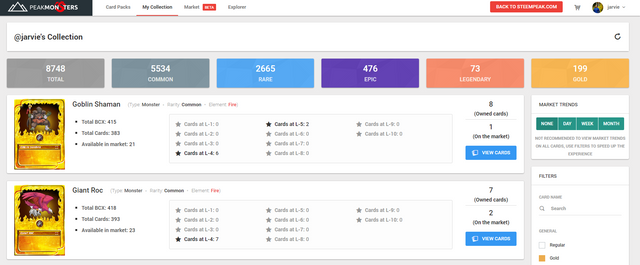 You can look at any collection... change my account with your account and you can see what you have. Remember write Peakmonsters or Newbie down below and soon you'll have something in your account.
https://peakmonsters.com/@jarvie/collection
THE FUTURE
I really love the style of the game, the cards, the market economics, the philosophy that is decentralized and wanting people to make their own games too... They promised September for game play and it looks like they're making that happen. I've been involved in the LORE of the game and I think it is going to be really good as well. (specially the black splinter. haha) I think the early adopters have created a great community to jump into
We have lots of fun ideas for @peakmonsters as the game increases in popularity and we have great users who suggest stuff on discord My list of future features and upgrades is presently over 40 but I'll share a few things here.
Changing Prices and Bulk De-Listing
Total Account Value
Overall Market Trends
Comparative Statistics between Cards
Bids
Saved Sales History and Stats+Charts
Rewards based on Sales Volume
And even some game play stats and tools
OUR GOALS = "Fast - Easy - Informative"
We want to give you tools that are intuitve and save you lots of time.
But most of all give you information so you're successful at this and stick around for a long time to come and information that maybe leads to you making some money as well.