English

Do you sometimes feel annoyed by people who think they're always unlucky and never to blame themselves for their own failures?
Well, I admit it, I sometimes also belong to the group of these self-proclaimed unlucky devils. Just lately it's been getting more and more frequent again:
The lamp on the bedroom ceiling broke a few days ago. When placing my soccer bets, I accidentally bet twice on Leverkusen instead of just once (that the team lost, hardly needs mentioning). While having an online blitz chess match, the battery of my wireless mouse emptied shortly before the end of the game, so that I had to watch helplessly how the last seconds on my clock ran out ...
The fact that I should be more careful when placing bets or that I could charge the battery from time to time, rarely comes to my mind in such moments. No, it's simply incomprehensible bad luck - probably sent down on me by God himself, because I don't believe in him. :)
But that's not all. Why on earth, for example, do I lose (perceived) in every second Steem Monsters tournament against @holger80 - where does this guy just buy all his unbelievable luck? "But couldn't it be that in the hustle and bustle of the tournament, you just didn't pick up your teams well?" "Sorry? I don't pick up badly, I have BAD LUCK!"
And now, in addition, the end of the last Steem Monsters season: as you know, as the twenty-fifth of the overall ranking you get 20 beta packs, as the twenty-sixth already only ten. I was split twenty-fifth to twenty-sixth, along with @cranium (we both scored exactly 5100 points). But since he was ahead of me in the list, he got 20 packs and I only got ten! Who needs more proof for my 'Always-Bad-Luck-Hypothesis'?
Well, the friendly and generous Steem Monsters co-founder, @yabapmatt, just refuted the above and snatched from me the basis for my beloved habit of moaning about my own misfortune: he just manually sent me ten more packs - and what do you think they contained? See for yourself:
---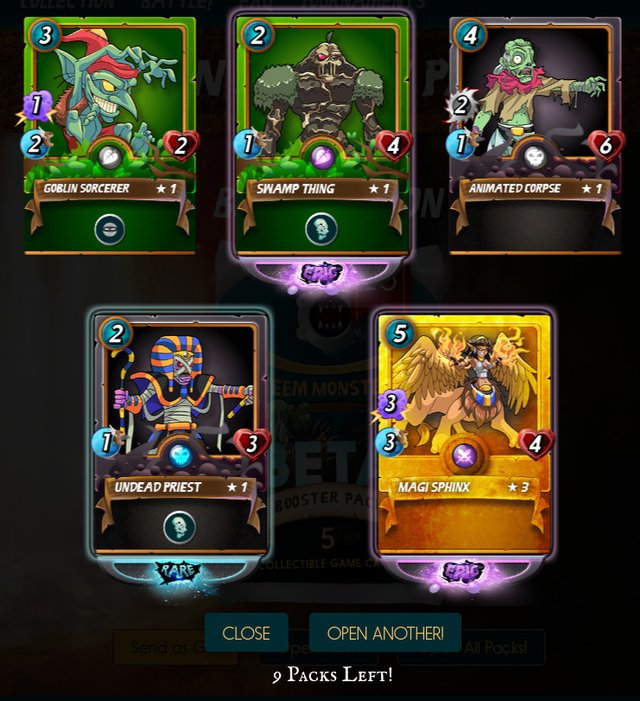 ---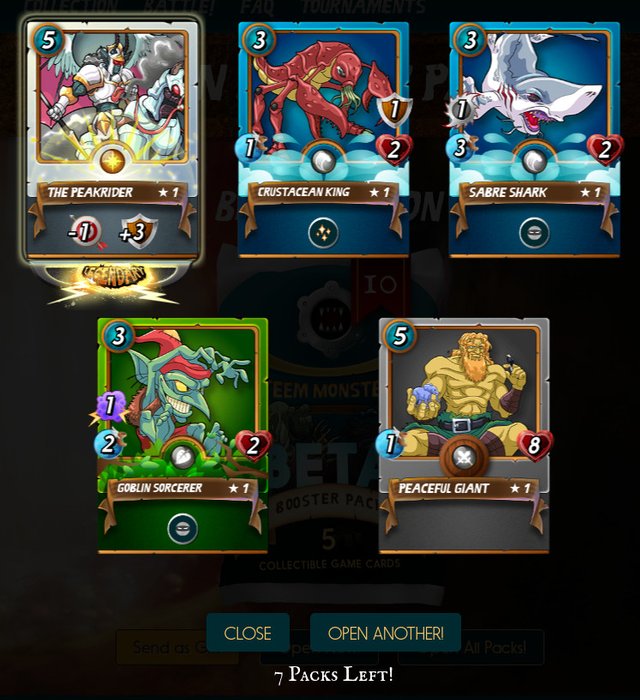 ---
Wow, a beautiful gold foil Sphinx and a The Peakrider!! So much for "always bad luck" ... Yes, from time to time playing Steem Monsters really may grant you some surprising happy moments! :)
In order to share the new luck of the 'eternal unlucky jinx' with others, every (meaningful) comment under this article will get at least a five percent upvote! :)
PS, as a bonus I show you this unbelievable lucky victory against @marabara in one of the last gold card tournaments:
https://steemmonsters.com?battle=c2969d64ad38adcb9bfda08bad487b40d68a02bf
---
Deutsch

Nerven euch zuweilen Zeitgenossen, die glauben, immer Pech zu haben und niemals selbst für ihre eigenen Misserfolge verantwortlich zu sein?
Nun, ich gebe es zu, ich gehöre manchmal ebenfalls zur Gruppe dieser selbsternannten Pechvögel. Also, gerade in letzter Zeit häuft es sich wieder:
Die Lampe an der Schlafzimmerdecke ging vor ein paar Tagen in die Brüche, beim Fußballwetten setzte ich versehentlich zweimal auf Leverkusen statt nur einmal (dass die Mannschaft verlor, versteht sich von selbst) und beim Online-Blitzschach leerte sich kurz vor Spielende der Akku meiner Funkmaus, so dass ich ohnmächtig dabei zusehen musste, wie die letzten Sekunden auf meiner Uhr verrannen ...
Dass ich beim Tippen sorgfältiger vorgehen müsste oder den Akku ja von Zeit zu Zeil aufladen könnte, kommt mir in solchen Momenten selten in den Sinn. Nein, es handelt sich schlicht um unfassbares Pech - wahrscheinlich von Gott höchstpersönlich auf mich herabgesandt, weil ich nicht an ihn glaube. :)
Aber das ist noch nicht alles. Warum um aller Welt verliere ich z. B. gefühlt in jedem zweiten Steem Monsters-Turnier gegen @holger80 - wo hat der Mann bloß sein unverschämtes Glück eingekauft? "Aber könnte es nicht sein, dass du in der Hektik des Turniergeschehens einfach schlecht aufgestellt hast?" "Wie bitte? Ich stelle nicht schlecht auf, ich habe PECH!"
Und nun auch noch das Ende der letzten Steem Monsters-Saison: Als Fünfundzwanzigster der Gesamtrangliste erhält man bekanntlich 20 Beta Packs, als Sechunszwanzigster schon nur noch zehn. Ich war geteilter Fünfunzwanzig- bis Sechsundzwanzigster, zusammen mit @cranium (wir beide erzielten exakt 5100 Punkte). Da er aber in der Liste vor mir stand, erhielt er 20 Packs und ich nur zehn! Wer braucht da noch einen weiteren Beweis für meine 'Immer-Pech-Hypothese'?
Nun, der freundliche und großzügige Steem Monsters-Mitgründer, @yabapmatt, widerlegte sie gerade und entriss mir damit die Grundlage meiner liebgewonnenen Gewohnheit, über mein eigenes Unglück zu jammern: Er sendete mir einfach manuell zehn weitere Packs - und was glaubt ihr, was sie unter anderem enthielten? Seht selbst:
---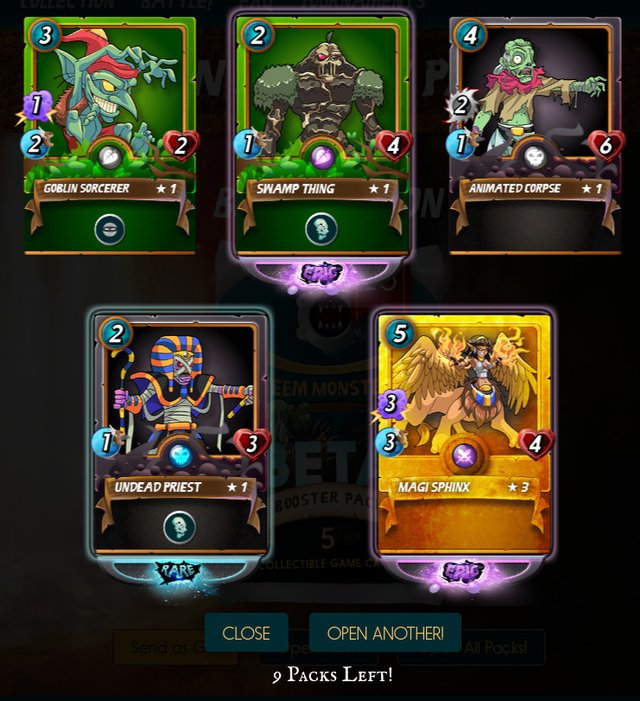 ---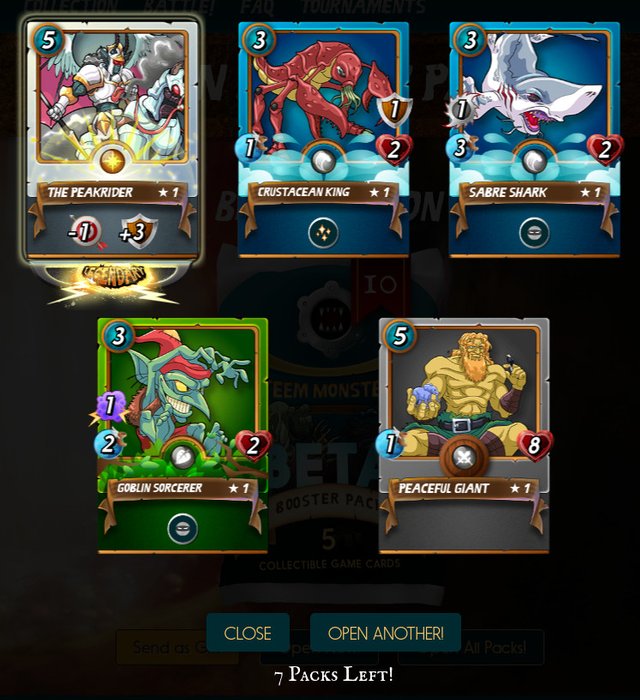 ---
Wow, eine wunderschöne Goldfolien-Sphinx und ein The Peakrider!! So viel zum Thema "immer Pech" ... Ja, zuweilen bringt Steem Monsters spielen wirklich überraschende Glücksmomente mit sich! :)
Um auch andere am neuen Glück des 'ewigen Pechvogels' teilhaben zu lassen, erhält jeder (sinnvolle) Kommentar unter diesem Artikel ein mindestens fünfprozentiges Upvote! :)
P. S.: Als Zugabe hier noch ein unfassbar glücklicher Sieg gegen @marabara in einem der letzten Goldkarten-Turniere:
https://steemmonsters.com?battle=c2969d64ad38adcb9bfda08bad487b40d68a02bf