The Roaming Corpse.
This is my entry for the Steem Monsters Common Card Fantasy Story Contest. I really hope you enjoy my first fiction on steemit.
Lets get started.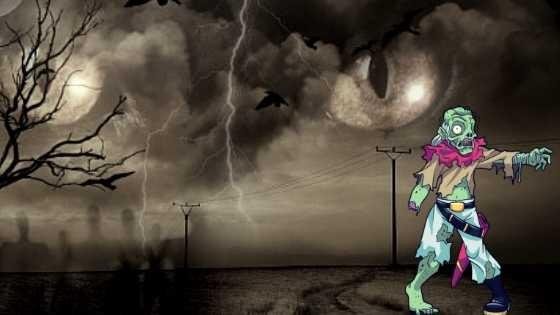 I have lived this life for ninety years. Soon my son would take over and i can finally take a rest. I am called the roaming corpse by the locals. The sound of my name sends chills of fear down the spines of even the fearless adult. An encounter with me means the end of that life. I am a dead man with a rotting body but my mind is ever active. My consciousness is relegated to the back of my mind while i perform outrageous acts of murder, feeding on flesh and blood of innocents.
It is not my fault really, i remember the day i took on the mantle from my father.
I had watched the sun rise on the day i was to die, it was beautiful. The knowledge of what was to come weighed heavily on my mind. I was supposed to be the last of my family line. I have refused to pass the curse down to a son but alas, i had failed.
One night of carelessness, the one night i yielded to my passion and desire bore fruit. I should have known the witch would not relent. She must have cast a spell that night.
What is this curse and who is this witch? I know that is the question on your mind. I would tell it the way i was told, the way i have told it to my son who would carry my burden someday when i have turned, for it is passed on from father to son. No woman has been born in my family since the curse.
It all started with my great-great-....grandfather. I do not know how many greats but i hope you get my point.
He was a greedy, mean, and selfish man. He professed love to a beautiful rich young helpless orphan girl. He wooed her until she fell in love with him. He brought her home to his castle amidst lots of fanfare.
His love for her only lasted until he spent her fortune. He gambled everything away! He began to beat her when she told him she no longer had money left. He would come home drunk and smelling of cheap whores. She would cry herself to sleep every night moaning her fate and cursing the day she met her husband.
Then it happened!
One stormy night, there came a great noise from the gate of the castle. It was so loud even the dead came awake.
The lord and lady of the castle came out in their night clothes, ordering their men to see what the ruckus was all about.
They brought back a woman who even in the candlelight looked so enchanting it broke the hearts of men. All just wanted to protect her and love her.
My ancestor left his wife's side and came to comfort this stranger who was dripping water all over the wooden floor. He ordered her a hot bath and clean dry clothes( his wife's duty). He called her little kitten, what he called his own wife while courting her.
He made sure she was comfortable shooing his wife out of the way when she tried to interfere.
He would later discover she was a great heiress from over the seas who came over to England to find a husband. The men that accompanied her told many tales of wealth and lands that were so great that it could not all be spent in a lifetime.
He began to think of that wealth for himself. He wanted to marry her but he had a wife already who was as healthy as a horse.
He tried getting closer to this stranger and he fell in love again, this time it was stronger.
He began to think of ways to kill his wife without suspicion. I forgot to mention that this orphan was a timid and kind woman who was liked by all.
He did not use poison or shoot her dead. Instead, he went to a witch to conjure a spell that will kill her.
The witch did as she was told, she was a wicked one. She cast a spell that made the lady of the castle slump and die in the middle of dinner. Her lord husband sat back, sipping wine while the servants ran helter skelter wailing at their loss.
His wife wasn't even cold in the grave when he married this beautiful stranger. He became fufilled but it was the beginning of his problems and mine too.
His new wife was a witch! A vengeful witch, she rewards faithful husbands who can resist her charm and curse those who desire her in spite of their wives.
After a month, she revealed her true self. She made him slave in his own castle for three months. She then delivered the ultimate judgement.
Her curse on him and his offsprings...the curse of living death, shunned from the society, forever in the shadows craving blood and flesh. Never to be killed until his son becomes a hundred years.
We never age, we remain young till we take on the robes of our father.
I have lived this life of misery for ninety years now, ten years before i can finally take a rest. Thank goodness she gave us rest. I cannot imagine living like this without an end. I pity my son but i tried my best only i failed to end the curse. Maybe he would succeed where i failed. Someone must break this curse. It is senseless that we all should suffer the crimes of a man we never met.
Perhaps you know the witch or her offspring. Perhaps, you could help speak to her. Beg jer to break this horrible curse. Surely, our lady wife is appeased by now. I do not want my son to become like me .