SteemMag:
What is Bitfilm?
@aaronkoenig:
Bitfilm is a film production company that is specialised in short Internet videos which explain and promote a product or service in an easily understandable and entertaining way.

Most of our clients are from the Bitcoin and Blockchain industry. We made films for Bitcoin and Blockchain companies and projects such as Bitcoin.de, Mycelium, Coloured Coins, KnC Miner, Bitbond, Genesis Mining, The Latin American Bitcoin Conference, Omni and many others.
This happened naturally because I have been quite active in that world since 2011. Our clients know that we have a deep understanding of Bitcoin and Blockchain, so we have developed an expertise in that small but very interesting niche.
SM:
You produced and directed the Steem film. What was the experience like working on a social network promotional video?
@aaronkoenig:
Most of our films are animated, as animation is a great tool to visualise abstract and complex things like cryptocurrency. But in the case of Steem it was clear that we had to work with real people, because that is what Steem is all about.
I suggested to Ned to create a video based on real Steemians and he immediately liked the idea. I had met Mrs. Steemit at our very first Steemit Meetup in Berlin, and she introduced me to the other protagonists of the film, Sir Winchester, Agent and Soldier.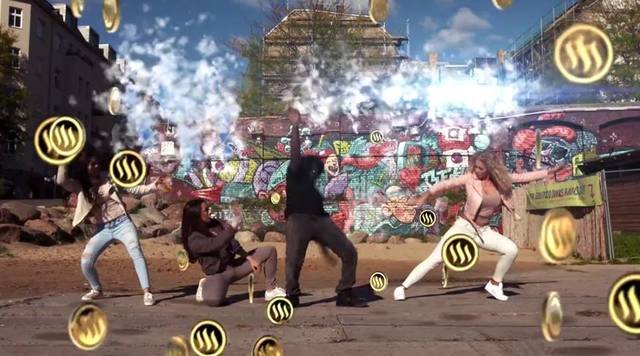 One could think that we had to make a worldwide casting of the whole Steem community to find them, but actually one phone call was enough. They are all from Hamburg, Germany, but they somehow represent the worldwide Steem community: Sir Winchester has a British-Jamaican background, Mrs. Steemit is half Indian, Agent is half Chinese and Soldier looks very nordic.
They are all very active on Steemit, and they know each other for years, as Sir Winchester is the dance teacher of the other three. So it was the most natural thing to ask them to act and dance in the video.
I always wanted to make a Bollywood-style dance video, and for Steem it was a perfect match. Steem is about real people and their various real life activities, and dancing symbolises that so well. It's just the opposite of the nerdy stereotype you may have of people who are into cryptocurrencies.
It was a lot of fun to make the film. My protagonists are not professional actors, but they all played very well, and their dancing is gorgeous. It's probably one of the best films we made so far - well, I always think that of our latest project.
SM:
Your newest project is a rock song about Blockchain Eternity which also mentions Steem. How did you get that crazy idea?
@aaronkoenig:
It started at the closing party of the Latin American Bitcoin Conference in Buenos Aires, which culminated into an amazing Karaoke show. We all sang loud and out of tune and had so much fun! In my youth I had sung in several Punk and New Wave bands, so my voice was louder and less wrong than the other ones, and I like to perform on stage. This earned me a lot of positive feedback from the community, kind of "Hey, you're a rock star!"
So I got inspired to write a song which plays with all kinds of Bitcoin and Blockchain terms such as private key, difficulty, halving and Merkle tree, but in the context of a classical love pop song. The chorus goes "Let our love shine like a blockchain - open, free, immutable". Insiders may find that funny, and if you are not a crypo-nerd, it probably sounds like Surrealistic poetry.
I also mention Steem, as I quote a line of the famous Velvet Underground song "Waiting for the Man" (did they mean Dan, the Man?). Instead of "Twenty-six dollars in my hand" (the price of a shot of Heroin back in 1965 when the song was written) I sing "Twenty Steem dollars in my hand".
To promote the song we shot a music video at Espacio Bitcoin in Buenos Aires, the biggest and coolest Bitcoin Embassy in the world.
I was lucky that I could use the footage of a Mannequin Challenge, which was shot there in the same week. So you can see many members of the Bitcoin community of Buenos Aires acting in my video as mannequins, frozen in time.
You can buy the song for Steem dollars and Bitcoins. All the profits go to the BitGive Foundation to fund charity projects, so I hope many of you will buy the MP3 to do good.
SM:
What other projects of yours should Steemians be looking forward to?
I am working on a loyalty platform that provides small and medium businesses with the same level of sophistication that currently only the big airlines have with their Airmiles programmes.
With our system, you will be able to collect loyalty points at a pizzeria in Buenos Aires and redeem them at a café in Berlin for a free coffee. This can only work with Blockchain technology, as it makes worldwide settlements cheap and transparent.
We want to build that on top of the Steem blockchain, as Steem has no transaction fees. That is very important when you transmit loyalty points of very low values, like a tenth of a cup of coffee.
I think this will add a lot of value to the Steem ecosystem. Steem's quality to have no transaction fees is unique in the Blockchain world, and we should explore that much more.
I love the Steem culture, and all the great content that is being produced by the Steem community, but at the end of the day, we need to come up with viable business models to make the Steem ecosystem sustainable.
---
Thanks so much @aaronkoenig for taking the time to have a chat with SteemMag. We look forward to more updates from Bitfilm and on your latest song
---
To make this update even more cool.. I will be giving out 5-10 Free copies of the Blockchain Song to people who are interested. Just drop a comment signifying your interest.
---
---
This Week On Steemit
A lot of interesting events happened this week. And in case you missed them, we've got your back. Here are some of the most important events that happened on Steemit this week.
~ HardFork 16 was launched on Tuesday, 6/12/2016
~ @steemitblog announces a number of UI releases on the Steemit website
~ Steem gains massively after the HF 16 and its now 8th on the coinmarketcap.com's crypto market capitalization list.
~ Busy.org –an alternative Frontend to the Steem Blockchain announces more details about its roadmap
~ Steemb, Esteem and a number of Steem apps announces updates and new features releases.
~ For a comprehensive list of dedicated Steem apps. check out SteemTools.com
~ Meanwhile, SBD rates ranged from 1 SD = $ 0.99 -1.01 this week
~$0.18 and $0.34 were the lowest and highest value traded this week for a unit of Steem respectively.
---
---
---
--> Page 1
---