Wikileaks.org press conference is LIVE NOW [Alternative coverage by Right Side Broadcasting]
This is the beginning of a few weeks of celebrations of the 10th anniversary of Wikileaks !
The stream above is from "Right Side Broadcasting" , and you can find alternative coverage by Alex Jones's infowars network, but so far they have been cutting away from the live wikileaks presentation constantly for self promotion.
At the time of posting we are about 10 minutes away from Assange speaking.
Today was the day the wikileaks.org domain was registered:
[whois.pir.org]
Domain Name: WIKILEAKS.ORG
Domain ID: D130035267-LROR
WHOIS Server:
Referral URL: http://www.dynadot.com
Updated Date: 2015-10-27T17:08:53Z
Creation Date: 2006-10-04T05:54:19Z
Registry Expiry Date: 2018-10-04T05:54:19Z
Updates: Unfortunately the audio quality isn't great, and it seems they aren't going to release new documents tonight. Digging back through what wikileaks themselves has been saying - they never actually said there would be a release here tonight - they simply didn't squash other peoples rumours that there would be :P
Here is the media pack sent out before the event that I didn't see till now - https://wikileaks.org/10years/WikiLeaks10yrsPressPack.pdf
So that was a little anti-climactic - but don't lose faith , more leaks are coming soon: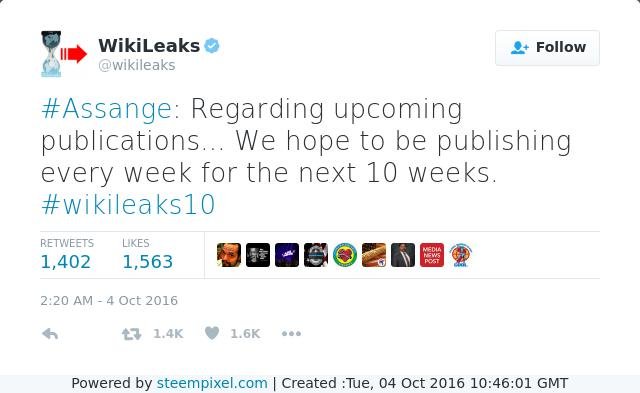 Watch this space and follow @steemleak as we put major leaks on the steem blockchain :)
---
Please show your support for Wikileaks by upvoting and resteeming, and discuss in the comments below!
All funds raised by @steemleak are donated to wikileaks - for more information see steemleak.com