REQUESTS FROM STEEMJET NEWBIES DEPARTMENT( FOR THE BETTERMENT OF THE COMMUNITY ).
Hello good people of steemjet, we bring greetings from the steemjet newbie department. The most important department in the community.
THIS IS TO OUR MASTER @DIMIMP AND ALL MEMBERS OF STEEMJET COMMUNITY.
Here is our purpose for this post.
After series of meeting with my crew, discussing on promoting the community in our way, we came up with ideas.
Well, thinking out of the box means is supposed to mean thinking creativity, freely, of beneath the part.
If you aim at the same target everyone is aiming at, your shots will end up where everyone else's do.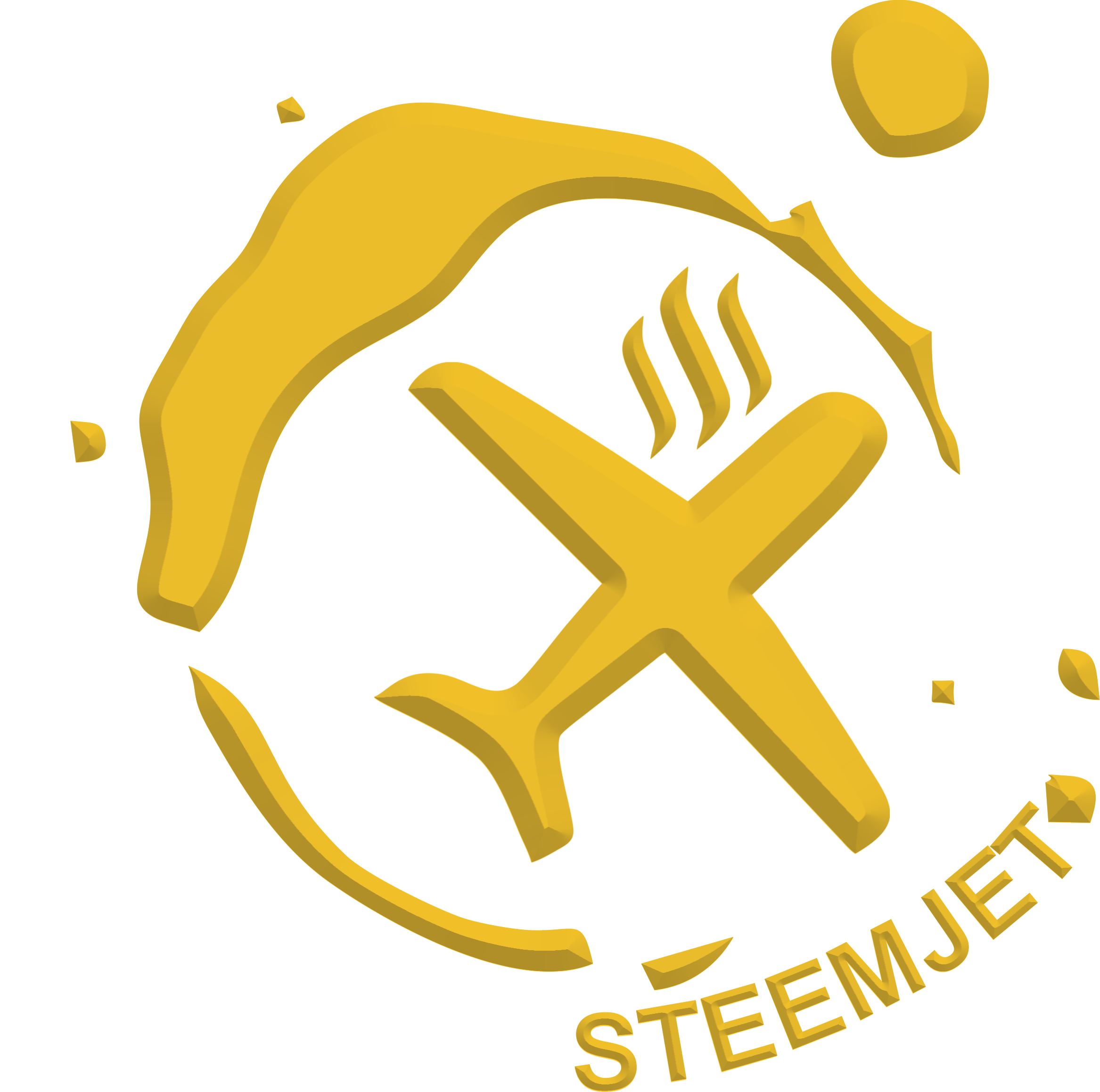 Why am I saying this?
My department (STEEMJET NEWBEIS TAKERS) is doing good so far, but not effectively as dreamnt of, and it's obvious. Apart from this, I made a suggestion weeks ago concerning physical awareness in schools and other places to spread the goodnews of crypto and steem itself in the name of steemjet which I am going to talk about briefly below. So, what would make our department this inactive? Lack of funds and poor start. We started quiet good though, but seems our efforts are futile because we are unable to attain our goals, we still need to organize outreaches and exhibitions in different cities and tertiary institutions, and for better out reaches experience, it will require mounting out in a huge number to make formidable force, our outreaches will require uniformity in thoughts and appearance, hence the department needs funds to create awareness material souvenirs and equipments. We will also need funds to organize contests for newbies, evaluating them and ensuring that they go through the learning and of steemjt goal and steem. As the department is the forefront of the entire team, we will need funds to ensure that our members are always available 0nboard to bring in newbies from everywhere around the world.
Welcoming newbies and inviting more to join us is our aim, we haven't achieved even 40% this, WHY? Due to our financial status. Speaking of which, my crew members have problems managing their delegated steem due to how low it is. Looking at this, it complies our work daily due to inefficiency to upvote the newbies, so the work keeps compiling, which makes our work harder daily. This is our major problem, so we request an increase in our delegated steem for every member of my department which include, @mistakii, @sheriffakin @muhasib @izuchukwu1506 @josemiguel @jlordc @obaidb2 @tudors @dimix @gacorniel @samal9135 @mydivatgthings @lucentbrix @bomaprecious @matytan @mrhimo @chuckwunalu @rjunaid12 @dannytroniz @mumin007 @wa2qr
Steemjet has one vision, ATTAINING GLOBAL ADOPTION.
OK, to attain global adoption, you cant keep spreading the same news to the same people everyday, HOPE YOU GET MY POINT, we are going to spread the goodnews both online and offline.
There are thousands of broke youths out there who doesn't know they is such thing as crypto, in fact 80% of young people stay in my city have no idea about crypto and it hurts me a lot, I have talked to many, some were interested, so many showed less concern because I had nothing really to prove to them. Doing this as a team will look so matured and official. I have few friends around who are willing to help, not just in Nigeria, some of my crew member are Indians and there are willing to do same.
So the items listed below is for ASIA AND AFRICA( 2 LOCATIONS ).
Actually, we thought of printing palmphlet with brief discussion about crypto, steemit and steemjet on it. My crew member are working on it as we speak.
How could we leave 'Olivia and the superstar' out of this? We will do well to print it asa well also as a palmphlet for distribution especially to children, REPORTS SHALL BE POSTED IN DUE COURSE.
We want everyone to know about steemjet atleast. So, we came up with an idea of making stickers and billboards advertising steemjet and steemit as a whole.
EDIT:
Here are some finished billboards and sticker.
Will be printed in different sizes to fit different materials.
This one is designed by me.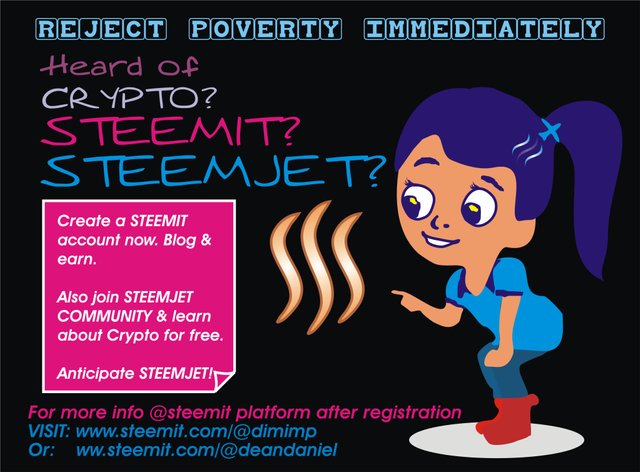 And this one is designed by one of our members in the department @dannytroniz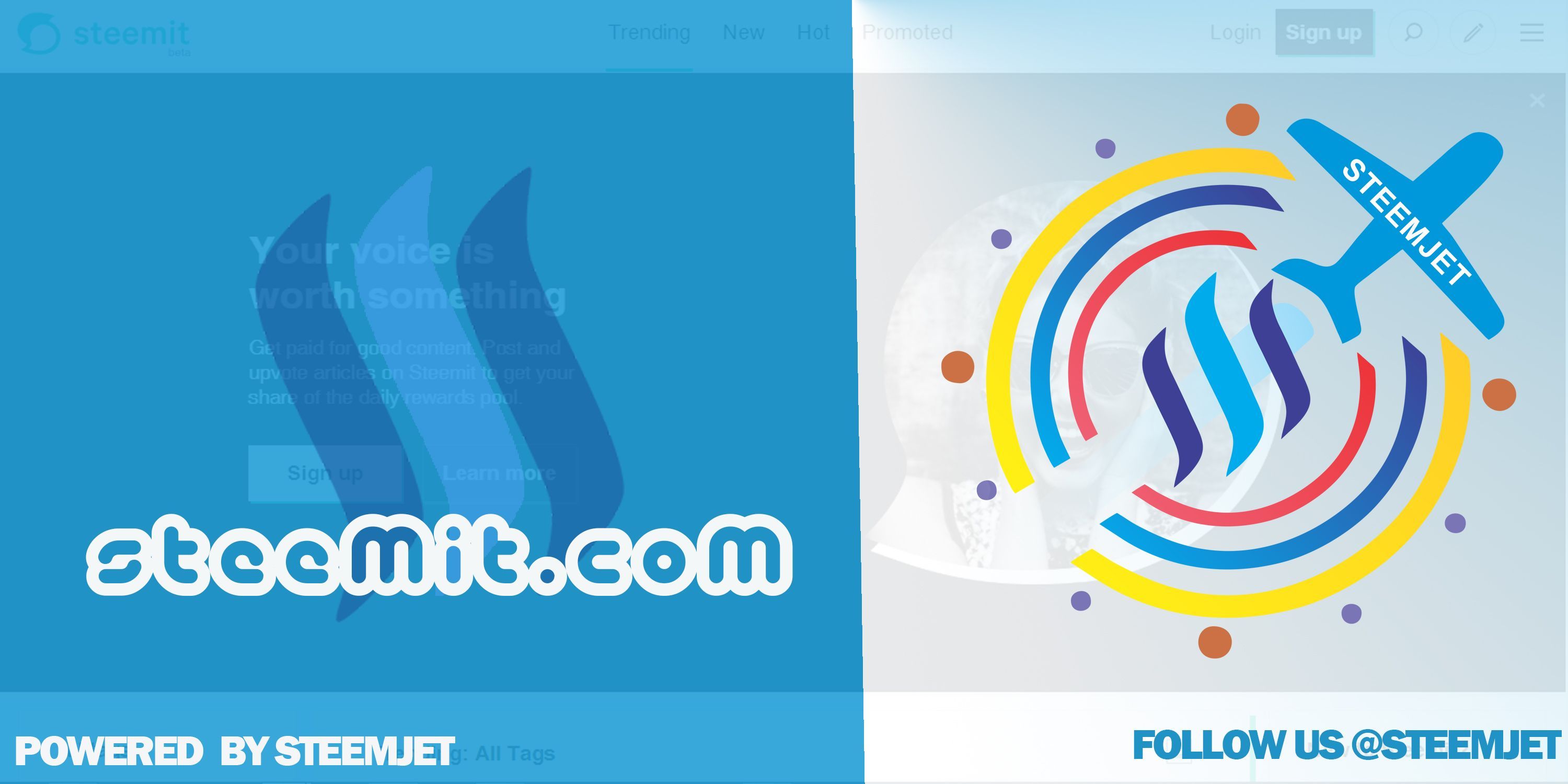 IDEAS/NEEDS

We want to start a new contest in which we will be in charge of, STEEMJET NEWBIE OF THE WEEK and FACE OF STEEMJET(which will last for 3months). I bet you, this contests especially the first one will draw massive attention to the community.

Creating the #steemjet-newbie, which will make our work easier.

Welcoming new members week in a grand style is also our thing, we need to do anything possible to keep them, so we will celebrate their 1st month in the community with a steembath. Adding to this, newbies need to read this, https://steemit.com/steemjet/@joshuaetim/steemjet-human-resource-customer-care-department-roles-functions-and-expectations

We will need steem to open immediate account for newbies during the sermina/awareness.
We also thought of going live on radio stations, but we will have to rest for now because we don't know how much it will cost. once its confirmed, we will let you know.
joshuaetim did well to create the registration platform for registration of steemjetters. Please we should all do well register so we can do a row call.
PHYSICAL AWARENESS.(VERY IMPORTANT)
This program will be organized in such a way that the masses will feel blessed.
We will organize talk shows on campuses pertaining to crypto, steemit and steemjet. Like I said before, its high time we went public, lets boost the jet into deep space and keep it that way. For this awareness program to take place, we will surely need funds. We're going to need projectors, chairs and tables for the program. Its that simple.
Everything listed matters a lot.
PROJECTOR( 2 )---360 STEEM
TABLES AND CHAIRS--- 100 STEEM
CONTEST REWARDS---200 STEEM MONTHLY
PALMPHLET/ OLIVIA AND THE SUPER STAR---200 STEEM
FLYERS,BANNERS,POSTERS,STICKERS---200 STEEM
RENTED VENUES FOR AWARENESS PROGRAM---400 STEEM
REFRESHMENTS AND ENTERTAINMENTS DURING PROGRAM/AWARENESS.---50 STEEM EACH DAY IT HOLDS
SOUVENIRS---800 STEEM
GRAND TOTAL ------------ 2310 STEEM
DO THIS FOR US AND YOU WILL NEVER REGRET. WE ARE INTO THIS WITH YOU.
WE ARE WORDS AND STEEM.
N/B:- This post is tentative and subject to change as deemed fit by me and my team.