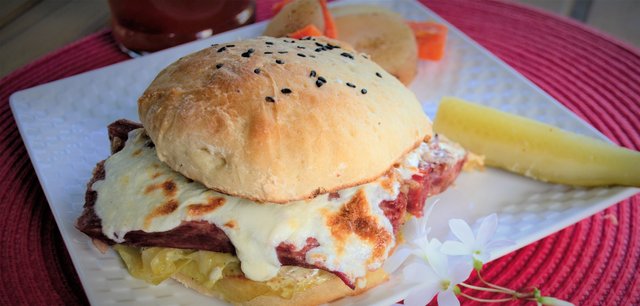 Happy New Year my Steemian Sandwich Elves!
---
I hope you had a chance to take a breath and enjoy the holiday season! We traveled back and forth from Colorado spending time with our daughters and their families. It was fun but exhausting! We've been trying to figure out why we feel so tired over the past few days; I guess it was all of the elf work and fanfare leading up to being together.
---
Well, now we're back and excited to welcome 2019! @jaybird has challenged us yet again to share an amazing creation which speaks to 2019! If you've seen any of his sandwiches over the past few days, I think his imagination will be tough to beat! When I read @jaybirds challenge today the first thing that came to mind was ...
---
Traditions!
---
Our King of Sandwiches, @jaybird has started a tradition within the Steemit Community with his famous Steemit Sandwich Contest! Week 74, wow! I offer a huge thanks to you @jaybird, without your faithful humor, imagination and tradition; we wouldn't be able to share our crazy recipes! Thanks as well to @doitvoluntarily for sponsoring week 74, we are truly thankful!
---
So back to traditions and 2019….
---
Growing up we had a certain food tradition for the New Year. Did you? I did a bit of research and found other food traditions which were specific to the New Year!
---
In the Netherlands they eat a popular street food called Oil Balls or Oliebollen..fried dough made with currents.
In Spain 12 grapes are eaten at midnight…one for each stroke of the hour.
Mexico celebrates the New Year with Tamales!
Poland and Scandinavia often celebrate with pickled Herring, its silvery color believed to bring good luck.
---
In our home we celebrated each New Year by having Corned Beef and Cabbage. My mother always insisted, telling us we were sure to have a year of good fortune. The sandwiches were legendary! I can't remember a time when the traditional New Year fare was missed. While visiting my daughter, she requested this meal…I had to laugh. With a new generation in the household, 2019 will be exciting in many ways! It will be fun to see both new and old traditions established with our daughters.
---
Looks like the Bird family New Year tradition may continue!
---
---
The Birds Cheesy Good Fortune Tradition
---
Tradition-ilicious Ingredients
Corned Beef Brisket
Bird's Sandy Beaches Lager
Fresh New Potatoes
Carrots
Onions
Cabbage
Sriracha
Mozzarella Cheese (shredded)
Bird's Sesame Rolls
Dijon Mustard
Mayonnaise
Garnish: Spicy Spears
Salt/Pepper
---
The key is patience! Great things come to those who wait!
---
I started first thing in the morning…
---
By placing the brisket in my slow cooker Added Bird's Sandy Beaches Lager over the brisket, chopped onions, Sriracha, covered and cooked on low for about 4 hours. While this was cooking I made the sesame rolls using bread flour, olive oil, 2 eggs, water, yeast and maple syrup. I topped them with sesame seeds!
---
---
Add the veggies…
---
But first wash and chop the carrots and potatoes. Just snuggle those around the brisket. Cover again and continue to cook for a couple more hours.

---
And at last the cabbage!
---
I washed and quartered the cabbage, leaving large leaves for the sandwich! Into the cooker, cook for about 45 minutes or until the cabbage is slightly soft.
---
---
Now the Magic Begins!
---
Spread a little Sriracha mayo on the Sesame roll and toast! Now layer with cabbage leaves, next the sliced brisket and top with shredded mayo! Don't forget the Dijon! Broil to melt the cheese…oh my! Totally worth the wait!
---
Cheers! The Birds Cheesy Good Fortune Tradition!
---
---
And to all of you may 2019 bring great fortune and many Great Sandwiches!
---
Thanks again @jaybird for another great week of Steemit Sandwiches!
And as always, blessings to you all!
---
---

---