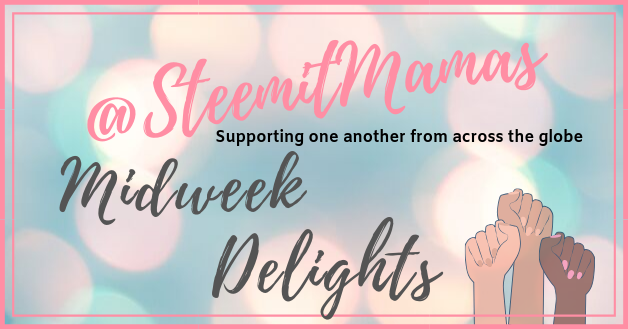 Recently a picture of a teen dressed as Mom for Halloween went viral. As mothers, we know stepping into those shoes is a scary prospect with a steep learning curve to boot.
The best part is, Mothers do such a good job of it, we don't even know what's in it until we step into it, a role that we can never un-role.
Only when I myself became a mother, did I realize she was a Super Hero and she did it with such ease too. Or at least, she never let on. And with that, we give you another serving from our Heroes in Aprons.
Also would like to extend an invitation to all Mothers on SteemVerse to join us on Discord and you can find out how at the end of this post. Now, I present to you some activities, thoughts and life lessons shared by Mamas for a midweek boost. Click on the images to take you to the authors' posts.

Quilting brings the best memories together. Pieces of history that you can wrap yourself in. @carolinacardoza shares her completed project. And it's a reversible too.
Today I want to show you my grandmother's quilt with great pride and happiness. I started it a year ago and had not taken up the project again due to lack of time and lack of desire definitively. I always knew I could do it with all the fabric cuts I had saved.

The joys of a new mother is full of amazing moments. As baby goes through the milestones, mother works on stretching time. @merlotmama takes a step back to capture the family's first fall together and shares it with us. Get your "Awwww's" ready.
I told my partner we needed more #family pictures together cause really... we have none! What better time then fall to start capturing lovely, beautiful pictures?!?!

It's all about SteemFest this week as it is only one week away. Some Steemians are already there, and some are getting ready just like @fitinfun. One of the hardest working Mamas on the SteemVerse, she shares a list of who she will represent and her plans at SF4.
I want to know:
How can we help STEEM succeed?
How can the people at STEEMFest help us succeed?
I dedicate the entire time of STEEMFest to meeting the people there, and working these ideas.

Do click on the images to drop in their blogs/vlogs and if they resonate with you, please do show them some love and support by upvoting, commenting and resteeming.
All the Mamas here will receive a 100% upvote from the @steemitmamas community account for one week. On top of that, @khimgoh will be sponsoring 1 SBI for a lifetime of votes to one lucky Mama who will be chosen via a random name picker from all the posts featured in the Weekly Midweek Delights!
You too have an opportunity to win 1 SBl!! Just comment on this post what you liked about any or all of the posts that was shared and you will be entered into the draw. The winner will be picked via a random name picker as well.
Thank you for dropping in and reading. Truly appreciate your time here.

This Midweek Delights was brought to you by @kaerpediem

Are you a mom, expecting mom, stepmom, an adoptive mom or grandma? If so we'd love to have you join us! We're a Fun Lovin' Supportive group of Mamas sharing our everyday victories and trials as we live this thing called Life. Please click on the banner below to join us on Discord!