A huge hug my friends, today is a wonderful day and if we are alive let's thank God and celebrate life together, with our family and friends.
---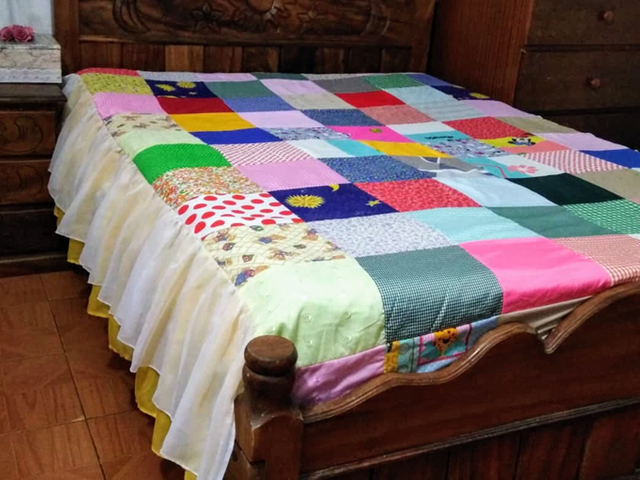 Today I want to show you my grandmother's quilt with great pride and happiness. I started it a year ago and had not taken up the project again due to lack of time and lack of desire definitively. I always knew I could do it with all the fabric cuts I had saved.
    And so it was, one day I began to choose the pieces of fabric I was going to use, I also chose the colors and size, in my mind I was assembling the design, really there are many ways to do it, but the one I wanted to do was this one, made of many colors.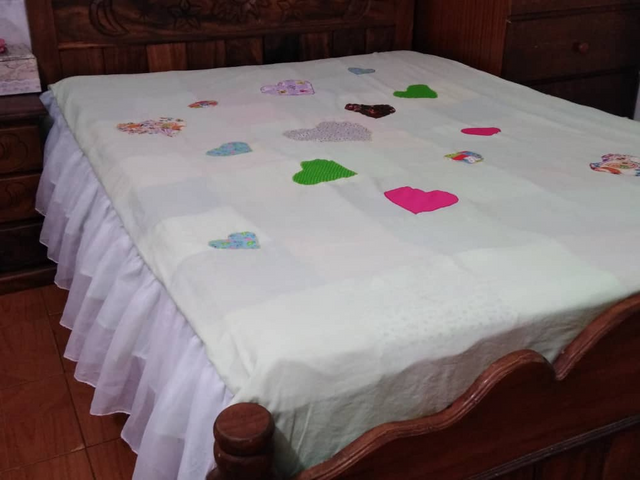 As you can see I made it reversible, so I have a blanket for a while. I remember when I was a little girl I used to see a blanket like that at my grandmother's house, I also had a fabric and another one made with pure jean trimmings.

Some steps you did
---
I confess that a year ago I took the photos of the step by step of how I was cutting the squares but I lost them, I did not find them anywhere, so I'm only going to tell you the measures I used to cut the pictures, these are 22 cm side by side.

Before I started sewing, I placed the canvas pictures on the bed and I went to accommodate them so that I did not stick the colors so closely with each other.

I made 11 rows of 7 squares each, then I put them together so we could form the full size of the bed.

---
Then we make some flounces with diopobello or with some fabric that you have over there that is soft, that has a fall.
We join it to the quilt facing front to front, as can be seen in the image, if possible and for more security fix it very well with pins or needle and thread, pass straight stitching and zig zag.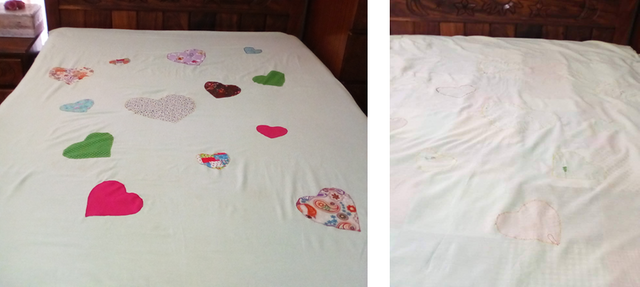 When we already have both ruffles fixed to the quilt we will place a cloth of savannah as a lining to then turn and have a better finish our quilt.

As you can see in the image I decorated with hearts a sheet that I had at home and that we hardly used, I decorated it with hearts where I had some huequitos. Later we face the front of the savannah with the front of the bedspread, we trust very well with pins or needle and thread so that it does not move when we are passing the seam with the sewing machine.

When we are passing sewing with the machine we must leave an opening 20 cm in one of the corners and then turn, we close with hidden seam and ready, that's all, the magic happens and our blanket, quilt, duvet or whatever you want to call it is ready.

My husband premiering the quilt....
---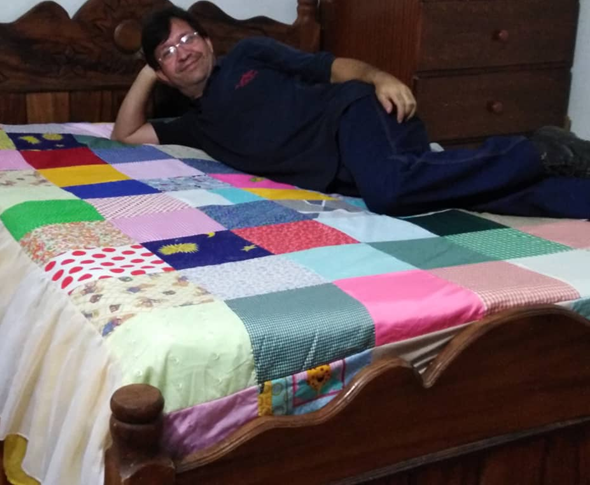 Here's my daddy premiering my quilt, he got the surprise when he came home from work and I tell you he loved it.
---
     I hope you all like this project very much, I'm really late in doing so, because I wanted to put a new sheet fabric, but with this situation that we have in my country is something difficult to do, are very expensive, but that did not stop me, no sir!
    I tell you bye bye, until a next post friends, I love you very much...
---
"Looking for the impossible, you get the possible "
---
---