Hi there folks! I hope everyone is having a great weekend!
It's been a little while since I wrote my last educational posts about Steemit. So I thought of writing one again today. This topic is in fact related to my first few posts about How to get extra exposure in Steemit and Different ways to earn SBD/Steem in Steemit. When I was still new in this platform I tend to check how many upvotes did I just got on each of my posts. Of course, it's nice to see that many people are upvoting your post. It just means that many Steemians also noticed your posts. Thus, I always ask myself of how can I get more upvotes on my blogs? The same question I'm also getting from other Steemians particularly newcomers.
Steemit community is becoming bigger and popular every day, hence thousands of blogs were being posted every day that makes other posts unnoticed. The fact is that not most Steemians will voluntarily visit your profile and upvote your posts. Therefore, you can't just sit in and wait for someone to upvote your posts. You need to do something to make it visible. On my post How to get extra exposure in Steemit I shared helpful tips on how to get extra exposure and make yourself and your posts noticed. Today what I'm going to share is the Different ways to get upvotes on your posts. For minnows like us who only have a small amount of Steem Power, each upvote matters a lot though the value is just small, once combined it can feed a hungry minnow. What I'm going to share with you is based on my own experience how I get upvotes on my posts.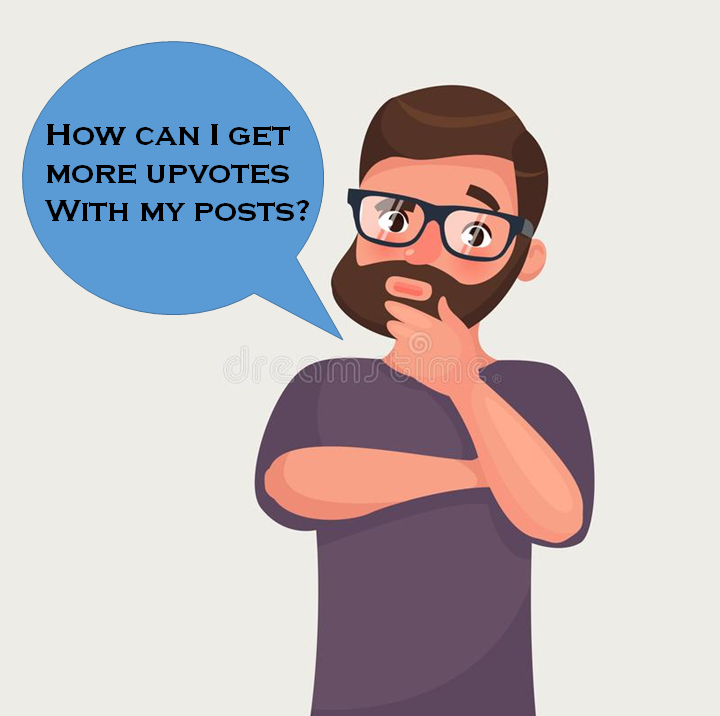 How can I get more upvotes with my posts?
Writing good quality or interesting content-Unlike other social media, writing good quality or interesting topics here in Steemit is very crucial. Each upvotes we made consumes our voting power and will eventually take some while to replenish. Thus, most Steemians spend their precious upvotes on good quality and interesting posts only. While some keep on upvoting despite their very low voting power without reading the posts that only results in a $0 vote value. Thus if we want to get a better vote value, it's important to think of something interesting that your readers can relate and would call their attention to leave their thoughts in the comment section.

Promoting your posts on groups - Promoting your posts on groups is one way to attract readers. One common way that Steemians do to promote is through Discord. There are in fact a lot of discord channels where you can join to promote your posts.

Free Upvote bots - There are also available Upvote votes that steemians can avail only for free. Let me share with you some upvote bots I know.
      Broadcast - A free upvote bot initiated by witness @yehey. After joining the channel proceed to the #registration section and go with the process.
      Swagger - Just go to #register-with-bots section to register in order to use the service.
      Minnowsupport - @minnowsupport provides free upvote every 48 hours. Aside from the upvotes from @minnowsupport you will also receive upvotes from their trail. After joining proceed to the #registration channel.
      Banjo - There are several discord channel that uses @banjo but I use banjo on Steemgigs channel. @banjo upvote posts that are not older than 6 days.
      Tpot - Also provide free upvotes
      @Resteemvote - My very own project that provide free upvotes and resteem for everyone. Simply follow, upvote and resteem one of our recent posts and drop your link on the comments section to avail your free resteem and upvote. You can also reach @resteemvote on discord.
Use Resteem Service - One of the many ways to promote your posts is through Resteem. Resteeming is like sharing on facebook. If the user that resteem your posts has 5000 followers, then your posts will be promoted to their 5000 followers as well. Here are some of the resteem service I know that is very affordable for minnows.
      @Resteembot - Just send sbd based on your reputation score. Example your reputation score is 41 then you must send 0.041 SBD to @resteembot and get your post resteemed to 5880 followers.
      @Abasinkanga - Send 0.1 SBD to get your post resteemed to 5879 followers.
      @Resteem.service - Send 0.01 to get your post resteemed to 2090 followers.
      @Resteevote - FREE Resteem + Upvote. Simply follow, upvote and resteem one of our recent posts and drop your link in the comments section to avail your free resteem and upvote.
Subscribe to upvote subscription - If you have spare SBD or Steem, it is also a good idea to subscribe on monthly upvote subscription. By subscribing so, it's increasing the visibility of your posts to other users and attract more readers. Here is the subscription that I have tried and have provide excellent services.
      @Minnowpowerup - By sending 4 Steem you will be able to buy 1 share upvote for 1 month. You will certainly receive roughly about 0.26$ upvote every 24 hours.
      @Qurator - @Qurator is a lifetime subscription. You can register by sending 4 Steem and wait for the approval. The value of their upvotes will depend on your Tier level.
      @Steembasicincome - @Steembasicincome offers lifetime membership. You can register by simply sending 1 Steem plus you can sponsor 1 person. Both of you will receive upvote from Steembasicincome
      @Feedyourminnows hosted by @scrooger - They offer Free and Lifetime membership. You can check their rules.
      @Moonbot - By sending 2 SBD you can subscribe to their 1 month Upvote subscription.
      @whalepower - @Whalepower offers upvote service for 1.25 SBD per week or 5 SBD per month.
      @Resteemvote -You can subscribe to @resteemvote 1 month Upvote plus Resteem service for 1 to 1.5 SBD. You can check more details here.
Reciprocating - Just like me, some new steemians join the community without knowing anyone. No mentor, no connections and no friends at all. Thus, it is essential to becoming polite, humble and friendly. On your post, you will definitely receive upvotes from generous Steemians and to start a relationship with them, let's learn to reciprocate. Let's upvote them back as a way of showing our gratitude. Also by upvoting and commenting on someone's post, you are building a relationship with the author, thus if you are running out of Voting power already, commenting is a nice thing to do ;)
I hope you something on this post. If you know other services or additional tips, please feel free to leave a comment below and that will be highly appreciated.
Other Steemit tutorial I made that you may also find helpful
Please feel free to make a request or suggestion on other tutorials that you want me to write on my next blogs. Everyone is welcome and I will do my best to fulfill your requests ;)
I'm also currently hosting a Daily Nature Photo Challenge. Everyone is welcome to join, just click on the hyperlink.
Edited: I want to thank @dylen for setting a bounty for this post. Very much appreciated :)
---
---
Kindly continue supporting @surpassinggoogle who has been very helpful. Vote "Steemgigs" as witness by going to https://steemit.com/~witnesses