That's Edutainment: Using images to spark student learning.
In my World History class, I truly enjoy the challenge of teaching some very complex topics to my 14 and 15 year old students. As I have mentioned before, this challenge is heightened by the fact that my students Learn Differently (that is what I think "L.D." should stand for) than their peers. One of the most challenging topics we study is the causes and results of 19th and 20th Century Imperialism.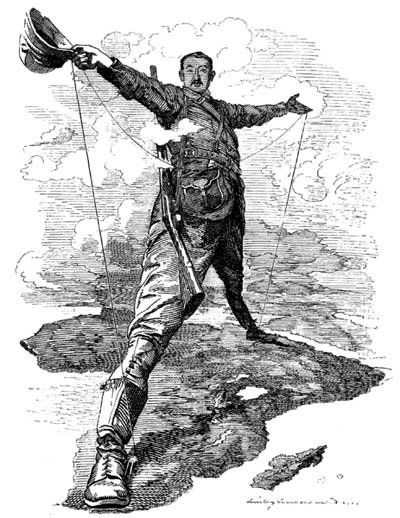 If you just read that last sentence, your eyes rolled back in your head, and you are frantically trying to click to another post, then you are like 90% of my students. But I assure you, it doesn't need to be too complex or boring.
Here's how I attempt to teach my student about Imperialism… without them going into a boredom induced trance.
As always, I start with an image.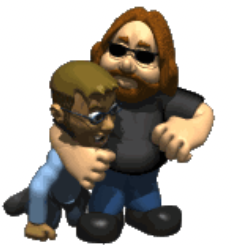 I ask my students what is going on in the animation (it's actually a gif from animationfactory.com).
They very quickly connect the image to bullying. After they do, I toss them a curve ball. I say, "Now imagine it's not people who are bullying each other… but entire countries."
Now that they have the basic idea, I share with them this more scholarly definition.
Imperialism: A policy of extending a country's power and influence through colonization, use of military force, or other means. (Oxford dictionary)
From there, my students and I exam that definition and put it in their own words. They usually end up with something like:
Imperialism: a strong nation tries to overtake/dominate another country politically, militarily, economically or socially
It clicks. They get it.
From there I use more images to spark their knowledge about the reasons countries would want to dominate others.

This is a sample of the images I use to spark a conversation about the economic reasons for imperialism.
With a little guidance, the students are able to identify and discuss the economic inspirations for countries to acquire valuable raw materials as well as new markets in which to sell their products.
Next, I display images that help students to figure out that countries have political and military reasons to want to control other nations. Here is an example: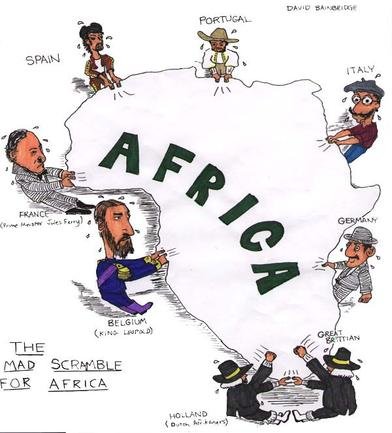 I use this picture to spark a conversation about what these countries could possibly build on the coasts of Africa.
In order to help them to understand the social reasons, I love to show this Far Side cartoon.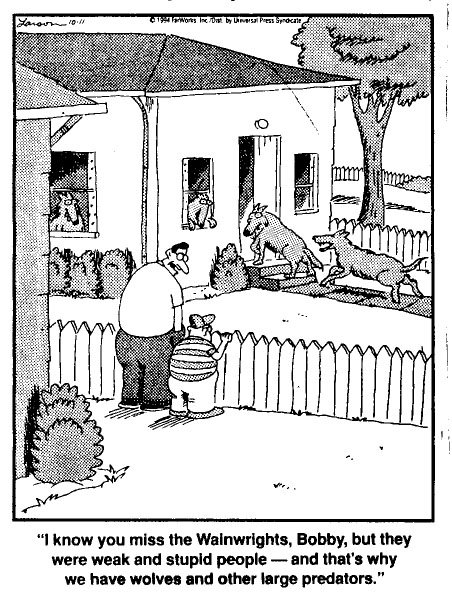 From here, I am usually able to get several of my students to recall their prior knowledge of Charles Darwin's idea of "survival of the fittest". Even if they are unaware of who Darwin is, they always understand the concept that strong animals dominate weaker ones.
Once that is established, it is rather easy for my students to understand that sometimes countries felt that they are the strongest and deserve to dominate others (Social Darwinism).
Although this group discussion is very lively and engaging, the follow up activity is even more valuable.
The following day, I ask my students to apply what they have learned from our discussion. I present them with several political cartoons and advertisements from the late 1800's and early 1900s.
As the students study the images, I ask them to look for examples of the topics we discussed the day before. I also ask them to provide evidence to support their claims. Here are a few examples:

The students really seem to enjoy the "puzzle" aspect of this activity. Most of them try to see if they can find creative ways that the concepts are illustrated in the cartoons. If students are struggling, I can pair them with another student. If this doesn't work, I can work with them one on one.
Not only does this lesson help prepare the students to study World War I, it also allows them to apply their knowledge of Imperialism to both historical and current events.
Images
Great Britain in Africa
Mall
Africa
Far Side
White Man's Burden
Octopus
Globe
Animals
The bully, man with money bags, wolf and oil rig are all gifs from animation factory.