One of the choices for this week's @steemiteducation homework assignment called for community members to write a children's story that could be used in the classroom.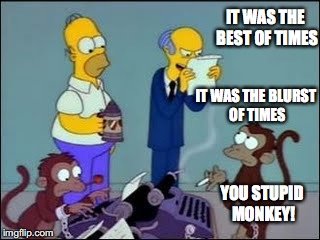 A thousand monkeys working at a thousand typewriters
would definitely write a better novel than I could.
Considering that when I try to write a simple post venting about a pop song, I end up spewing 2100 words onto my screen, I figured it was best not to try and write my own entire book. I'm sure I would end up with an epic novel that could rival War and Peace (in length only) about a Spartan boy who goes off to study at warrior school and discovers he is the chosen one who must defeat an evil warlord who is attempting to return from the dead.
Wait!
That is the plot of Harry Potter.
See I suck at this.
Knowing my limitations (and not wanting to dedicate half of the school year to my unoriginal 1200 page tome) I decided to share a lesson based on existing children's stories and characters.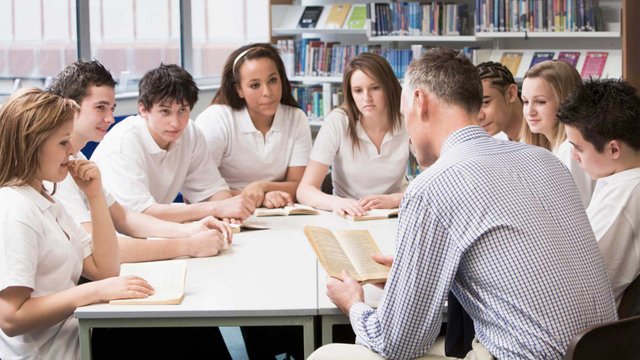 Boy do I enjoy stock photos of teaching. It makes it look so easy! Look at those kids hanging on every word. And those aren't even uniforms. The kids just all spontaneously decided to dress in perfectly matching and appropriate clothing. Coincidentally, the class is perfectly split into exactly 4 boys and 4 girls representing a broad range of cultures. Its amazing! It's so perfect that one might think it is fake.


I teach world history to high school students with learning disabilities. Although many of my students have dyslexia and a reading level below third grade, they do not think like third graders. I can't exactly bring in the Magic Treehouse book Hour of the Olympics without insulting them. (Although that FANTASTIC series is the direct cause of my son's passion for reading).
However, I do use four parables, one very famous cartoon character, and a scene from my favorite movie series when I teach about Hinduism and Taoism*.
As with all of my lessons, a huge challenge is to convince the students that they want to learn the material. It would be wonderful if I could simply say, "There are many different religions in the world. You have access to thousands of resources. Go and explore the facts about these religions and then report back." Although these internally motivated and skilled students clearly exist, the overwhelming majority of the fifteen years olds I teach need a bit more motivation and guidance. This is why I am constantly trying to find materials and create activities that will grab their attention and inspire them to want to learn. Although they are only a very small part of the overall lesson, the use of these parables, the cartoon character and the movie clip, are intended to help meet the previously mentioned goals.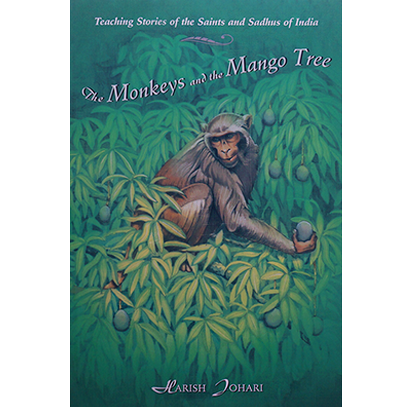 That is not poop he is holding... I hope.
The Four Parables

Several years ago, I discovered an amazing collection of Hindu parables titled The Monkeys and the Mango Tree. This book contains 25 parables that teach moral lessons based on Hinduism... and many other religions and philosophies. As a small part of the overall lesson on Hinduism, I chose four stories to read with my class. Although the stories contain Hindu characters, settings, and beliefs, my students can relate to them.
How can American students from a predominantly Christian community relate to these stories? The stories are quite familiar. For example, one of the stories titled, Dahpli Baba is the Hindu take on the Solomon the Wise story of discovering the identity of a baby's mother based on her reaction to the idea of splitting the baby in two. Shankar and His Disciples teaches the lesson that one should "Do as I say, not as I do" (a lesson they have heard from they parents many times). Transformation teaches that people should treat people the way they want to be treated... or the way they would treat their god. Finally, The Lesson illustrates the importance of controlling one's anger.*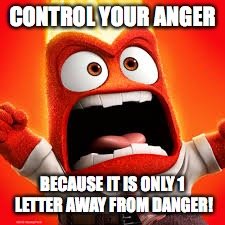 Mind blown! Until I realized it is also 1 letter away from "manger". There is nothing really scary about an old school crib. But still... control it.
As we read the stories, I ask text based questions in order to help students understand what they are reading. Most of these questions do not require deep thought. These questions are designed to ensure that students are all "on the same page" when it comes to the details of the story. The deeper thought takes place during our classroom discussion about the meaning of the stories and how they relate to the beliefs of Hinduism. The vast majority of my students do far better with verbal discussions of these deep topics. When I do have a student who performs better when writing, I allow them to display their understanding via an essay. When I have students who struggle with speaking and writing, I may ask them to draw pictures to illustrate their understanding. Basically, I look at each individual student's individual needs and abilities and I find a way for all students to participate and to show what he/she knows.
Here are those questions: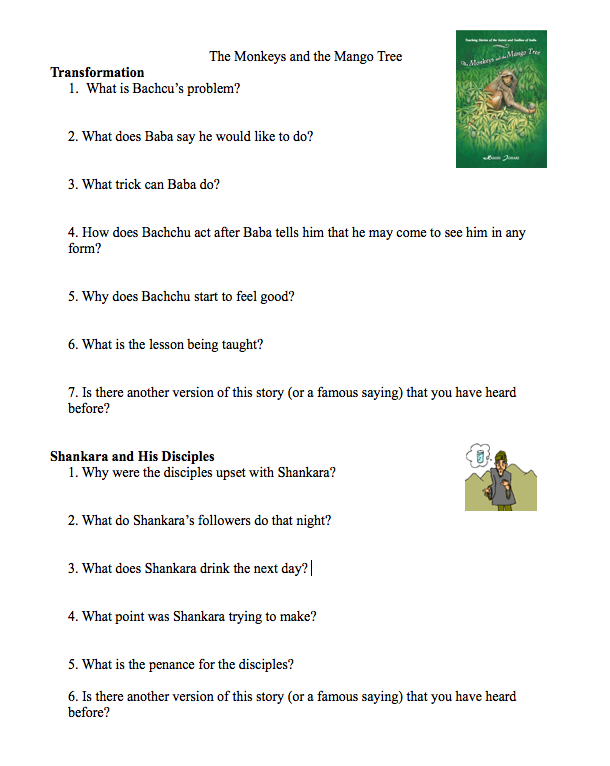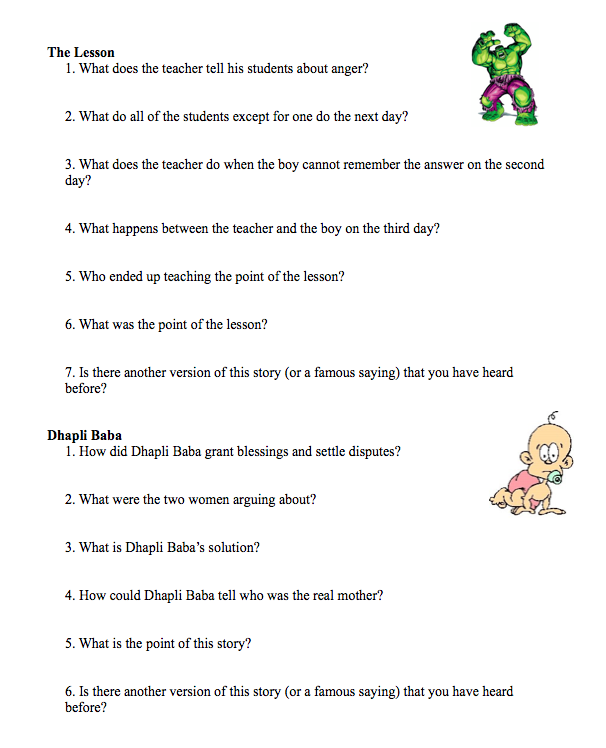 No matter what method the students use to express themselves, the kids always blow me away with their ability to make connections to Hindu beliefs. Each group is able to connect these stories to the Hindu beliefs about reincarnation, Karma, the Atman, and Moksha. Most seem very excited and engaged as they do it. Many look at this activity like trying to solve a puzzle. It is always fun to watch kids try to stretch themselves to connect a character or event to something I never even thought of. I have found that by analyzing these simple stories, students are able to apply what they have learned and demonstrate that they recognize and understand some of the basic teachings of Hinduism.
When we were done with the lesson, my students and I spontaneously performed a celebratory dance routine...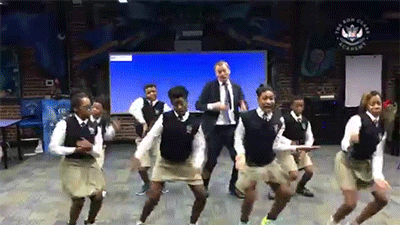 We didn't even practice this.
No we didn't.
It was closer to this...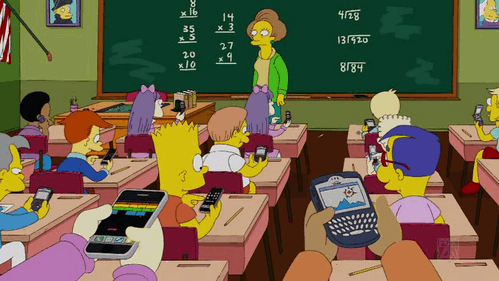 But at least they waited until the lesson was finished. Apparently one of those devices is a time machine capable of bringing people back to a time when a BlackBerry was a thing.
In the interest of not creating a War and Peace length post, I will share the famous cartoon character and scene from my favorite movie series in the next installment.
*Note: I teach about several world religions. I preach about none. Part of our required world history curriculum includes teaching the basic facts of several world religions. I would never try to sway students about their own beliefs. The goal is to educate students about what people around the world believe (and how these beliefs shaped history), not to tell them what they should believe.
If you would like to earn rewards for this week's @steemiteducation homework assignment, please check out the post here.