How to see your future curation rewards - and how see how profitable your vote was. - Was it worth voting?
A few weeks ago, I wrote about some of my favorite applications on Steemit. I invited people to tell me what application they would most like to see developed. The NUMBER ONE REQUEST was for an application to see pending future rewards - not on posts, (that's easy to find), but on curation, i.e. on votes.
Firstly, there are a few things to know:
You don't have to comment to earn curation. A vote is sufficient.
Every time you vote, the person you vote for, and the person who voted will earn something. A comment is not necessary to earn curation. Of course, if you make a truly excellent comment, you might receive a few votes or a few followers, and that is a bonus.
If you vote, not only will you earn curation on your own vote, but you will also earn curation on the votes of those who vote after you.
It's a complex formula, which I won't go into on this blog. Suffice it to say, there are many factors. If hundreds of people vote for a blog, they will all share in the curartion of future voters, so you you will get a smaller share of the total.
Tactics to get the highest curation reward.
After 30 minutes have passed, the value of your vote (curation) is split 25% to your and 75% to the author. Before 30 minutes, it is a sliding scale so that a larger proportion of the curation goes to the blog author. If you vote after zero minutes, the author keeps 100% of the curation.
The best scenario for you is that you will do very well if you vote before a whale. You will collect some of the value from his vote.
Apart from the whale, you want to be the only voter. If hundreds of people vote, they will all get a share and you will get less.
In practice you won't get much extra profit on a popular author as hundreds of people will vote for him.
The more you vote, the bigger your share of the curation from later votes.
Auto-voters
If you think an author will earn tons of money on his blog from very few curators (e.g because he often boosts it with his own purchased vote, then you can use a tool like one of the steem auto-voters to always vote for that person. You will have to choose the right number of minutes. There's the dilemma. Make it too quick and most of your 25% curation goes to the author. Make it too late, and you may miss that big up-vote.
Some people think that 20 to 30 minutes after a blog is a good guess to balance the risk of sharing too much of your curation,or missing the big up-votes which might follow. There's no perfect answer.
Pre-vote clubs
Some bots offer a "Pre-Vote" club, which will automatically drop your vote on an author just before a mammoth purchased vote.
How to see the future curation reward you will earn after you have voted?
I use two tools together to see this.
Steemworld
Steembottracker
The best way I can demonstrate this is to look at the last blog I wrote.
Firstly let's see who actually voted. You can see all the incoming votes using Steemworld as per the photo below: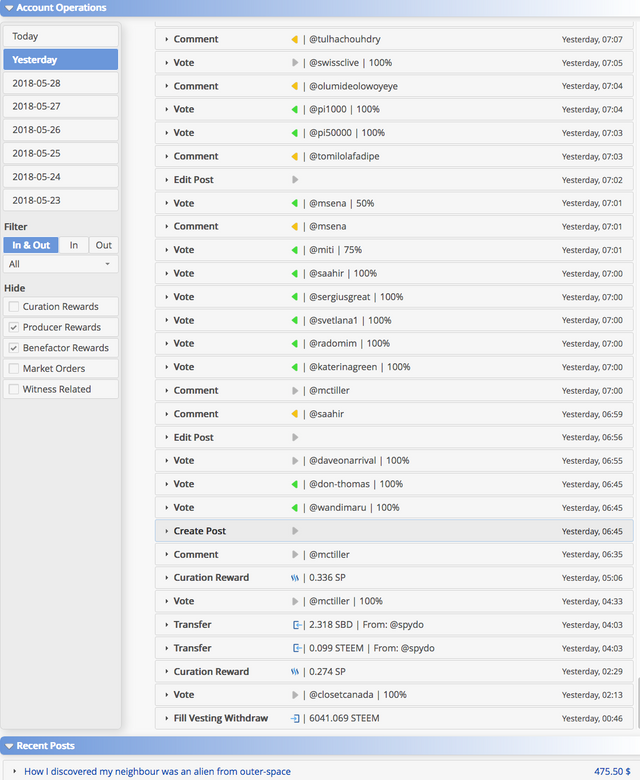 As you can see in the above photo, I created my blog at exactly 06:45. the first vote came in from @saahir a few seconds later. Unfortunately for @saahir, 100% of the curation from his vote goes to me. By waiting a few minutes he would have started to keep part of the curation. I voted for my own blog after 20 minutes at 07:05.
Let's look at the vote by @miti after exactly 16 minutes. How is that working out?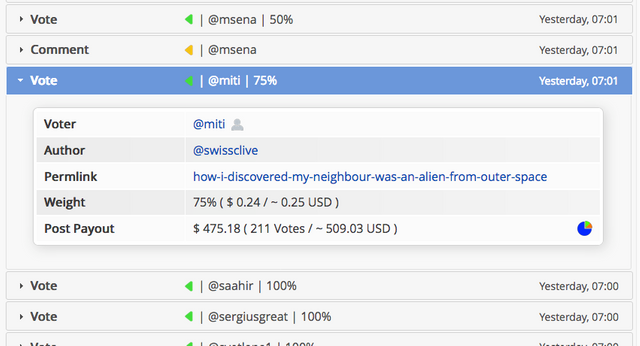 To find out, I am going to use a tool available from steembottracker. Firstly I grab the permalink form the above:
https://steemit.com/aliens/@swissclive/how-i-discovered-my-neighbour-was-an-alien-from-outer-space
Then I go to https://steembottracker.com/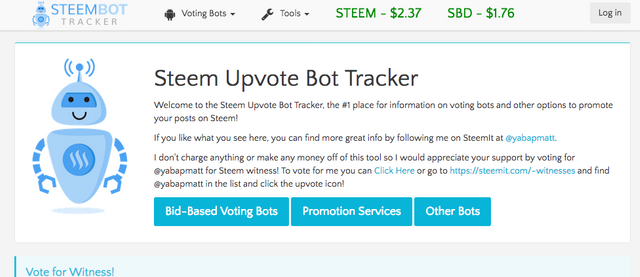 I click on "Tools" in the top middle of the picture above, and choose "Curation Estimator"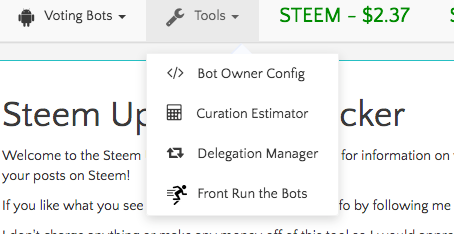 Next I paste the permalink and the user name as per the picture below and hit "Estimate Curation Rewards".

Now if I scroll to the bottom of the page, I can see how successful miti was with his vote. In other words I can see what his future curation reward will be for this vote:

Let's look at the information we can see in the above photo:
@miti gave me a 75% vote which is worth $0.24

@miti will earn a curation reward of $0.80 for his vote. That WAS a VERY profitable vote!!!!!

At the time he voted, the previous votes were worth only $0.09

The expected total votes is now worth $475. I get 75% of that, and the rest (about $120), is shared by the people who voted for my blog. There were literally 100s of voters, so that $120 has to be shared, based on a complex formula of timing of votes, subsequent votes and amount voted.
Should @miti have done something different? Yes! Certainly his profit would be bigger if he had voted 100%. However if he would have waited until 30 minutes he would have collected 75% of the curation instead of 46%. BUT that would be 75% of a smaller amount, because at the 30 minute mark, some whales had already voted, and he would have missed in sharing their rewards. You only get a share of the rewards of people who vote AFTER you.
However he could have voted later, as some whales didn't vote until hours later, or even the next day. It is hard to tell what was the best moment to vote. He chose 16 minutes.
In order not to miss out on big rewards which sometimes come to my posts, @miti used one of the many auto-voting tools to automatically vote all of my blogs at exactly 16 minutes. Clearly, this time he made a nice profit.
If you want to guarantee profits on your voting, use an auto-voter to pick authors who you think will earn rewards and set your timing to automatically vote. Don't be too early. Don't be too late. Study previous voting patterns to see how long it takes before a whale votes. In my case it is usally several hours and sometimes days.