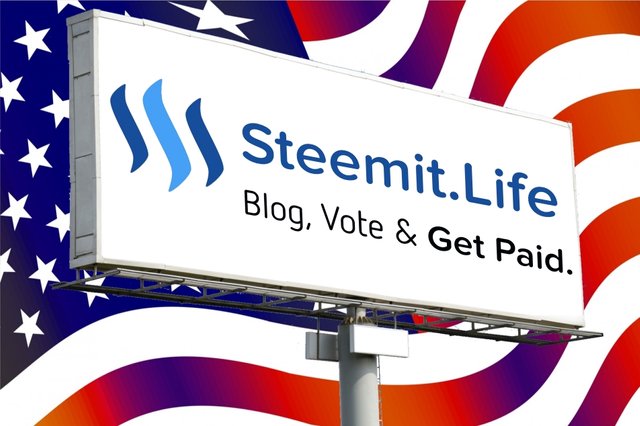 The @steemdrive billboard campaign continues to power throughout the world, with the next site targeted being Chicago, USA.
The first official Steem blockchain crowdfunded billboards are already fully flighted in Durban, South Africa with two digital boards in flight since our last report and details of the print billboard to follow in an upcoming post.
Steemit.com, the social media platform front-end for the Steem blockchain, was founded in the United States by Ned Scott and Dan Larimer (of Bitshares]. The @steemdrive billboard campaign team is proud to launch this initiative to once again crowdfund a billboard, but this time in the USA, the home of Steem(it)!
We are proud to introduce Nolan Jacobson as our youngest campaign liaison, someone who has truly impressed us with his determination and spunky ideas. Our campaign is fortunate to have him aboard and is our pleasure to hand over to him to present the Chicago campaign he assisted in organising.
Thank you Nolan for your good work and kind words!

Introduction – Nolan Jacobson
---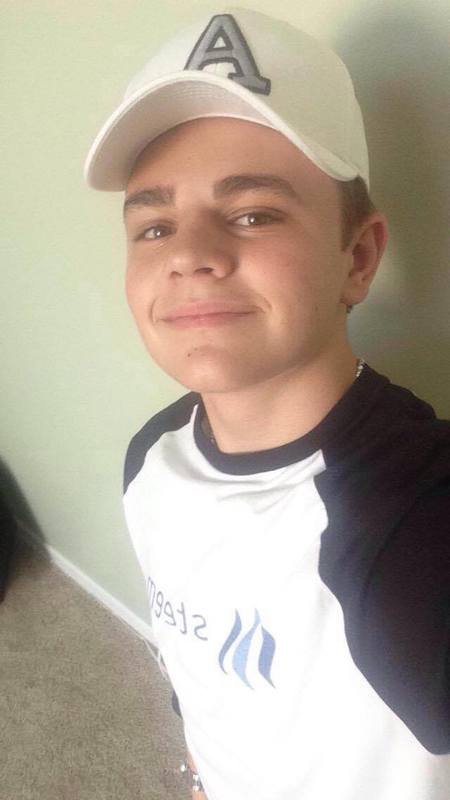 Fellow Steemian's, my name is Nolan Jacobson ( @theprophet0 ), I am 15 years of age; an entrepreneur and over-achiever. I am excited to say that I am the Chicago liaison for the @steemdrive campaign.
Some of you may be saying to yourselves, you're 15 and you're an entrepreneur? Yes, I recently created "The Steem Store" it is a store that uses steempay.io as the sole payment method to buy Steem/Steemit merchandise. The products I will be selling are different from all the other Crypto/Steem markets and I am looking forward to promote Steemit any way I can through my store and other collabs like @steemdrive.
But, enough about my business; you have no idea how much "drive" I have to promote Steemit! I can tell you that I devote myself 100% to all projects I work on; no matter if they are a success or not! Speaking of which, let us get into the Chicago/O'Hare International Airport Billboards!
Wouldn't that be great, to bring the first Steemit Billboard in America to my hometown, that is home to over 2,700,000 citizens and has more than 50 million visitors every year! You may be thinking, why put up a billboard advertising an online platform? Well, I couldn't have said it better than Ricardo Goncalves, the founder of the @steemdrive billboard campaign.
In his replies to comments on previous posts, Ricardo doesn't classify the billboard campaign as a replacement for online marketing, but rather sees it as a supplementary and supportive initiative. He likes to use the analogy of Coca-Cola, indicating that they are omnipresent and top-of-mind; their ads are on billboards, vehicles, coffee shops, TV, and anything else you can name!
People may not click on an online banner immediately, they could consider it is a scam or an internet gimmick, however if they saw it on a billboard previously, it gives it some "real world" validity. If a company is spending on a billboard, the public sees them as more legitimate, especially because of the price tag and impact they make.
The important thing about the campaign is that the community comes together and the billboards lift spirits, for example if you are in the car with your kids and drive past the billboard, your kids may say, "Dad, look it's Steemit!", can internet advertising do that?" In my opinion, that is such a great explanation, props to Ricardo! Anyhow, let's get right into this fantastic billboard drive!
Chicago
---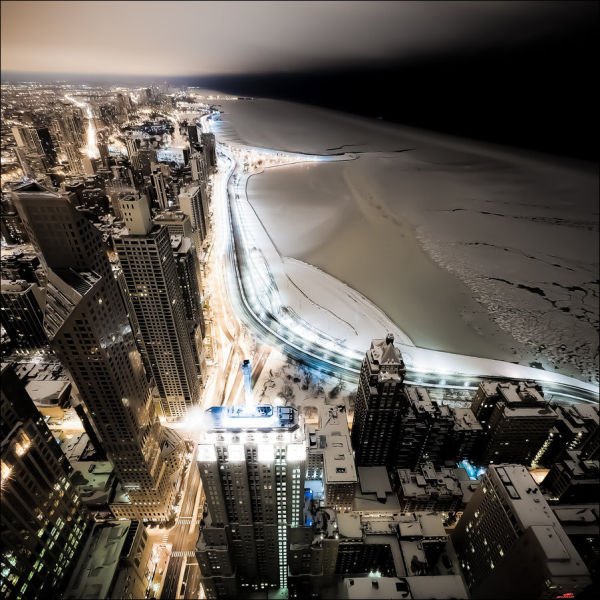 Image Credits
Chicago! Everybody around the world has heard about this city! It is the third largest city in the United States. Chicago is home to many amazing sport teams including, The Chicago Cubs, The Chicago Blackhawks, The Chicago Bulls, The Chicago Fire, and The Chicago Bears.
"Chi-town", as the citizens of Chicago call it, is also home to the second-tallest building in the United States, The Willis Tower! If you weren't aware, Chicago is sort of split into 77 different "community areas" if you will; with the North Side and South Side being the two main ones.
The North Side of Chicago is home to the Chicago Cubs, home of over 1,300,000 people, and the median age is right around 34 years.
The South Side, on the other hand, is home to the Chicago Bulls, home of just over 861,000 people, and the median age is the same at around 34 years also. (Information reference)
O'Hare International Airport
---
Right outside O'Hare International Airport is the killer spot for a billboard in my eyes! According to Wikipedia, O'Hare International Airport is the busiest airport in the world, since 2013, when it beat out Hartsfield-Jackson Airport in Atlanta.
The Busiest International Routes to and from ORD (2015) are listed below:
London | Passengers – 1,029,216
Toronto | Passengers – 843,372
Tokoyo | Passengers – 712,579
Frankfurt | Passengers – 622,743
Mexico City | Passengers 493,747
(Data Source: Wikipedia)
After seeing that many international travelling passengers; I would say that Steemit could get a ton of global attention in addition to domestic exposure.
Crime in Chicago
---
Sadly, crime is everywhere in the filthy world we live in. This year, Chicago has been in the thoughts of many; there have been 2,743 people shot to this day, of those 2,378 people shot, 2318 of those people were wounded, and 465 of them were homicides.
These are just despicable numbers. As of April 1st 2016, murder rates are up 72% and shootings are up more than 88%. (Information source)
According to the Chicago Police Department, the disturbing rise in violence is driven by gangs and mostly contained to a handful of pockets on the city's South Side. Gangs are truly a scourge on our city, little kids these days are being recruited, joining at such a young age and sadly some are even being recruited out of elementary school.
Why do kids join gangs?
---
Here are a couple risk factors that can lead children and adolescents to join a gang.
• They see the people in gangs have a lot of money.
• They have no positive role models or mentors.
• They have a sense of hopelessness about the future because of limited educational or financial opportunity.
How can Steemit help these problems?
---
I will answer the bullet points listed above with statements in which Steemit can help these awful problems:
• On Steemit, you get paid for just simply writing content. You don't have to risk your life every day to make money; in fact it's just the opposite!.
• In the Steemit community everybody has a positive attitude! Negativity won't last on Steemit. In fact, Steemit is a good environment for every one of every age! Ricardo is my role model, who shows there are positive role models and mentors on Steemit!
• With Steemit there are never worries about limited education or lack of financial opportunity because every day you are on Steemit, you learn something new. Steemit actually has a great impact on your education!
How Steemit will benefit Chicago
---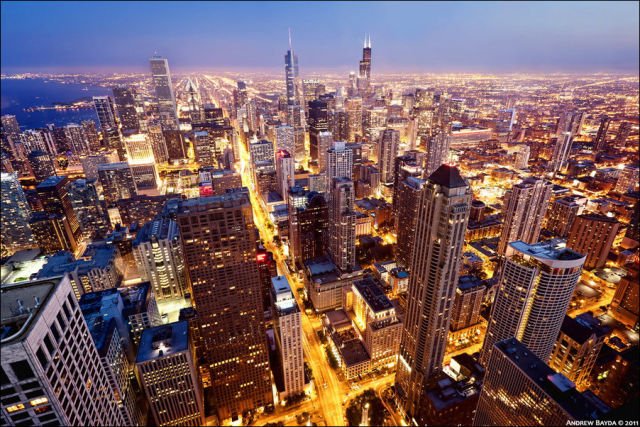 Image Credits
Joining Steemit is a very positive alternative to joining the gangs; as you can see from reading the above. It actually may help children get out of gangs as they find out that they can make money without risking their life every day.
Also, with there being a young crowd in Chicago who are literate to smart phones and computers, I believe that Steemit will flourish and have a positive impact on the citizens of Chicago!
The Billboard Options, Are You Choosing Chicago or O'Hare?
---
The reality is that unless this post hits a very high figure, we will only be able to obtain one billboard and there are two billboard options we have selected that we need your help with. In the comments section of this post we need you to simply vote on comment #1 or #2 depending on which billboard you would prefer seeing incase we don't receive enough funds for both. (Remember to first vote on the main post)
I will be showing you both of the options from a distance. (The artwork is done by me, keep in mind I am a rookie. This is NOT the final artwork) Also, keep in mind that the 1st billboard is located on the Tri-State Tollway and is located next to O'Hare International Airport. The 2nd billboard is near the South Side of Chicago.
Option #1 - O'Hare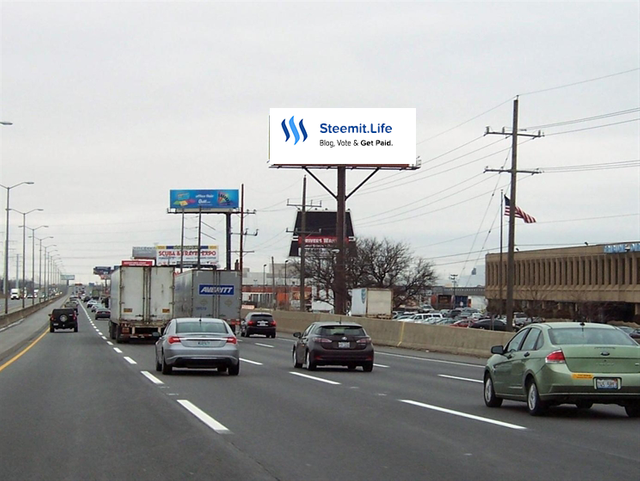 This DIGITAL bulletin gets prime exposure to traffic headed to O'Hare Airport. This affluent section of DuPage County is considered to be the fastest growing in the United States. Only 50 feet from the toll-way, this sign has excellent exposure to nearly 60,000 daily commuters to Metro-Chicago from the upscale northern suburbs.
Panel #: 70082
Location: TRISTATE (I-294) E/S .5 MI N/O NORTH
Lat/Long: 41.9136/-87.9193
Panel Size: 20' 0" x 60' 0"
Weekly Impressions: 552637 per spot (based on 18+ years of data)
Option #2 - Chicago South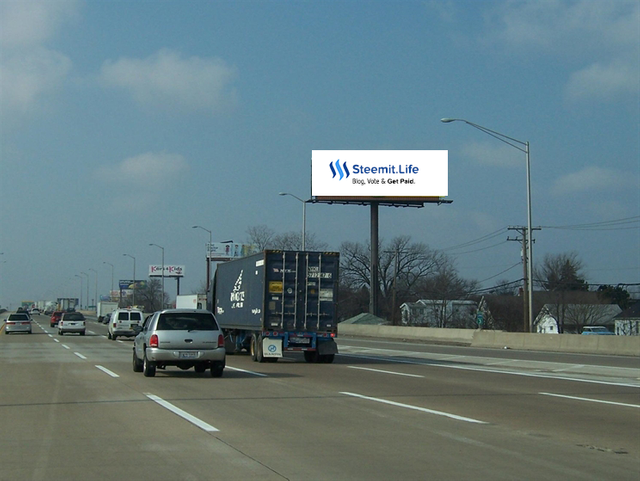 Located on the Tri-State Tollway in Chicago's South Side, this DIGITAL sign delivers traffic coming from the far-south suburbs and NW Indiana heading west to Joliet on I-80 and north to locations such as Midway Airport on I-294. This is one of the heaviest interstate truck-traffic areas in the country.
Panel #: 70051
Location: TRISTATE (I-294) N/S W/O HALSTED
Lat/Long: 41.5787/-87.6430
Panel Size: 20' 0" x 60' 0"
Weekly Impressions: 378483 per spot (based on 18+ years of data)
Why I chose these billboards
---
I chose these billboards for a couple reasons…
With O'Hare International Airport being so close to each billboard, I think that is a killer location as O'Hare International Airport is the busiest airport in the world.

Lots of traffic on the Tollway which means when people are backed up, they will look at the billboard.

The Billboards are available to see 24/7.

O'Hare International Airport attracts a ton of local and international visitors. With that being said it will get global exposure.

IMHO, there is no better place to start a billboard campaign in the United States than Chicago!
---
---
Campaign Partners: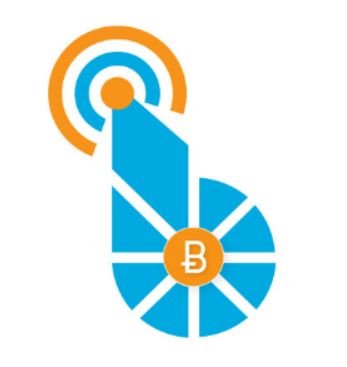 ---

---

---
Witness @delegate.lafona (liaison and campaign supporter)
---
---
Witness @liondani (campaign supporter)
---
@steemdrive Supports the Following Initiatives:
---
Terms and Conditions:
Steem Dollar payout funds raised from this Steemit post shall be primarily allocated to the Chicago billboard campaign, and/or any other billboard site or @steemdrive public project where funds may be required in and paid in accordance with the general campaign terms and conditions.
Ned Scott of Steemit, Inc. approved the use of the domain steemit.life on artwork, which will point to a referral link for campaign tracking, otherwise not possible if steemit.com was advertised.
All images are either royalty free, public domain, supplied by the billboard agencies or paid for by the campaign or liaison, credits will appear beneath any other image sources.
---
Direct Donations:

---
Funding Requirements:
The billboards are each the same cost per 4 week rental, taking into consideration the "voters 25% haircut", the 50% split into SBD, 20% SBD liaison pay and a 15% allowance for SBD peg variance and other charges; the pre-payout campaign value required to successfully fund one billboard for 4 weeks is approximately 10 500 dollars (double this for both billboards).
REMEMBER TO VOTE (WITH FULL POWER!) FOR THE MAIN POST AND THEN VOTE ONE FAVOURITE BILLBOARD LOCATION!
We achieved a pre-payout value of just under 27 000 dollars on our first South African campaign, let us now see what America can do!
The @steemdrive team thanks you for your support thus far and hope you will support us once again, bringing "Steem powered" billboards to Chicago, USA!!!