Updated Sneaky Ninja Abuse Policy
Must Read!!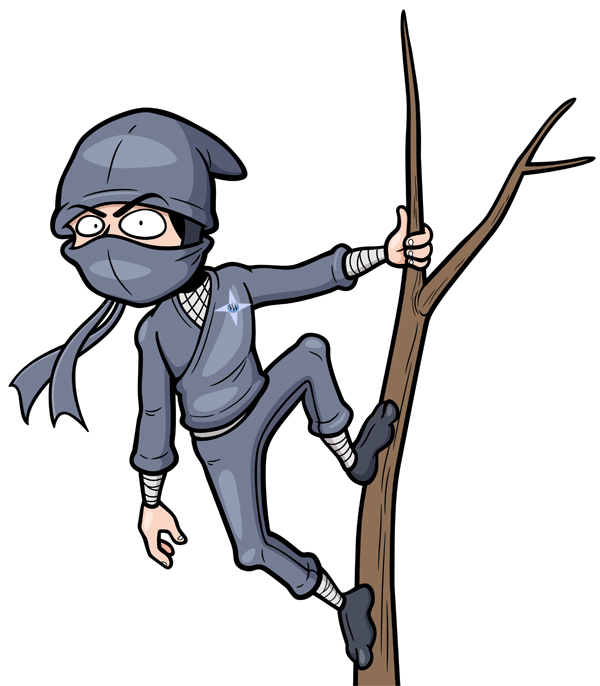 Well, it has been 5 months since I first introduced this policy and I feel it is time for a revision...
Before we get into that lets discuss what this bot is really meant for.
Sneaky Ninja is designed to a post promotion service. It was created and is managed by @michaeldavid.
Sneaky Ninja provides a proven effective form of paid advertising for anyone on the steem blockchain.
---
Intended Usage
The idea behind Sneaky Ninja is to help you get your content noticed. This can be quite useful if you are promoting a product or service, building a brand or trying to gain support for something.
However, Sneaky-Ninja was not designed for making direct profit, plagiarize or promote anything fraudulent or deceptive.
---
Now on to the Abuse Policy
I have only made a couple of changes but they will significantly affect how things work so please read carefully.
Here are the abuse Policy Rules as of today:
Using multiple accounts to post duplicate content.
Copy Pasta

Plagiarism or copy and pasted/spun content that is from another source and not your original work.

Photography posts that do not have written descriptive content or supporting information.

All photography posts should have location, lighting and a description of why, how and where you took the photo. (Just talk about the photo some, don't just post a photo and expect this bot to help you promote it, even if it is your original work. Anyone can take a photo but an artist takes a photo purposefully.)
Photography is an art. Those that take it seriously know this and will present it as such.

Short Content

This is of course subjective. However I do expect at least 50 words that make sense and follow what the post is about in clear readable writing.
It is possible to make a powerful post in less than 50 words, I understand this and will review accordingly.

Memes
Art that is not your original work

Original art must be verifiable.

Videos that are not your own and are not being used as a descriptive tool for your post.

When using as a descriptive tool please cite your source.

No longer a rule
NSFW posts that are not your original work

You must either be the model or the photographer.
Original work must be verifiable.

Tweet type posts

Posting things like, "chillin, hangin with the boys, just made dinner, look at my nephews new toy, ect...".

Posts that have already been flagged by @steemcleaners, @cheetah, or @spaminator.

These posts will automatically be treated as blacklisted and you will simply not get a vote.
If you are consistently getting hit by any of these accounts then you will simply be blacklisted.

Overuse of bots.

This is of course subjective but if you are consistently using over 5 bots on each of your posts it will likely be considered abuse.

Consistently bidding at 5-6 days for instant turnaround.

I stand firm on my decision to allow bidding on days 5 & 6. I believe there are many legitimate reasons to bid on these late days. However, it is very clear if you are taking advantage of this for your own personal gain and it will be considered abuse.

Over Posting

Over 10 posts per day is automatically considered over posting.
Between 4-10 is subjective. However, this combined with anything above (for instance, overuse of bots) may get you blacklisted.
The idea behind these rules is to prevent bot abuse. I am providing a service that helps steemians, not one that harms the platform by promoting shit posts, scams or spam.
Please notice that rule 8 is no longer there. This rule was about properly citing sources of photos. While I do not want people to rip off other peoples photos and do strongly advise you do properly cite your sources I do not believe that this rule alone is enough for people to be blacklisted and not able to use the service.
Lastly, I reserve the right to add any user I feel to the blacklist for any reason I deem fit.
Remember... This, and all other bots are private accounts.
If you are spamming me or being an asshole, this rule is for you. I simply won't tolerate people threatening, defaming or making rude accusations toward me or on my pages. The reason I have rules is so that there is no question if you want to argue.
I may not be available all the time but I have a proven track record since day one of getting to every comment left for me which, if you look around is pretty uncommon for bot owners. I guess what I am saying is that a little composure and tact can go a long way if you do have an issue. I understand fully when mistakes are made, especially when money is involved that it is easy for some to get angry. I am normally willing to work with people no matter what. However, I simply have no patience for those that cannot control themselves.
So be reasonable... because I already am.
---
How violations of any of the above will be treated.
Minor violations or violations that seem to be done accidentally or from acceptable ignorance will result in your account being put on my watch list. Consider this list your friendly reminder to follow the policy.

This list will be posted each week so you know that you are on the list.
If you are on the watch list you will have one week shape up.
If you are still violating any of this policy after your 1 week shape up period, you will be immediately blacklisted.
The idea here is to give a person a chance to shape up instead of immediately blacklisting them. I can tell that a lot of violations are unintentional and want to give those people the chance to do better.
If you are not violating any of the above rules by the end of the probationary week then you will simply be removed from the watchlist.
Major or obviously direct violations of this policy will result in your vote being pulled without refund and your account will be immediately blacklisted.

This list will be posted each week so you know that you are on the list.
Blacklisted accounts will now be refunded automatically with a wallet message saying that you are on the blacklist.
Basically, if it is clear that you are doing something fraudulent, spammy or scammy then you will be immediately blacklisted. Everyone else will go through the watchlist first.
If you are blacklisted by Sneaky Ninja you will also be blacklisted by @lost-ninja.
It is advisable to pay attention to the weekly Blacklist/Watchlist update posts so you will know if you or a friend is on either list.
---
Can I be removed from the blacklist if I shape up?
Simply put, yes.

To be removed from the blacklist you must prove that you have actually shaped up.
a. You must first have a proven track record of no violations for at least one week.
b. You can then leave a message/comment for @steembotcleaners on the post titled Removal From Sneaky Ninja Blacklist asking to be reviewed for removal.
c. If @steembotcleaners team decides that you have indeed shaped up, you can then be removed from the blacklist on a probationary term.

If you have been removed once from the blacklist consider that your one and only chance to do better.

If any user is found violating the Abuse Policy after being removed from the blacklist once already, that user will be permanently blacklisted.
I am quite serious about this. I simply do not have time for games.
---
So, the 2 major things that were changed were I removed rule 8 and blacklisted accounts will now be automatically refunded for trying to bid.
Lastly, I know how the feed on steemit tends to bury things in it and you can never find them later so that is why there is a link in each and every comment that ninja makes during a vote to this and the following pages.
Sneaky Ninja Rules
How Sneaky Ninja Works
How to Use Sneaky Ninja
Thank you and bid responsibly,
Kozeni (小銭)
@sneaky-ninja
Sworn defender and protector of Sōsharumedia (ソーシャルメディア)
Trained by @michaeldavid,
Supreme Jōki (蒸気) Master and warrior for @thealliance