Hi Everybody, I am still new to Steem, though after a month I have seen so many kind of posts, people ripping off the reward pools, and others the bots. After seeing the post from @flozzz05 which was flagged by the Grumpy Cat I decided to improve his post to be GrumpyCat compliant.
If you don't know about Grumpy Cat check his original Post, it is worth the read and trust me that is the way we should go from now on. https://steemit.com/abuse/@grumpycat/non-gumpycompliant-vote-sellers-are-now-to-be-used-exclusively-to-profit-from-the-reward-pool
After this intro let's go to the cool part
1. Be sure to have SBD or even Steem (depends on the Bot if it accepts Steem) in your Steem account, if not go to any exchange that provides the pair and transfer those to your Steem account wallet. If you do not know what I am talking about then I do not know what are you doing here :D.
2. https://steembottracker.com/
Go to the website that provides you all the useful info on the voting bots. In the main page check all the useful info, I recommend to go to details before making the Bid, there you can see what is the ROI, or in plain english, how much you will get for your hard earned SBD.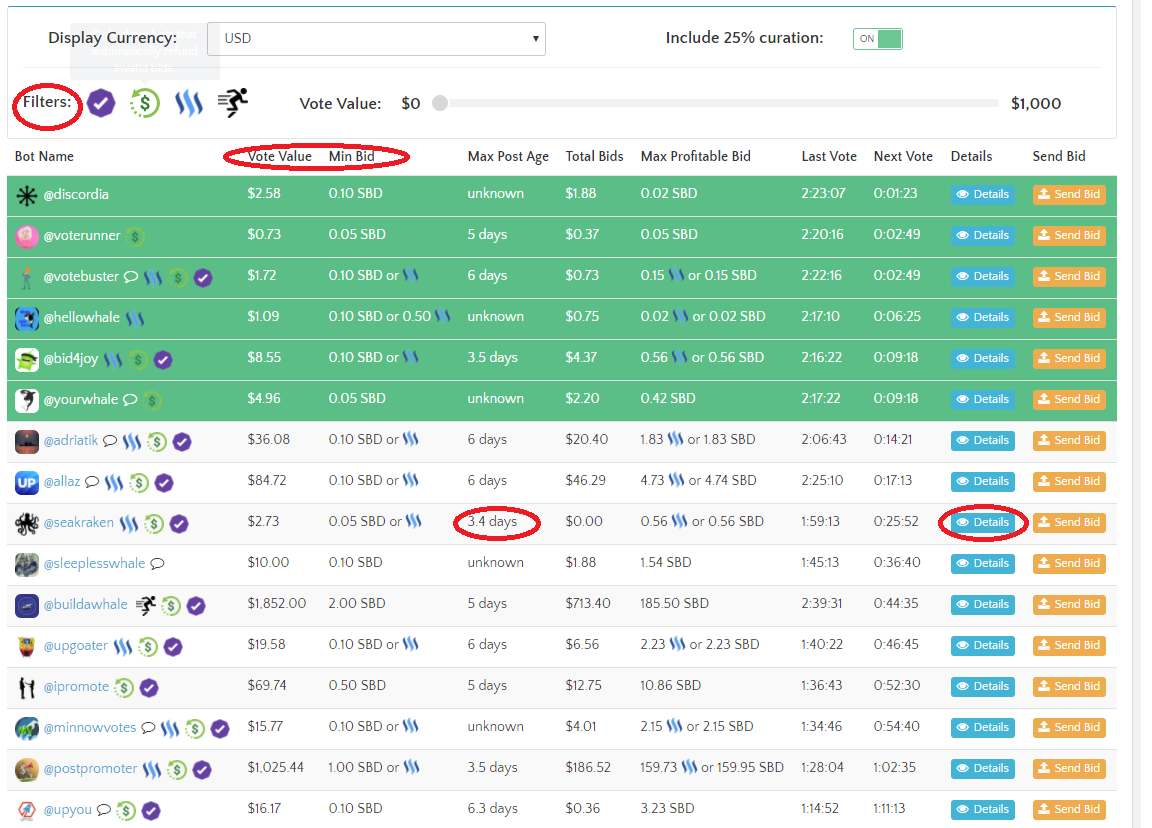 3. To be @GrumpyCat compliant and this is the most important use a Bot that is 3.5 Days or less Max Post Age, this is the most important part, otherwise you could lose your Bid and make your Post less profitable after being flagged by the Bot made by GrumpyCat, you may agree with him or not, but this is the way it is and instead of go crying in the corner better be compliant on that. Check the Image above to see the outlined column.
This is how it looks one of the few 3.5 days Bots, not bad if you see it has a 1000% on ROI.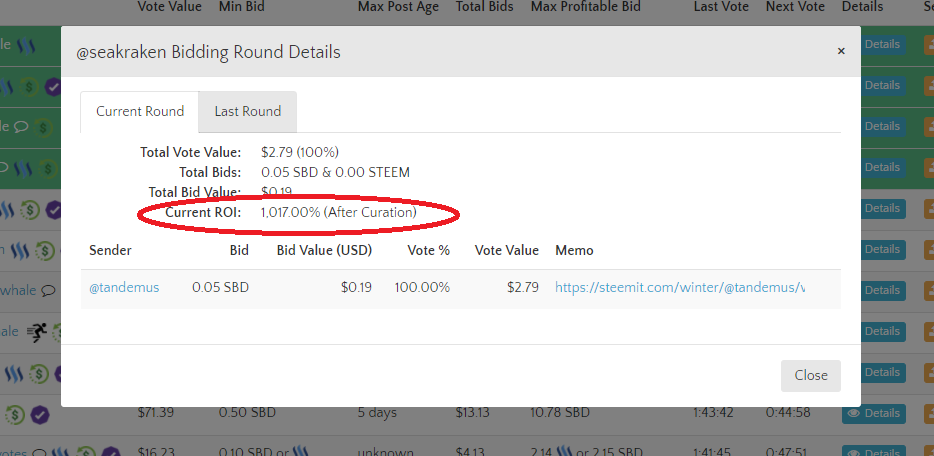 4. After choosing your preferred Bot under "Make Bid" send your SBD and enjoy the profits**
If you really want to make a difference I suggest you to invest the profits into buying SteemPower, this will give you in the long term better chances to make a substantial and sustainable profit in Steem.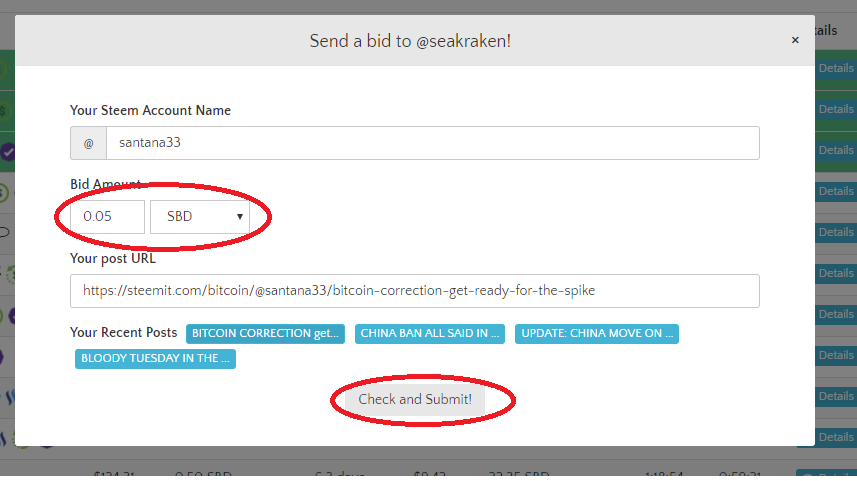 UPDATE DISCLAIMER
After playing around with the bots for the last 48 hours some notes are need to be taken in the sake of taking care of your hard earned money (investment);
a. Do not take for granted the ROI stated in the API as the warning sign made by @yabapmatt the vote value is not guaranteed, since some of the bots are not updated on the second.
b. Look before bidding on the Details, many people do not even open this really important tool, which actually tells you what is the vote value and how many people are bidding and the values of those bids.
My personal recommendation is that you should not bid if 3 minutes before the vote bid round closes, the ROI is below 30%, chances are many people is waiting to vote same as you, and you could later check the "Last Round" tab and it will show you after closing the vote the effective ROI and vote value, let me show you below how does it work practically.
Let's look at the last Round from @allaz,
b1. Negative ROI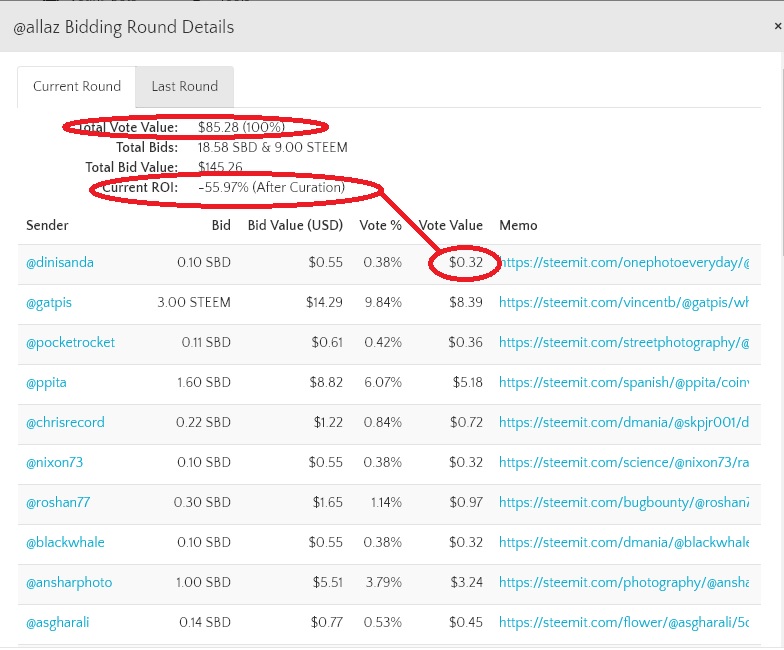 As you can see above we see 3 key informations, the vote value is USD 85.28 AT 100%, nevertheless people was so thrilled on bidding that put a total bid for a value of USD 145.26, like almost double the voting power. This information is key before bidding, if the bid value is too close to the vote value, STAY AWAY AND WAIT FOR A BETTER CHANCE.
As you can see the ROI was -55% this means for each SBD you would get back, 0.45 SBD, or like the highlighted example, if the bid was 0.55 cents, you would get as a vote 0.32 cents.
The ugly true you do not get even those 32 cents, actually 25% goes for curation, and from those 75% you get only half come as SBD the rest is Steem Power which you can not use as a currency, but rather goes as an investment to your reputation and voting power.
b2. Positive ROI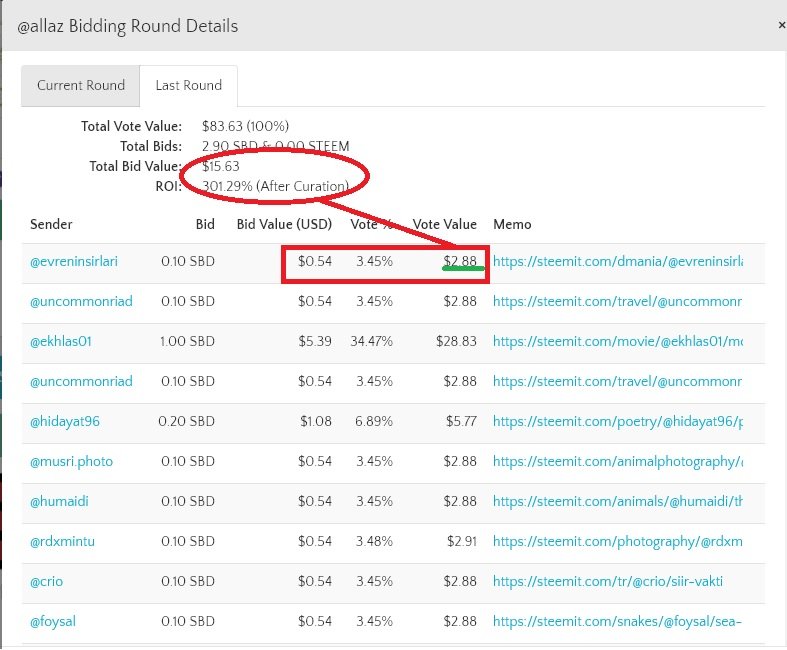 Now the good one, same vote value, and same bot, BUT in this case the bid total value was way below the vote value, 15/83, this ratio at the end of the vote round gave those who bid a return of more than 300% after curation. So if you bet 0.54 USD you got a vote for 2.88 USD, which even after deducting the curation and passing it to SBD is about 1.1 SBD at now value is like USD 4.428 plus some nice Steem Power. Also look that all the bidders made a small bid, leaving space for last minute entries and at the same time making the bid profitable for everybody.
Be a good boy and share with the rest, even if you have enough to bid, better to make several votes than rather a big losing one.