Minnows Accelerator Project [Reward Share and 200 SP Delegated][July 2017 Signups]
This is a new initiative to help talented minnows accelerate their growth on Steemit.
I have discussed this with @aggroed (of the MinnowSupportProject); he really likes the idea but thinks I am making a mountain of work for myself! So I'm going to run a trial and see how it develops.
The best minnow content creators will receive a share of special post rewards
and a chance to win 200 SP delegated for 7 days!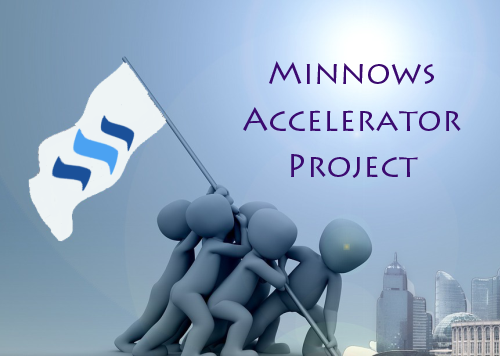 So how will this work? Please read the rules carefully. They are not complicated but there are a few steps involved.
Step 1 - Are you a minnow?
I have seen a minnow defined as a user with less than 1000 SP and fewer than 500 followers, so I shall stick with this for the moment. If you have under 1000 SP because you have cashed out, then you don't count as a minnow.
Step 2 - Sign up with a comment to this post.
Very simply, if you wish to be considered then just add a comment below. I will look through blogs in the order in which comments are left based on their timestamp. I shall also repost the Signup pages at the start of every month to refresh the list.
Step 3 - Six content creators chosen for Step 4
I will select the first six good content creators to be included in a post entitled "Six of the Best".
I know there is a subjective element to this, but I do read a lot of posts and am also a published author of non-fiction. To avoid disappointment, let me highlight a very short list of the qualities I shall be looking for. This Signups post will be reposted at the start of every month, so if you have made significant strides in your blogging skills you are certainly welcome to add your name again.
= I shall be looking at your recent blog posts, not just one article.
= Your posts must be your own work. It is very easy to check for plagiarism online, even if the bots don't catch it.
= If you are mainly a writer, please check for punctuation and spelling. The editors on Steemit and chainBB will underline spelling errors but it is up to you to correct them.
= Images must be appropriate, resized to fit the text and give balance and aesthetic appeal to the article.
= If you are mainly posting artwork or videos, it really helps to add at least a paragraph about the content or the inspiration behind the work.
= And finally, I shall be scanning your comments and replies to see that you are already engaging with other established content creators. I expect all winners to use their delegated 200 SP wisely.
Step 4 - Six of the Best up for votes
Every 1 or 2 days I shall publish a "Six of the Best" article with a list of the six chosen content creators. I shall create six comments, each with the username of one blogger. The rest of the community can vote on their favourite minnow authors by upvoting the appropriate comment. I will ignore bot votes.
These six minnows are already winners! I will use a feature known as Reward Distribution, available within chainBB, to give each of the minnows a 10% share in the author rewards generated by each post. These will automatically appear in each user's account on payout, and will be paid in 100% SP.
At the end of the 7-day reward period, the person with the highest number of human votes will win 200 SP delegated for 7 days! If the voting is very close, I will consider having more than one winner.
Step 5 - Repeat Steps 3 and 4
I will continue to go through this Signup list of comments and select six authors every day or two. There is no need to leave multiple comments. I will create a new Signup page at the start of every month, or every two weeks,
The aim of the Minnows Accelerator Project is to help talented minnows accelerate their progress on Steemit.
You may also leave questions if anything above is unclear.
If you wish me to read your blog, you may use the magic phrase "read me!"
If you just wish to leave a comment, don't use the magic phrase!

Six of the Best contests currently running:
Minnows Accelerator Project - Six of the Best MAP1 [Reward Share and 200 SP Delegated][Vote Now!]
Minnows Accelerator Project - Six of the Best MAP2 [Reward Share and 200 SP Delegated][Vote Now - Join In]