NEW STEEM TOOL! ANALYZE DR. OTTO'S BIDS AND PLACE THE SMARTEST BID!!!
WHO/WHAT IS DR. OTTO?
Dr. Otto is basically an auto-upvote bot created by @inertia and was first used by @booster but is now being used by a couple of other accounts such as @discordia, but @booster is still the most busy and popular one since it has a huge amount of STEEM POWER. If you want to know more about Dr. Otto, click HERE and if you want to know more about the @booster, click HERE and check out @booster's latest posts.
HOW DOES IT WORK?
My new tool is pretty simple to use and it's absolutely free! YES.. I'm giving this tool away absolutely free to the community and I hope it would help Steemians, especially Dr. Otto's bidders. As you can see below in my screenshot, the tool is by default set to read and analyze the data from @booster. You can of course change this to @discordia or any other account that is running Dr. Otto.

START/RESET
Once you press Start/Reset, my tool will read the data from Dr. Otto's account which can take a few seconds or maybe even minutes depending on how busy Dr. Otto has been in the past few hours. Then my tool will automatically refresh the data and calculations in one-minute intervals. The analyzed data will give you everything you need to know about placing the smartest bid possible.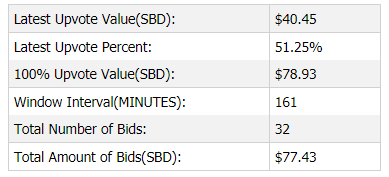 CALCULATE
My tool will also calculate a default bid of 1 SBD and will then tell you how much upvote your bid will get you on your post, both in percentage and in value. Please keep in mind that these amounts are only an estimate and the real amount can differ a bit based on changes in the price of STEEM as well as potential new bids that might be placed after your bid. My tool will of course continue to keep you up to date and will refresh the data every minute but it'll still be only an estimate. You can change the amount of bid to whatever you want and my tool will consider the new amount every time it refreshes the data. You can also click on Calculate if you don't want to wait for the automatic refreshes that occur every minute!
LINKS
You can find my profile on github by clicking HERE. You can run this tool on github by clicking HERE. And last but not least, you can view the source code for this tool by clicking HERE. Having said that, you can find the links to all of my tools on mysteemit.blogspot.com. If you have any questions or suggestions, please feel free to leave a comment below and let me know. If you find this tool useful, please consider upvoting and/or resteeming!
DISCLAIMER
Please make sure you use the latest version of Chrome. I haven't tested my code with IE or any other browser. If you can't use Chrome for whatever reason, and you're having issues with your current browser, do let me know and I might consider changing the code in order to make it work on your browser.
---