A call to separation of powers in Steemit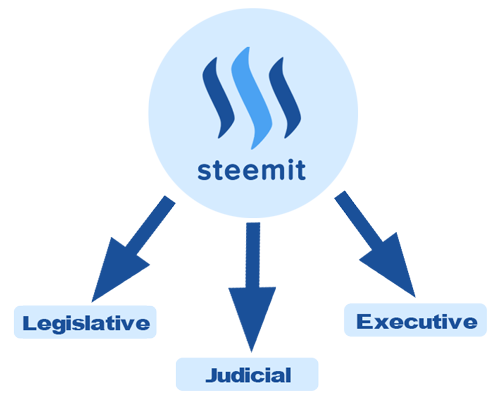 In what have been a tough couple of weeks for me on Steemit, I have been the victim of a subjective and abusive flagging campaign by one of the Steemit founders which have intensified after I spoke out about it in a try to draw the attention of the community, in what seems to be a punitive response to the voicing of my feeling of injustice.
Despite the large support of the community and condemning of such behavior, no one was able to change this injustice.
The reason no one was able to do anything about it is the absolute power granted to the person subjectively flagging my posts.
Power tends to corrupt absolute power corrupts absolutely (Lord Acton)
I found myself unable to have recourse to any other authority to lift this injustice, because my accuser is the judge and executioner, and only a brave few dared to speak against this injustice, and their voice was totally ignored regardless of the fact that many of them are very respectable members of this community.
Having the legislative, judicial and executive powers in the hand of the same authority is the main characteristic of totalitarian regimes which have proven their failure. Because absolute power corrupts absolutely!
Some of the results of the absolute power being in the hands of Steemit inc founders and high level staff that we have observed so far is the pushing of subjectively selected authors and witnesses, in addition to the subjective suppression of others.
Separation of powers
Separation of powers is a key foundation of modern societies as it enforces equality and equity and provides a healthy environment for development. I hereby call for a separation of powers in Steemit, I think anyone in office at Steemit inc or related to it should not be allowed to vote on content or witnesses. Steemit inc is the legislative authority, it sets laws through the blockchain which apply to everyone seamlessly.
The judicial authority will be exercised by the voters, and the executive one by the moderators which should be the only ones able to flag posts based on a defined and clear set of criteria.
I think this is a tough and important decision that must be made in order to reduce the subjectivity that's taking place currently, it will also be a lot more encouraging to authors and investors to have such separation of powers in place.
Separation of powers is a necessary and required change to take the Steemit platform to the next organizational level and help it take its deserved place among the biggest social platforms.