The State of Steemit: My thoughts about the present and future of steemit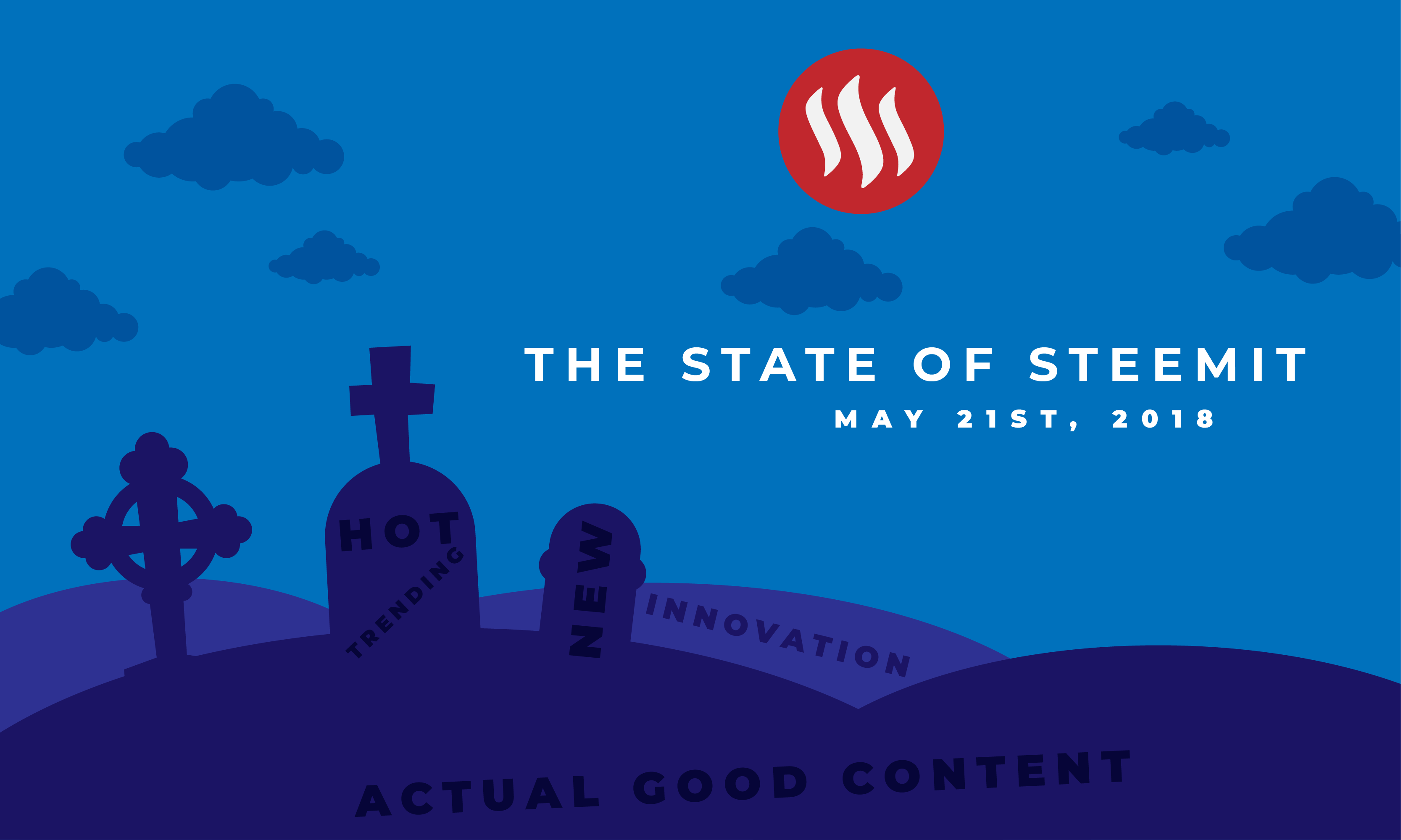 So this is my humble opinion on the state of Steemit as of May/21.
Before I get into this post further, let me introduce myself. I'm Malicered, I'm a Graphics Designer and Artist. I am also Customer support lead at @Privex hosting. Longtime collaborator and close friend of @someguy123
I have many years of experience in startups and small businesses as well as marketing and advertising.
Today, I wanted to share some thoughts on what Steemit is today, and where I think Steemit is heading as a whole in the future. Some of the opinions I will express are unpopular opinions. They may even upset you. But ultimately, this is about the expression of my point of view, and not at all personal to anyone.
Steemit is not in a good place right now.
What do I mean by Steemit is not in a good place right now? I'm not talking about the pricing for STEEM or SBD, I'm talking about the platform itself, and what it means.
It has never been harder for Content Authors to get rewarded for their content before. Well, perhaps it's been harder before, but it is still very difficult.
One argument can be made that I am in fact wrong, and it's never been easier to get rewarded. To argue and debate this further, let's take a look at what Rewards and Rewarded mean.
Rewards. In this context, we're talking about the rewards you get for posting content. The Tokens you get to trade for real life currency. This is one of the more important things that Steemit has to offer because without any rewards there is no point in putting in the hours of work needed to make content.
As of writing this, users are able to purchase big upvotes from many different voting bots in an effort to make it to the frontpage of steemit. Making it very easy to reach those high numbers of rewards and exposure of the front page, provided that you invest enough money.
So the problem here is that since everyone can boost their posts to the frontpage, eventually, no one is going to be looking at the front page. Hot, Trending, it's no longer a matter of "Hey this is really cool content" rather a matter of "Hey I paid this much SBD/STEEM NOW READ MY CONTENT".
Effectively what we have now is a second Promoted tab, as the content is no longer ranked by how creative or cool content is, but rather who was literally the highest bidder.
This has a very negative impact on viewership, as people are simply less likely to browse content that has been paid to be put into one's vision, rather than viewing content that made it into one's vision through its creativity and merits.
Imagine if you will, Browsing through Imgur. If you don't know what imgur is, it's a image hosting site that allows you to upload content and share it publically.
Imgur has a frontpage of it's more viral and most viewed images of extremely interesting, sometimes funny, or even sad images that have made it to the frontpage because of how highly viewed they are.
Now. Imagine if imgur allowed you to reach that front page by paying for it. The frontpage of imgur would be filled with countless advertisements, and general shitposts.
This is effectively where Steemit is now.
Additionally, Vote Bidding is also hurting Steemit in another just as big way. These voting bots often have large amounts of steem power delegations to them. Most of the time, that delegation is purchased for on a monthly basis.
What does this mean in layman's terms?
It means there are impactful users out there, selling their voting power for Voting bots. Now, don't get me wrong here. That steem power belongs to those users and they can do anything they want with it, that is their sole right, and no one can take that from them.
However, if we take a look at what this means for the platform... What if every single whale delegated all of their Steem power to vote bots? Those larger users will no longer be participating in the viewership and rewarding of content.
Remember how hard it is to get discovered on Steemit? There would be 0 incentives for genuinely creative content authors to be rewarded, since meaningful votes would no longer be chanced upon but rather gated behind a paywall.
Want a sick vote? Fuck you, buy it!
And while things are not quite as bad as that now, it is drastically becoming a problem and spiralling out of control.
Now, I know what you're thinking, Malice you're taking this way too extremely. It's not a problem. Plus people can still make money through the Steemit platform.
Well, you're half right. I've used voting bots before, and typically, the profit margin is extremely low. And as more people use and indulge in these voting bots, that profit margin will decrease as well.
In fact, it's so bad right now, that you literally have to plan when you will post a bid for a vote in order to break even. Sometimes you may get lucky and get a really large upvote for a fraction of the cost, but basic economics tells us that if enough people abuse this, it will eventually get to a point where profit on your bids will be almost negligable, and all you would be paying for is to be on the frontpage with the other content that people bidded to get there.
What this means is that we are in a downward spiral into decentifying Content authors. The authors that make steemit worth visiting and browsing.
And while that may not be anything worth considering for some, consider the following:
What happens to steemit when no one is no longer browsing or posting content because there is simply no point?
What sort of business is going to want to invest time and resources into a dead platform?
These are very serious considerations. But alas, there is quite little anyone can do about this. I suppose mass awareness would be a good step. But without influence and limited awareness of the issue, there's just not much that can be done.
As a regular content poster, I will continue to try to provide something to the platform, even though it appears this train ride is headed for a cliff. Perhaps some brilliant developers will learn from steemit and create a new blogging platform with checks and balances in place to prevent things like this from happening.
I hope for the best and wish everyone good luck in the coming months.