My '5-500-5000' Plan For 2018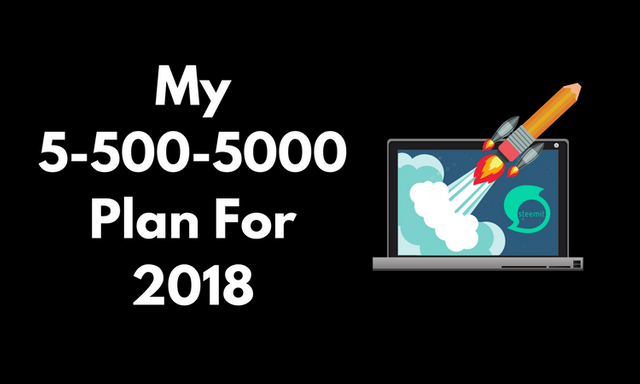 Being relatively new to Steemit, I have spent the better part of the past month learning and soaking up all the amazing advice that's put out daily here.
From crypto investing to Steemit etiquette, proper vlogging techniques to even learning Markdown language (still a work in progress obviously), I'm finding myself lost in the incredible content within Steemit.
So a huge tip of the hat to you, the original Steemians that have paved the way for us noobies! We're grateful to be here and will do our best to keep the train rolling :)
That being said, I have put together a little goal setting plan that I'm going to follow over the next 12 months in the attempt to take this minnow account I currently have and develop it into something sizeable maybe even...Dolphin-esque :)
This is a straight forward plan that is laid out so that anyone can benefit from following it, but please do add your comments and let me know if you think I'm on the right path or swimming up the wrong stream.
I call it my 5-500-5000 plan and here's how it will work;
5 New Interactions A Day
Here's the fuel that will get this plan moving. Without interactions with other Steemians, your account will remain stagnant. Sure you can spend a million bucks on Steem but this is the slow and steady approach. Every day I plan on interactions with 5 new people on Steemit.
I'll say hi, comment on their stuff, maybe upvote some great content but what's important is that this is 5 NEW people...Each day! This will start helping us move to the next step in the plan but without this first step....The PEOPLE...Nothing else matters.
Attract 500 Followers
I'm on the right path I think :) But this is a good goal for anyone to hit. Remember the last step in the plan, we are interacting with 5 new people a day. There will be some trickle down effect and sure you may get an upvote or two...But you will start generating new followers because that's how this entire place works.
Put in great value, content and take part in the community...People will pay attention and start to follow you!
It's that simple. Shoot for a few followers a day and start turning that into dozens a week, you'll hit 500 in no time :)
Oh and here's a big tip too...Which I've learned from guys like @brandonfrye and @joeparys Become an evangelist for this platform! When you are out there on Facebook, Twitter and Instagram...Spread the good word about Steemit! If you become their first experience to this platform you will have a follower for life :)
Invest To Get 5000 Steem Power In Your Account
This comes direct from a recent post by @stackin where he shows new Steemians the best way to get on the 'whales' radar. And that's my investing in the platform itself.
We are in a very unique position and if you listen to some of the crypto experts out there, Steem and SBD have the potential to hit $100 USD this year if not more. That's all speculation and stuff but think about what this platform truly represents....It's what social media should have been in the first place. And that's worth investing in for me!
So I will slowly but surely build my account up to have 5000 Steem Power by the end of 2018. Maybe it will happen sooner if I get some awesome readers like you to upvote me ;)
Regardless, this is something I believe in...So spending my money on Steem Power is a no brainer!
Follow these 3 steps or develop you own 5-500-5000 plan and I almost guarantee....Your 2018 will be one of the best years you've ever had online...
Easy to remember;
5 New Interactions A Day
500 Followers
5000 In Steem Power
---